Welcome to the second in a series of introductory posts.
Jennifer
No singing required for reading, despite the lyrical content of the title of this entry. As a children's librarian, I constantly find myself singing in the workroom in a desperate attempt to practice before embarrassing myself in front of the little ones.. While I personally find that song enhances all kinds of experiences, I understand that not everyone holds these views. (And strangely enough, my favorite things do not involve whiskers on kittens.)
When asked to list my top three books, I also had some issues. It's easy to determine what are NOT my favorite books — damn you, Ulysses — but coming up with favorites always conjures images from Sophie's Choice. Which one? Which ONE?!
Ugh, I have problems.
I've managed to narrow things down. A cautionary word – I do not believe that these are the best books in the world. But they're the ones that I keep coming back to; these selections are the junk food of my bookshelves.
The Portable Dorothy Parker by Dorothy Parker and edited by Marion Meade
For almost every situation in life, there is an applicable Dorothy Parker quotation. This caustic darling of the Algonquin Round Table may not have been the happiest person, but she was possibly one of the funniest. A literary bon vivant, Dorothy Parker contributed poetry and essays to publications such as The New Yorker; later in her career, she became a screenwriter, most notable for the 1937 adaptation of A Star Is Born, which is definitely on my list of favorite films.
I don't quite remember my first encounter with Dorothy Parker — I have vague memories of my mother watching Mrs. Parker and the Vicious Circle while ironing one Sunday. I think I stopped and watched a little bit of the movie then wandered off. I was first introduced to Dorothy Parker's writing in my high school American Literature class. We had to read "One Perfect Rose" during class; most of us twittered at the witty verses. I remember thinking, "This is much better than the other stuff we've been reading," and promptly became a fan.
Her poetry is scathing. She's bitter, cynical, yet the chinks in her armor reveal a more human side. She spends a lot of time mocking things that she really wants. As a defense mechanism? Probably. But it's one of my chosen methods of coping with disappointment as well. My battered copy of Dorothy Parker poetry has traveled with me through countless moves across the country, from Texas to California and back again. I recently bought myself this updated version of The Portable Dorothy Parker to augment my grimy original Dorothy Parker poetry collection. My favorite work has to be the review of "Ziegfield Follies of 1921," one of the better (and least relevant) criticisms of a work ever.
Don't Let Pigeon Stay Up Late! by Mo Willems
I didn't know I was going to be a children's librarian when I entered graduate school. I spent much of my time thinking about digital libraries, usability, and information architecture. I envisioned a career at a large software company or a world-class research library. Then, at a career fair, I was offered a children's librarian position, and it's been one of the best decisions I've made. I've discovered a whole world of amazing picture books, graphic novels, and board books.
On the third day at work, the other children's librarian at the branch gave me this book, along with three Elephant and Piggie books, and told me to read.
At first, I snickered. Then I giggled. Then, during my fourth reading of this book, I just couldn't stop guffawing. Pigeon thinks he knows best, and he does everything in his power to convince the reader that he REALLY needs to stay up late. "First of all, I'm not even tired!" "How about five more minutes?" "Studies show that pigeons hardly need any sleep at all." All of these excuses reminded me of my countless arguments with my parents over my "ridiculously early" bedtime during my childhood. "Okay, that was NOT a yawn" was a common sentence that came out of my mouth.
Kids still fight with their parents over bedtimes, as evidenced by the enthusiastic response to this book. Whenever I read this (or any Mo Willems book), the kids love to shout "Nooooo!" at all of the Pigeon's excuses. And sure enough, the last page finds Pigeon asleep with his bunny, dreaming of hot dog eating contests — not even the kids are surprised by this outcome. Don't Let the Pigeon Stay Up Late! is a sure-fire hit at any story time, making it a god-send for parents and librarians alike. Thank you, Mo.
Barefoot Contessa Parties! Ideas and Recipes for Easy Parties That Are Really Fun by Ina Garten
Jennifer's preferences in cookbooks:
1. Beautiful pictures.
2. Interesting commentary.
3. Easy, elegant recipes.
This book meets all of my criteria in spades.
Ina Garten rubs many the wrong way. She has fabulous friends, a fabulous house in the Hamptons, a fabulous husband… but she also makes fabulous food. I can forgive pretentions if you can back it up with some delicious pot pie.
I've made the Chocolate Chunk Cookie recipe from this cookbook so many times that the cookbook automatically falls open to that page. Actually, I'm pretty sure I have friends who only love me for my baked goods. That's okay. These cookies are divine.
I've never made anything from Ina that came out less than stellar. All of her books include great food. But I've repeated the recipes in this book more than any of her other offerings. And I'd venture to say that it's the most frequently referenced book in my household.
Next in my pile…

The Shadow Catcher: A Novel by Marianne Wiggins
Marianne Wiggins is currently an English professor at the University of Southern California. Mymom, one of the more influential readers in my life, picked this novel up for a book club. She liked it enough to send it to me in a care package. (Yes, I'm in my mid-twenties, and my parents still send care packages.) She thought I'd get a kick out of the connections to my undergraduate education.
I've read the description, and I'm excited to begin reading. I have a bit of an affinity for the American West; nothing makes me happier than a Saturday spent at the Autry National Center in Griffith Park. Hopefully this book will draw upon that spirit of romantic independence that imbues most Western literature.
Last Exit to Brooklyn by Hubert Selby Jr.
In honor of Judith Krug, I've added a banned book to my pile to read. I don't know much about Last Exit to Brooklyn besides the fact that it was a) banned in Italy, b) made into a movie with Jennifer Jason Leigh, and c) insanely depressing. None of these things surprise me, especially since Hubert Selby Jr. was also responsible for Requiem for a Dream.
I've found there are a lot of gaps in my English education. I spent far too long on Victoriana in my college career, and far too little time on modern American literature. I'm slowly attempting to remedy this.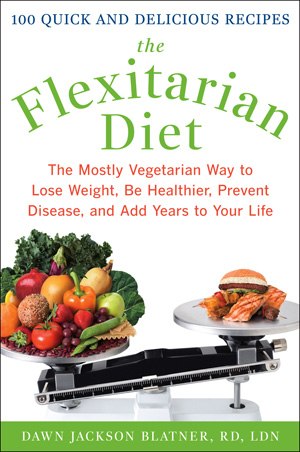 The Flexitarian Diet: The Mostly Vegetarian Way to Lose Weight, Be Healthier, Prevent Disease, And Add Years to Your Life by Dawn Jackson Blatner
Every year, I make a Lenten resolution of some sort. This past year, I vowed to give up meat and fish, a tough move for an avowed meat eater like myself. Well, 40 days seemed to fly by… and I actually enjoyed eating more vegetables. I noticed that this book has been a popular title on the hold shelf, so I decided to give this whole "flexitarian" craze a read.