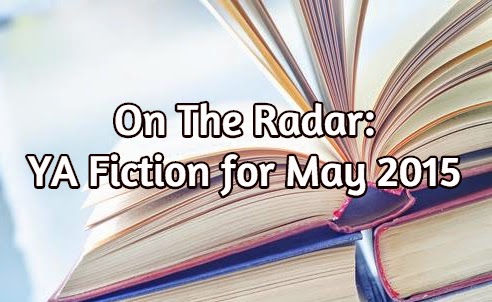 One of the most popular posts I do over at Book Riot is the round-up of upcoming YA fiction titles, and one of the most popular questions I seem to get on Twitter and in my inboxes is "what should I be looking out for in YA?" For a lot of readers, especially those who work with teens either in classrooms or in libraries, knowing what's coming out ahead of time is valuable to get those books into readers' hands before they even ask.

Each month, I'll call out between 8 and 12 books coming out that should be on your radar. These include books by high-demand, well-known authors, as well as some up-and-coming and debut authors. They'll be across a variety of genres, including diverse titles and writers. Not all of the books will be ones that Kimberly or I have read, nor will all of them be titles that we're going to read and review. Rather, these are books that readers will be looking for and that have popped up regularly on social media, in advertising, in book mail, and so forth. It's part science and part arbitrary and a way to keep the answer to "what should I know about for this month?" quick, easy, and under $300 (doable for smaller library budgets especially).
For May, here are 12 titles to have on your radar. All descriptions are from WorldCat, and I've noted why it should be included.
The Heir by Kiera Cass: Twenty years ago, America Singer entered the Selection and won Prince Maxon's heart. Now the time has come for Princess Eadlyn to hold a Selection of her own. Eadlyn doesn't expect her Selection to be anything like her parents' fairy-tale love story … but as the competition begins, she may discover that finding her own happily ever after isn't as impossible as she's always thought.
Why: It's the fourth book in the incredible popular "Selection" series.
Saint Anything by Sarah Dessen: Sydney's charismatic older brother, Peyton, has always been the center of attention in the family but when he is sent to jail, Sydney struggles to find her place at home and the world until she meets the Chathams, including gentle, protective Mac, who makes her feel seen for the first time.
Why: Sarah Dessen is a staple in YA, and her new book is no exception.
A Court of Thorns and Roses by Sarah J. Maas: Dragged to a treacherous magical land she only knows about from stories, Feyre discovers that her captor is not an animal, but Tamlin, a High Lord of the faeries. As her feelings toward him transform from hostility to a fiery passion, the threats against the faerie lands grow. Feyre must fight to break an ancient curse or she will lose Tamlin forever.
Why: Maas's other series, "Throne of Glass" has been extremely popular. This book is the launch of a new series. I received a couple review copies of it, so I know it's getting a big push, too.
The Wrath and The Dawn by Renee Andieh: In this reimagining of The Arabian Nights, Shahrzad plans to avenge the death of her dearest friend by volunteering to marry the murderous boy-king of Khorasan but discovers not all is as it seems within the palace.
Why: A retelling of 1001 Nights, and it's been getting really positive buzz.
Off The Page by Jodi Picoult and Samantha Van Leer: When Delilah is united with Oliver, a prince literally taken from the pages of a fairytale, the line between what is on the page and what is possible is blurred, and all must be resolved for the two to live happily ever after.
Why: Though I don't know how well Picoult's previous YA novel did, there's name recognition here, and teens and adults will want to be picking this up (bonus: it's partially illustrated).
Lois Lane: Fallout by Gwenda Bond: Lois Lane is the new girl at East Metropolis High, and her instinct to ask questions brings her and her online friend, Smallville Guy, into conflict with some bullying video gamers called the Warheads, who are being used in a dangerous virtual reality experiment.
Why: Lois Lane gets a YA backstory! I can't wait to read this one myself, and I suspect it'll be a hit, especially with comics fans who want to pick up a novel about a character who hasn't been given a lot of her own story.
I Am Princess X by Cherie Priest: Years after writing stories about a superheroine character she created with a best friend who died in a tragic car accident, 16-year-old Libby is shocked to see stickers, patches and graffiti images of the superheroine appearing all over town.
Why: I've not read this myself, but it has received tremendous positive buzz and a few starred reviews.
The Hunted by Matt de la Pena: After surviving the earthquake and tsunami, Shy manages to make it back to land but he is far from safe because a secret his cruise ship co-worker, Addie, shared with him is one that people have killed for, and now that Shy knows, he has become a moving target.
Why: It's the sequel to The Living, a dystopia. Plus, it's Matt de la Pena and he's one you always should have on shelf.
Dangerous Deception by Kami Garcia and Margaret Stohl: When Ridley goes missing after a car crash, Link, his bandmates, and Lennox Gates, joined by Liv and John Breed, embark on a search for the Siren, taking them to Mississippi, where they encounter legendary blues guitarist Robert Johnson, and then to New Orleans, where an evil threatens to destroy them all.
Why: This is the sequel to Dangerous Creatures, the second series by Garcia and Stohl.
Ink and Ashes by Valynne E. Maetani: Claire Takata has never known much about her father, who passed away when she was a little girl. But on the anniversary of his death, not long before her seventeenth birthday, she finds a mysterious letter from her deceased father, addressed to her stepfather. Claire never even knew that they had met.

Claire knows she should let it go, but she can't shake the feeling that something's been kept from her. In search of answers, Claire combs through anything that will give her information about her father . . . until she discovers he was a member of the yakuza, the Japanese mafia. The discovery opens a door that should have been left closed.

So begins the race to outrun his legacy as the secrets of her father's past threaten Claire's friends and family, newfound love, and ultimately her life. (via Goodreads)
Why: Out from Tu Books, this won their annual "New Visions" award for a debut author. A diverse mystery hurts no one.
Scarlett Undercover by Jennifer Latham: Scarlett, a sixteen-year-old private detective in the fictional city of Las Almas, finds herself at the center of a mysterious case–involving ancient curses, priceless artifacts, and jinn–as she discovers that her own family secrets may have more to do with the situation than she thinks.
Why: Speaking of diverse mysteries, I devoured this one when I read it last month. It's very Veronica Mars in tone and voice, and Scarlett is a Muslim American, and this does play a big part in her story in a way we don't get to see enough of in YA.
Hold Me Like A Breath by Tiffany Schmidt: Penny Landlow, seventeen, the overprotected daughter of a powerful crime family, has rarely left the family estate due to a blood disorder but when tragedy strikes and she is left alone in New York City, she must prove she is not as fragile as everyone believes.
Why: This thriller is a retelling of "The Princess and the Pea" with organ trafficking. It's the first in a new series and readers will dig the twist on the tale. This is a fun one.