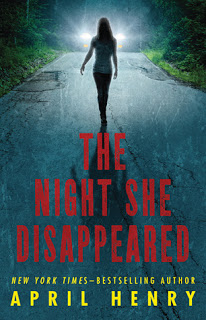 A book like April Henry's The Night She Disappeared is great at crystallizing my reading tastes. It's good for what it is – but that "what it is" is not really to my taste. I'll have to get spoilery to fully explain, but I'll warn you ahead of time so you can avoid the spoilers if you like.
Kayla, a pizza delivery girl for Pete's Pizza, has been abducted while on what seemed to be a routine delivery. It turns out the address to which she was supposed to deliver was fake, and the man who called in the order gave a fake name, too.
This is horrifying for the entire town and for Kayla's co-workers, but it's particularly horrifying for Gabie, who also works at the pizza place. You see, the man who called in the fake order asked if the girl who drove the mini cooper was working that day – and Gabie is that girl. It was bad luck for Kayla that she had swapped shifts with Gabie for that day, otherwise Gabie may have been the missing girl, and not Kayla.
This thought haunts Gabie, and she's determined to help find Kayla before the abductor realizes the mistake he's made and comes after her, too. She recruits co-worker and possible love interest Drew to assist.
Perspectives switch frequently. We get bits and pieces of the story from Kayla, the kidnapper, and a couple of teenagers who stumble upon some evidence, but the reader is mostly taken through the story via Gabie's and Drew's eyes. Gabie and Drew are our amateur sleuths, particularly Gabie, who persists in believing that Kayla is still alive despite the detectives' insistence otherwise. Naturally, they find themselves in trouble, coming face to face with the culprit at the end of the book.
And here's where things get spoilery. You've been warned.
I would classify this as a thriller much more than a mystery, since there really isn't much mystery as to who took Kayla. It's not someone we've met in the story; it's just a random guy who frequented the pizza place. There is no pool of suspects, no hidden identities, no big reveal at the end. The tension in the story comes from wondering whether Kayla, Gabie, and Drew will reach the end of the book alive, not in determining whodunnit. (And it's not exactly a spoiler to say that they all survive.)
While this is fine for many readers, it's not what I like in a story. For me, the fun in a mystery comes from trying to figure out the culprit of some crime before the sleuths do, from being surprised or proven right at the end. So this was a disappointing read for me. And I saw it coming, too: Henry reveals a lot about the culprit in his perspective's chapters, and it rules out anyone else in the story. Still, I kept reading, hoping she'd pull the rug out from under me and truly surprise me. Alas, it didn't happen.
But for readers who don't crave the whodunnit aspect, who instead enjoy the thrill of the chase, this may be right up their alley. Henry creates a good amount of suspense, and there's not a lot of time to get bored: chapters are short, perspectives switch frequently, and she includes a piece of "evidence" every few chapters (police reports, newspaper articles, tv talk show transcripts), which is a nice touch. I just wish there was more of an element of, well, mystery to the story.
Book borrowed from my local library.