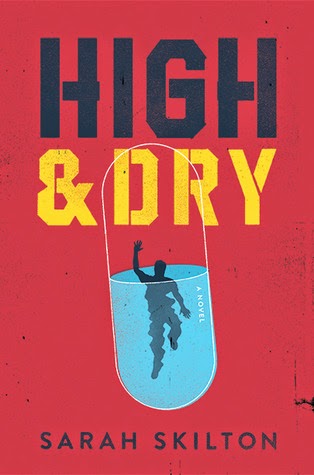 Sarah Skilton's sophomore novel High and Dry, a follow-up to her acclaimed debut Bruised, takes her writing in a new direction. It's a noir-ish mystery set in high school; I've discovered that people will give me confused looks when I state this. Apparently the words "noir" and "high school" don't tend to go together in most people's minds. Skilton makes it work, though – for the most part.
Charlie Dixon is a senior in high school, a star (of sorts) of his school's soccer team, and hopelessly in love with Ellie Chen, who dumped him last week. When the book starts off, we find Charlie feeling very depressed, drinking his sadness away. He's determined to get Ellie back, though she rebuffs him and won't tell him exactly why she decided they shouldn't see each other anymore.
Charlie decides to go to a party where he knows Ellie will be. He gets drunk while there, and after being rejected again, his other ex-girlfriend Bridget gives him a ride home. The next day, Charlie is shocked to learn that a girl from his school is critically ill. She got sick while at the party, and someone driving Charlie's car is the one who dropped her off at the hospital – and then left the scene. It appears Charlie is being framed.
Bridget complicates the situation. She says she left a flash drive in one of the computers at the school library and needs Charlie to help find out who took it, since Charlie sometimes works there. If he doesn't help her, she'll reveal incriminating texts that she set up the night she drove him home while he was passed out. She claims the flash drive has a scholarship essay on it, but Charlie knows there's more to the story.
This book is probably a horror novel for parents who don't realize all the nasty and unsafe stuff their teenagers get up to. It opens with Charlie drinking heavily. There's a big subplot about drug manufacture, use, and sale by teens. There's a cheating scandal and lots of bullying, with some violence. Charlie also gets involved in a soccer match-throwing scheme. There's a lot of dirty stuff going on, which contributes to the noir-ish feel of the story. Charlie's voice, which is the standout of the story, carries the reader through it. He's depressed and hopeful at the same time. He thinks little things are huge deals and reduces important stuff to trivia. He walks a fine line between being likeable and unlikeable, often falling on the wrong side of that line. He's smart about handling the mystery but stupid about handling his relationships with his ex-girlfriends and his friends. His voice is pure teen. It makes him an interesting character, even if as a reader I couldn't root for him to succeed in all his endeavors. This is a fairly short book, but Skilton has created a fully-formed, unique character in Charlie.
As a mystery, the novel is very, very good. It's one of the more complex and interesting mysteries aimed at teens I've read in years. Skilton juggles multiple moving parts successfully, transforming what seems at first to be a simple Encyclopedia Brown-style mystery about a stolen flash drive into an absorbing, multi-faceted mystery that touches on teen alcohol and drug use, mandated standardized testing, fixing soccer matches, friendship, bullying, and even a few problems of teachers and parents. Ultimately, there's not just one thing Charlie needs to figure out – there are several, including what his former best friend is hiding. Skilton skillfully places clues throughout the novel, giving us multiple suspects and a fair few twists and turns. The ultimate payoff is quite satisfying.
As a snapshot of high school life, I think it's less successful. As a way of avoiding the rampant bullying that plagued the high school, all students willingly choose a formal group to be a part of, and their fellow group-mates then protect each other. I don't mean they align themselves with the so-called jocks or nerds; I mean they join an extracurricular sport or club and call themselves a slang term that describes it. The soccer players are the beckhams, for example. There are rules associated with this set-up, too: upperclassmen can't even talk to lowerclassmen without a formal introduction by another upperclassman who knows them both.
I think Skilton is probably making a comment on how we pigeonhole ourselves and others (in high school and beyond), but she didn't sell it well enough for me to buy it. I guess I just found it very difficult to believe that everyone would willingly join something extracurricular. A lot of kids I went to high school with just wanted to go home at the end of the day. It seems like casual gangs would have been more realistic. This is a relatively unimportant thing for most of the story, but a big part of the plot hinges on this aspect of social organization near the end. My inability to suspend my disbelief in this regard lessens the impact of an otherwise very successful story.
Hand this one to your readers who like their mysteries a little hard-boiled. While not nearly as horrifying as Barry Lyga's I Hunt Killers, it's a bit more intense than Todd Strasser's thrillogy (beginning with Wish You Were Dead), despite the fact that there's no real murder here. It's the lifestyle of the teens and Charlie's voice that gives it that edge.
Review copy received from the publisher at TLA. High and Dry is available now.