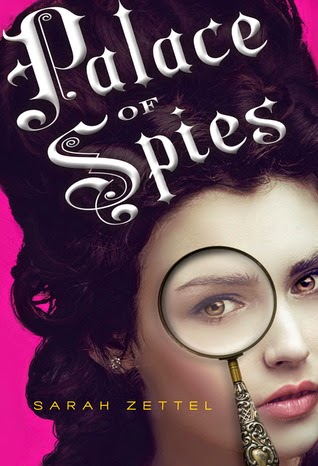 I love historical mysteries set in palaces, particularly when the sleuth is a girl spy masquerading as a servant or lady in waiting. I feel like there are enough books fitting this particular mold out now that it can almost be considered its own subgenre within YA: historical female spy palace mysteries? Over the weekend, I read Sarah Zettel's excellent Palace of Spies, which kicks off her series of the same name. I read these sorts of books for the palace intrigue, the historical details of court life, and the intelligence of the amateur sleuth; Zettel's book did not disappoint in any of these aspects.
One of the hallmarks of these stories is the teenage sleuth thrown into a life of espionage through desperation or blackmail – it doesn't usually happen by choice. Such is the case with our protagonist, Peggy Fitzroy, an orphan who decided to refuse marriage to the wealthy jerk her rich uncle had picked our for her. Kicked out of said uncle's home and with nowhere to turn, Peggy decides to accept an offer from the dubiously-named Mr. Tinderflint. He convinces her to pose as Lady Francesca Wallingham, who was very recently a lady in waiting to Princess Catherine (wife of George, the Prince of Wales, who would go on to be George II) – until her unfortunate death of a fever several weeks ago.
As Peggy bears more than a passing resemblance to Francesca, the deception isn't difficult to pull off. She's instated at Hampton Court Palace with no one the wiser, instructed to observe and report back. What precisely she is to look for isn't deemed knowledge she needs to know, though she is told she must pay careful attention to the games of cards that the noble men and women entertain themselves with nightly.
Peggy is a smart girl. It doesn't take her long to realize that not only is Mr. Tinderflint hiding something from her, but so is nearly everyone else at court. But the truly alarming realization is that Francesca did not die of a fever; she was murdered. It only follows that the murderer may come after Peggy next, thinking to finish the job.
As with any good palace mystery, there are a lot of threads to the story. The main mystery involves a Jacobite plot to instate the Stuart King James II to the throne of England, removing the Hanover King George I. It's up to the reader (and Peggy) to puzzle out which subplots are integral to this central mystery and which are distractions (but interesting distractions nonetheless). Mixed up in this is the mystery of Peggy's own past – her mother may have been a spy herself, and her father left them when Peggy was a young child. And of course, there's plenty of court gossip to keep the reader entertained as well.
Peggy's voice makes this an above average mystery. She's sharply observant and learns quickly, making her ideally suited to her deception. She's got a bit of a wry sense of humor, too, and sometimes lets her desire to one-up her court rivals get her into hot water. Watching Peggy try to puzzle out Francesca's life without letting Francesca's acquaintances catch on brings its own share of amusement, too, particularly when Peggy is greeted by what appears to be Francesca's secret paramour in her bedchamber.
Zettel's writing is confident and the story is well-plotted. Mysteries often hinge strongly on the final reveal at the end, and Palace of Spies has a great one, speaking to the way society underestimates the will and intelligence of teenage girls (both in the 1700s and today). Like all good mystery series, it also leaves a few questions about Peggy's family's past unanswered, giving Zettel fodder for future installments.
Hand this to readers who have enjoyed similar books in this historical female spy palace mystery subgenre (I'm gonna go with it) like Jennifer McGowan's Maid of Secrets, Michaela MacColl's Prisoners in the Palace, or Y. S. Lee's The Traitor in the Tunnel. It's also a great choice for readers interested in learning more about this period in England's history – there aren't many books that tackle the early 18th century and I know Jacobitism would fascinate many teen historical fiction junkies.