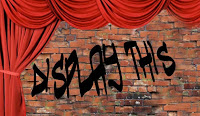 Welcome to the first of what I hope will become a regular feature here at STACKED: Display This. We'll pick a topic and throw together a list of books with a short description that you can use for book displays or for reading lists on a given topic. What better week to start with than Teen Read Week?
This year's theme is Books with Beat. While the theme can go any number of ways, I wanted to offer up this display as an homage to books featuring music as a key element. Here we go:
Stringz by Michael Wenberg: A mixed-race guy with a rough life finds peace through his cello.
Rock Star Superstar by Blake Nelson: Should Pete's band keep being independent or should they "sell out" to really make a name for themselves?
Harmonic Feedback by Tara Kelly: Drea loves to be a sound master when it comes to music, and that might be how she keeps her asberger's in sync while finding a little love.
Vinyl Princess By Yvonne Printz: Alli's got any teen music lover's dream job — she's a music seller at a local record joint.
Struts and Frets by Jon Skovron: Sammy's in an indie band and when they win a Battle of the Bands competition, his dream to make it big might be a closer reality than he thought.
Somebody Everybody Listens To by Suzanne Supplee: Retta Lee Jones is a country singer striking out on her own in Nashville.
Nick and Norah's Infinite Playlist by David Levithan and Rachel Cohn: When night rolls around, Nick and Norah will have a musical adventure through the big city.
If I Stay by Gayle Foreman: Mia's life revolved around her talents as a cellist before things changed in an instant.
Adios, Nirvana by Conrad Wesselhoeft: Johnathan's musical genius might be what helps him overcome the loss of his twin brother. Expect some flaming guitar action in this one.
Lovestruck Summer by Melissa Walker: Quinn graduates high school and takes a chance at working at a music label in Austin, Texas, hoping to explore the truth behind its music capital reputation.
Audrey, Wait by Robin Benway: What happens when you're the person a top radio hit is about and everybody knows it?
A Little Wanting Song by Cath Crowley: Charlie's voice and knowledge of music will help her connect with people who she's never been able to connect with before.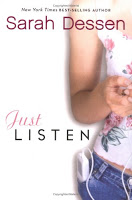 Five Flavors of Dumb by Antony John: Can a deaf girl really manage a band and get them ready for a recording session with record executives?
Just Listen by Sarah Dessen: Music will be the guiding force for Anabelle to better understand weird boy Owen, her aching family, and herself.
Beige by Cecil Castellucci: Katy's dad's a punk rocker, and she's forced to spend the summer with him. How will she survive when they are so different?
Friend is Not a Verb by Daniel Ehrenhaft: Henry's skills as a bassist may not have been enough to keep his girlfriend but it may help him unravel the secrets of his runaway sister.
So Punk Rock (And Other Ways to Disappoint Your Mother) by Micol Ostow: Ari wants to be a punk rock hipster, but his true calling may be more along the lines of the hired band for local Bar Mitzvahs.
Will by Miranda Boyd: Would your life end if your punishment for doing wrong were to play a role in the high school musical?
This is just a sample of what I'd put on my display for this year's Teen Read Week. What would you add? Share in the comments, along with a short annotation, and I'll pop it up on this post for others to see!
Super Librarian offers up this handy .pdf file of rockin' titles.
*Thanks to my friend Andrea V. for the fantastic graphic at the top for this feature.