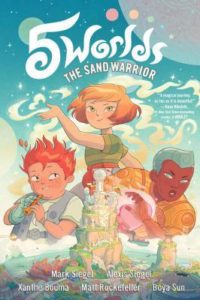 Oona Lee is possibly the worst sand dancer in her whole class, which wouldn't be such a terrible thing if her older sister, disappeared now for many years, weren't the best, destined to light five ancient beacons and save the Five Worlds from extinction. But she has talents of her own, ones she brings to bear when she joins forces with An Tzu, a boy from a slum with his own history, and Jax Amboy, the Five Worlds' greatest Starball player. They all live on Mon Domani, at the center of the Five Worlds, a planet now being threatened by war as well as climate change so dire it could cause mass starvation.
The Sand Warrior is the first book in a new graphic novel series by Mark Siegel and Alexis Siegel, with art by Xanthe Bouma, Matt Rockefeller, and Boya Sun. That's a lot of cooks in the kitchen for one graphic novel, and it shows in a few ways. The story is fairly complicated for a middle grade graphic novel, and it will take both adults and kids a bit of time to really fall into it. But that's also part of the joy: the world the Siegels have created is complex, and the story has many moving parts that require more careful attention (or perhaps re-reads) than some readers may be accustomed to. It's a fantasy lover's dream, in other words.
Art and story work in tandem to build a multicultural world (or five worlds, really) with a detailed backstory and a unique magic system. Within the pages of this graphic novel you'll find, for example, some people who are more plant than human, advanced robotic technology that conquers the uncanny valley, and sand castles big enough (and magical enough) for people to live in. It's a really fun mixture of fantasy and science fiction, with all the creativity and weird names – one of the planets is called Grimbo(E) – that go along with that.

I'm a sucker for full-color art in graphic novels, and the art in The Sand Warrior is gorgeous. Even if readers have a hard time following all the nuances of the story, they'll be riveted by the detailed landscapes and diverse cast of characters, each of whom is distinct and recognizable from panel to panel. The coloring is beautiful; the three artists work seamlessly together, eschewing the bold colors of a traditional superhero book for a softer but no less vibrant palette.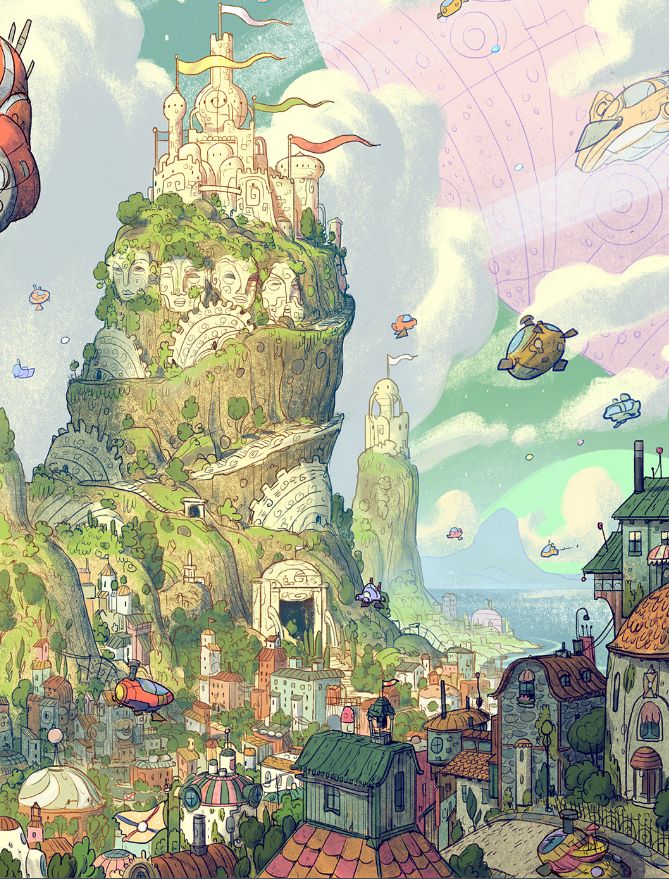 This should appeal to readers who like Kazu Kibuishi's Amulet (Kibuishi has blurbed this, and it's fitting), Faith Erin Hicks' The Nameless City, and Ben Hatke's Zita the Spacegirl.
We're giving away a finished copy of 5 Worlds: The Sand Warrior, courtesy of Random House Children's Books (who also sent me an unfinished review copy). To enter, fill out this form. I'll pick a winner in two weeks. US only, please.