Over the last few years, I've really paid attention to how the YA community discusses and writes about mental health. Part of it is my own interest in the topic as someone who experiences mental illness, but a far larger part is because the conversations are important and vital to teenagers and the books that aim to reach them. I've written before about a pivotal moment in my career, where a teen girl came to an open mic night at my library and shared a piece she'd written in honor of her friend, who'd committed suicide the previous day. It reminded me about the power of talking and sharing and not being ashamed of bringing these big, tough issues to light.
But one of the things that bothers me about this conversation is how rarely we talk about it in regards to people of color. The girl I referenced above was black, as were a good majority of teens I served in that community; in previous communities, the bulk of faces I served were brown, from various Hispanic heritages. It is, however, rare we see depictions of teens of color struggling with and coming to understand their mental health.
Even booklists compiled for major library journals or websites often fail to highlight the books that do exist showcasing mental health as an issue important to teens of color. Part of it is because there aren't many books, but a good part of it is not paying attention to the importance of this issue to people of color.
I wanted to have someone write about this, and after putting out a call asking, I was flooded with interest for a piece about this, as well as a book list, and I was lucky enough to get a fantastic guest post from Patrice Caldwell on this. Please enjoy this post. Please think about it. Please share it. Talking about mental health and wellness is crucial, and it's just as crucial to look at it through cultural and inclusive lenses.
____________________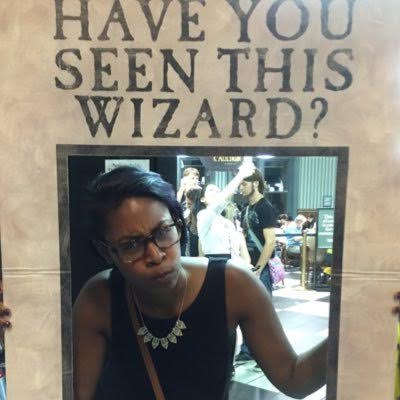 Patrice is a twenty-three-year-old introvert gone wild. By day, she's an editorial assistant at Scholastic, and by night, weekend, and early morning (if she's had enough green tea) she's a writer. You can learn more about Patrice, her writing, favorite books, and general musings at her blog, patricecaldwell.com. You can also find her on Twitter (@whimsicallyours), her secondary home.
In my family mental illness is often referenced as a "the white man's disease." As people of color (POC) in a nation with a history of profiting off black and brown bodies, we endured slavery, we endured sharecropping, we endured segregation and so anything else, anything that literally doesn't threaten your physical existence, is nothing compared to those past. At least that's how I was raised.
Because formal schooling was a luxury many of my ancestors couldn't afford, the importance of getting a education was stressed since I was born. And so I received a "good education," a great one, even. In my neighborhood, this always meant going to the "whiter" school. Unlike my ancestors, I know I've had it easier. Like them, I often felt like I, too, had been ripped from my community, sent to some foreign land where I was now expected to be better than the rest while also putting up with every microaggression my well-meaning classmates and teachers threw my way. In short, I was to become a woman of steel who always smiled and never raised her voice as sticks and stones may break my bones but words will never hurt me. I can't tell you how many times I repeated that meaningless rhyme.
I'm not alone in this experience.
As I mentioned to Kelly, mental illness runs through my family. And though my dad likes to claim it's only on my mom's side (my parents are divorced so they blame everything on "the other side of the family"), his brother committed suicide when he was younger, which is something he only talked about with me once—when I was suicidal myself.
I'm not going to lie and say that a book can save a life. I honestly don't remember if that's true. However, books have helped me to understand myself. Books told me I wasn't alone when my entire family refused to acknowledge the depression and anxiety I'd been battling for years. We like to talk about how books provide both mirrors and windows. Windows being books that offer alternative views of worlds real or imagined—a peek into someone else's life, and mirrors being books in which you see your own stories and self reflected.
I can only think of two books from my childhood that provided true mirrors for most of my experiences: Yorbua Girl Dancing by Simi Bedford, about an African girl's metamorphosis into an upper-class English schoolgirl and the homesickness and microaggressions she deals with, and At Her Majesty's Request, a nonfiction account by Walter Dean Myers about an African princess in Victorian England. Those books meant the world to me and during my hardest times I read them weekly. If I were to add few more, that I discovered later in life, it'd be the works of Octavia Butler + Ash by Malinda Lo (the first time I read queers girl in literature) as well as The Souls of Black Folk by W.E.B. Du Bois and Narrative of the Life of Frederick Douglass, which gave me the vocabulary through which to speak my experiences.
In light of this I'd like to share YA novels I loved, that I found later in life, and ones the others have recommended. They all feature POC as main or major characters (we're not having any of that oh, look here's a POC on page 104) who are living, struggling, and thriving with mental illnesses.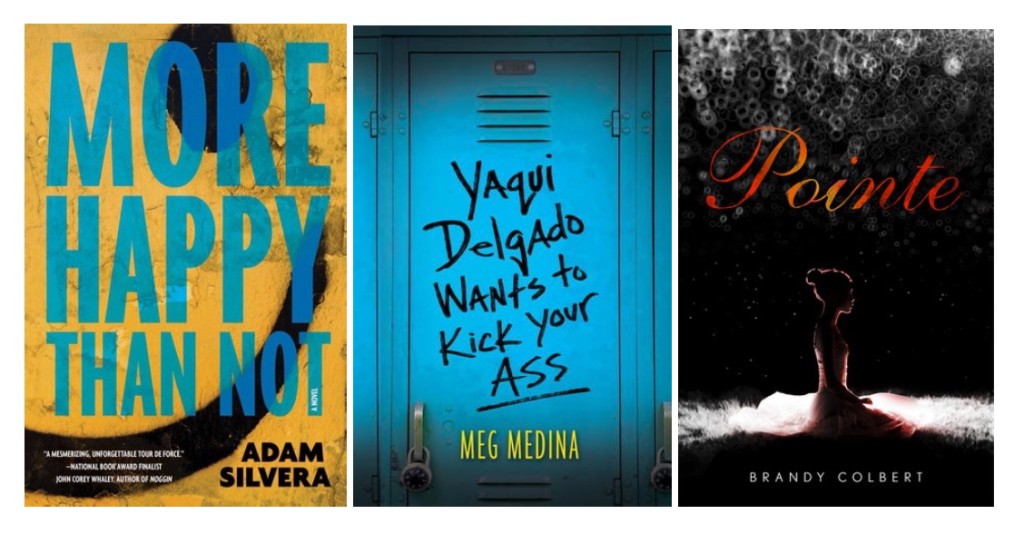 More Happy Than Not by Adam Silvera
In the months after his father's suicide, it's been tough for 16-year-old Aaron Soto to find happiness again–but he's still gunning for it. With the support of his girlfriend Genevieve and his overworked mom, he's slowly remembering what that might feel like. But grief and the smile-shaped scar on his wrist prevent him from forgetting completely.
When Genevieve leaves for a couple of weeks, Aaron spends all his time hanging out with this new guy, Thomas. Aaron's crew notices, and they're not exactly thrilled. But Aaron can't deny the happiness Thomas brings or how Thomas makes him feel safe from himself, despite the tensions their friendship is stirring with his girlfriend and friends. Since Aaron can't stay away from Thomas or turn off his newfound feelings for him, he considers turning to the Leteo Institute's revolutionary memory-alteration procedure to straighten himself out, even if it means forgetting who he truly is.

Yaqui Delgado Wants to Kick Your Ass by Meg Medina
One morning before school, some girl tells Piddy Sanchez that Yaqui Delgado hates her and wants to kick her ass. Piddy doesn't even know who Yaqui is, never mind what she's done to piss her off. Word is that Yaqui thinks Piddy is stuck-up, shakes her stuff when she walks, and isn't Latin enough with her white skin, good grades, and no accent. And Yaqui isn't kidding around, so Piddy better watch her back. At first Piddy is more concerned with trying to find out more about the father she's never met and how to balance honors courses with her weekend job at the neighborhood hair salon. But as the harassment escalates, avoiding Yaqui and her gang starts to take over Piddy's life. Is there any way for Piddy to survive without closing herself off or running away? In an all-too-realistic novel, Meg Medina portrays a sympathetic heroine who is forced to decide who she really is. 
Pointe by Brandy Colbert
Theo is better now.
She's eating again, dating guys who are almost appropriate, and well on her way to becoming an elite ballet dancer. But when her oldest friend, Donovan, returns home after spending four long years with his kidnapper, Theo starts reliving memories about his abduction—and his abductor.
Donovan isn't talking about what happened, and even though Theo knows she didn't do anything wrong, telling the truth would put everything she's been living for at risk. But keeping quiet might be worse.
(This was my FAVORITE book from 2014 and still means the world to me for its frank portrayal of teenage-life and the mental health struggles of a black girl. Be sure to check out her forthcoming novel, Little & Lion, which also deals with the aftermath of mental health crises.)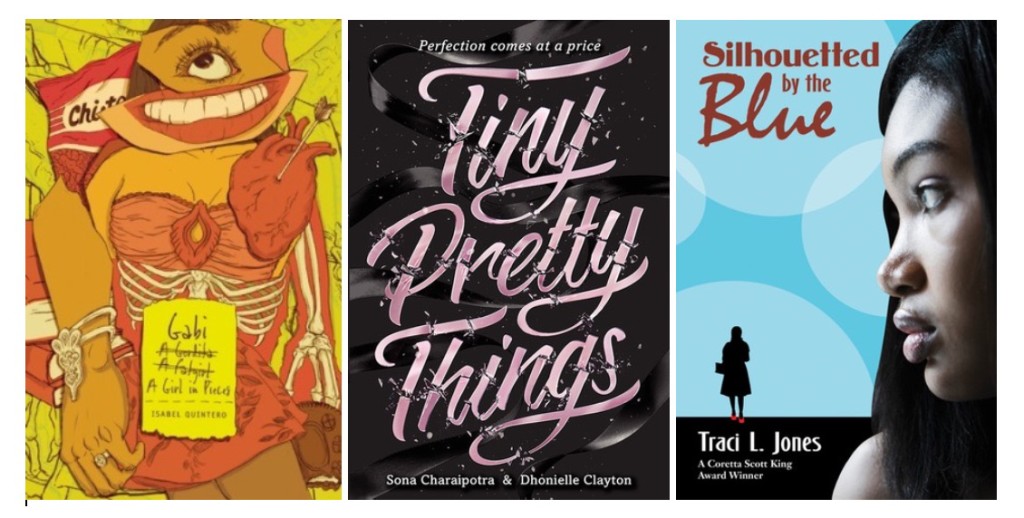 Gabi, A Girl in Pieces by Isabel Quintero
Gabi Hernandez chronicles her last year in high school in her diary: college applications, Cindy's pregnancy, Sebastian's coming out, the cute boys, her father's meth habit, and the food she craves. And best of all, the poetry that helps forge her identity.
July 24
My mother named me Gabriella, after my grandmother who, coincidentally, didn't want to meet me when I was born because my mother was unmarried, and therefore living in sin. My mom has told me the story many, many, MANY, times of how, when she confessed to my grandmother that she was pregnant with me, her mother beat her. BEAT HER! She was twenty-five. That story is the basis of my sexual education and has reiterated why it's important to wait until you're married to give it up. So now, every time I go out with a guy, my mom says, "Ojos abiertos, piernas cerradas." Eyes open, legs closed. That's as far as the birds and the bees talk has gone. And I don't mind it. I don't necessarily agree with that whole wait until you're married crap, though. I mean, this is America and the 21st century; not Mexico one hundred years ago. But, of course, I can't tell my mom that because she will think I'm bad. Or worse: trying to be White.
(This book, y'all. It's so good! Read it as a Cybils Panelist in 2014 and fell in love.)
Tiny Pretty Things by Sona Charaipotra & Dhonielle Clayton
Gigi, Bette, and June, three top students at an exclusive Manhattan ballet school, have seen their fair share of drama. Free-spirited new girl Gigi just wants to dance—but the very act might kill her. Privileged New Yorker Bette's desire to escape the shadow of her ballet star sister brings out a dangerous edge in her. And perfectionist June needs to land a lead role this year or her controlling mother will put an end to her dancing dreams forever. When every dancer is both friend and foe, the girls will sacrifice, manipulate, and backstab to be the best of the best.
(As shown by my love for Pointe, I adore books that highlight mental health issues + the arts world through girls of color. This does just that, so well, and from the perspective of three, diverse girls.)
Silhouetted by the Blue by Traci L. Jones
Seventh-grader Serena Shaw is trying to keep up at school while rehearsing for the lead role in the spring musical and dealing with a father so "blue" he is nearly catatonic. With the aid of a not-so-secret admirer as well as a growing sense of self-confidence, she faces the challenges of caring for herself and her ball-of-charm younger brother, all while attempting to lead the life of a normal pre-teen. Readers will be drawn into this convincing portrait of a vivacious young person who is on a path to discovering that taking on responsibility sometimes means finding the best way to ask for help.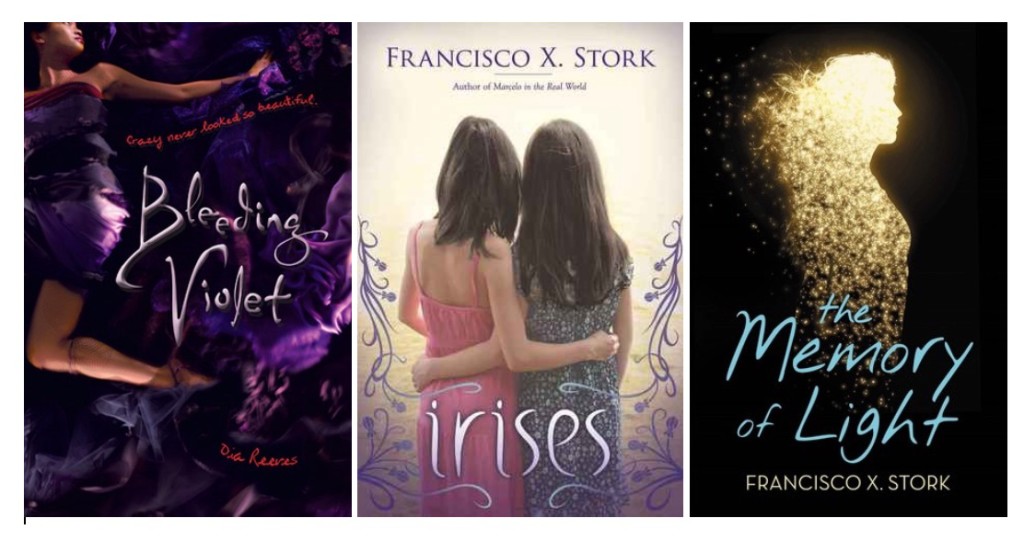 Bleeding Violet by Dia Reeves
Hanna simply wants to be loved. With a head plagued by hallucinations, a medicine cabinet full of pills, and a closet stuffed with frilly, violet dresses, Hanna's tired of being the outcast, the weird girl, the freak. So she runs away to Portero, Texas in search of a new home.
But Portero is a stranger town than Hanna expects. As she tries to make a place for herself, she discovers dark secrets that would terrify any normal soul. Good thing for Hanna, she's far from normal. As this crazy girl meets an even crazier town, only two things are certain: Anything can happen and no one is safe.
Irises by Francisco X. Stork
TWO SISTERS: Kate is bound for Stanford and an M.D. — if her family will let her go. Mary wants only to stay home and paint. When their loving but repressive father dies, they must figure out how to support themselves and their mother, who is in a permanent vegetative state, and how to get along in all their uneasy sisterhood.
THREE YOUNG MEN: Then three men sway their lives: Kate's boyfriend Simon offers to marry her, providing much-needed stability. Mary is drawn to Marcos, though she fears his violent past. And Andy tempts Kate with more than romance, recognizing her ambition because it matches his own.
ONE AGONIZING CHOICE: Kate and Mary each find new possibilities and darknesses in their sudden freedom. But it's Mama's life that might divide them for good — the question of *if* she lives, and what's worth living for.
The Memory of Light by Francisco X. Stork
Vicky Cruz shouldn't be alive.
That's what she thinks, anyway—and why she tried to kill herself. But then she arrives at Lakeview Hospital, where she meets Mona, the live wire; Gabriel, the saint; E.M., always angry; and Dr. Desai, a quiet force. With stories and honesty, kindness and hard work, they push her to reconsider her life before Lakeview, and offer her an acceptance she's never had.
Yet Vicky's newfound peace is as fragile as the roses that grow around the hospital. And when a crisis forces the group to split up—sending her back to the life that drove her to suicide—Vicky must find her own courage and strength. She may not have any. She doesn't know.
(Francisco X. Stork is truly a literary genius. If you haven't read his works, get on it. They're so powerful and he's so talented at getting to the heart of what it means to strive to be yourself.)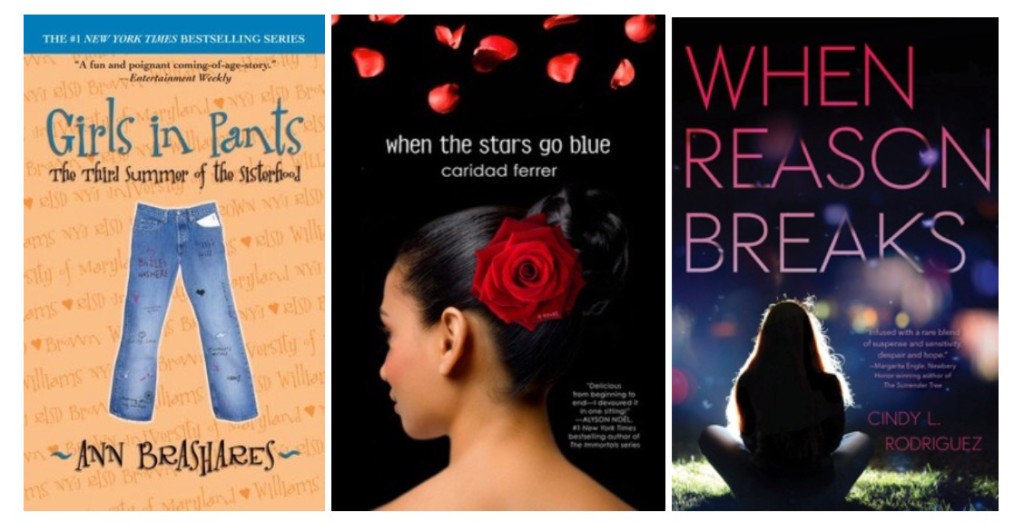 Girls in Pants: The Third Summer of the Sisterhood (Sisterhood #3) by Ann Brashares
It's the summer before the sisterhood departs for college . . . their last real summer together before they head off to start their grown-up lives. It's the time when Lena, Tibby, Bridget, and Carmen need their Pants the most.
When the Stars Go Blue by Caridad Ferrer
Dance is Soledad Reyes's life. About to graduate from Miami's Biscayne High School for the Performing Arts, she plans on spending her last summer at home teaching in a dance studio, saving money, and eventually auditioning for dance companies. That is, until fate intervenes in the form of fellow student Jonathan Crandall who has what sounds like an outrageous proposition: Forget teaching. Why not spend the summer performing in the intense environment of the competitive drum and bugle corps? The corps is going to be performing Carmen, and the opportunity to portray the character of the sultry gypsy proves too tempting for Soledad to pass up, as well as the opportunity to spend more time with Jonathan, who intrigues her in a way no boy ever has before.
But in an uncanny echo of the story they perform every evening, an unexpected competitor for Soledad's affections appears: Taz, a member of an all-star Spanish soccer team. One explosive encounter later Soledad finds not only her relationship with Jonathan threatened, but her entire future as a professional dancer. 
When Reason Breaks by Cindy L. Rodriguez
A Goth girl with an attitude problem, Elizabeth Davis must learn to control her anger before it destroys her. Emily Delgado appears to be a smart, sweet girl, with a normal life, but as depression clutches at her, she struggles to feel normal. Both girls are in Ms. Diaz's English class, where they connect to the words of Emily Dickinson. Both are hovering on the edge of an emotional precipice. One of them will attempt suicide. And with Dickinson's poetry as their guide, both girls must conquer their personal demons to ever be happy.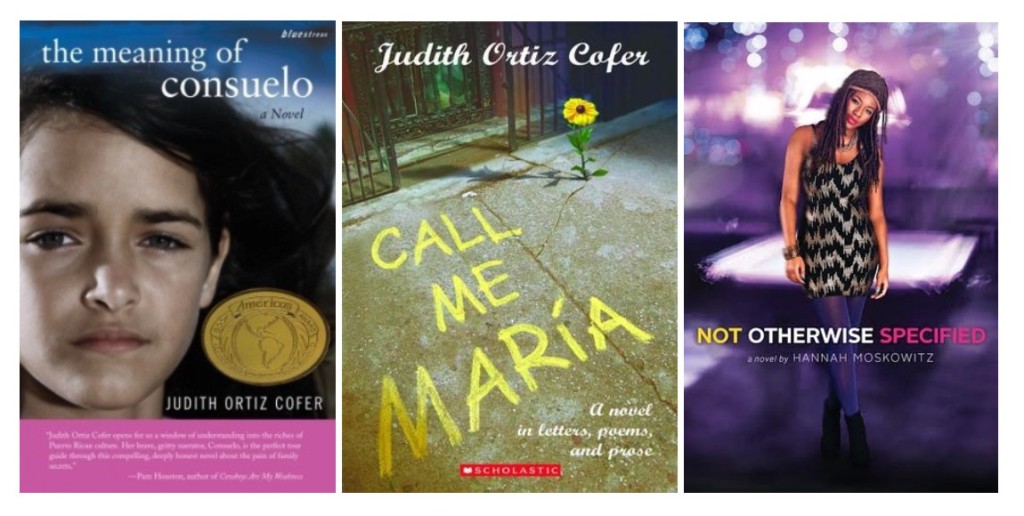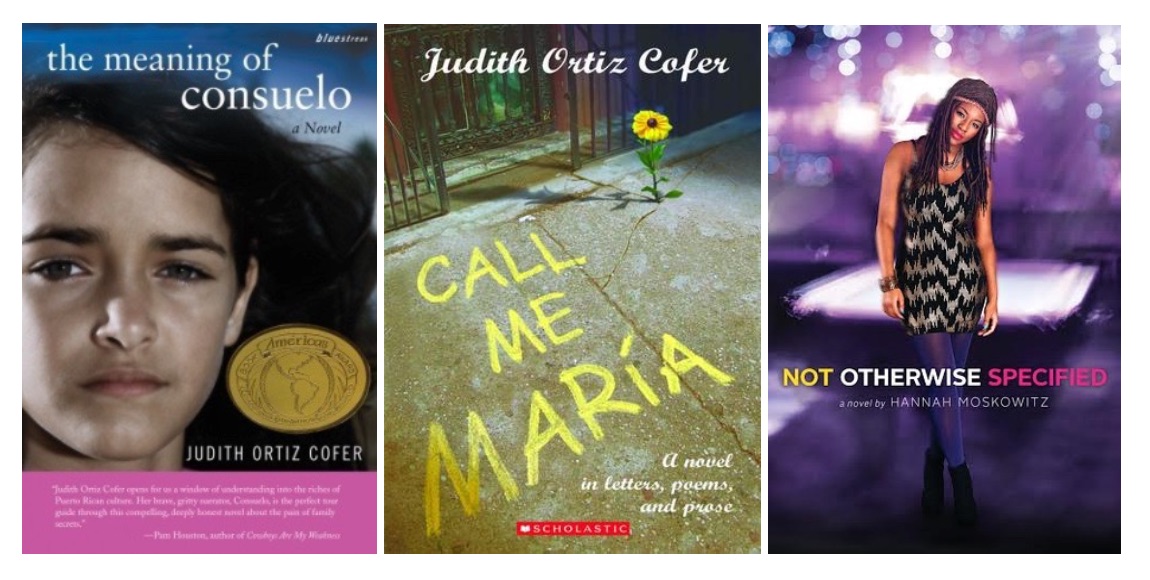 The Meaning of Consuelo by Judith Ortiz Cofer
The Signe family is blessed with two daughters. Consuelo, the elder, is thought of as pensive and book-loving, the serious child-la niña seria-while Mili, her younger sister, is seen as vivacious, a ray of tropical sunshine. Two daughters: one dark, one light; one to offer comfort and consolation, the other to charm and delight. But, for all the joy both girls should bring, something is not right in this Puerto Rican family; a tragedia is developing, like a tumor, at its core.
Call Me Maria by Judith Ortiz Cofer
Maria is a girl caught between two worlds: Puerto Rico, where she was born, and New York, where she now lives in a basement apartment in the barrio. While her mother remains on the island, Maria lives with her father, the super of their building. As she struggles to lose her island accent, Maria does her best to find her place within the unfamiliar culture of the barrio. Finally, with the Spanglish of the barrio people ringing in her ears, she finds the poet within herself.
Not Otherwise Specified by Hannah Moskowitz
Everywhere she turns, someone feels she's too fringe for the fringe. Not gay enough for the Dykes, her ex-clique, thanks to a recent relationship with a boy; not tiny and white enough for ballet, her first passion; and not sick enough to look anorexic (partially thanks to recovery). Etta doesn't fit anywhere— until she meets Bianca, the straight, white, Christian, and seriously sick girl in Etta's therapy group. Both girls are auditioning for Brentwood, a prestigious New York theater academy that is so not Nebraska. Bianca seems like Etta's salvation, but how can Etta be saved by a girl who needs saving herself?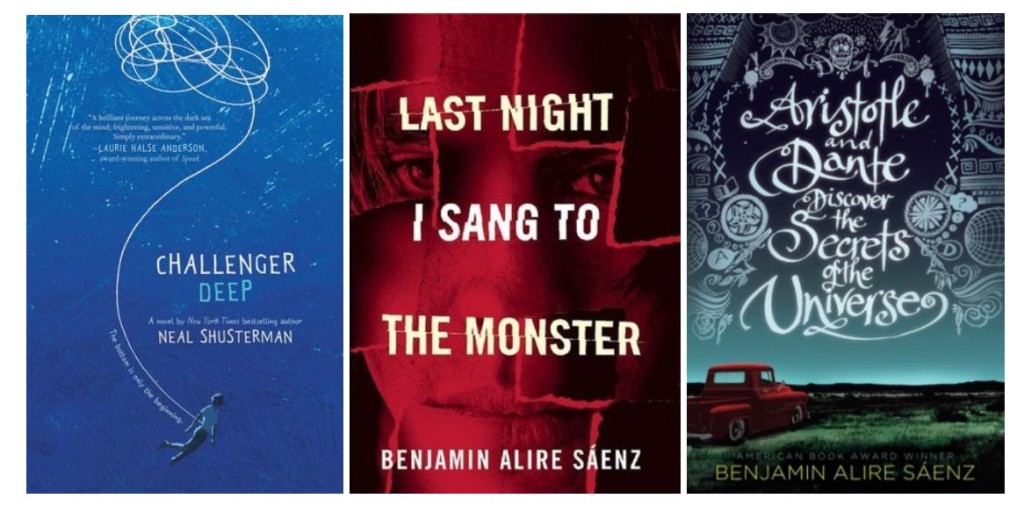 Challenger Deep by Neal Shusterman
Caden Bosch is on a ship that's headed for the deepest point on Earth: Challenger Deep, the southern part of the Marianas Trench.
Caden Bosch is a brilliant high school student whose friends are starting to notice his odd behavior.
Caden Bosch is designated the ship's artist in residence, to document the journey with images.
Caden Bosch pretends to join the school track team but spends his days walking for miles, absorbed by the thoughts in his head.
Caden Bosch is split between his allegiance to the captain and the allure of mutiny.
Caden Bosch is torn.
Last Night I Sang to the Monster by Benjamin Alire Sáenz
Zach is eighteen. He is bright and articulate. He's also an alcoholic and in rehab instead of high school, but he doesn't remember how he got there. He's not sure he wants to remember. Something bad must have happened. Something really, really bad. Remembering sucks and being alive – well, what's up with that? 
(I cannot recommend Benjamin Alire Sáenz enough, this is one of his lesser known works that's equally as powerful. It's so rare to see novels with teens of color, particularly boys, struggling with mental illness and addiction.)
Aristotle and Dante Discover the Secrets of the Universe by Benjamin Alire Sáenz
Aristotle is an angry teen with a brother in prison. Dante is a know-it-all who has an unusual way of looking at the world. When the two meet at the swimming pool, they seem to have nothing in common. But as the loners start spending time together, they discover that they share a special friendship—the kind that changes lives and lasts a lifetime. And it is through this friendship that Ari and Dante will learn the most important truths about themselves and the kind of people they want to be.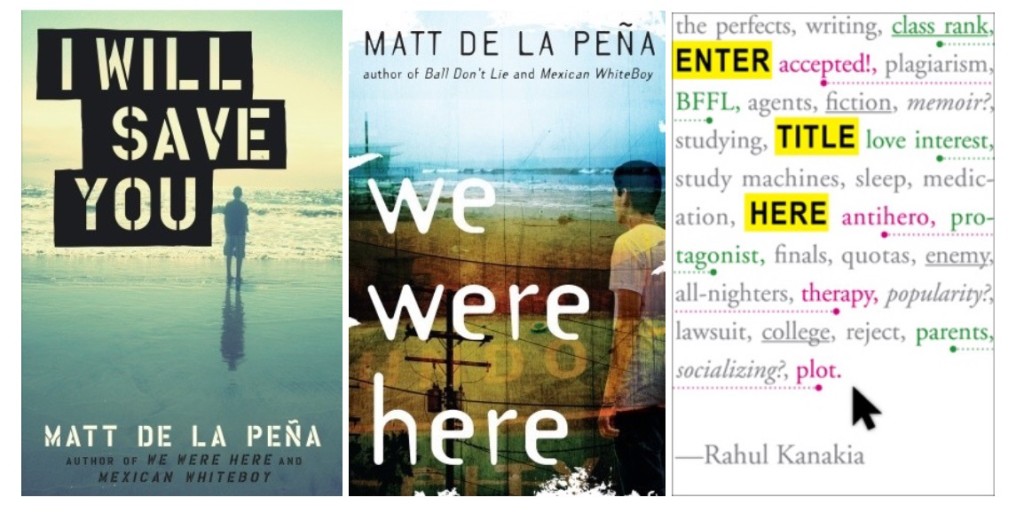 I Will Save You by Matt De La Peña
Kidd is running from his past and his future. No mom, no dad, and there's nothing for him at the group home but therapy. He doesn't belong at the beach where he works either, unless he finds a reason to stay.

Olivia is blond hair, blue eyes, rich dad. The prettiest girl in Cardiff. She's hiding something from Kidd—but could they ever be together anyway?

Devon is mean, mysterious, and driven by a death wish. A best friend and worst enemy. He followed Kidd all the way to the beach and he's not leaving until he teaches him a few lessons about life. And Olivia.
We Were Here by Matt De La Peña
When it happened, Miguel was sent to Juvi. The judge gave him a year in a group home—said he had to write in a journal so some counselor could try to figure out how he thinks. The judge had no idea that he actually did Miguel a favor. Ever since it happened, his mom can't even look at him in the face. Any home besides his would be a better place to live.
But Miguel didn't bet on meeting Rondell or Mong or on any of what happened after they broke out. He only thought about Mexico and getting to the border to where he could start over. Forget his mom. Forget his brother. Forget himself.
Life usually doesn't work out how you think it will, though. And most of the time, running away is the quickest path right back to what you're running from.
(By now, you've probably heard of Matt De La Peña. Be sure to check out these novels, two of his earlier works.)
Enter Title Here by Rahul Kanakia
Reshma is a college counselor's dream. She's the top-ranked senior at her ultra-competitive Silicon Valley high school, with a spotless academic record and a long roster of extracurriculars. But there are plenty of perfect students in the country, and if Reshma wants to get into Stanford, and into med school after that, she needs the hook to beat them all.
What's a habitual over-achiever to do? Land herself a literary agent, of course. Which is exactly what Reshma does after agent Linda Montrose spots an article she wrote for Huffington Post. Linda wants to represent Reshma, and, with her new agent's help scoring a book deal, Reshma knows she'll finally have the key to Stanford.
But she's convinced no one would want to read a novel about a study machine like her. To make herself a more relatable protagonist, she must start doing all the regular American girl stuff she normally ignores. For starters, she has to make a friend, then get a boyfriend. And she's already planned the perfect ending: after struggling for three hundred pages with her own perfectionism, Reshma will learn that meaningful relationships can be more important than success—a character arc librarians and critics alike will enjoy.
Of course, even with a mastermind like Reshma in charge, things can't always go as planned. And when the valedictorian spot begins to slip from her grasp, she'll have to decide just how far she'll go for that satisfying ending. (Note: It's pretty far.)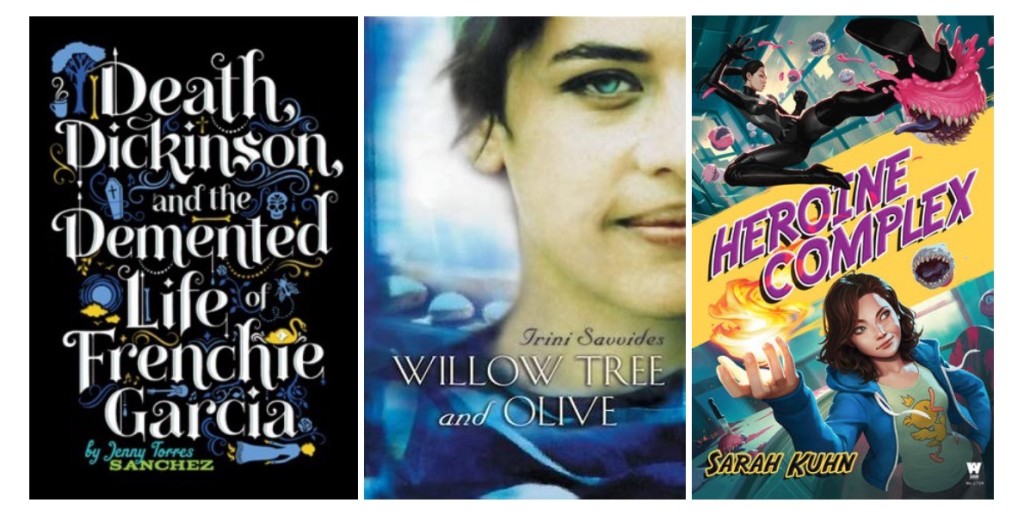 Death, Dickinson, and the Demented Life of Frenchie Garcia by Jenny Torres Sanchez
Frenchie Garcia can't come to grips with the death of Andy Cooper. Her friends didn't know she had a crush him. And they don't know she was the last person with him before he committed suicide. But Frenchie's biggest concern is how she blindly helped him die that night.
Frenchie's already insane obsession with death and Emily Dickinson won't help her understand the role she played during Andy's "one night of adventure." But when she meets Colin, she may have found the perfect opportunity to recreate that night. While exploring the emotional depth of loss and transition to adulthood, Sanchez's sharp humor and clever observations bring forth a richly developed voice.
Willow Tree and Olive by Irini Savvides
Enough waterwave taffeta for a lifetime of weddings, always in apricot, matching shoes and a sugared almond under your pillow so you can dream of the man you love. Olive laughs wildly and counts the expensive plates as they hit the wall. But she can't hide her desperate struggle to piece together a shattered sense of trust. Sometimes Olive is embarrassed by her culture, and even hates being Greek. But, as her friend Kerry tells her, the rest of the time she harps on as if the Greeks invented everything. Olive's parents decide that a change of scene will help her through her inability to handle school, family and growing up in general. So they send her on a holiday to Greece. And it's the Greek determination to survive, along with their love of poetry and myth, that finally encourage Olive to step out of a past she can no longer face, and take on the future.
Heroine Complex by Sarah Kuhn
Evie Tanaka is the put-upon personal assistant to Aveda Jupiter, her childhood best friend and San Francisco's most beloved superheroine. She's great at her job—blending into the background, handling her boss's epic diva tantrums, and getting demon blood out of leather pants.
Unfortunately, she's not nearly as together when it comes to running her own life, standing up for herself, or raising her tempestuous teenage sister, Bea.
But everything changes when Evie's forced to pose as her glamorous boss for one night, and her darkest comes out: she has powers, too. Now it's up to her to contend with murderous cupcakes, nosy gossip bloggers, and supernatural karaoke battles—all while juggling unexpected romance and Aveda's increasingly outrageous demands. And when a larger threat emerges, Evie must finally take charge and become a superheroine in her own right… or see her city fall to a full-on demonic invasion.
(Though this book is technically adult, the main character is only in her early 20s and the voice is so perfect that I had to include it. It's a laugh-out-loud hilarious novel featuring a diverse cast & a main character who struggles with anxiety. Such a unique premise, I can't wait to see what Sarah Kuhn writes next.)
Forthcoming: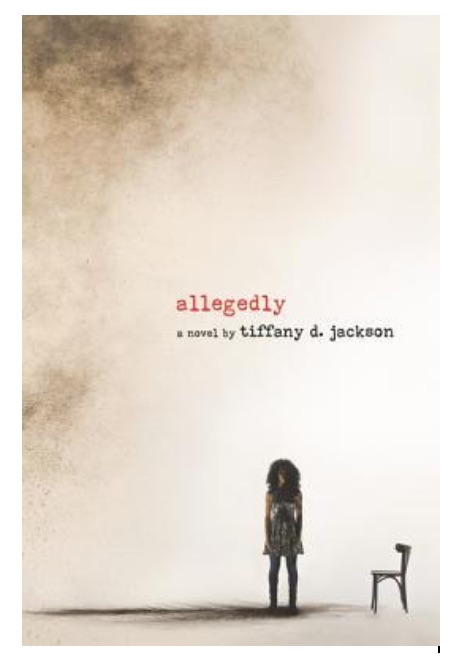 Allegedly by Tiffany D. Jackson
Mary B. Addison killed a baby.
Allegedly. She didn't say much in that first interview with detectives, and the media filled in the only blanks that mattered: a white baby had died while under the care of a churchgoing black woman and her nine-year-old daughter. The public convicted Mary and the jury made it official. But did she do it?
There wasn't a point to setting the record straight before, but now she's got Ted—and their unborn child—to think about. When the state threatens to take her baby, Mary's fate now lies in the hands of the one person she distrusts the most: her Momma. No one knows the real Momma. But does anyone know the real Mary?
(Add this to your to-reads now. It's out in January 2017, and it's sure to be a debut novel you don't want to miss!)
Thank you for reading this post. I hope you've found a new novel, or two! Crises with mental illness and addiction have at times defined and consumed my life. If you're struggling with your mental health, you are not alone. I promise that there are others who understand how you feel. Don't suffer alone. There's this idea in POC communities that we have to be strong, that we have to be polite, that we can't ask for help. I faked all for years and though it was scary as hell to eventually to reach out to others, asking and following through with getting help, along with reading books like these that humanized and destigmatized my experiences, saved my life.
I'd love to hear about any other titles that you know of, that I left out. Feel free to continue this conversation in the comments or contact me via Twitter, @whimsicallyours.
Thank you, again!
Patrice
P.S. If you're interested in other mediums that highlight POC with mental illnesses, check out this awesome photo series by Dior Vargas.