When I began working in libraries, comics and graphic novels puzzled me to no end. I didn't know what to get or how to stay on top of things, and even more challenging for me was not understanding why I could or could not acquire certain titles. It wasn't until I took a continuing education class in comics and graphic novels for the library, offered through the University of Wisconsin's LIS program, that it all made sense to me. I'd always been a casual reader, but I'd primarily read graphic memoirs; being forced to read beyond that really helped me learn that there's a lot out there that's totally up my alley, and it taught me the most basic and most crucial component about comics: there's a difference between single issues and trades. For comics readers, this is a no brainer. But for those who aren't, it's this little clarification that makes the entire process of finding, acquiring, and reading comics so much easier.
I tend to read comics in trade format. This means multiple issues of a comic are bound together into a larger, more study edition. These are the ones you can find in most standard chain bookstores. Not everything ends up in trade, and trades come out after a run of singles are out. Single issues are, as the term suggests, one-off issues. These are released on a schedule, and they're just one installment of a larger comic story arc. Think of it sort of like a serialized novel in a magazine. Single issues are flimsy and really not great for library purchasing, as they tend to be made of even cheaper, less durable material than a standard magazine is.
Besides wanting to make that distinction for anyone approaching comics without the familiarity, I thought it worthwhile because this post is a round-up of my recent comic reads. Most of what I read, again, are in the trade format; however, a couple weeks ago I picked up a single issue of a brand new comic and loved it to bits and pieces — enough that I'll keep buying it in single issues to stay with the story as it progresses. It's kind of fun to have that anticipation.
All of these comics are fine for teens. Some are more graphic/violent than others, but they'll all have teen appeal in some capacity. More, and the thing that excites me most about my recent comic binge, is that they all feature fantastically drawn female characters (and yes, I mean drawn in all senses of the word there).
Trade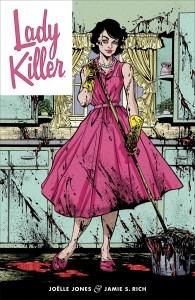 Lady Killer by Joelle Jones and Jamie S. Rich
This one is going to appeal to readers who love noir and who are totally all-in on a story about a woman who murders for hire. It's completely compelling and engaging and a big reason is because it messes with what we think about when it comes to hitmen.
But more — and the thing that made this particular comic really work for me — was that it's stylized in a very vintage manner. The cover image is pretty perfectly representative of the comic as a whole. Josie is a housewife and a mother, and her job doing the dirty work for others is unknown to her family. She looks one way but the actions tell a completely different story, and it's this tension of image and perception against reality that make this unique and a lot of fun.
I have a hard time finding dark comedy in my reading that works for me, but Lady Killer absolutely killed it. Josie is unapologetically violent woman who is "just doing her job" during a time when that was totally unacceptable. And realistically? It's still totally unacceptable, so the social commentary on gender roles here resonates strong. I'm eagerly awaiting more in this story because there's so much here to juice. You can check out some of the panels here.
You need no backstory, set-up, or history to jump into this comic. It's brand new, and this first trade will get you into it right away.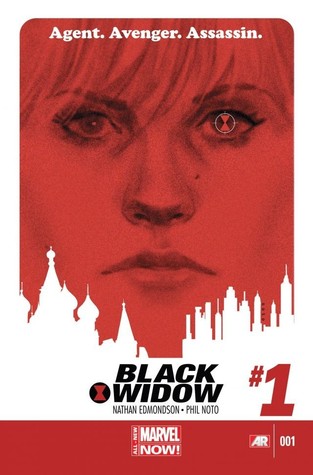 Black Widow #1 by Nathan Edmondson and Phil Noto
I've actually got all three of the Black Widow trades on my shelf, but I've only had an opportunity to read the first one. It was far from disappointing, and it was absolutely worth the effort it took to find — for some reason, snagging the first trade of this one was a challenge, as it was sold out everywhere for a long time.
Natasha Romanov, aka Black Widow, for those who don't know, is a member of The Avengers, and more, she's a former KGB assassin who is out to seek atonement for it. Readers who have zero knowledge of The Avengers, Agents of S.H.I.E.L.D., or Black Widow can absolutely jump in on this first trade to get the entire story. You'll get the arc immediately, and you'll find out the history and the current space of Black Widow right here.
What's really great about the first trade is that it's entirely about Natasha. She's not sharing the spotlight with any other people at this point. It's violent, it's rough, and we're immediately thrown into her unstable world and learn why it is she lives with her fists raised.
The story is compelling and really a solid superhero to start with for the uninitiated, but what really sings in this is the art. It's gorgeous — Noto does a spectacular job using the pages, of using color, and of rendering the heroine here on her own strong terms. So many people have trouble with the idea of "strong female character" as a descriptor, but Nato creates that in his art. In a culture that continues to erase or "forget" about the female characters in superheroland, it's refreshing to see Black Widow standing here on her own and doing so powerfully. I'm excited to see her story continue, which is why I bought the next two trades immediately after finishing this. I never thought I'd be interested in a superhero movie, but when a Black Widow film happens, I will absolutely want to see it because her story is so fascinating.
Single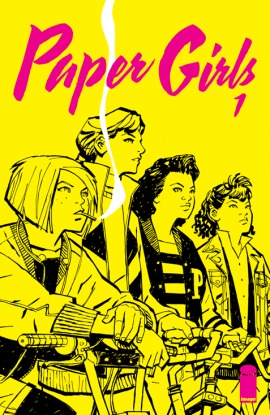 Paper Girls #1 by Brian K. Vaughan, Cliff Chiang, and Matt Wilson
One issue of this was not enough. I'm chomping at the bit for #2 because this introduction to a new story of rad newspaper delivery girls in the 1980s hooked me immediately and ended in a wonderful cliffhanger.
The night after Halloween, a group of 12-year-old newspaper girls discover what appears to be a machine created in honor of the 50th anniversary of War of the Worlds. This is the cliffhanger, but the big takeaway from the comic isn't just the fact it's a compelling hook, but it's wildly feminist. There are instances of hateful language used, but it's called out and expressed as inappropriate, and more, the girls are there working side by side in their delivery.
The dialog in this issue works, as the girls all sound like teenagers. We don't get a terrible amount of development, but that's because this is still the first issue, so there's a lot of room for growth. I think that's what makes this a really promising new series — Vaughan sets up a lot of space for these girls and their arcs to grow and mold, but we know, too, that they're going to be smart but not too-smart-for-12-year-old-girls, which is a thing I find distracting and inauthentic in stories.
The art is, as the cover shows, a lot of fun. It's definitely stylized and it's definitely 80s-tastic, but that's part of the appeal. And the references and allusions are a blast: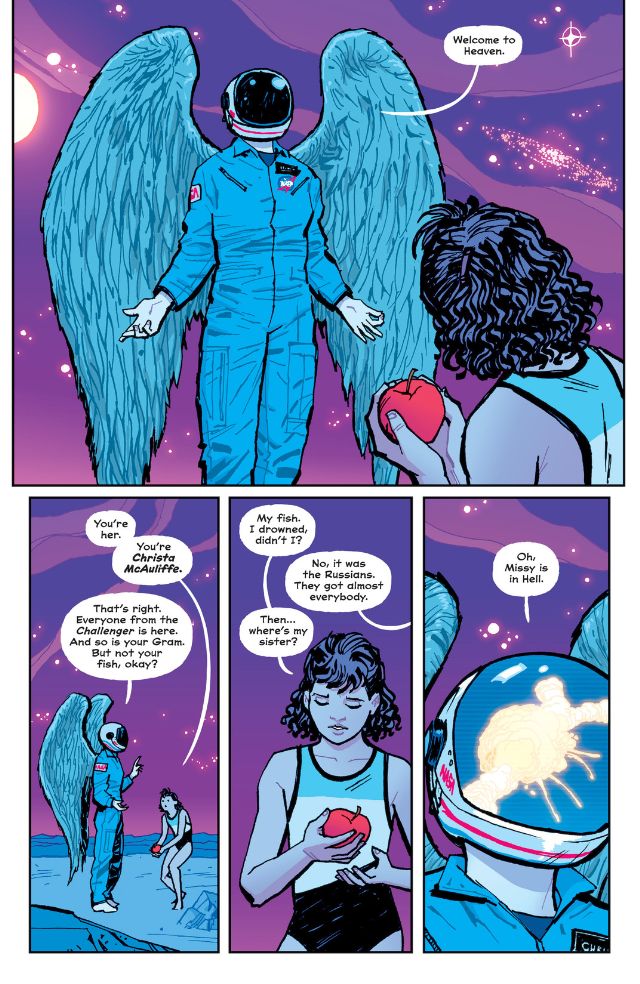 I'm ready for issue #2, which will hit comic stores later this month.
Graphic Memoir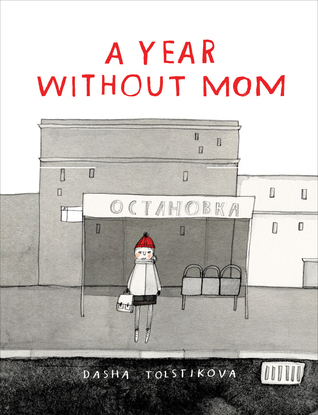 A Year Without Mom by Dasha Tokstikova
Rounding out this round-up of recent comics reads is a graphic memoir that I didn't necessarily love, but that I see the appeal and interest for.
It's the early 1990s in Russia, during the Cold War, and Dasha's mother decides that in order to better herself and her own education, she needs to leave Russia for America for a year. Dasha is living with her grandmother during this time, and we see what a year in this very specific time and place look like for her as a young girl.
There's friendship squabbles, crushes, tension with family, and then, of course, the Russian politics of the early 90s. It's very relatable, which I think is the key selling point of this particular memoir — while we know that there's a lot of historical baggage (which is underexplored here, in part because it's from the perspective of Dasha's 12-year-old self and in part because there "grounding" in this book is about a year without mom, not the year without mom while the government is unstable), the take away is that Dasha's life isn't dissimilar from any other 12-year-old in the world. She's on that precipice of being a child and being a teenager, and it's the absence of her mother that causes her more challenges than normal. I really wish we'd gotten more of the political climate here, though, because I'm not as familiar with this time and place as I'd like to be, and I suspect this will hold even more true for today's tween readers.
More, though, I found some of the choices in design on this completely frustrating — why would you lay black text on gray coloring? It's easy to overlook and miss and it's even more challenging to read. I'm also curious why so many reviews don't point this out. It's a flaw, not a feature.  I think the lack of color use in this memoir is effective, particularly for capturing place, setting, and mood, but the choices in layout were not reader friendly, especially for anyone who may be less familiar with reading graphic stories. There's not an immersive experience to be had here.
This slice-of-life graphic memoir is worth a read, though it's one you don't have to buy or own because the challenges don't make it entirely stand out. I do think it's interesting that it's another title set during the Cold War in Russia, a trend that's popped up a few times in recent YA. I think it speaks to the authors more than it might to today's teen readers, if only because the understanding of what growing up with that climate means might be a bit lost on them.