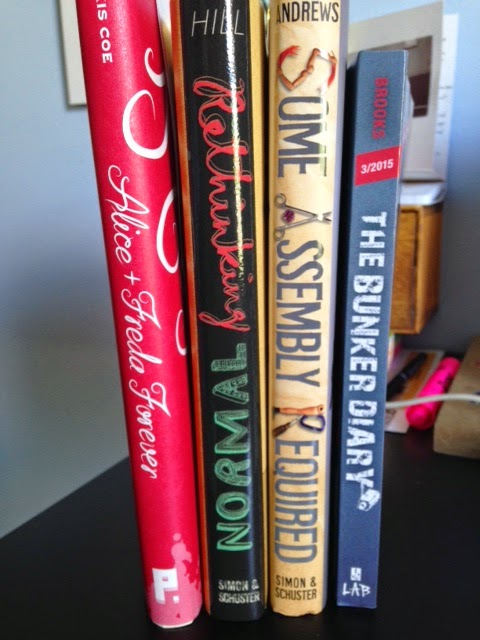 It's been a couple of weeks since I did a "This Week in Books." So let's call it an irregular regular feature here. Rather than try to round up all of the books I've received over those weeks, I'm keeping it to just the titles that showed up this week. Here's an interesting trend: this was the first time my review copies were weighed more heavily in non-fiction. Pictured above:
Rethinking Normal by Katie Rain Hill: A memoir about Katie's choice to undergo gender reassignment surgery. I've been excited about this one for a while. Katie was born a boy and is now a girl.
Over the last couple of weeks, I've not read as much as I've hoped to.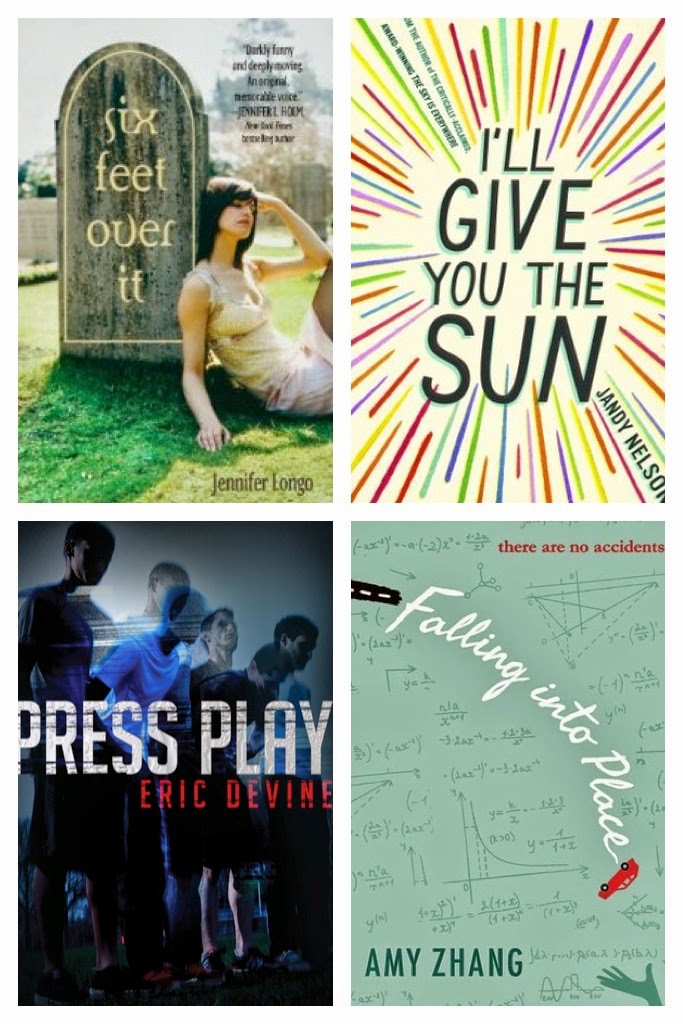 I finished:
Falling Into Place by Amy Zhang, which I'll review this week. This was really great, and one of the best debut YAs I've read this year.
Press Play by Eric Devine, a good book for readers looking for an intense look at sports, bullying, and peer pressure through the eyes of a boy
I'll Give You The Sun by Jandy Nelson, which didn't work for me. The language was lovely, but it overshadowed the story and I never once bought the male main character as a 13-year-old boy.
Six Feet Over It by Jennifer Longo, which tackled the heavy topic of grief, but did so in a way that makes this a really great read for younger YA readers (the main character is younger than most, too).
I'm about half-way through Stephanie Perkins's Isla and the Happily Ever After and I'm a bit underwhelmed with it. It's not bad, and I'm not going to quit it, but it's not blowing me away in the same way that Anna and the French Kiss did. I think there's a big problem with the book, and it's one I've been thinking a lot about recently in YA: this book would be so much more believable and enjoyable if it were not set in high school. Were Isla and Josh college students, even freshmen, rather than high school seniors at a posh American boarding school abroad, I'd be so much more charmed by the story because I would be questioning their privilege and character development far less than I am. Perhaps this is something I'll write about.
Links and News
I keep an eye on book announcements, and I don't tend to blog about them (it's easier to put them on Twitter or Tumblr). But last week, I was talking about Joshua Cohen's
Leverage
and wishing for a second book from him, since I'd heard nothing at all since that book came out. Low and behold, he's publishing a second novel next year.
It's a middle grade novel out of Egmont
and it looks good.
Here are a few posts and resources that caught my eye in the last couple of weeks:
This one is for those who are writers or work with writers (and readers, too): check out this Tumblr dedicated to "writing and resources centered on cultural and ethnic diversity." Speaking of diverse books, you know about the We Read Too app you can get for free, which allows you to search for books by and about people of color? Check it out. It was created by a college student.
In keeping with the diversity theme, if you're a blogger (or a reader!), you should consider taking part in the #Diversiverse Challenge. It kicks off tomorrow and runs through the 27th, and all it asks is you read and talk up a book by a person of color. Easy!
Going to Kid Lit Con or considering it? Here's the lineup of panels and speakers. I'll be talking twice: on Friday I'm talking about social media and on Saturday, I'm part of a really exciting panel talking about how to speak up for and about diversity in kid lit.