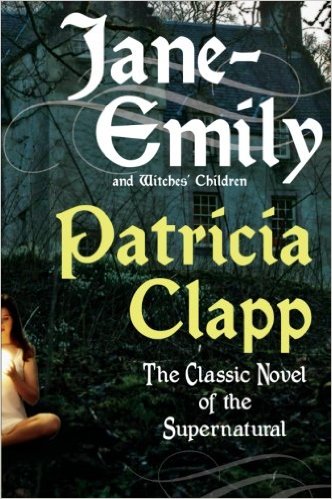 I went into Jane-Emily not knowing what to expect. In part because the descriptions for this book are all over the map and none of them really get to the heart of what the book's about. The other reason I didn't know what to expect was that I am never quite sure how older horror in YA holds up. I knew that a book that was reissued decades after it came out meant that there was something to it, but I had no idea if it would fall into the genuinely creepy camp or would be more in the silly camp.
This falls squarely in the "holds up and is totally creepy" camp.
Liz has been sharing her chapter by chapter thoughts on this one. Go read them. She's picked up on a number of things that I thought about as I was reading.
Rather than talk about what did and didn't work in this book — for me, it was an all around winner in terms of working — what really captured my attention with this one was how it was framed and structured and whether or not a book like this would be considered YA today.
Louisa is our narrator, or at least, she's the primary voice we hear through the story. She's 18, and she's been dating a boy for quite a while before she and her cousin Jane go spend a summer at Jane's grandmother's home. Understand that Jane has experienced a lot of loss and trauma in her life; this summer is meant to give her the opportunity to be a kid and enjoy her summer. Louisa agrees to go, even though she's a bit more reluctant. She also reluctantly agrees to send and receive letters with her boyfriend who is far more attached to her than she is to him.
This seems to be Louisa's thing, being somewhat distant.
The bulk of the story, though, focuses on Jane, who begins to see and experience strange sensations that she knows belong to the spirit of Emily. Emily was her grandmother's daughter, and she was, as grandma and everyone else in the house continues to say, "a not good kid." Emily "resides" in a mirror ball, and her spirit continues to reach out to little Jane. It's creepy in an atmospheric, Shirley Jackson type way — it's far more about what you don't see than what you do see. It's clear that Emily is haunting Jane, though I frequently wondered how much of that was a true spirit haunting her vs how much was Jane's own trauma coming to haunt her. I think the fact you don't ever REALLY know is the part that's most chilling.
But back to Louisa. For being the main voice, we actually never get to know her, aside from the fact that she's got this boyfriend who she seems distant from, and she's been set up by her great aunt to meet a local doctor for potential dating purposes. Louisa's not impressed with the doctor at first, but slowly, he begins winning her over, even though he speaks less-than-flatteringly of women. This book was set in the early 1900s, so pre-suffrage, but there's little to no pushback on the doctor's mentality by Louisa. I don't think it's because Louisa doesn't have an opinion; rather, I think it's because Louisa isn't interested in telling her own story at all. She's instead the vessel for Jane/Emily's story.
This construction fascinates me. Being that Louisa is the teenager here and Jane is a mere 9 years old, it's a little strange that this book is and was marketed for teenagers. The teenager in the story (the only teenager in the story!) is Louisa, but her story doesn't matter at all. Rather, this is about the 9 year old, and this is the kind of book that would go over well with middle grade readers. Mary Hahn Downing fans would find a lot of good here.
I think this book would also do well with adult audiences in many ways. Ignoring the nostalgia factor, which is certainly important with this particular book and its potential audience, a lot of the way the book is written has appeal to adult readers who want a chilling story. There's distance between subject and story, and there is a lot to dig up in terms of what was going on at this historical moment. Again, Liz has done a fabulous job pulling out the questions she's had as an adult reader, including how old the characters were when big historical events were going on, as well as what was and wasn't in fashion during this period. The ripeness this book has for that sort of unpacking leads me to think about how appealing it would be for adults; look at books like The Book Thief and The Curious Incident of the Dog in the Nighttime. In different parts of the world, they were treated very differently and for different audiences than in the US.
It's odd to think of a book being marketed as being for teens doing better or being more suited as a middle grade OR an adult novel, but I do think middle grade and adult fiction have some interesting parallels to them. This isn't the first time I've thought this, but it's the first time I've sat to digest the importance of voice and framing when it comes to where and how a book fits with an audience. Of course, we know "YA" is a marketing tool, rather than a necessary "type" of book, but this book, being one that was indeed intended for teens, seems to allow room for really thinking about what it is that makes a book for teens or not. Jane Emily isn't interested in the teen's story at all. But would moving it outside of Louisa's perspective change it? Would it be as chilling? Would we be able to figure out what's going on if it were from Jane's perspective?
All of that isn't to say teens won't enjoy this. They will, but I think this book will tick off all the boxes for that 9-12 readership that's ready for a YA-type book but do not necessarily want YA. It's told through an older voice, which is immediately appealing, though the story itself is about the experiences of a 9-year-old. It's creepy in an atmospheric way, so while it could definitely cause nightmares for more faint of heart readers, the primary take away isn't in Emily's ghostly (…or not ghostly!) character. It's far bigger in terms of grief, loss, and trauma.
Another really interesting note on this book: it's short. The entire story takes place in roughly 140 pages, and it doesn't take shortcuts in developing story in them. Sure, we don't get to know much about Louisa or her love life, but Louisa is built as a distant character from the start. We accept the lack of details to be part of how she takes in her world and how she wants to present the story to us. Susan Hill does this same thing, building atmosphere, character, and story, in about the same number of pages in her classic The Woman in Black, too. Which again: my comps for this title fall right into the middle grade *and* adult arenas. Would fans of teen scream queen Lois Duncan like this? Absolutely. But I also think Duncan has great appeal for that 9-12 age range (that's when I was reading her, for sure).
It's interesting to think about this book, how well it went over, how it came back into print, and how it lacks the page counts of today's books. Does brevity help its longevity? Because it doesn't dwell on details — and it is set in the past — does that help in its timeless feel? Do the holes in the details make it appealing to adults who will want to fill them in with their own historical knowledge?
Jane Emily was such a great read, and I recommend it, if for no other reason than the number of question it left me with in terms of audience, readership, structure, voice, and more. In a lot of ways, its succinctness left those doorways open in a way that a longer, larger, meatier book sometimes closes. And for me as a reader (and as a horror movie lover), the true chills aren't in the things we see, but in the things that go unsaid and in the questions that stick around for a long, long time.