One of my favorite annual round-ups has been this one: a look at the YA books hitting shelves in the next year featuring teens of color front and center. It's been refreshing to see this become more common, though as always, we could use more, more, more.
Here's a look at some excellent 2018 book covers where teens of color are front and center. Not all covers for next year's books have been revealed yet, so this isn't comprehensive. Grab your TBR and pop these right on it. All descriptions are from Goodreads.
Know of any I've missed from traditional publishers? Lay 'em in the comments.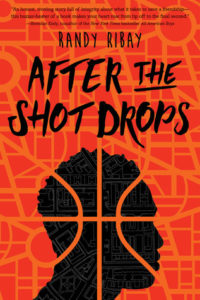 After The Shot Drops by Randy Ribay (March 6)
Bunny and Nasir have been best friends forever, but when Bunny accepts an athletic scholarship across town, Nasir is betrayed. Bunny feels out of place among his new, privileged peers, and Nasir spends more time with his cousin, Wallace, who is being evicted. Nasir can't help but wonder why the neighborhood is falling over itself to help Bunny when Wallace is in trouble.
When Wallace makes a bet against Bunny, Nasir is faced with an impossible decision—maybe a dangerous one.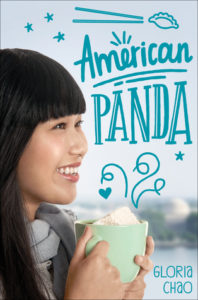 American Panda by Gloria Chao (February 6)
At seventeen, Mei should be in high school, but skipping fourth grade was part of her parents' master plan. Now a freshman at MIT, she is on track to fulfill the rest of this predetermined future: become a doctor, marry a preapproved Taiwanese Ivy Leaguer, produce a litter of babies.
With everything her parents have sacrificed to make her cushy life a reality, Mei can't bring herself to tell them the truth–that she (1) hates germs, (2) falls asleep in biology lectures, and (3) has a crush on her classmate Darren Takahashi, who is decidedly not Taiwanese.
But when Mei reconnects with her brother, Xing, who is estranged from the family for dating the wrong woman, Mei starts to wonder if all the secrets are truly worth it. Can she find a way to be herself, whoever that is, before her web of lies unravels?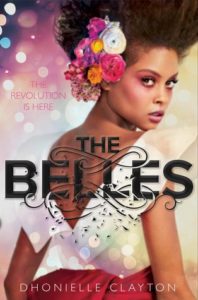 The Belles by Dhonielle Clayton (February 20, first in a series)
Camellia Beauregard is a Belle. In the opulent world of Orléans, Belles are revered, for they control Beauty, and Beauty is a commodity coveted above all else. In Orléans, the people are born gray, they are born damned, and only with the help of a Belle and her talents can they transform and be made beautiful.
But it's not enough for Camellia to be just a Belle. She wants to be the favorite—the Belle chosen by the Queen of Orléans to live in the royal palace, to tend to the royal family and their court, to be recognized as the most talented Belle in the land. But once Camellia and her Belle sisters arrive at court, it becomes clear that being the favorite is not everything she always dreamed it would be. Behind the gilded palace walls live dark secrets, and Camellia soon learns that the very essence of her existence is a lie—that her powers are far greater, and could be more dangerous, than she ever imagined. And when the queen asks Camellia to risk her own life and help the ailing princess by using Belle powers in unintended ways, Camellia now faces an impossible decision.
With the future of Orléans and its people at stake, Camellia must decide—save herself and her sisters and the way of the Belles—or resuscitate the princess, risk her own life, and change the ways of her world forever.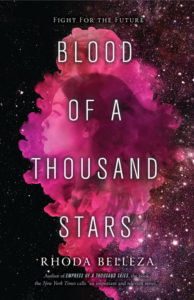 Blood Of A Thousand Stars by Rhoda Belleza (February 20, second in a series)
Empress
With a revolution brewing, Rhee is faced with a choice: make a deal with her enemy, Nero, or denounce him and risk losing her crown.
Fugitive
Framed assassin Alyosha has one goal in mind: kill Nero. But to get his revenge, Aly may have to travel back to the very place he thought he'd left forever—home.
Princess
Kara knows that a single piece of technology located on the uninhabitable planet Wraeta may be the key to remembering—and erasing—the princess she once was.
Madman
Villainous media star Nero is out for blood, and he'll go to any means necessary to control the galaxy.
Vicious politics and high-stakes action culminate in an epic showdown that will determine the fate of the universe.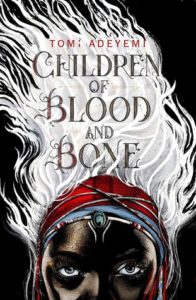 Children of Blood and Bone by Tomi Adeyemi (March 6, first in a series)
Zélie Adebola remembers when the soil of Orïsha hummed with magic. Burners ignited flames, Tiders beckoned waves, and Zelie's Reaper mother summoned forth souls.
But everything changed the night magic disappeared. Under the orders of a ruthless king, maji were targeted and killed, leaving Zélie without a mother and her people without hope.
Now, Zélie has one chance to bring back magic and strike against the monarchy. With the help of a rogue princess, Zélie must outwit and outrun the crown prince, who is hell-bent on eradicating magic for good.
Danger lurks in Orïsha, where snow leoponaires prowl and vengeful spirits wait in the waters. Yet the greatest danger may be Zélie herself as she struggles to control her powers—and her growing feelings for the enemy.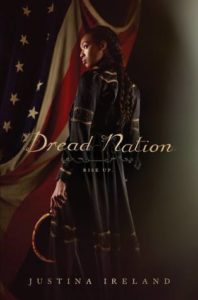 Dread Nation by Justina Ireland (April 3)
Jane McKeene was born two days before the dead began to walk the battlefields of Gettysburg and Chancellorsville—derailing the War Between the States and changing America forever. In this new nation, safety for all depends on the work of a few, and laws like the Native and Negro Reeducation Act require certain children attend combat schools to learn to put down the dead. But there are also opportunities—and Jane is studying to become an Attendant, trained in both weaponry and etiquette to protect the well-to-do. It's a chance for a better life for Negro girls like Jane. After all, not even being the daughter of a wealthy white Southern woman could save her from society's expectations.
But that's not a life Jane wants. Almost finished with her education at Miss Preston's School of Combat in Baltimore, Jane is set on returning to her Kentucky home and doesn't pay much mind to the politics of the eastern cities, with their talk of returning America to the glory of its days before the dead rose. But when families around Baltimore County begin to go missing, Jane is caught in the middle of a conspiracy, one that finds her in a desperate fight for her life against some powerful enemies. And the restless dead, it would seem, are the least of her problems.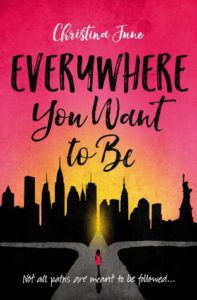 Everywhere You Want To Be by Christina June (May 1)
Matilda Castillo has always done what she was told, but when she gets injured senior years, she watches her dreams of becoming a contemporary dancer slip away. So when Tilly gets a once-in-a-lifetime opportunity to spend the summer with a New York dance troupe, nothing can stop her from saying yes–not her mother, not her fears of the big city, and not the commitment she made to Georgetown. Tilly's mother allows her to go on two conditions: one, Tilly will regularly visit her abuela in New Jersey, and two, after the summer, she'll give up dancing and go off to college.
Armed with her red vintage sunglasses and her pros and cons lists, Tilly strikes out, determined to turn a summer job into a career. Along the way she meets new friends … and new enemies. Tilly isn't the only one desperate to dance, and fellow troupe member Sabrina Wolfrik intends to succeed at any cost. But despite dodging sabotage and blackmail attempts from Sabrina, Tilly can't help but fall in love with the city, especially since Paolo, a handsome musician from her past, is also calling New York home for the summer.
As the weeks wind down and the competition with Sabrina heats up, Tilly's future is on the line. She must decide whether to follow her mother's path to Georgetown or leap into the unknown to pursue her own dreams.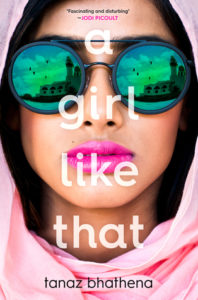 A Girl Like That by Tanaz Bhathena (February 27)
Sixteen-year-old Zarin Wadia is many things: a bright and vivacious student, an orphan, a risk taker. She's also the kind of girl that parents warn their kids to stay away from: a troublemaker whose many romances are the subject of endless gossip at school.  You don't want to get involved with a girl like that, they say. So how is it that eighteen-year-old Porus Dumasia has only ever had eyes for her? And how did Zarin and Porus end up dead in a car together, crashed on the side of a highway in Jeddah, Saudi Arabia? When the religious police arrive on the scene, everything everyone thought they knew about Zarin is questioned. And as her story is pieced together, told through multiple perspectives, it becomes clear that she was far more than just a girl like that.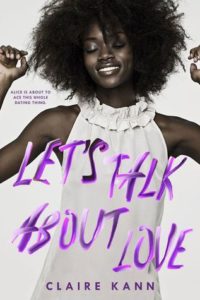 Let's Talk About Love by Claire Kann (January 28)
Alice had her whole summer planned. Non-stop all-you-can-eat buffets while marathoning her favorite TV shows (best friends totally included) with the smallest dash of adulting–working at the library to pay her share of the rent. The only thing missing from her perfect plan? Her girlfriend (who ended things when Alice confessed she's asexual). Alice is done with dating–no thank you, do not pass go, stick a fork in her, done.
But then Alice meets Takumi and she can't stop thinking about him or the rom com-grade romance feels she did not ask for (uncertainty, butterflies, and swoons, oh my!).
When her blissful summer takes an unexpected turn, and Takumi becomes her knight with a shiny library employee badge (close enough), Alice has to decide if she's willing to risk their friendship for a love that might not be reciprocated—or understood.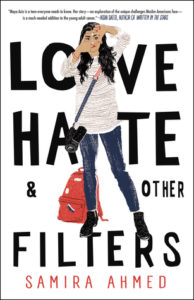 Love, Hate, and Other Filters by Samira Ahmed (January 16)
A searing #OwnVoices coming-of-age debut in which an Indian-American Muslim teen confronts Islamophobia and a reality she can neither explain nor escape–perfect for fans of Angie Thomas, Jacqueline Woodson, and Adam Silvera.
Maya Aziz is torn between futures: the one her parents expect for their good Indian daughter (i.e.; staying nearby in Chicago and being matched with a "suitable" Muslim boy), and the one where she goes to film school in New York City–and maybe, just maybe, kisses a guy she's only known from afar. There's the also the fun stuff, like laughing with her best friend Violet, making on-the-spot documentaries, sneaking away for private swimming lessons at a secret pond in the woods. But her world is shattered when a suicide bomber strikes in the American heartland; by chance, he shares Maya's last name. What happens to the one Muslim family in town when their community is suddenly consumed with hatred and fear?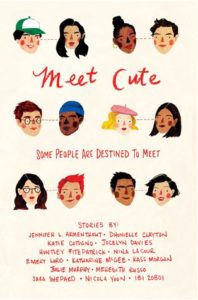 Meet Cute anthology by various YA authors (January 2)
Whether or not you believe in fate, or luck, or love at first sight, every romance has to start somewhere. MEET CUTE is an anthology of original short stories featuring tales of "how they first met" from some of today's most popular YA authors.
Readers will experience Nina LaCour's beautifully written piece about two Bay Area girls meeting via a cranky customer service Tweet, Sara Shepard's glossy tale about a magazine intern and a young rock star, Nicola Yoon's imaginative take on break-ups and make-ups, Katie Cotugno's story of two teens hiding out from the police at a house party, and Huntley Fitzpatrick's charming love story that begins over iced teas at a diner. There's futuristic flirting from Kass Morgan and Katharine McGee, a riveting transgender heroine from Meredith Russo, a subway missed connection moment from Jocelyn Davies, and a girl determined to get out of her small town from Ibi Zoboi. Jennifer Armentrout writes a sweet story about finding love from a missing library book, Emery Lord has a heartwarming and funny tale of two girls stuck in an airport, Dhonielle Clayton takes a thoughtful, speculate approach to pre-destined love, and Julie Murphy dreams up a fun twist on reality dating show contestants.
This incredibly talented group of authors brings us a collection of stories that are at turns romantic and witty, epic and everyday, heartbreaking and real.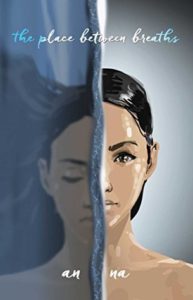 The Place Between Breaths by An Na (March 6)
Sixteen-year-old Grace is in a race against time—and in a race for her life—even if she doesn't realize it yet…
She is smart, responsible, and contending with more than what most teens ever have to. Her mother struggled with schizophrenia for years until, one day, she simply disappeared—fleeing in fear that she was going to hurt herself or those she cared about. Ever since, Grace's father has worked as a recruiter at one of the leading labs dedicated to studying the disease, trying to lure the world's top scientists to the faculty to find a cure, hoping against hope it can happen in time to help his wife if she is ever found. But this makes him distant. Consumed.
Grace, in turn, does her part, interning at the lab in the gene sequencing department in hopes that one day they might make a breakthrough…and one day they do. Grace stumbles upon a string of code that could be the key. But something inside of Grace has started to unravel. Could her discovery just be a cruel side effect of the schizophrenia finally taking hold? Can she even tell the difference between what is real and what isn't?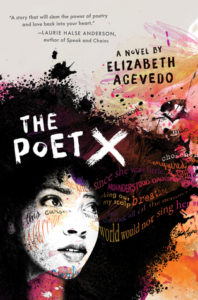 The Poet X by Elizabeth Acevedo (March 6)
Xiomara Batista feels unheard and unable to hide in her Harlem neighborhood. Ever since her body grew into curves, she has learned to let her fists and her fierceness do the talking.
But Xiomara has plenty she wants to say, and she pours all her frustration and passion onto the pages of a leather notebook, reciting the words to herself like prayers—especially after she catches feelings for a boy in her bio class named Aman, who her family can never know about. With Mami's determination to force her daughter to obey the laws of the church, Xiomara understands that her thoughts are best kept to herself.
So when she is invited to join her school's slam poetry club, she doesn't know how she could ever attend without her mami finding out, much less speak her words out loud. But still, she can't stop thinking about performing her poems.
Because in the face of a world that may not want to hear her, Xiomara refuses to be silent.
Fans of Jacqueline Woodson, Meg Medina, and Jason Reynolds will fall hard for this astonishing own voices novel-in-verse by an award-winning slam poet, about an Afro-Latina heroine who tells her story with blazing words and powerful truth.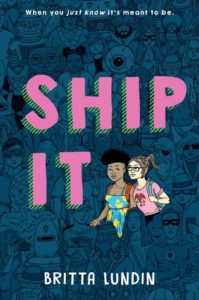 Ship It by Britta Lundin (Spring 18)
The story of a fanfic writer named Claire who just knows the two male characters on her favorite show are in love, and tries to convince the showrunner to make the relationship happen on screen when she's invited on a Comic Con tour with the cast.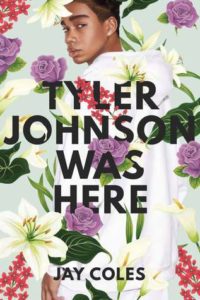 Tyler Johnson Was Here by Jay Coles (March 20)
When Marvin Johnson's twin, Tyler, goes to a party, Marvin decides to tag along to keep an eye on his brother. But what starts as harmless fun turns into a shooting, followed by a police raid.
The next day, Tyler has gone missing, and it's up to Marvin to find him. But when Tyler is found dead, a video leaked online tells an even more chilling story: Tyler has been shot and killed by a police officer. Terrified as his mother unravels and mourning a brother who is now a hashtag, Marvin must learn what justice and freedom really mean.