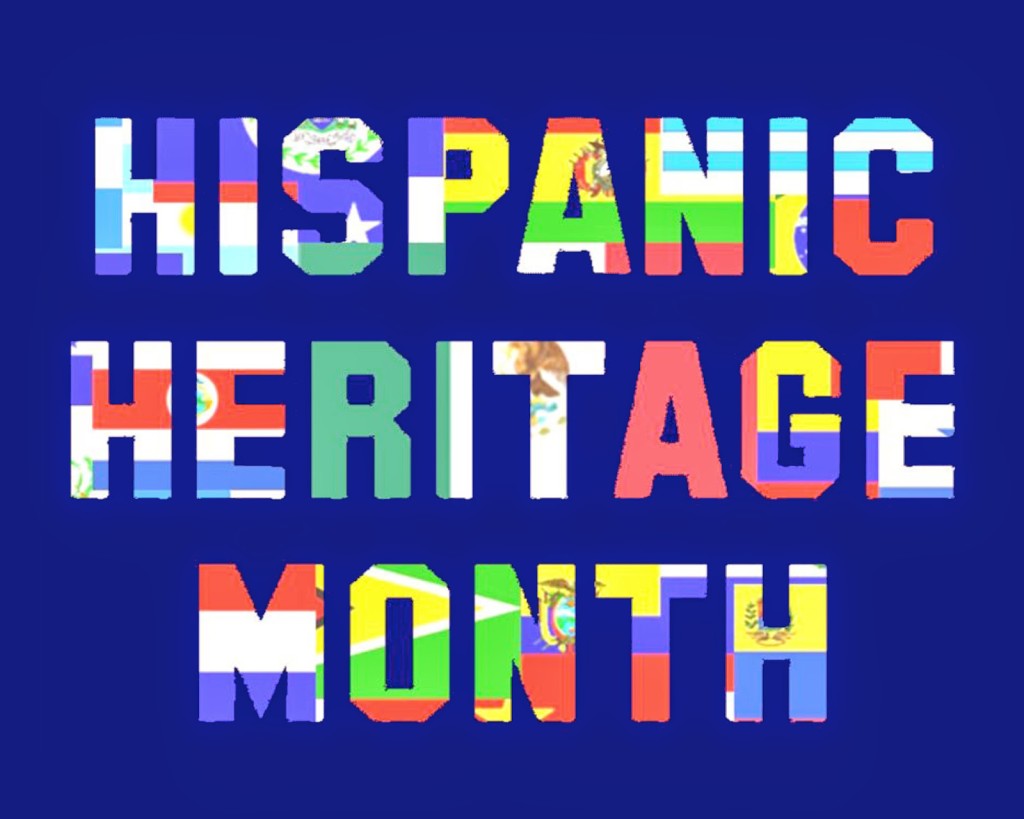 While I may live in small town Wisconsin, one of the things that makes this community unique is that roughly 1/3 of the residents are Hispanic. During the month of May, the city swaps out the flags lining downtown to Mexican national flags to celebrate Cinco de Mayo, and during Hispanic Heritage Month — September 15 through October 15 — there are multiple celebrations throughout town.
So why the mid-month beginning and ending to the celebration? Beginning in 1968, Hispanic Heritage Month began as a way to commemorate the anniversary of the independence of five Latin American countries: Costa Rica, El Salvador, Guatemala, Honduras, and Nicaragua. Within this same September 15 to October 15 time frame, Mexico, Chile, and Belize celebrate independence day. More about the history of Hispanic Heritage Month and celebrations that take place can be found here.
In honor of this month of honoring those of Hispanic heritage, I thought it'd be worthwhile to pull together a YA book list. These are titles written by Hispanic authors or books featuring Hispanic main characters. This won't be comprehensive, so feel free to let me know of other authors and titles to include in the comments.
I've limited my entries to one per author, but I've noted authors of Hispanic heritage with a * for further reference, and note that I've made those determinations based on information I could find and may miss some. All descriptions are from WorldCat.
For those seeking even more information about Latino/a authors, it's worth digging into this excellent resource.
The Book of Broken Hearts by Sarah Ockler: Jude has learned a lot from her older sisters, but the most important thing is this: The Vargas brothers are notorious heartbreakers. But as Jude begins to fall for Emilio Vargas, she begins to wonder if her sisters were wrong.
It's Not About the Accent by Caridad Ferrer*: Caroline Darcy decides to explore–and exploit–her distant Cuban ancestry when she goes away to college, claiming to be half-Cuban, calling herself "Carolina," and dying her blond hair Havana Brown, but soon faces profound consequences.
Sammy & Juliana in Hollywood by Benjamin Alire Saenz*: Sammy Santos and Juliana Rios live amongst the racism, discrimination, and everyday violence during the Vietnam years of the 1960s in a small town in Southern New Mexico.
Mexican Whiteboy by Matt de la Pena*: Sixteen-year-old Danny searches for his identity amidst the confusion of being half-Mexican and half-white while spending a summer with his cousin and new friends on the baseball fields and back alleys of San Diego County, California.
Red Glass by Laura Resau: Sixteen-year-old Sophie has been frail and delicate since her premature birth, but discovers her true strength during a journey through Mexico, where the six-year-old orphan her family hopes to adopt was born, and to Guatemala, where her would-be boyfriend hopes to find his mother and plans to remain.
Yaqui Delgado Wants to Kick Your Ass by Meg Medina*: One morning before school, some girl tells Piddy Sanchez that Yaqui Delgado hates her and wants to kick her ass. Piddy doesn't even know who Yaqui is, never mind what she's done to piss her off. Word is that Yaqui thinks Piddy is stuck-up, shakes her stuff when she walks, and isn't Latin enough with her white skin, good grades, and no accent. And Yaqui isn't kidding around, so Piddy better watch her back. At first Piddy is more concerned with trying to find out more about the father she's never met and how to balance honors courses with her weekend job at the neighborhood hair salon. But as the harassment escalates, avoiding Yaqui and her gang starts to take over Piddy's life. Is there any way for Piddy to survive without closing herself off or running away?
Border Town (series) by Malin Alegria*: When Fabiola's sister Alexis joins her at Dos Rios High, she warns her away from the troublemaking superjock Dex Andrews, but Alexis does not listen, and soon it is up to Fabiola to make things right, even if it means breaking her sister's heart.
**Alegria also wrote Estrella's Quincenara, which was wildly popular in the local library here.
Cuba 15 by Nancy Osa*: Violet Paz, a Chicago high school student, reluctantly prepares for her upcoming "quince," a Spanish nickname for the celebration of an Hispanic girl's fifteenth birthday.
Under the Mesquite by Guadalupe Garcia McCall*: Throughout her high school years, as her mother battles cancer, Lupita takes on more responsibility for her house and seven younger siblings, while finding refuge in acting and writing poetry.
Amigas series by Veronica Chambers*: Carmen is turning fifteen and her friends Sarita, Alicia, Jamie, and Gaz plan to throw her a quinceañera; but when the group decides to join a reality show competition, Carmen feels like her party is becoming less important.
The Dead and the Gone by Susan Beth Pfeffer: After a meteor hits the moon and sets off a series of horrific climate changes, seventeen-year-old Alex Morales must take care of his sisters alone in the chaos of New York City.
Sweet 15 by Emily Adler and Alex Echevarria: Shortly before her fifteenth birthday, Destiny Lozada's traditional Puerto Rican mother and feminist older sister hijack her quinceañera, each pushing her own agenda and ignoring the possibility that Destiny, a skateboarding tomboy, might have her own ideas about the coming-of-age ritual she is about to participate in.
Dark Dude by Oscar Hijuelos*: In the 1960s, Rico Fuentes, a pale-skinned Cuban American teenager, abandons drug-infested New York City for the picket fence and apple pie world of Wisconsin, only to discover that he still feels like an outsider and that violent and judgmental people can be found even in the wholesome Midwest.
The Last Summer of the Death Warriors by Francisco X Stork*: Seventeen-year-old Pancho is bent on avenging the senseless death of his sister, but after he meets D.Q, who is dying of cancer, and Marisol, one of D.Q.'s caregivers, both boys find their lives changed by their interactions.
Return to Sender by Julia Alvarez*: After his family hires migrant Mexican workers to help save their Vermont farm from foreclosure, eleven-year-old Tyler befriends the oldest daughter, but when he discovers they may not be in the country legally, he realizes that real friendship knows no borders.
Chasing the Jaguar by Michele Dominguez Greene*: After having unsettling dreams about the kidnapped daughter of her mother's employer, fifteen-year-old Martika learns that she is a descendant of a long line of curanderas–Mayan medicine women with special powers.
Cubanita by Gaby Triana*: Seventeen-year-old Isabel, eager to leave Miami to attend the University of Michigan and escape her overprotective Cuban mother, learns some truths about her family's past and makes important decisions about the type of person she wants to be.
Emily Goldberg Learns to Salsa by Micol Ostow: Forced to stay with her mother in Puerto Rico for weeks after her grandmother's funeral, half-Jewish Emily, who has just graduated from a Westchester, New York, high school, does not find it easy to connect with her Puerto Rican heritage and relatives she had never met.
Gringolandia by Lyn Miller-Lachman: In 1986, when seventeen-year-old Daniel's father arrives in Madison, Wisconsin, after five years of torture as a political prisoner in Chile, Daniel and his eighteen-year-old "gringa" girlfriend, Courtney, use different methods to help this bitter, self-destructive stranger who yearns to return home and continue his work.
La Linea by Ann Jaramillo When fifteen-year-old Miguel's time finally comes to leave his poor Mexican village, cross the border illegally, and join his parents in California, his younger sister's determination to join him soon imperils them both.
Romiette and Julio by Sharon M. Draper: Romiette, an African-American girl, and Julio, a Hispanic boy, discover that they attend the same high school after falling in love on the Internet, but are harrassed by a gang whose members object to their interracial dating.
City of the Beasts
by Isabel Allende*: When fifteen-year-old Alexander Cold accompanies his individualistic grandmother on an expedition to find a humanoid Beast in the Amazon, he experiences ancient wonders and a supernatural world as he tries to avert disaster for the Indians.
When Reason Breaks by Cindy L. Rodriguez* (February 10, 2015): Elizabeth Davis and Emily Daniels seem to have little in common except Ms. Diaz's English class and the solace they find in the words of Emily Dickinson, but both are struggling with to cope with monumental secrets and tumultuous emotions that will lead one to attempt suicide.
The Vicious Deep (series) by Zoraida Cordova*: After being sucked out to sea in a tidal wave, Tristan Hart returns ashore on Coney Island with no memory of what happened to him–yet he can sense the emotions of others and dreams of a terrifying silver mermaid with razor-sharp teeth.
Carmen by Walter Dean Myers: A policeman's obsessive love for a tempestuous wig factory worker ends in tragedy in this updated version of Bizet's Carmen, set in Spanish Harlem, and told in screenplay format.
Illegal by Bettina Restrepo: Nora, a fifteen-year-old Mexican girl, faces the challenges of being an illegal immigrant in Texas when she and her mother cross the border in search of Nora's father.
Putting Makeup on the Fat Boy by Bil Wright: Sixteen-year-old Carlos Duarte is on the verge of realizing his dream of becoming a famous make-up artist, but first he must face his jealous boss at a Macy's cosmetics counter, his sister's abusive boyfriend, and his crush on a punk-rocker classmate.
The Secret Side of Empty by Maria E. Andreu*: M.T. is a high-achieving high school student who is hiding the fact that she's an undocumented immigrant in the United States
The Tequila Worm by Viola Canales: Sofia grows up in the close-knit community of the barrio in McAllen, Texas, then finds that her experiences as a scholarship student at an Episcopal boarding school in Austin only strengthen her ties to family and her "comadres."
What Can('t) Wait by Ashley Hope Perez*:Marooned in a broken-down Houston neighborhood–and in a Mexican immigrant family where making ends meet matters much more than making it to college–smart, talented Marissa seeks comfort elsewhere when her home life becomes unbearable.
Accidental Love by Gary Soto*: After unexpectedly falling in love with a "nerdy" boy, fourteen-year-old Marisa works to change her life by transferring to another school, altering some of her behavior, and losing weight.
Down to the Bone by Mayra Lazara Dole: Laura, a seventeen-year-old Cuban American girl, is thrown out of her house when her mother discovers she is a lesbian, but after trying to change her heart and hide from the truth, Laura finally comes to terms with who she is and learns to love and respect herself.
Muchacho by LouAnne Johnson: Living in a neighborhood of drug dealers and gangs in New Mexico, high school junior Eddie Corazon, a juvenile delinquent-in-training, falls in love with a girl who inspires him to rethink his life and his choices.
The God Box by Alex Sanchez*: When openly gay Manuel transfers to Paul's high school, Paul, a born-again Christian, begins to question his own sexuality.
Red Hot Salsa: Bilingual Poems on Being Young and Latino in the United States edited by Lori Marie Carlson: "i think in spanish "i write in english "i want to go back to puerto rico, "but i wonder if my kink could live "in ponce, mayaguez and carolina "tengo las venas aculturadas "escribo en spanglish "abraham in espanol "–from "My Graduation Speech," by Tato Laviera A new collection of bilingual poems from the bestselling editor of "Cool Salsa Ten years after the publication of the acclaimed "Cool Salsa, editor Lori Marie Carlson has brought together a stunning variety of Latino poets for a long-awaited follow-up. Established and familiar names are joined by many new young voices, and Pulitzer Prize-winning novelist Oscar Hijuelos has written the Introduction. The poets collected here illuminate the difficulty of straddling cultures, languages, and identities. They celebrate food, family, love, and triumph. In English, Spanish, and poetic jumbles of both, they tell us who they are, where they are, and what their hopes are for the future.
Silver People by Margarita Engle*: Told in free-verse narratives, Fourteen-year-old Mateo and other Caribbean islanders face discrimination, segregation, and harsh working conditions when American recruiters lure them to the Panamanian rain forest in 1906 to build the great canal.
Gabi, A Girl in Pieces by Isabel Quintero* (October 14): Sixteen-year-old Gabi Hernandez chronicles her senior year in high school as she copes with her friend Cindy's pregnancy, friend Sebastian's coming out, her father's meth habit, her own cravings for food and cute boys, and especially, the poetry that helps forge her identity.
The Girl at Midnight by Melissa Grey* (April 28, 2014): Beneath the streets of New York City live the Avicen, an ancient race of people with feathers for hair and magic running through their veins. Age-old enchantments keep them hidden from humans. All but one. Echo is a runaway pickpocket who survives by selling stolen treasures on the black market, and the Avicen are the only family she's ever known. Echo is clever and daring, and at times she can be brash, but above all else she's fiercely loyal. So when a centuries-old war crests on the borders of her home, she decides it's time to act. Legend has it that there is a way to end the conflict once and for all: find the Firebird, a mythical entity believed to possess power the likes of which the world has never seen. It will be no easy task, but if life as a thief has taught Echo anything, it's how to hunt down what she wants . . . and how to take it. But some jobs aren't as straightforward as they seem. And this one might just set the world on fire. (Description via Goodreads).
Extraction (series) by Stephanie Diaz*: When she proves Promising enough to be "extracted" from the planet Kiel's toxic Surface to the much safer Core, sixteen-year-old Clementine learns that the planet's leaders are planning to exterminate Surface dwellers, including Logan, the boy Clementine loves.
More Happy Than Not by Adam Silvera* (June 16, 2015): When it first gets announced, the Leteo Institute's memory-alteration procedure seems too good to be true to Aaron Soto – miracle cure-alls don't tend to pop up in the Bronx projects. Aaron can't forget how he's grown up poor, how his friends all seem to shrug him off, and how his father committed suicide in their one bedroom apartment. He has the support of his patient girlfriend, if not necessarily his distant brother and overworked mother, but it's not enough. Then Thomas shows up. He doesn't mind Aaron's obsession over the Scorpius Hawthorne books and has a sweet movie set-up on his roof. There are nicknames. Aaron's not only able to be himself, but happiness feels easy with Thomas. The love Aaron discovers may cost him what's left of his life, but since Aaron can't suddenly stop being gay Leteo may be the only way out. (Description via Goodreads).