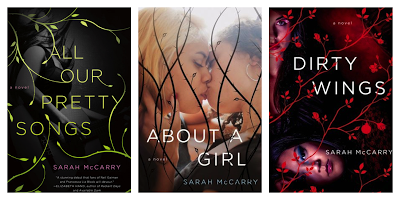 Kimberly and I are about to announce a bit of a blogging vacation. This will mean that we won't be posting anything new for a while — but we'll get to that next week in more detail.
Because of that, we won't be talking about July releases immediately. This is okay, as July is generally a very slow month in publishing. Few titles are released, so we don't feel we'll be doing a huge disservice not highlighting them as soon as we can.
That said, one book hitting shelves in July is really important, really good, and one I absolutely want to make sure I mention before we vacation. It's the third book in Sarah McCarry's very loose "Metamophoses" series, About A Girl. This book features, like the rest of the series, a diverse cast in terms of ethnicity, race, and sexuality. It's got a killer, important, necessary cover to go along with it.
I've written about this series before, but each of the titles are related, building upon one another. They're takes on mythology, though familiarity with those myths isn't necessary. Neither is reading the books in order, though readers who do will see not only the growth of a writer, but the growth of a series of interconnected, fascinating, enveloping, lush worlds.
These are books that are perfect for readers who love fantasy, mythology, or books by authors like Francesca Lia Block or Nova Ren Suma. They're rich stories with rich, fully-fleshed characters. Readers who like literary fiction — especially the kind that doesn't "feel" like YA but adult fiction — will eat this series up.
To celebrate the release of About A Girl and to encourage more people to pick up this fantastic series, I'm giving away a complete set of "Metamophoses" books. You'll get All Our Pretty Songs, which was a YALSA pick for the Outstanding Books for the College Bound title, Dirty Wings, and About A Girl. I'll pull a winner around July 15, and this give away is open to US and Canadian residents.
Good luck!
I don't know whether I need to make a disclosure or not, but Sarah has become a friend over the last couple of years, is a contributor to Book Riot where I work, and she will be contributing an essay to my Feminism for the Real World anthology (hey, there's your first spoiler at who is involved!). I won't be writing a review of About A Girl for these reasons, but my enthusiasm for the series and the book are real and authentic. I want more people to read them.