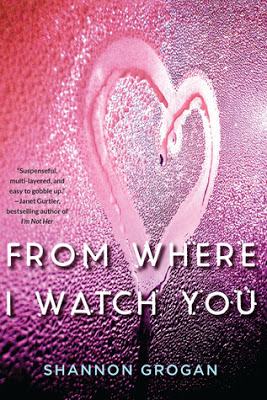 Back in 2010 — even typing that makes me realize how that was a long time ago! — I joined a critique group. I had plans to work on a novel, and even though none of those manuscripts will ever see the light of day, being a part of this group taught me a lot about critiquing, about writing, and about my own writing process (and that I was totally not ready to write a novel then).
One of the girls in that group I bonded with pretty quickly was Shannon Grogan. And one of the first things I read was her manuscript for what would eventually become From Where I Watch You. She worked on this novel for years and years, and it was so neat to see it go from idea to a work in progress to a manuscript to now, a fully published novel. It was thrilling to see her dream come to fruition, and it was thrilled to be a part of this process in terms of offering feedback and insight along the way.
It was an honor to help her rework that first chapter to perfection as she queried agents and then to be able to see her be offered representation from multiple agents. When her book was sold to Soho, I had a feeling it would be in really great hands. Soho has been doing really great stuff with their teen lines.
Now that From Where I Watch You is out and on shelves, I wanted to talk a little bit about it here on STACKED. I obviously can't review it, but it's the kind of book I think so many teen readers will love. It's an edgier mystery about a girl who has a dream of getting out and away from the ghosts that haunt her, from the death of her sister to her mother who has turned into a holy roller to the mysterious notes that keep popping up. Her way out is through a baking competition. This could help her land her dream and get her the money she needs to pursue her future on her own terms.
In a lot of ways, Shannon's book reminds me of Trish Doller's books, particularly in her writing and style. The voices here are very teen and teen readers will see themselves in the story, even if they haven't even been in this situation.
Here's the full description of From Where I Watch You:
Sixteen-year-old Kara McKinley is about to realize her dream of becoming a professional baker. Beautifully designed and piped, her cookies are masterpieces, but also her ticket out of rainy Seattle—if she wins the upcoming national baking competition and its scholarship prize to culinary school in California. Kara can no longer stand the home where her family lived, laughed, and ultimately imploded after her mean-spirited big sister Kellen died in a drowning accident. Kara's dad has since fled, and her mom has turned from a high-powered attorney into a nutty holy-rolling Christian fundamentalist peddling "Soul Soup" in the family café. All Kara has left are memories of better times.

But the past holds many secrets, and they come to light as Kara faces a secret terror. Someone is leaving her handwritten notes. Someone who knows exactly where she is and what's she's doing. As they lead her to piece together the events that preceded Kellen's terrible, life-changing betrayal years before, she starts to catch glimpses of her dead sister: an unwelcome ghost in filthy Ugg boots. If Kara doesn't figure out who her stalker is, and soon, she could lose everything. Her chance of escape. The boy she's beginning to love and trust. Even her life.


To celebrate the publication of Shannon's book, as well as to get the word out about the book a little further, I wanted to give away two copies of the book to STACKED readers. This one is for US residents, and I'll pick a winner at the end of the month.