I thought for a long time about what a nice "thank you" might be for those who preordered Here We Are: Feminism For The Real World. I wanted to do something special but tied into the book in some capacity, in a way that would make this a unique and special giveaway.
As I did a little searching around the internet, I realized my most amazing resources would be right in the book itself. Why reinvent the wheel when I can thank both those who preorder the book and those who took part in making the book what it is?
I'm giving away 2 amazing prize packs to 2 US residents who send proof of preordering Here We Are: Feminism For The Real World that look like this: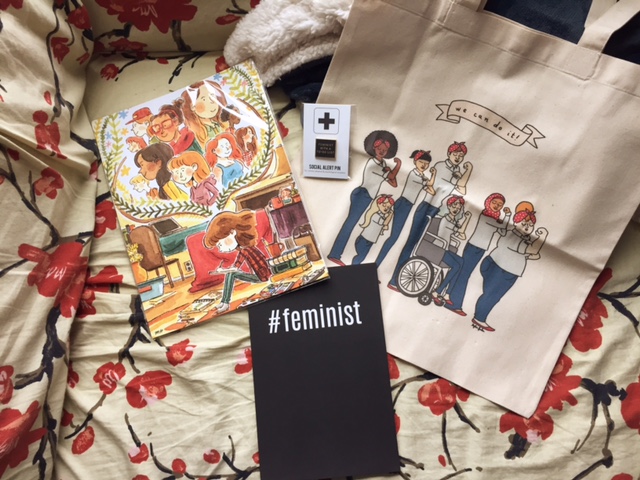 From left to right: a beautiful, full-color print of the piece that artist Michelle Hiraishi created for the anthology, a "Feminist with a To-Do List" pin (pictured up close below), a blank notebook with #feminist on the cover, and a lovely canvas tote bag featuring Tyler Feder's intersectional Rosie art, which is also in the anthology.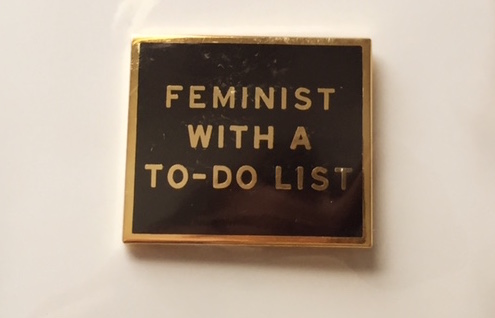 The rules to enter this giveaway are simple, but because of legalities, they're going to sound much more complex than they are. Dig? Here we go:
Open to US residents only, ages 18 and older. If you're under 18 and want to enter, have a parent, guardian, or trusted adult enter on your behalf.
To enter, send proof of purchase of Here We Are: Feminism For The Real World to kelly@stackedbooks.org. Photos of receipts or computer screen purchases are acceptable, and those who order through vendors, such as librarians, can just shoot proof from your vendor receipt. If you took advantage of getting a bookmark, you can submit your proof of purchase for this giveaway, too.
Giveaway closes on January 25, 2017 at 12:00 pm, central time. If you purchase the book on publication date, January 24, you're eligible, so long as the proof of purchase is in my inbox by this time.
Two winners will be randomly selected and contacted on the 25th and will have 72 hours to respond with their mailing information. If there's no response in that time frame, another winner/s will be randomly selected.
Winners will receive all four of the items pictured above.
Thanks to everyone for sharing in the excitement of this book. I cannot wait until it's out there and cannot wait to hear how and where teens find themselves fitting into the feminism party.