Kimberly and I are on the same page when it comes to writing about genre, which we've been doing through this Get Genrefied series. It's so much fun. I've been especially appreciating thinking about genre in terms of my own reading experiences. I like to think about the first time I read a book in a particular genre and how it may or may not have impacted my feelings toward that genre.
This month, we're tackling magical realism. It's a genre that has specific roots that are fascinating and it's a genre that's been popping up more and more throughout YA fiction. It's also a genre I happen to have a lot of warm feelings toward, thanks to the first time I read a book that could fall into this genre: Laura Esquivel's Like Water for Chocolate. This book was one I obsessed over in high school and still think about periodically. I love how real it is and yet what made the book so powerful for me was that it was completely unreal too.
Magical realism is a genre that flirts with a number of genre lines and expectations. It's not fantasy, nor is it science fiction. It's not wholly realistic and it's also not entirely historical. It blends all of these things and it touches on none of them at the same time. David Carr, in an article written for Novelist, notes that magical realism "contradicts the reader's normal expectation of time, space, or gravity, unexpectedly recounting secular miracles and human enchantments as everyday occasions." In other words, the world within a novel defined as magical realism is as real as ours and the magical things that happen within that world feel real because they're just part of that world. Things we might otherwise find weird or jarring are normal within the pages of the story.
What readers tend to find appealing about magical realism is that it's a blend of the real world and the possible/impossible world. There's a big sense of mystery but not in the sense of needing a resolution; it's inviting readers to question what is or isn't magical about the world around us and it encourages a sense of wonder. There's not necessarily world-building that happens. The magic is built right into the world around us instead, adding a touch of the surreal to the everyday. To quote Carr again, "The strange and confounding moments of this imaginative and adventurous literary genre may appeal to strong readers who seek intellectual pleasure beyond reading pure fantasy, readers who do not depend on literal explanations for satisfying literary experiences, and yet who are not escapist readers." While I don't love some of the qualifiers in this explanations, the take away is that magical realism appeals to those who aren't necessarily seeking a story set outside our own world and those who don't require an explanation for strange occurrences within a real world setting. It's a genre that's subtle, rather than overt.
The genre has roots in Latin American literature, though it's been around for a long time. Gabriel Garcia Marquez is credited with writing the novel that best defines all of the features of magical realism in 100 Years of Solitude. Other authors who have written well-known magical realism novels you may be familiar with include Laura Esquivel, Isabel Allende, Jorge Luis Borges, as well as Italo Calvino, Alice Hoffman, and Pete Hamill. Other authors who have been credited with writing magical realism prior to the real growth and recognition of the genre in the 20th century include Edgar Allan Poe, Franz Kafka, and Jonathan Swift. In terms of very contemporary writers, Aimee Bender is another magical realist writer and Haruki Murakami is as well (both happen to fall on my list of personal favorite authors because they do this genre in such interesting ways).
While it's been around in adult fiction for a while, magical realism hasn't been huge in young adult fiction. Part of why that may be is because magical realism is simply hard to define. Another part might be that books which could be labeled magical realism may not be labeled because whether they're magical realism or straight realism is left up to the reader and his/her interpretation of the book. What's equally interesting is that in doing research on magical realism in YA fiction, there's surprisingly little being said about it. It exists, but there's not a whole lot, and we're not talking a whole lot about it.
Here's a roundup of some of those worthwhile reads:
In short, magical realism is complex, people are interested in it, people are writing about it, but people aren't necessarily entirely clear on how to best define what it is. It's literary writing that weaves magic into the everyday with a thread of history.
Here's a roundup of YA titles that could be defined as magical realism. Of course, what we're calling magical realism may be wholly realistic to some readers and may be entirely speculative or fantastic to others. Because it seems like a genre that isn't huge within YA, we pulled recent and backlist titles to flesh this out. All descriptions are from WorldCat, and we would be eager to not only hear about other titles which might be classified as magical realism in YA, but we'd love to hear about other sites or resources that have discussed this elusive and appealing category of fiction.
Imaginary Girls by Nova Ren Suma: Two years after sixteen-year-old Chloe discovered classmate London's dead body floating in a Hudson Valley reservoir, she returns home to be with her devoted older sister Ruby, a town favorite, and finds that London is alive and well, and that Ruby may somehow have brought her back to life and persuaded everyone that nothing is amiss.
The Strange and Beautiful Sorrows of Ava Lavender by Leslye Walton: Born with bird wings, Ava Lavender is well aware that love has long made fools of her family. When pious Nathaniel Sorrows mistakes her bird wings for angel wings, 16-year-old Ava faces the man's growing obsession, which comes to a head with the rain and feathers that fly through the air during a nighttime summer solstice celebration.
Everybody Sees The Ants by AS King: Overburdened by his parents' bickering and a bully's attacks, fifteen-year-old Lucky Linderman begins dreaming of being with his grandfather, who went missing during the Vietnam War, but during a visit to Arizona, his aunt and uncle and their beautiful neighbor, Ginny, help him find a new perspective.
Please Ignore Vera Dietz by AS King: When her best friend, whom she secretly loves, betrays her and then dies under mysterious circumstances, high school senior Vera Dietz struggles with secrets that could help clear his name.
There is a very solid argument in that all of AS King's books could be magical realism, too, but I pulled out two outstanding examples.
Lark by Tracey Porter: When sixteen-year-old Lark is murdered, she, her childhood best friend Eva, and a girl she used to babysit, Nyetta, find themselves facing hard truths about their lives and seeking a way to move on.
Teeth by Hannah Moskowitz: Rudy's life is flipped upside-down when his family moves to a remote, magical island in a last attempt to save his sick younger brother, Dylan. While Dylan recovers, Rudy sinks deeper and deeper into his loneliness.
*In my reading, Teeth is straight fantasy. But I've seen this pop up on multiple lists as being magical realism, so I'm including it because I think it's a case of personal definition of genre.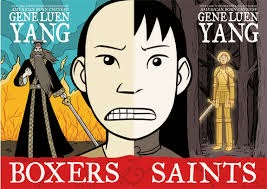 Boxers by Gene Luen Yang: In China in 1898 bands of foreign missionaries and soldiers roam the countryside, bullying and robbing Chinese peasants. Little Bao has had enough: harnessing the powers of ancient Chinese gods, he recruits an army of Boxers–commoners trained in kung fu who fight to free China from "foreign devils."
Saints by Gene Luen Yang: China, 1898. An unwanted and unwelcome fourth daughter, Four-Girl isn't even given a proper name by her family when she's born. She finally finds friendship– and a name, Vibiana — in the most unlikely of places: Christianity. But China is a dangerous place for Christians. The Boxer Rebellion is in full swing, and bands of young men roam the countryside, murdering Westerners and Chinese Christians alike. Torn between her nation and her Christian friends, Vibiana will have to decide where her true loyalties lie– and whether she is willing to die for her faith.
Green Angel (and sequels) by Alice Hoffman: Haunted by grief and by her past after losing her family in a fire, fifteen-year-old Green retreats into her ruined garden as she struggles to survive emotionally and physically on her own.
Love in the Time of Global Warming by Francesca Lia Block: After a devastating earthquake destroys the West Coast, causing seventeen-year-old Penelope to lose her home, her parents, and her ten-year-old brother, she navigates a dark world, holding hope and love in her hands and refusing to be defeated.
Both Hoffman and Block have written many titles that would be considered magical realism. Hoffman's have been primarily adult fiction, but most of Block's are YA.
Skellig by David Almond: Unhappy about his baby sister's illness and the chaos of moving into a dilapidated old house, Michael retreats to the garage and finds a mysterious stranger who is something like a bird and something like an angel.
Summer of the Mariposas by Guadalupe Garcia McCall: In an adventure reminiscent of Homer's Odyssey, fifteen-year-old Odilia and her four younger sisters embark on a journey to return a dead man to his family in Mexico, aided by La Llorona, but impeded by a witch, a warlock, chupacabras, and more.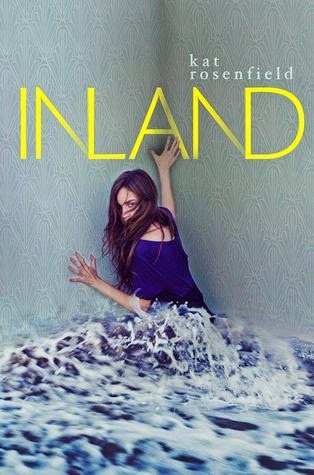 Inland by Kat Rosenfield (June 12): Returning to the coast after living in the Midwest, Callie's mysterious illness disappears, but when the water near her house begins to call her, she uncovers dangerous family secrets and jeopardizes everything and everyone she holds dear.
Bone Gap by Laura Ruby (January 2015): Eighteen-year-old Finn, an outsider in his quiet Midwestern town, is the only witness to the abduction of town favorite Roza, but his inability to distinguish between faces makes it difficult for him to help with the investigation, and subjects him to even more ridicule and bullying.