Every April I like to do a big round-up of novels in verse. It's a format I enjoy quite a bit, and I tend to pick up as many verse novels as possible.
Back in 2013, I wrote a genre guide to verse novels for those who want to become more acquainted with it, as well as some standout titles in the format. I updated it a little bit last year with this roundup of 2014 novels in verse, and earlier this month, I talked about verse and how it's a subversive form (and feminist as such) as part of Emma's "Poetically Speaking" series.
Let's take a look at the YA books out in 2015 that fall under the category of verse novels. Some of these are written entirely in the format, and others interweave verse into more traditional prose. All descriptions are from WorldCat, and if I've missed any from traditional publishers, let me know in the comments.
Audacity by Melanie Crowder (available now): A historical fiction novel in verse detailing the life of Clara Lemlich and her struggle for women's labor rights in the early 20th century in New York.
All We Have Is Now by Lisa Schroeder (July 28): Since she ran away from home Emerson has been living on the streets of Portland, relying on her wits and her friend Vince to get by, but as a meteor approaches North America they meet Carl, who tells them he has been granting people's wishes–so what will they do if this is their last day on Earth, and, more important, what will they do if it is not?
One by Sarah Crossan (September 15): Despite problems at home, sixteen-year-old conjoined twins Tippi and Grace are loving going to school for the first time and making real friends when they learn that a cardiac problem will force them to have separation surgery, which they have never before considered.
Skyscraping by Cordelia Jensen (June 2): In 1993 in New York City, high school senior Mira uncovers many secrets, including that her father has a male lover.
A Heart Like Ringo Starr by Linda Oatman High (available now): Her family runs Stevens Brothers Funeral Home. Which is ironic, since Faith Hope Stevens is not long for this world. Unless someone dies. Unless there is a match. Staying alive will mean a heart transplant. Faith copes with wit and nerve. She's also a little pissed off. She will never grow old. She will never have a boyfriend. Then one shocking day everything changes.
The Lost Marble Notebook of Forgotten Girl & Random Boy by Marie Jaskulka (available now): Forgotten Girl, a fifteen-year-old poet, is going through the most difficult time of her life–the breakup of her parents, and her mom's resulting depression–when she meets Random Boy, a hot guy who, like her, feels like an outcast and secretly writes poetry to deal with everything going on in his life. In The Lost Marble Notebook of Forgotten Girl & Random Boy, the couple's poems come together to tell their unique love story. The two nameless teenagers come from opposite sides of the tracks, yet they find understanding in each other when they lay bare their life stories through the poetry they write and share with each other. Through verse, they document the power of first kisses, the joy of finally having someone on their side, the devastation of jealousy, and the heartbreaking sadness of what each of them is simultaneously dealing with at home and hiding from the world. Finally they have someone to tell and somewhere to tell it in their marble notebook. This is the powerful story of two imperfect teens in first love who find solace in poetry.
5 to 1 by Holly Bodger (May 12): In a dystopian future where gender selection has led to girls outnumbering boys 5 to 1 marriage is arranged based on a series of tests. It's Sudasa's turn to pick a husband through this 'fair' method, but she's not sure she wants to be a part of it.
Traffick by Ellen Hopkins (November 3): Five teenagers struggle to find their way out of prostitution. Sequel to Tricks.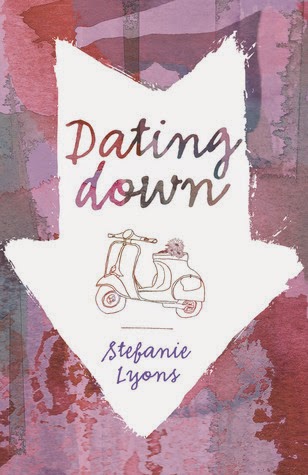 Dating Down by Stefanie Lyons (available now): Seventeen-year-old aspiring artist Samantha Henderson, eager to learn about life and to get away from her father's political campaigns and her stepmother, refuses to give up on her new boyfriend, "X," even after he proves to be trouble, damaging her friendships and introducing her to drugs.