We are taking part in the blog tour for Ozge Samanci's Dare to Disappoint today. You can and should check out the entire schedule for the tour here and visit those sites for even more peeks into the book and process behind it (it's neat!).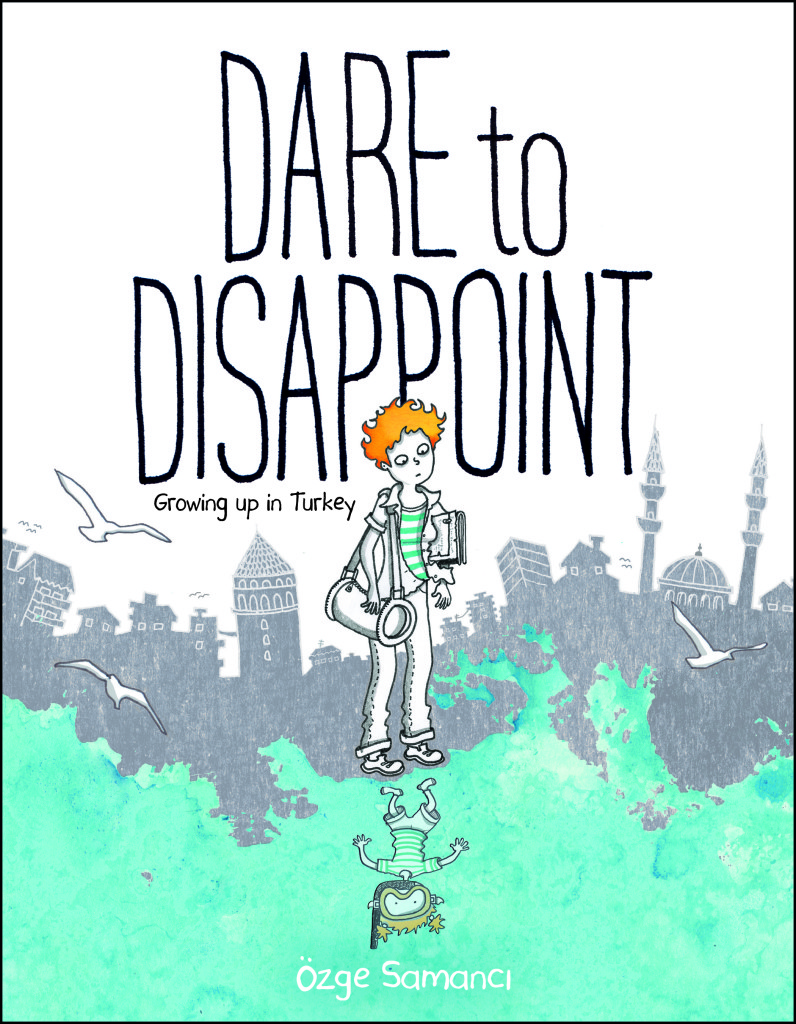 I know very, very little about Turkey. The only history I know is what I learned in my Western Civilization course freshman year of high school and a little bit from European History my senior year. Even in those cases, the bulk of what's taught is very historical — centuries past — with little or no exploration of more contemporary events.
Ozge Samanci's Dare to Disappoint was a really worthwhile read for me, since it was and is a reference point for this particular area of history now. This personal memoir looks at what life was like growing up in a country that itself was learning to grow up and find an identity.
Samanci is a second child in a family where her older sister excelled. This was the case in school and in other venues, and her parents were pleased with her. Ozge, on the other hand, was far less interested in her studies. Sure, she completed them — this is a key element of the story, as the Turkish education system is very different than the US system — but she didn't excel nor quite have the passion for it in the same way her sister did.
The bulk of this story centers around Ozge coming to terms with what it is she wants to be doing with her life. Does she want to become an explorer? An actress? Go on to a good college to make her parents happy at the expense of her own happiness? Can she work to make both her dreams in theater and her parents dreams for her education happen simultaneously? These questions frame the entirety of the story in a way that any reader, no matter where they live, wrestles with. But what makes this stand out beyond that is the historical context. We learn along the way the values and systems that exist in Turkey and how they shift over the course of Ozge's childhood and adolescence. Where once few choices existed, the growth in consumerism and imports meant that choices one had in every arena from eating to clothing to one's future shifts and adjusts. It's in those cultural changes that Ozge further marinates on the questions of what to make of her own life.
This should easily explain the book's title Dare to Disappoint.
What's most standout in this particular graphic novel, though, is the art. Samanci utilizes mixed materials to create her story. While the bulk of art is what you'd expect in terms of drawings, there are a lot of unexpected surprises that go in to creating an image: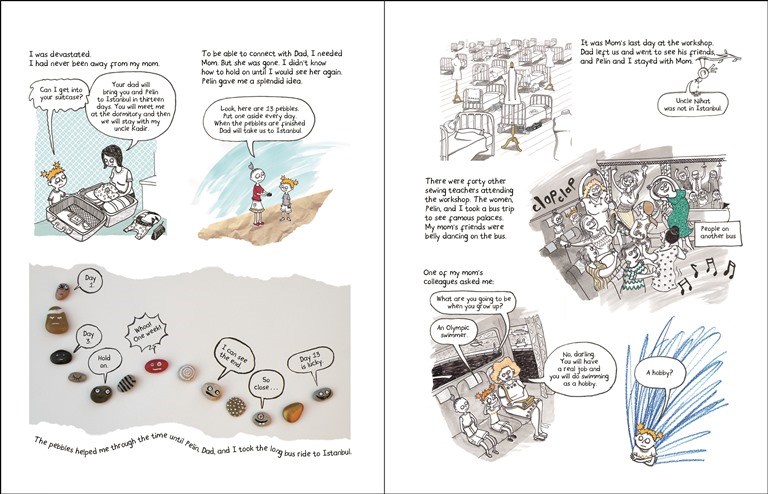 On the bottom right-hand page, you can see how Samanci weaves polished rocks into the art. There are other examples of this throughout, including found art collages, buttons, and even some unexpected surprises (which you'll see further down this post!). This design is really friendly and appealing, which makes it a nice contrast to some of the heavy political elements in the text itself. Which isn't to say those parts are hard to read or unnecessary; instead, what Samanci is able to do is balance those topics with her own personal, singular, teen experience. It's relatable, rather than above her head — except when it is!
My biggest criticism, though, is that a lot of Ozge's own experiences post-realization of what it was she wanted to do with her life is given short shrift in the end. It wraps up almost too quickly. I found myself wanting much more than I got, in particular because I saw so much of her growing up process along the way. There were pages and chapters dedicated to her education and her experimentation, but her wake up call that she wanted to be an artist and draw comes very late in the story and the journey through that realization — rather than the journey to that realization — isn't here. I suspect this might be so there's room for a second memoir that goes through that journey, but I wouldn't have minded another chapter here, just to give me more of a taste for how this happened.
Readers who love graphic memoirs will want to pick Dare to Disappoint up. It's not necessarily a straight read alike to Persepolis, as the angle on this particular book is much more about the journey to finding one's passion in life, but readers who want to be better global citizens or read stories about real people in other parts of the world will find those elements interesting to think about in comparison. Readers who are fascinated by the art here will want to spend time at the artist's Tumblr, too, which showcases her unique style of mixed media. This book is perfectly fine for younger teen readers and has great crossover appeal to adults, too. The toughest elements for younger readers may be some of the political elements, but they'll skip over them to follow Ozge's personal story and lose nothing for it.
***
One of the unique elements of Samanci's style is she's not only working in illustrations, but she also creates collages out of various items throughout the book. This adds a whole new layer to the story. Here, she's sharing a little bit about an unusual — but brilliant — item that found its way into the finished edition of the book.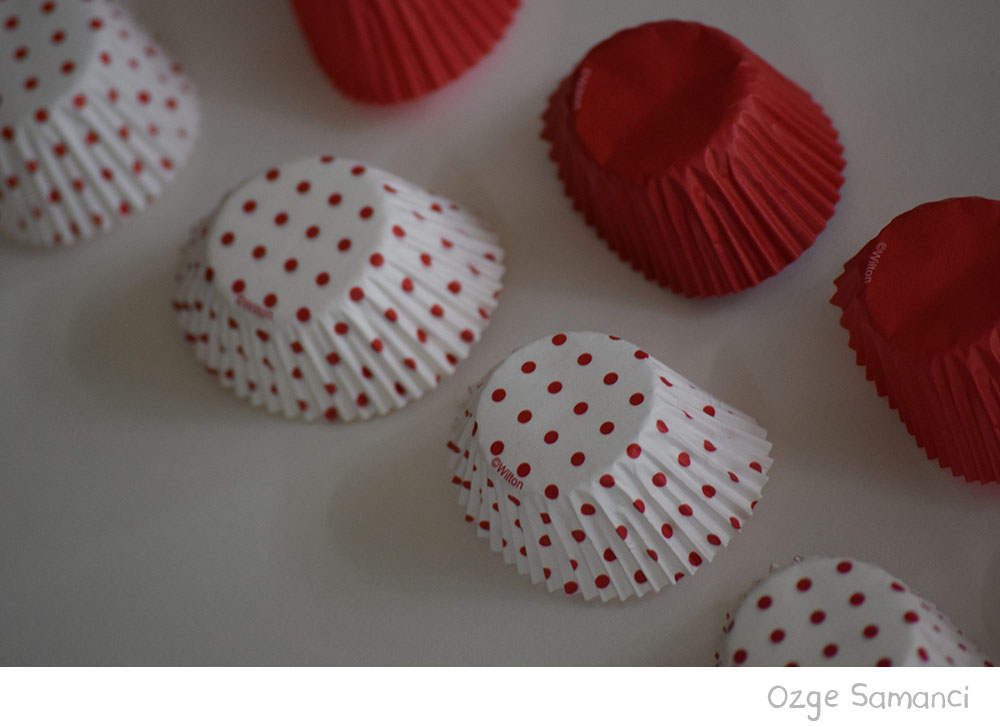 Miniature Muffin Cup
There was an amazing store where I lived: Tom Thumb Hobby and Crafts. Unfortunately, they moved somewhere far. This store was full of paper, beads, miniature houses, model making materials, sewing and baking supplies, and many more. Tom Thumb was so mind opening for a comics artist like me who combines comics with collage. While wondering in the store I saw the miniature muffin cups. I thought, I can make skirts with these in my collages. As if my editor Margaret Ferguson read my mind, a couple days after I bought the muffin cups she suggested me to put a skirt on the main character in one of the frames. My miniature muffin cups took its place in Dare to Disappoint.