A couple of weeks ago, I talked about the lack of interracial couples on YA book covers. I asked readers in the comments to share any they could think of, and Libertad Araceli Thomas, who I had the honor of meeting at Kid Lit Con in 2014, commented with a long list. Rather than replicate her work and passion for this particular topic, I asked if she'd be interested in writing about this for STACKED. Lucky for me, she said yes.
Today's guest post comes from Libertad. This is an outstanding look at interracial romance in YA (and a little middle grade, too!). She knows her stuff, and anyone looking for books with or featuring interracial romance — you can do no better than this! Like with any book list, not all of these are endorsements.
In addition to the wonderful list here, a few other titles of note: Out of Darkness by Ashley Hope Perez, See No Color by Shannon Gibney, and The Weight of Feathers by Anna-Marie McLemore.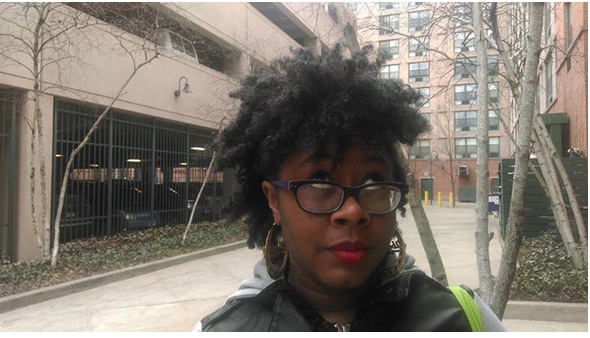 Libertad Araceli Thomas is one half of Twinja Book Reviews, a book blog that celebrates diversity. Between mastering her handstands and perfecting her butterfly kicks, she can be caught reading and promoting a good book! Tweet with her @afrocubansista and @dos_twinjas
So just a few weeks ago I stumbled across Kelly's amazing list featuring diverse cover models and anyone who knows me, knows how excited I get when I see a bit of color on covers. Especialmente Interracial couples or pairings.
This particular mission holds a special place in my heart because nearly every relationship I've been in has been interracial, so I love seeing mixed race couples. I'll admit, I've never actually seen a couple that depicted any relationships I've been in (I, for one, am a dark skinned Black Cubana and most of the people I've dated have been white or mixed race Latinxs) or any couples that didn't feature a non-white love interest (Cuz I mean Interracial doesn't just mean dating white) but boy oh boy these are the covers that make me bargain my soul with bookstore owners promising them my first born child.
Compiling this list was loads of fun and while I spent all week working on it, I'm sure there were some that I missed. Feel free to leave in the comments any books you know of that feature an Interracial pairing on the cover. Cuz hey, my local bookstore is still taking the promise of my future children as payment and I totally need these books in my life!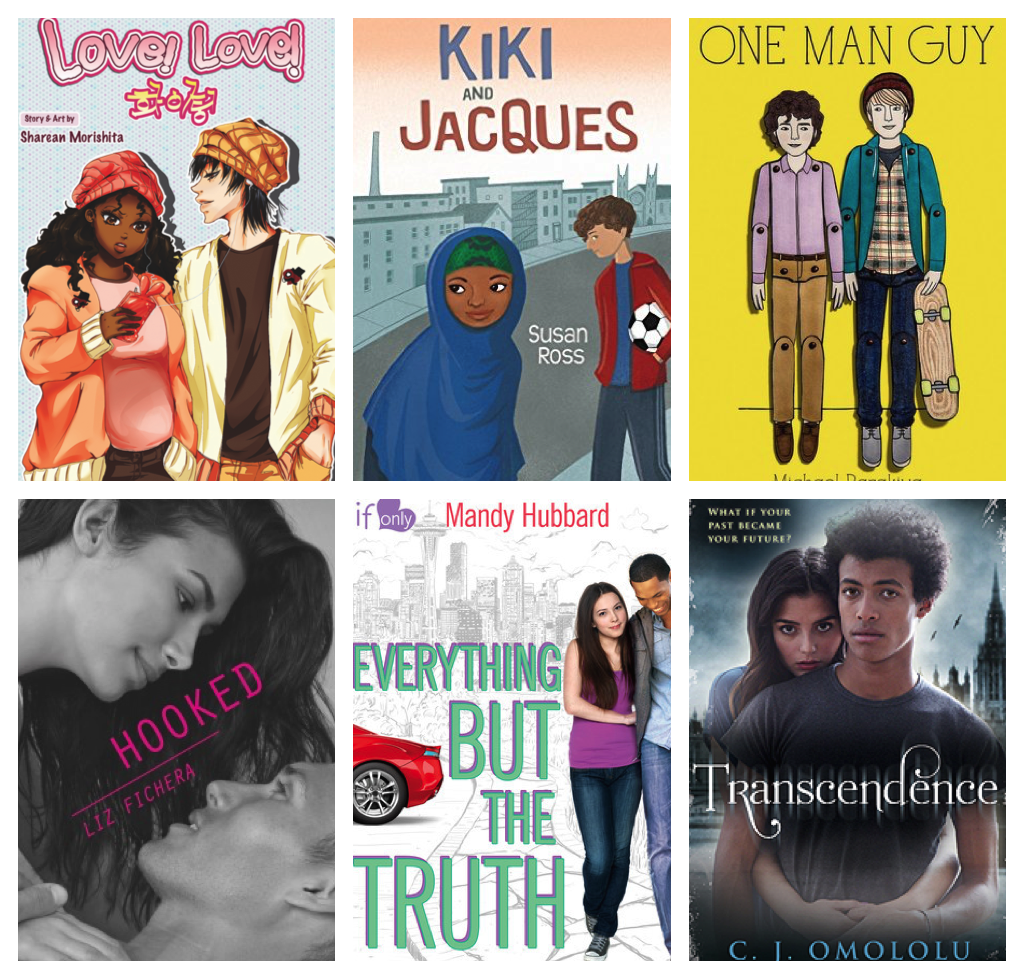 Love!Love!Fighting! Vol.1 (Volume 1) by Sharean Morishita
Love! Love! Fighting is about a young woman who currently has no money, no job and her father won't return her phone calls. Stressed and in sore need of a good break, Oriana finds herself in a difficult position when her bossy little cousins tricks her back to their home country South Korea. Come and join Oriana as she learns how to handle her troublesome family members and strange new friends, who all seem to bring new and unwanted stress to her life.
Kiki and Jacques by Susan Ross (Holiday House)
Preteens prove that cultural differences can be overcome in this middle-grade novel about a native Mainer and a Somali girl who form an unlikely and supportive friendship.
Twelve-year-old Jacques's mother has passed away, his father is jobless and drinking again and his grandmother's bridal store is on the verge of going out of business. Plus he's under pressure from an older boy to join in some illegal activities. At least Jacques can look forward to the soccer season. After all, he's a shoe-in for captain.
But the arrival of Somali refugees shakes up nearly everything in Jacques's Maine town, including the soccer team. So Jacques is surprised to find himself becoming friends with Kiki, a cheerful and strong-minded Somali immigrant. Despite their many differences they are able to help one another triumph over problems with friends, family and growing up
One Man Guy by Michael Barakiva (Farrar, Straus and Giroux)
Alek Khederian should have guessed something was wrong when his parents took him to a restaurant. Everyone knows that Armenians never eat out. Between bouts of interrogating the waitress and criticizing the menu, Alek's parents announce that he'll be attending summer school in order to bring up his grades. Alek is sure this experience will be the perfect hellish end to his hellish freshman year of high school. He never could've predicted that he'd meet someone like Ethan.
Ethan is everything Alek wishes he were: confident, free-spirited, and irreverent. He can't believe a guy this cool wants to be his friend. And before long, it seems like Ethan wants to be more than friends. Alek has never thought about having a boyfriend—he's barely ever had a girlfriend—but maybe it's time to think again.
Hooked by Liz Fichera (Harlequin Teen)
When Native American Fredricka 'Fred' Oday is invited to become the only girl on the school's golf team, she can't say no. This is an opportunity to shine, win a scholarship and go to university, something no one in her family has done.
But Fred's presence on the team isn't exactly welcome — especially not to rich golden boy Ryan Berenger, whose best friend was kicked off the team to make a spot for Fred.
But there's no denying that things are happening between the girl with the killer swing and the boy with the killer smile…
GET HOOKED ON A GIRL NAMED FRED.
Everything but the Truth by Mandy Hubbard (Bloomsbury)
Holly Mathews' mom is the new manager of a ritzy retirement home, and they just moved in. But having super-rich retirees as her only neighbors isn't a total bust, because the gorgeous, notorious Malik Buchannan is the grandson of a resident. Just one problem: when they meet, Malik assumes Holly is there to visit her own rich relative. She doesn't correct him, and it probably doesn't matter, because their flirtation could never turn into more than a superficial fling . . . right? But the longer she lives in his privileged world, the deeper Holly falls for Malik, and the harder it is to tell the truth . . . because coming clean might mean losing him.
Transcendence by C.J. Omololu (Walker Childrens)
When a visit to the Tower of London triggers an overwhelmingly real vision of a beheading that occurred centuries before, Cole Ryan fears she is losing her mind. A mysterious boy, Griffon Hall, comes to her aid, but the intensity of their immediate connection seems to open the floodgate of memories even wider.
As their feelings grow, Griffon reveals their common bond as members of the Akhet—an elite group of people who can remember past lives and use their collected wisdom for the good of the world. But not all Akhet are altruistic, and a rogue is after Cole to avenge their shared past. Now in extreme danger, Cole must piece together clues from many lifetimes. What she finds could ruin her chance at a future with Griffon, but risking his love may be the only way to save them both.
Full of danger, romance, and intrigue, Transcendence breathes new life into a perpetually fascinating question: What would you do with another life to live?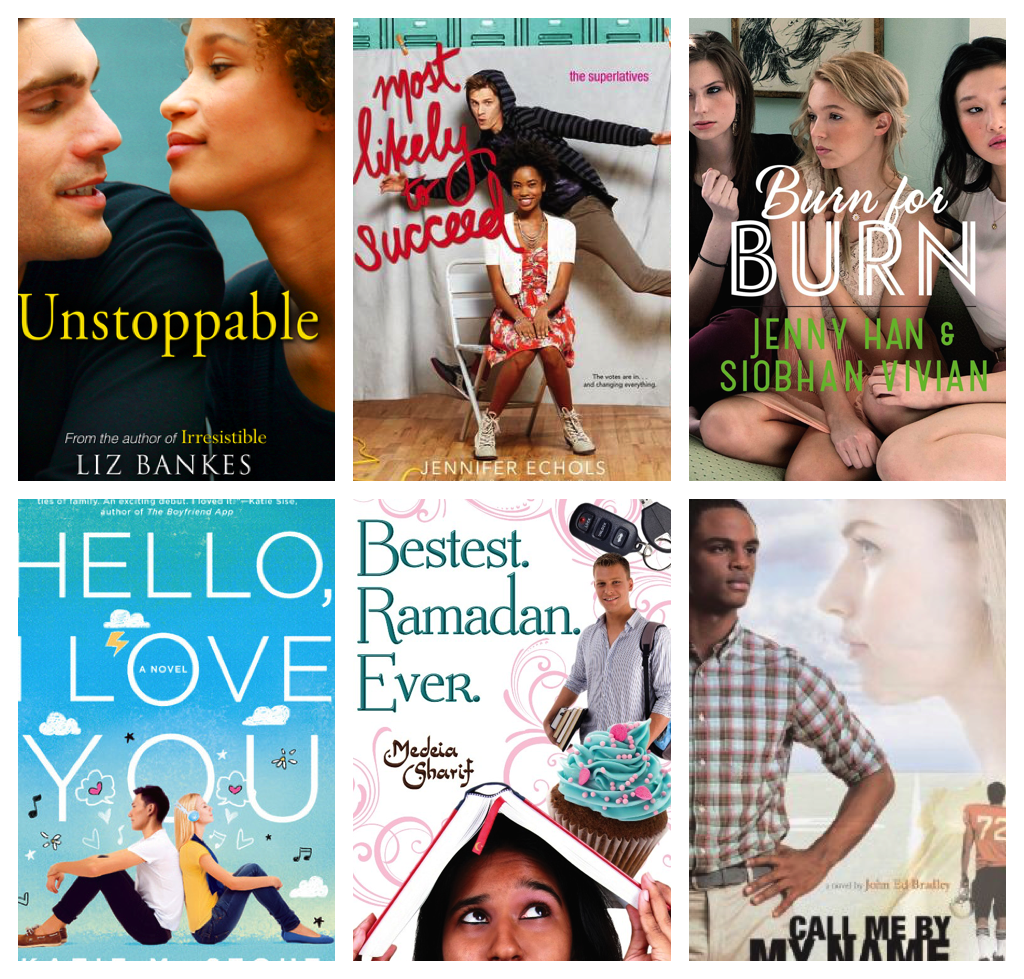 Unstoppable by Liz Bankes (Piccadilly Press)
Rosie has managed to wangle spending the summer before uni in the same house as her boyfriend Cal – but who else should also be staying except for the infamous man-eater, Cleo.
Things between Cal and Rosie could never have been described as easy, but her growing jealousy seems like an unstoppable force. Can their love weather the storm?
Most Likely to Succeed by Jennifer Echols (Simon Pulse)
As vice president of Student Council, Kaye knows the importance of keeping order. Not only in school, but in her personal life. Which is why she and her boyfriend, Aidan, already have their lives mapped out: attend Columbia University together, pursue banking careers, and eventually get married. Everything Kaye has accomplished in high school—student government, cheerleading, stellar grades—has been in preparation for that future.
To his entire class, Sawyer is an irreverent bad boy. His antics on the field as school mascot and his love of partying have earned him total slacker status. But while he and Kaye appear to be opposites on every level, fate—and their friends—keep conspiring to throw them together. Perhaps the seniors see the simmering attraction Kaye and Sawyer are unwilling to acknowledge to themselves…
As the year unfolds, Kaye begins to realize her ideal life is not what she thought. And Sawyer decides it's finally time to let down the facade and show everyone who he really is. Is a relationship between them most likely to succeed—or will it be their favorite mistake?
Burn for Burn by Jenny Han and Siobhan Vivian (Simon & Schuster)
Postcard-perfect Jar Island is home to charming tourist shops, pristine beaches, amazing oceanfront homes—and three girls secretly plotting revenge.
KAT is sick and tired of being bullied by her former best friend.
LILLIA has always looked out for her little sister, so when she discovers that one of her guy friends has been secretly hooking up with her, she's going to put a stop to it.
MARY is perpetually haunted by a traumatic event from years past, and the boy who's responsible has yet to get what's coming to him.
None of the girls can act on their revenge fantasies alone without being suspected. But together…anything is possible.
With an alliance in place, there will be no more "I wish I'd said…" or "If I could go back and do things differently…" These girls will show Jar Island that revenge is a dish best enjoyed together.
Fire with Fire by Jenny Han and Siobhan Vivian (Simon & Schuster)
Lillia, Kat, and Mary had the perfect plan. Work together in secret to take down the people who wronged them. But things didn't exactly go the way they'd hoped at the Homecoming Dance.
Not even close.
For now, it looks like they got away with it. All they have to do is move on and pick up the pieces, forget there ever was a pact. But it's not easy, not when Reeve is still a total jerk and Rennie's meaner than she ever was before.
And then there's sweet little Mary…she knows there's something seriously wrong with her. If she can't control her anger, she's sure that someone will get hurt even worse than Reeve was. Mary understands now that it's not just that Reeve bullied her—it's that he made her love him.
Eye for an eye, tooth for a tooth, burn for a burn. A broken heart for a broken heart. The girls are up to the task. They'll make Reeve fall in love with Lillia and then they will crush him. It's the only way he'll learn.
It seems once a fire is lit, the only thing you can do is let it burn…
Ashes to Ashes by Jenny Han and Siobhan Vivian (Simon & Schuster)
New Year's Eve ended with a bang and Mary, Kat and Lillia may not be prepared for what is to come.
After Rennie's death, Kat and Lillia try to put the pieces together of what happened to her. They both blame themselves. If Lillia hadn't left with Reeve… If Kat had only stayed with Rennie… Things could have been different. Now they will never be the same.
Only Mary knows the truth about that night. About what she is. She also knows the truth about Lillia and Reeve falling in love, about Reeve being happy when all he deserves is misery, just like the misery he caused her. Now their childish attempts at revenge are a thing of the past and Mary is out for blood. Will she leave anything in her wake or will all that remain be ashes?
Hello I love You by Katie M.Stout (St. Martin's Griffin)
Grace Wilde is running—from the multi-million dollar mansion her record producer father bought, the famous older brother who's topped the country music charts five years in a row, and the mother who blames her for her brother's breakdown. Grace escapes to the farthest place from home she can think of, a boarding school in Korea, hoping for a fresh start.
She wants nothing to do with music, but when her roommate Sophie's twin brother Jason turns out to be the newest Korean pop music superstar, Grace is thrust back into the world of fame. She can't stand Jason, whose celebrity status is only outmatched by his oversized ego, but they form a tenuous alliance for the sake of her friendship with Sophie. As the months go by and Grace adjusts to her new life in Korea, even she can't deny the sparks flying between her and the KPOP idol.
Soon, Grace realizes that her feelings for Jason threaten her promise to herself that she'll leave behind the music industry that destroyed her family. But can Grace ignore her attraction to Jason and her undeniable pull of the music she was born to write? Sweet, fun, and romantic, this young adult novel explores what it means to experience first love and discover who you really are in the process.
Best. Ramadan. Ever by Medeia Sharif (Flux)
No pizza. No boyfriend. (No life.)
Okay, so during Ramadan, we're not allowed to eat from sunrise to sunset. For one whole month. My family does this every year, even though I've been to a mosque exactly twice in my life. And it's true, I could stand to lose a few pounds. (Sadly, my mom's hotness skipped a generation.) But is starvation really an acceptable method? I think not.Even worse, my oppressive parents forbid me to date. This is just cruel and wrong. Especially since Peter, a cute and crushable artist, might be my soul mate. Figures my bestest friend Lisa likes him, too. To top it off, there's a new Muslim girl in school who struts around in super-short skirts, commanding every boy's attention–including Peter's. How can I get him to notice me? And will I ever figure out how to be Muslim and American?
Call Me By My Name John Ed Bradley (Atheneum Books for Young Readers)
Growing up in Louisiana in the late 1960s, Tater Henry has experienced a lot of prejudice. His town is slow to desegregate and slower still to leave behind deep-seated prejudice.
Despite the town's sensibilities, Rodney Boulett and his twin sister Angie befriend Tater, and as their friendship grows stronger, Tater and Rodney become an unstoppable force on the football field. That is, until Rodney sees Tater and Angie growing closer, too, and Rodney's world is turned upside down. Teammates, best friends—Rodney's world is threatened by a hate he did not know was inside of him.
As the town learns to accept notions like a black quarterback, some changes may be too difficult to accept.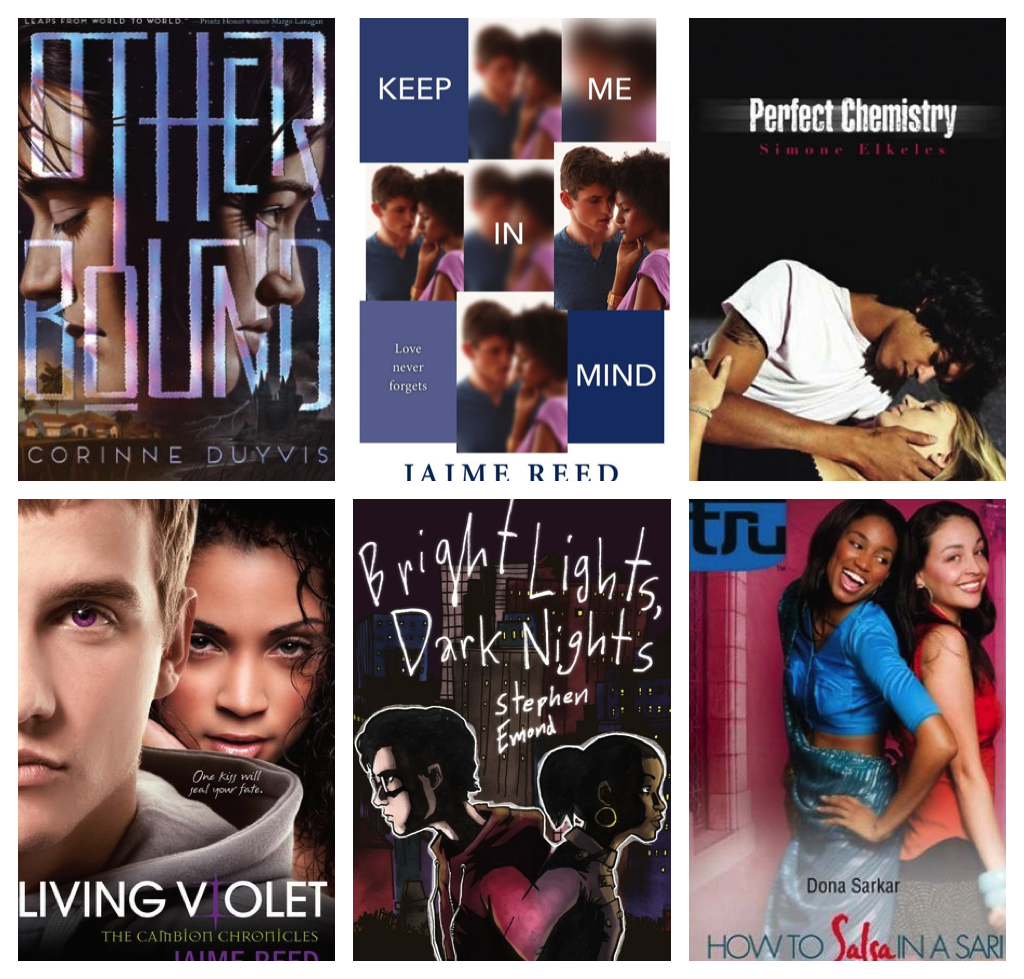 OtherBound by Corinne Duyvis (Amulet Books)
Amara is never alone. Not when she's protecting the cursed princess she unwillingly serves. Not when they're fleeing across dunes and islands and seas to stay alive. Not when she's punished, ordered around, or neglected.
She can't be alone, because a boy from another world experiences all that alongside her, looking through her eyes.
Nolan longs for a life uninterrupted. Every time he blinks, he's yanked from his Arizona town into Amara's mind, a world away, which makes even simple things like hobbies and homework impossible. He's spent years as a powerless observer of Amara's life. Amara has no idea . . . until he learns to control her, and they communicate for the first time. Amara is terrified. Then, she's furious.
All Amara and Nolan want is to be free of each other. But Nolan's breakthrough has dangerous consequences. Now, they'll have to work together to survive–and discover the truth about their connection.
Keep Me in Mind by Jaime Reed (Point)
Ellia Dawson doesn't recognize the handsome boy who sits in tears by her hospital bed. But he's telling her that he's Liam McPherson, her boyfriend. Boyfriend? Ellia thinks in shock. She has no clue who Liam is, let alone whether or not she once loved him. She remembers her family, her friends, and the fact that she wants to be a fashion designer. But Liam is a big blank in her life.
Meanwhile, Liam is devastated that Ellia, the love of his life, who suffered an accident while they were running together on the beach, has lost her memory. He is desperate to win her back, rebuild what they once had, but Ellia keeps him at an arm's length. She's much more comfortable with a new boy she meets at the hospital, who understands more what she's going through. So Liam begins writing the story of the two of them, piecing together the past in the hopes of having a future with the girl he loves.
Living Violet by Jaime Reed (Dafina)
He's persuasive, charming, and way too mysterious. And for Samara Marshall, her co-worker is everything she wants most–and everything she most fears. . .
Samara Marshall is determined to make the summer before her senior year the best ever. Her plan: enjoy downtime with friends and work to save up cash for her dream car. Summer romance is not on her to-do list, but uncovering the truth about her flirtatious co-worker, Caleb Baker, is. From the peculiar glow to his eyes to the unfortunate events that befall the girls who pine after him, Samara is the only one to sense danger behind his smile.
But Caleb's secrets are drawing Samara into a world where the laws of attraction are a means of survival. And as a sinister power closes in on those she loves, Samara must take a risk that will change her life forever. . .or consume it.
Burning Emerald by Jaime Reed (Dafina)
Dating the most popular guy in school is every girl's fantasy. But to Samara Marshall, he's a dangerous force come to rekindle their tangled past. Only it's not her past… Samara faces a challenging senior year. Controlling her inner demon is a struggle, even with help from her Cambion boyfriend, Caleb. But her life takes a turn for the worse when the hottest jock in school begins pursuing her-especially since Malik's anything but what he seems. They share a connection from a forgotten past-a secret that could destroy her and Caleb.
As the attraction becomes harder to resist, Samara is now at the mercy of the demon within her. To break free, Sam must fight a battle where she is the enemy and the prize…and victory will come at a deadly price.
Fading Amber by Jaime Reed (K-Teen/Dafina)
After falling for a Cambion and then turning into one herself, Samara never thought her senior year could get any more complicated. The gaps in her memory, the mysterious deaths and the constant danger that threaten her once quiet town have a common thread: Tobias, a demon with a lot of enemies. He's also Samara's other soul mate and he's suddenly disappeared. But Samara isn't the only one who wants to find Tobias. His enemies are getting closer and their plans for retribution could mean deadly consequences for Samara and her true soul mate, Caleb.
Perfect Chemistry by Simone Elkeles (Walkers Children)
When Brittany Ellis walks into chemistry class on the first day of senior year, she has no clue that her carefully created 'perfect' life is about to unravel before her eyes. She's forced to be lab partners with Alex Fuentes, a gang member from the other side of town, and he is about to threaten everything she's worked so hard for: her flawless reputation, her relationship with her boyfriend, and the secret that her home life is anything but perfect.
Alex is a bad boy and he knows it. So when he makes a bet with his friends to lure Brittany into his life, he thinks nothing of it. But soon Alex realizes Brittany is a real person with real problems, and suddenly the bet he made in arrogance turns into something much more.
Bright lights, Dark Nights by Stephen Emond (Roaring Book Press)
Walter Wilcox has never been in love. He just wants to finish high school under the radar with his 2.5 friends and zero drama. And then there's Naomi Mills, an adorably awkward harpist with a habit of saying the wrong thing at the right time.
It's inevitable that they're going to get together…but they're also on the unavoidable path to being torn apart.
How to Salsa in a Sari by Dona Sarkar (Kimani Tru)
First, Issa Mazumder's nerdy boyfriend dumps her for popular Latina princess Cat Morena—as if Cat even likes him. She just hates Issa. And for good reason: Issa finds out that her mother not only has been dating Cat's dad, but is going to marry him. That means they're moving into Cat's huge house. And not only is Issa's stepsister-to-be a total beyotch, she has no respect for Issa's Indian and African-American heritage. But Issa gets some tough advice: if she wants Cat Morena to welcome her traditions, Issa had better learn how to salsa in a sari.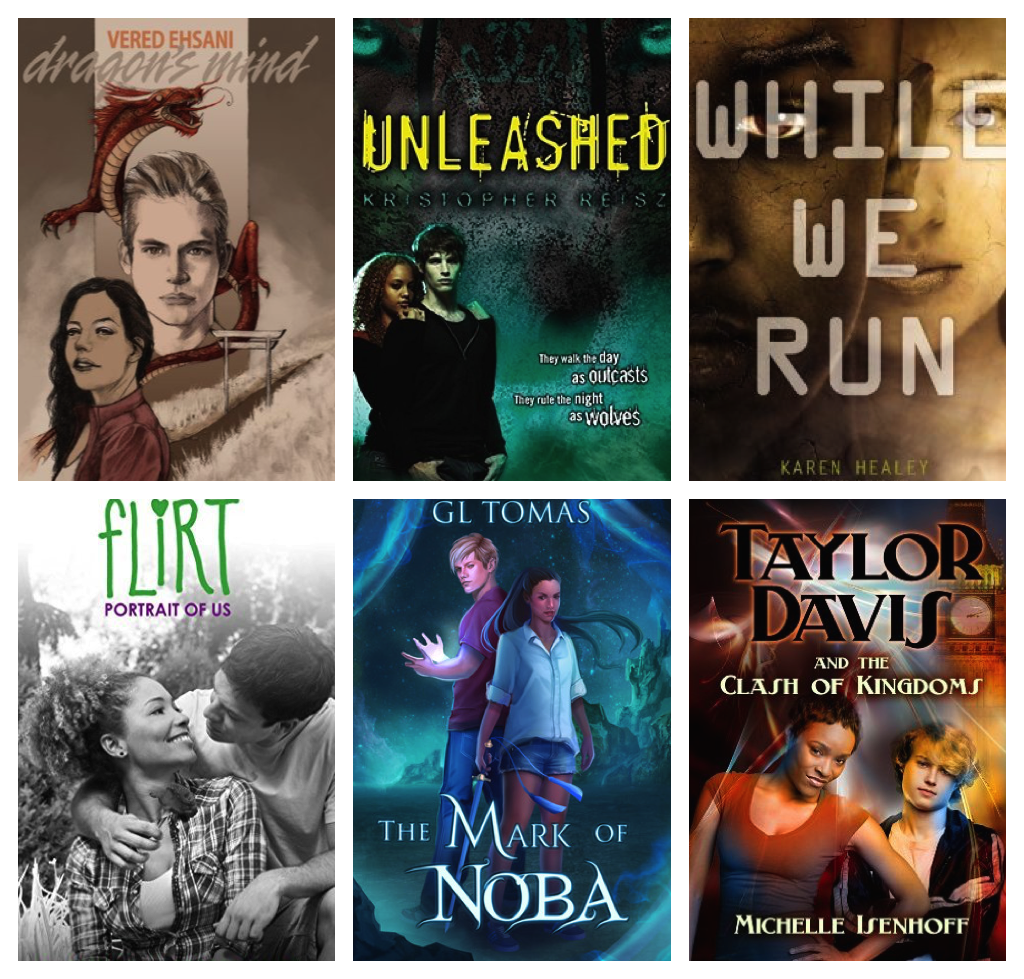 Dragon's Mind by Vered Ehsani
Ten years ago, an artificial brain was installed into a futuristic computer system. To most people, it is a non-living entity operating in the background of their lives. Only a girl named Myth knows better: his name is Dragon and he is very much alive. After ten bodiless years, Dragon has a dream that will change everything and will put his mind and Myth's life in mortal danger. There are powerful forces that don't want the truth revealed and they're coming for Dragon. But where do you run to when you're already everywhere?
Unleashed by Kristopher Reisz (Simon Pulse)
What lies beneath Daniel Morning seems perfect — handsome, charismatic, intelligent. But living up to everyone's expectations has cost him the right to make his own decisions. The urge to shatter those expectations is beginning to gnaw at his insides.
Then Daniel meets Misty. She's smoky, rebellious, tender…and much more. She decides to let him into her pack of outcasts — and in on their little secret: She and her friends have learned to shapeshift, and have been prowling the night as wolves.
Daniel soon falls in love with the primal sensation of shifting, just as he's falling in love with Misty. The freedom to follow his most basic instincts is like nothing he's ever felt. But Daniel will slowly come to realize that such freedom comes at a price….
While We Run by Karen Healey (Little Brown)
Abdi Taalib thought he was moving to Australia for a music scholarship. But after meeting the beautiful and brazen Tegan Oglietti, his world was turned upside down. Tegan's no ordinary girl – she died in 2027, only to be frozen and brought back to life in Abdi's time, 100 years later.
Now, all they want is for things to return to normal (or as normal as they can be), but the government has other ideas. Especially since the two just spilled the secrets behind Australia's cryonics project to the world. On the run, Abdi and Tegan have no idea who they can trust, and when they uncover startling new details about Project Ark, they realise thousands of lives may be in their hands.
Flirt, The Portrait of Us by A.Destiny and Rhonda Helms (Simon Pulse)
First crush, first love, first kiss in this addition to the sweet and clean Flirt series, art may be the common ground between opposites Corinne and Matthew in their summer class.
Corinne is looking forward to a perfect summer taking classes at a local art studio, where a famous artist-in-residence will be teaching. She's always wanted to focus more on her art, and the related competition (and grand prize) would be a perfect way to end the summer.
Her dreams become muddled when she finds out she has to work with Matthew the arrogant, annoying jock whose postmodern style seriously clashes with her classic aesthetic.
But what she expects to be a total nightmare turns out to be something different when she finds that maybe, just maybe, Matthew isn't as bad as she thought. Underneath that jock exterior, he might be someone Corinne could tolerate. Or possibly even like.
The question does Matthew feel the same way? Or is this all just a summer fling?
The Mark of Noba by G.L. Tomas (Rebellious Valkyrie Press) <—-Oh wait…how did that get there?**
Sterling Wayfairer has one goal for his senior year: make his mark. He's been slipping into the background his whole high school career—distracted by his mother's mental health, unsettled by the vivid dreams that haunt him at night, and overshadowed by the athletic accomplishments of his popular best friends. But this year is going to be different. He's going to break a few rules, have some fun, and maybe even work up the nerve to ask his crush out on a date.
But things don't go exactly as planned. Students are disappearing, Sterling starts losing time, and it all seems to center around Tetra, a girl no one else seems to notice but him. When he finally tracks her down for answers, they aren't what he expects: He and Tetra hail from a world called Noba, and they're being hunted by a Naga, a malevolent shapeshifter that's marked them for destruction.
Tetra and Sterling have distinct abilities that can help them fight back, but their power depends heavily on the strength of their bond, a connection that transcends friendship, transcends romance. Years apart have left their bond weak. Jumpstarting it will require Sterling to open his heart and his mind and put his full trust in the mysterious Tetra.
If he doesn't, neither of them will survive.
**Editor's Note: It belongs on this list!
Taylor Davis and The Clash of Kingdoms by Michelle Isenhoff (Candle Star Press)
Taylor Davis just can't catch a break. Most of his friends only concern themselves with girls and grades, but he has to worry about retaliation from hellish warlords.
When three of his classmates succumb to a strange malady, Taylor becomes the target of irrational violence. Is it a coincidence, as Elena so firmly believes? Or could there be a more dangerous explanation?
The epidemic soon spreads to national leaders. Taylor and his team are called on to uncover the root of the problem before violence breaks out on a worldwide stage. Their quest leads them to the heart of Africa, to the underworld, and to a second encounter with an enemy who just won't stay dead.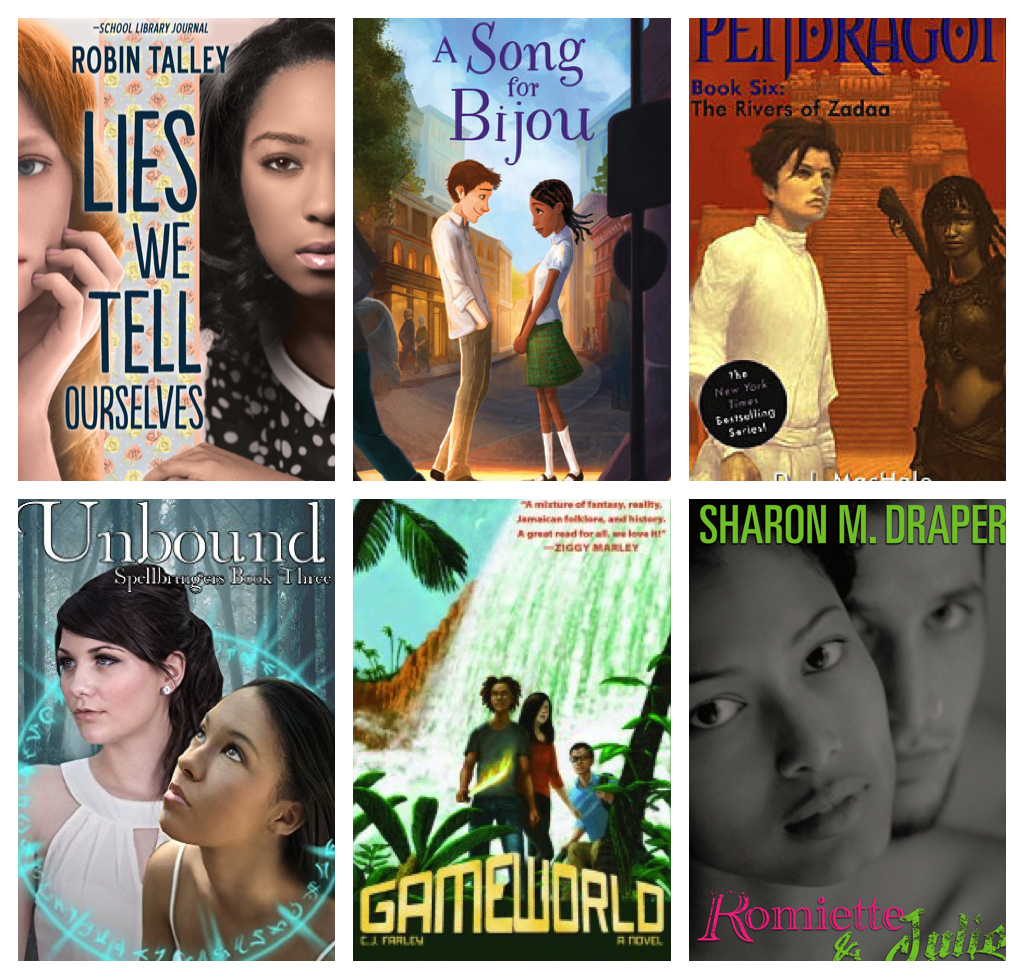 Lies We Tell Ourselves by Robin Talley (Harlequin Teen)
Sarah Dunbar is one of the first black students to attend the previously all-white Jefferson High School. An honors student at her old school, she is put into remedial classes, spit on and tormented daily.
Linda Hairston is the daughter of one of the town's most vocal opponents of school integration. She has been taught all her life that the races should be kept separate but equal.
Forced to work together on a school project, Sarah and Linda must confront harsh truths about race, power and the fact that they may be falling for one another.
Boldly realistic and emotionally compelling, Lies We Tell Ourselves is a brave and stunning novel about finding truth amid the lies, and finding your voice even when others are determined to silence it.
A Song for Bijou by Josh Farrar (Walker Childrens)
Life for Alex Schrader has never involved girls. He goes to an all-boys prep school and spends most of his time goofing around with his friends. But all that changes the first time he meets Bijou Doucet, a Haitian girl recently relocated to Brooklyn after the earthquake-and he is determined to win her heart. For Bijou, change is the only constant, and she's surprised every day by how different life is in America, especially when a boy asks her out. Alex quickly learns that there are rules when it comes to girls-both in Haitian culture and with his own friends. And Bijou soon learns that she doesn't have to let go of her roots to find joy in her new life.
Told in alternating viewpoints against the vibrant backdrop of Haitian-American culture, Alex and Bijou take their first tender steps toward love in this heartwarming story.
The Rivers of Zadaa by D.J. MacHale (Aladdin Books)
The struggle of good versus evil continues as Bobby Pendragon follows Saint Dane to the territory of Zadaa. Saint Dane's influence has fueled the fire of discontent between two warring tribes: the Rokador and the Batu. This is also the territory where the Traveler Loor lives as a member of the Batu. Together she and Bobby must work to thwart Saint Dane's efforts to destroy Zadaa.
But as Bobby pursues Saint Dane, he begins to notice changes in himself. He is no longer a flip kid looking for excitement. He is a young man beginning to see this quest as more than a series of adventures. He is also learning that as a Traveler, he has powers no normal human should have.
Unbound by Tricia Drammeh
Alisa and Bryce are keeping a huge secret, but when an accident illustrates how dangerous their secret has become, she's forced to make a choice between her family's expectations and the man she loves more than anything.
Rachel's past mistakes have finally caught up with her. Her continued association with Re'Vel results in unspeakable tragedy and brings to question her loyalty to the magical community. With accusations from all directions and her heart in tatters, she finds out who her real friends are and finds her true strength.
Game World by C.J. Farley (Black Sheep)
Dylan Rudee's life is an epic fail. He's bullied at school and the aunt who has raised him since he was orphaned as a child just lost her job and their apartment. Dylan's one chance to help his family is the only thing he's good at: video games. The multibillion-dollar company Mee Corp. has announced a televised tournament to find the Game-Changers: the forty-four kids who are the best in the world at playing Xamaica, a role-playing fantasy game that's sweeping the planet. If Dylan can win the top prize, he just might be able to change his life.
It turns out that Dylan is the greatest gamer anyone has ever seen, and his skills unlock a real-life fantasy world inside the game. Now actual monsters are trying to kill him, and he is swept up into an adventure along with his too-tall genius sister Emma, his hacker best friend Eli, and Ines Mee, the privileged daughter of Mee Corp.'s mysterious CEO and chief inventor. Along the way they encounter Nestuh, a giant spider who can spin a story but not a web; Baron Zonip, a hummingbird king who rules a wildly wealthy treetop kingdom; and an enchantress named Nanni who, with her shadow army, may be bent on conquering Xamaica and stealing its magic.
In order to save his sister and his friends, Dylan must solve a dangerous mystery in three days and uncover secrets about Xamaica, his family, and himself. But will he discover his hidden powers before two worlds—Xamaica and Earth—are completely destroyed?
Romiette and Julio by Sharon Draper (Simon Pulse)
When Romiette Cappelle meets Julio Montague, she feels as though she has met the soul mate who can rescue her from her recurring nightmare about fire and water. But like the Shakespearean characters whose names echo theirs, Romiette and Julio discover that not everyone approves of their budding romance. In their case, it is because Romiette is African-American and Julio is Hispanic, and the Devildogs, a dangerous local gang, violently oppose their interracial relationship.When the Devildogs threaten to teach them a lesson, Romiette and Julio come up with a risky plan to escape from the gang's fearsome shadow. But things go terribly awry, and the two find themselves caught up in a deadly reality more frightening that Romiette's nightmare — and in a desperate struggle to avoid the tragic fate of Shakespeare's famous young lovers.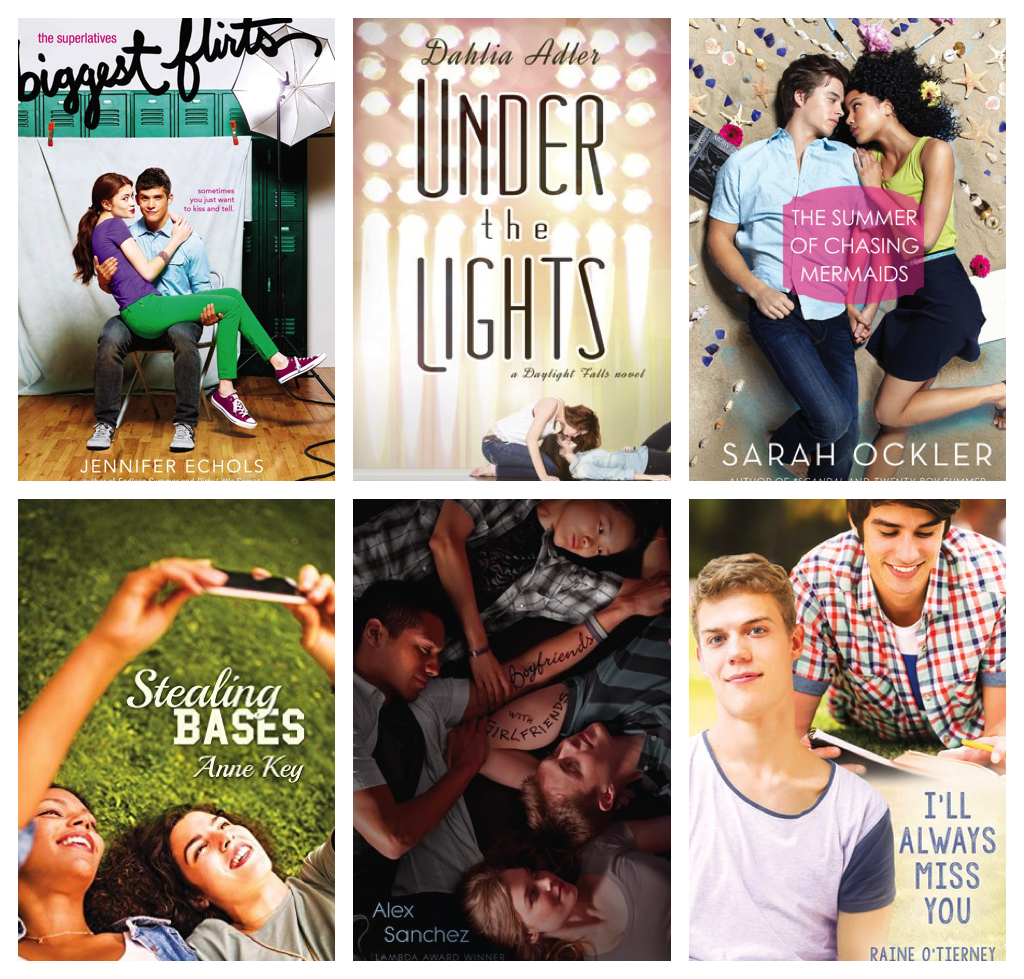 Biggest flirt by Jennifer Echols (Simon Pulse)
Tia and Will's lives get flipped upside down when they're voted Yearbook's Biggest Flirts in this sassy novel from the author of Endless Summer and The One That I Want.
Tia just wants to have fun. She's worked hard to earn her reputation as the life of the party, and she's ready for a carefree senior year of hanging out with friends and hooking up with cute boys. And her first order of business? New guy Will. She can't get enough of his Midwestern accent and laidback swagger.
As the sparks start to fly, Will wants to get serious. Tia's seen how caring too much has left her sisters heartbroken, and she isn't interested in commitment. But pushing Will away drives him into the arms of another girl. Tia tells herself it's no big deal…until the yearbook elections are announced. Getting voted Biggest Flirts with Will is, well, awkward. They may just be friends, but their chemistry is beginning to jeopardize Will's new relationship—and causing Tia to reconsider her true feelings. What started as a lighthearted fling is about to get very complicated…
Under The Lights by Dahlia Adler (Spencer Hill Contemporary)
Josh Chester loves being a Hollywood bad boy, coasting on his good looks, his parties, his parents' wealth, and the occasional modeling gig. But his laid-back lifestyle is about to change. To help out his best friend, Liam, he joins his hit teen TV show, Daylight Falls … opposite Vanessa Park, the one actor immune to his charms. (Not that he's trying to charm her, of course.) Meanwhile, his drama-queen mother blackmails him into a new family reality TV show, with Josh in the starring role. Now that he's in the spotlight—on everyone's terms but his own—Josh has to decide whether a life as a superstar is the one he really wants.
Vanessa Park has always been certain about her path as an actor, despite her parents' disapproval. But with all her relationships currently in upheaval, she's painfully uncertain about everything else. When she meets her new career handler, Brianna, Van is relieved to have found someone she can rely on, now that her BFF, Ally, is at college across the country. But as feelings unexpectedly evolve beyond friendship, Van's life reaches a whole new level of confusing. And she'll have to choose between the one thing she's always loved … and the person she never imagined she could.
The Summer of Chasing Mermaids by Sarah Ockler (Simon Pulse)
The youngest of six talented sisters, Elyse d'Abreau was destined for stardom—until a boating accident took everything from her. Now, the most beautiful singer in Tobago can't sing. She can't even speak.
Seeking quiet solitude, Elyse accepts a friend's invitation to Atargatis Cove. Named for the mythical first mermaid, the Oregon seaside town is everything Elyse's home in the Caribbean isn't: An ocean too cold for swimming, parties too tame for singing, and people too polite to pry—except for one.
Christian Kane is a notorious playboy—insolent, arrogant, and completely charming. He's also the only person in Atargatis Cove who doesn't treat Elyse like a glass statue. He challenges her to express herself, and he admires the way she treats his younger brother Sebastian, who believes Elyse is the legendary mermaid come to life.
When Christian needs a first mate for the Cove's high-stakes Pirate Regatta, Elyse reluctantly stows her fear of the sea and climbs aboard. The ocean isn't the only thing making waves, though—swept up in Christian's seductive tide and entranced by the Cove's charms, Elyse begins to wonder if a life of solitude isn't what she needs. But changing course again means facing her past. It means finding her inner voice. And scariest of all, it means opening her heart to a boy who's best known for breaking them . . .
Stealing Bases by Anne Key (Harmony Ink Press)
All Charlene "Charley" Lemain wants in the world is to play softball well enough to get into UT and to hang with her bestie Kaylee.
That's why it sucks so hard when she tears her rotator cuff and has to spend most of her senior year not playing, not practicing, not doing much of anything but watching Kaylee cheer and flirt with her quarterback boyfriend. As with besties, Kaylee sets Charley up for homecoming. It's a nice enough date until Brant confides in her that he's glad Charley's "like him."
Like him? What the hell does that mean?
Charley needs to figure out what's going on in her body, in her life, and most importantly, in her heart.
Boyfriends with Girlfriends by Alex Sanchez (Simon & Schuster)
Lance has always known he was gay, but he's never had a real boyfriend. Sergio is bisexual, but his only real relationship was with a girl. When the two of them meet, they have an instant connection–but will it be enough to overcome their differences?
Allie's been in a relationship with a guy for the last two years–but when she meets Kimiko, she can't get her out of her mind. Does this mean she's gay? Does it mean she's bi? Kimiko, falling hard for Allie, and finding it impossible to believe that a gorgeous girl like Allie would be into her, is willing to stick around and help Allie figure it out.
I'll Always Miss You by Raine O'Tierney (Harmony Ink Press)
Isa Zaman might forgive his parents for taking in a friend's son if only he wasn't the most boring teenager in the universe. Macklin "Mackie" Cormack's only interests are reading and the outdoors. Yeah, right. Isa's convinced Mackie is either a pyro or a klepto. Plus, as a white kid, Mackie looks ridiculous in the Zamans' Arab American household. Forced to share a bedroom, the boys keep butting heads until an absurd fight finally breaks the tension between them.
Isa's just starting to figure life out: this new houseguest, his cultural identity, school, and even girls, when the entire family is uprooted from their home for reasons Isa can't understand. They move from their tiny city apartment to a giant, old house in a small town, hours away from everything he's ever known. Oh, and the new house? It's probably haunted, or so says the blank-faced ten-year-old next door. As if things weren't weird enough, Isa's friendship with Mackie suddenly takes a strange turn down a path Isa's not sure he's ready to follow. It turns out Mackie Cormack isn't nearly as boring as Isa once imagined.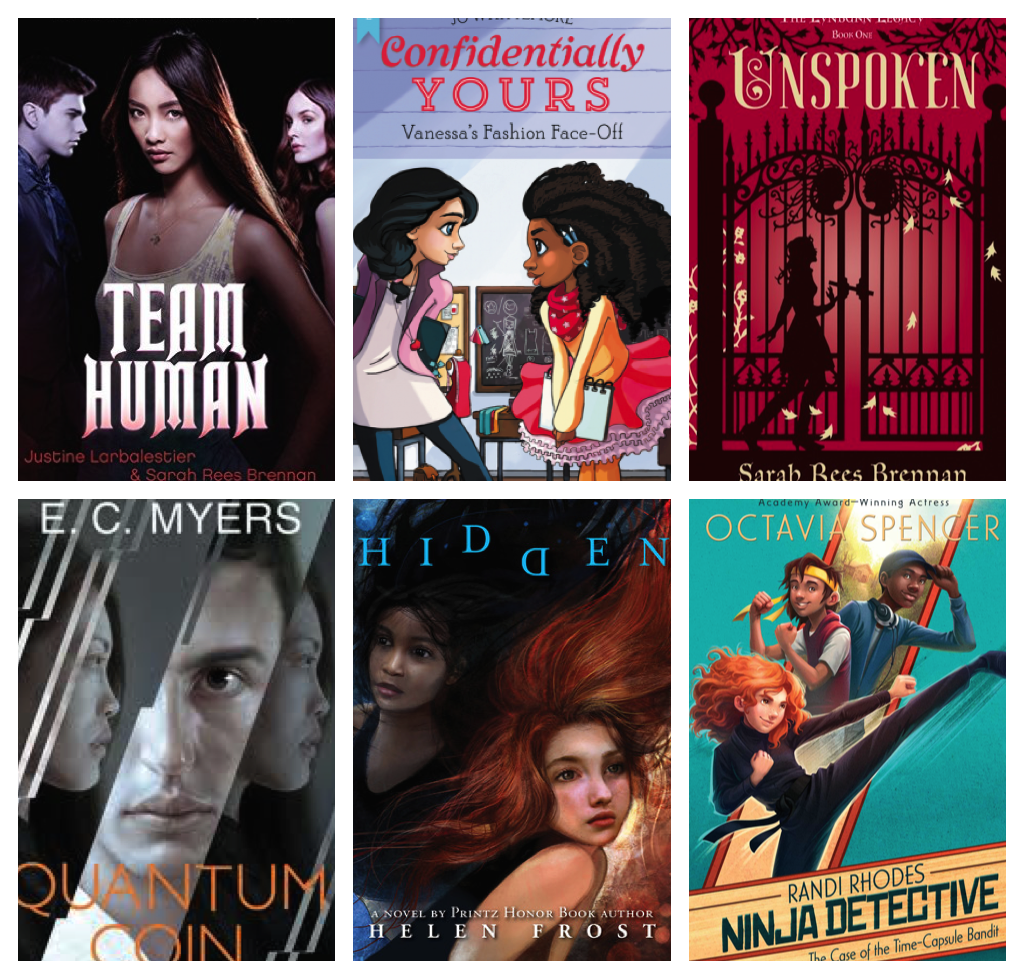 Team Human by Justine Larbalestier and Sarah Rees Brennan (Harper Teen)
Mel is horrified when Francis Duvarney, arrogant, gorgeous, and undead, starts at her high school. Mel's best friend, Cathy, immediately falls for the vampire. Cathy is determined to be with him forever, even if having him turn her could inadvertently make her a zombie.
And Mel is equally determined to prove to her BFF that Francis is no good, braving the city's vampire district and kissing a cute boy raised by vampires as she searches evidence in this touching and comic novel.
Vanessa's Fashion Face-Off by Jo Whittemore (HarperCollins)
Vanessa Jackson has style to spare and an amazing ability to rock any look. She's always had a flair for fashion, and dreams of being a designer one day. She's loving middle school, and being on the newspaper staff with her two best friends is a blast. Vanessa knows her fashion advice is always on point for the group's popular advice column.
But then she meets her new neighbor, Katie Kestler. Katie is cute, super-stylish, and just moved from glamorous LA. When Katie ends up attending the same middle school, suddenly it seems like Katie's everywhere, and not in a good way. But when an advice-off competition threatens Vanessa's spot on the column, she's determined to take Katie down.
Unspoken by Sarah Rees Brennan (Simon & Schuster)
Kami Glass loves someone she's never met… a boy she's talked to in her head ever since she was born. Having an imaginary friend has made fitting in hard – but that's never bothered Kami. She has her best friend, runs the school newspaper, and is only occasionally caught talking to herself. Her life is just the way she likes it.
But all that changes when the mysterious Lynburn family return to Kami's village, along with teenagers, Jared and Ash, one of whom is eerily familiar to Kami…
As life as she knows it begins to unravel, Kami is determined to get to the bottom of every mystery. Who is responsible for the bloody deeds in the depths of the woods? What is her own mother hiding? And now that her imaginary friend has become a real boy, does she still love him?
And can she trust him?
Quantum Coin by E.C. Myers (Pyr)
Ephraim thought his universe-hopping days were over. He's done wishing for magic solutions to his problems; his quantum coin has been powerless for almost a year, and he's settled into a normal life with his girlfriend, Jena. But then an old friend crashes their senior prom: Jena's identical twin from a parallel world, Zoe.
Zoe's timing couldn't be worse. It turns out that Ephraim's problems have just begun, and they're much more complicated than his love life: The multiverse is at stake—and it might just be Ephraim's fault.
Ephraim, Jena, and Zoe embark on a mission across multiple worlds to learn what's going wrong and how to stop it. They will have to draw on every resource available and trust in alternate versions of themselves and their friends, before it's too late for all of them.
If Ephraim and his companions can put their many differences aside and learn to work together, they might have a chance to save the multiverse. But ultimately, the solution may depend on how much they're willing to sacrifice for the sake of humanity…and each other.
Hidden by Helen Frost (Farrar, Straus and Giroux)
When Wren Abbott and Darra Monson are eight years old, Darra's father steals a minivan. He doesn't know that Wren is hiding in the back. The hours and days that follow change the lives of both girls. Darra is left with a question that only Wren can answer. Wren has questions, too.
Years later, in a chance encounter at camp, the girls face each other for the first time. They can finally learn the truth–that is, if they're willing to reveal to each other the stories that they've hidden for so long. Told from alternating viewpoints, this novel-in-poems reveals the complexities of memory and the strength of a friendship that can overcome pain.
The Case of the Time-Capsule Bandit (Randi Rhodes, Ninja Detective) by Octavia Spencer (Simon & Schuster)
Deer Creek is a small town whose only hope for survival is the success of their Founder's Day Festival. But the festival's main attraction, a time capsule that many people believe hold the town's treasure, has gone missing.
Randi Rhodes and her best friend, D.C., are Bruce Lee-inspired ninjas and local detectives determined to solve the case. Even if it means investigating in a haunted cabin and facing mean old Angus McCarthy, prime suspect.
They have three days to find the treasure; the future of their whole town is at stake! Will these kids be able to save the day?
The Sweetest Heist in History (Randi Rhodes, Ninja Detective #2) by Octavia Spencer (Simon & Schuster)
A hard-to-prove art heist makes a New York City mystery for ninja detective Randi Rhodes in this second book in a series full of humor, adventure, and heart from Academy Award–winning actress Octavia Spencer.
Randi Rhodes and her fellow ninja detectives, DC and Pudge, were flying high after solving the Case of the Time-Capsule Bandit. But life in sleepy Deer Creek has begun to feel…a bit boring. There are no crimes to investigate! But a trip to New York City to visit Randi's aunt changes that! While the ninja detective trio explores Randi's old neighborhood in Brooklyn, they uncover an art heist. Except no one will believe them. So they'll just have to catch the criminals in the act…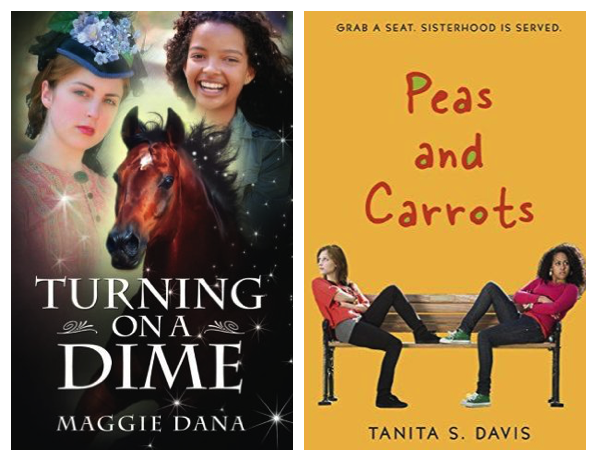 Turning on a Dime by Maggie Dana (Pagework Press)
Two girls from two different centuries and the horse that brings them together.
Teenage equestrian Samantha DeVries wants to be the first African American to ride in the Olympics. Her father, a successful trainer, pushes Sam to excel, while Sam's academic mother tries to instill a sense of heritage in her headstrong daughter who'd rather be riding horses than studying history. But Sam's beliefs and her carefully constructed world shatter like a jelly jar when she travels through a time portal and lands in the canopy bed of an 1860s Southern belle.
Even more surprised by Sam's unexpected arrival is Caroline Chandler. She's a tomboy who wears breeches beneath her crinoline and rides horses bareback, much to the dismay of her critical mother.
But neither girl has time to fret over petticoats and prejudice. The Civil War is raging, and soldiers from both sides are stealing horses. At risk is Pandora, Caroline's beloved mare. Without her, Sam's future Olympic horse, Nugget, might not exist in the present.
Neither will Sam if the slave catchers grab her.
Peas and Carrots by Tanita S.Davis (Knopf — March 2016)
Dess knows that nothing good in life lasts: her mother's sobriety will inevitably fade, her abusive father's absence is never long enough, and her brother Austin—the one bright spot in their family—was put into foster care when he was still a baby. Disappointment is never far away, and that's a truth that Dess has learned to live with.
Dess's mother's arrest is just the latest in a long line of disappointments, but this one lands the teen with Austin's foster family. Dess doesn't exactly fit in with the Carters. They're so happy, so comfortable, so normal, and Hope, their teenage daughter, is so hopelessly naïve to the harsh realities of the world. Dess and Hope couldn't be more unlike each other, but Austin loves them both like sisters. Over time their differences, insurmountable at first, fall away to reveal two girls who want the same thing: to belong.