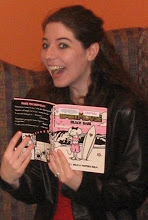 Today you're in for a special treat — Sarah of Green Bean Teen Queen has stopped by to talk about her favorite Printz books and why they're her favorites. In case you didn't know, she is on the ballot for the 2013 American Library Association's Printz committee and voting is open now. If you haven't cast your ballot yet, here's your opportunity to see why Sarah deserves to be nominated to the committee.
Asking a librarian about her favorite book is like asking a parent to choose a favorite child-it just can't be done! Especially when those books are limited to Printz Winners and Honor Books-there are so many great books to choose from! Do I go with the funny and pick Angus, Thongs and Full Frontal Snogging? Do I go for the book that packed an emotional punch with The First Part Last? Do I pick the book that surprised me the most and blew me away when I wasn't expecting it with How I Live Now?


After really looking at the Printz books, I have to say that Jennifer Donnelly's A Northern Light is my all time favorite Printz book. Why? Because it combines mystery, history, and coming of age, as well as facts and fiction. You care about the characters. Mattie Gokey is a fantastic character and her journey is one you can't soon forget. She's faced with various options in life and is at a crossroads. Even though it's a historical novel, the decisions Mattie has to face about growing up are something that teens of any time period can relate to. There's also a bit of mystery that goes along with Mattie's story. The author takes a real life story and creates a fictional story around it and brings the entire thing to life. I've recommended this book to so many people and it's one of my favorite YA reads as well as Printz reads!
OK, so after picking my all time favorite Printz book, what do I think makes a good Printz book? I think the book has to be a book that really and truly reflects the amazingness that is young adult fiction (or non-fiction). YA is an area that is often looked down on and snubbed by readers and I think part of the job of the Printz is to highlight the books that show how wonderful and powerful YA can be. The books should be books that teens and librarians read and discuss. While not everyone will love the books that picked, they should encourage discussion and get people thinking and talking. They also need to be books that librarians can pick up and say "this is why I do what I do-because YA is an incredible field that offers some of the best books out there." Hopefully, I'll get a chance to help choose those books!