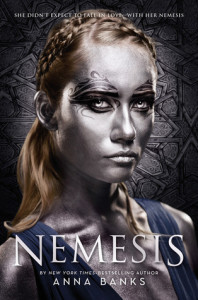 One of the interesting things about reading a review copy months before its publication date is there are no professional reviews out yet. I've mentioned before that I'm a big review reader and use both professional and Goodreads reviews to help me select my next book. I deviated from my normal routine with Nemesis by Anna Banks, which I picked up simply because it sounded interesting and I was in the mood for some high fantasy with magic. I really enjoyed it, and I'm kind of surprised the professional reviews, which are out now, are pretty wishy washy about it. I wonder if the cover, which I really dislike and doesn't make much sense in context, is influencing opinion.
Princess Sepora of Serubel is a Forger, which means she can produce a substance called spectorium from the palms of her hands. It's an energy source in demand by all countries in the region, but it can also be weaponized. Her father, the king of Serubel, keeps Sepora's abilities a secret, as she is the only remaining Forger and no one in any of the surrounding countries knows how spectorium is made. When Sepora learns that her father plans to use the spectorium to wage war on the mostly peaceful neighboring countries, she escapes to Theoria to prevent him from doing so. There, she finagles her way into the royal court as a servant where she meets the newly crowned teenage king, who is struggling himself with the waning supply of spectorium (used to power almost everything in the country) and a disease called the Quiet Plague that killed his father. To complicate matters, it's possible that spectorium may be part of the cure for the Quiet Plague, but Sepora knows she cannot reveal her secret – can she?
I loved two main things about this story: the genuine human conflict and the world-building. Sepora fears that if she reveals she is a Forger, she'll be used as a weapon by Theoria (a very real possibility), or returned to her father and used as a weapon by him, or kept captive to be a producer for the cure – essentially, she wouldn't be free, and in the worst case scenario, she'd feel responsible for a war that would cause mass suffering and death. But if she doesn't reveal it, people will continue to die from the Quiet Plague. There are some interesting subplots that provide additional conflict, too: Sepora's attempts to forge an alliance with the vicious mermaid-like people who live in the nearby river and eat humans; her burgeoning romantic feelings for Tarik, the king of Theoria; Tarik's need to use the remaining spectorium to defend his country from a potentially aggressive Serubel versus his need to use it to create a cure for the Quiet Plague. The perspective shifts almost evenly between Sepora and Tarik, so we get a good idea for Tarik's own struggles as well.
But it's the worldbuilding that really delighted me. Theoria has an Ancient Egyptian feel to it in the people's clothing and the pyramids they build to house their dead, though they use spectorium to power the pyramids and preserve the bodies within rather than mummification. There are non-human creatures, both sentient and non, like the mermaid-like people in the river (this whole subplot is just really cool and imaginative) and the dragon-like creature Sepora rides to escape from Serubel. The idea of the spectorium is interesting, too – Sepora is the last person who can produce it (as far as anyone knows), but she must periodically excise it from her body or it builds up and weakens her, which can make it difficult to hide her ability. It's clear that Banks put a lot of thought into her world, and it's fascinating to read about. There is the love story referenced in the title, too – Sepora and Tarik fall for each other, when they are supposed to be each others' nemeses – which should satisfy romance lovers but shouldn't bother non-romance readers too much, as it's not the entirety of the plot.
I'd recommend this to fans of high fantasy who really enjoy diving headlong into a new world. This is the first in a duology, and the second book, Ally, will be out sometime next year. Nemesis just hit shelves yesterday. An advance review copy was provided to me by the publisher.