I want to try out a new feature. We all know about "Waiting on Wednesday" for books that aren't out yet but look interesting and about "In My Mailbox," which features books received or purchased in the past week. But here's something I haven't seen: books that catch my eye. I don't think it'll be a super regular feature, but it will highlight exactly what it says — books I've run across that have been catching my eye and I'll pick up to read soon. They'll be a mix of genres, styles, formats, and ages. Maybe they'll catch your eyes, too.
A Gate at the Stairs by Lorrie Moore: This one's catching my eye as it's set in the Midwest in a college town. Tessa's a clumsy college student who takes on a job as a nanny and learns to overcome her own naivety in what is billed as a dark but witty book.
What Americans Really Want . . . Really by Frank Luntz: I love non-fiction, especially non-fiction with a sociological bent. This one promises to explore what Americans want out of their lives and their government, and seeing that it was written and published during the recession, it should make for an enlightening read. I wonder how different it is from what would have been published even 5 years ago.
Interstate 69: The Unfinished History of the Last Great American Highway by Matt Dellinger: I love American cultural history, and I love books about travel, roadways, and movement within America. Seeing as I've traveled I-69 before, as well as lived in an area of Texas not far from the proposed continuation of this interstate, I'm fascinated to find out more. I've read a history of Highway 20, Bill Bryson's travel memoirs, and other similar books, so this one falls perfectly into the "books Kelly will devour" category.
Neighborhood Watch by Cammie McGovern: A murderer of a librarian is released from prison in this literary suspense. It sounds like a perfect blend of drama ala Little Children by Tom Perrota and thriller ala Harlan Coben. Sign me up!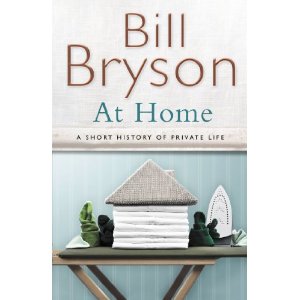 At Home by Bill Bryson: I love Bryson's humor, and this book will likely be both poignant and hilarious. It's a look at the private space and how it impacts people. A nice companion, I'd think, to Ray Oldenberg's The Great Good Place, which explores public space.
What's been catching your eye lately? Share in the comments — give me more to look for!