Publishers have really tapped into the upcoming summer season for YA fiction fodder, and it seems a bit heavier than it has been in the past – though that could just be my perception, this being the first year I've really had to pay close attention. I've counted eight new titles on deck this summer between April and June, plus three more paperback reprints. These aren't even all the books that feature summer predominantly in the plot, they're just the ones with the word "summer" in the title (including a punny one where the character is also named Summer). If you're looking for an easy display for your teen area this summer, here you go.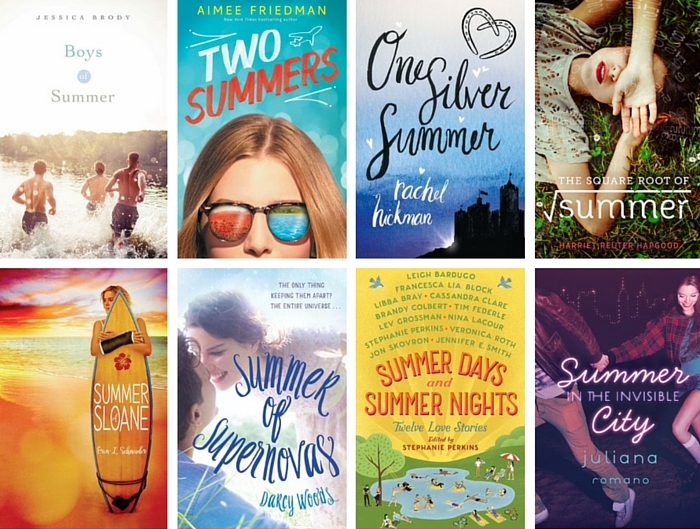 Boys of Summer by Jessica Brody (April 5, 2016)
Welcome to Winlock Harbor. Where the weather is always sunny, the water is the perfect temperature, and the boardwalk boasts the best food around. Where best friends Grayson, Mike, and Ian first met as kids, building a sand castle on a cloudless beach day. And where this summer, the loyalties of a lifelong friendship will begin to unravel.
Two Summers by Aimee Friedman (April 26, 2016)
Two possible futures face Summer: either she will spend the summer in Provence with her father, uncovering family secrets, and exploring the old world, or she will stay in upstate New York, coping with her mother, and dreaming of her long time crush–and which future unfolds will depend on whether or not she answers a phone call.
One Silver Summer by Rachel Hickman (April 26, 2016)
Still grieving for her mother, sixteen-year-old Saskia has come from Brooklyn to Cornwall to live with her uncle where she discovers a beautiful silver-colored horse named Bo, and a boy, Alex, who describes himself as the horse's trainer–but as their friendship deepens into something more she discovers that Alex is hiding a secret about himself and his family that could affect their relationship.
The Square Root of Summer by Harriet Reuter Hapgood (May 3, 2016)
Gottie Oppenheimer, a seventeen-year-old physics prodigy, navigates grief, love, and disruptions in the space-time continuum in one very eventful summer.
Summer of Sloane by Erin L. Schneider (May 3, 2016)
Seventeen-year-old Sloane McIntyre spends a summer in Hawaii as she deals with being betrayed by both her boyfriend and her best friend, and she and her twin brother, Penn, begin new, complicated, romances.
Summer of Supernovas by Darcy Woods (May 10, 2016)
As the daughter of an astrologer, Wilamena Carlisle knows the truth lies within the stars, so when she discovers a rare planetary alignment she is forced to tackle her worst astrological fear–The Fifth House of Relationships and Love–but Wil must decide whether a cosmically doomed love is worth rejecting her mother's legacy when she falls for a sensitive guitar player.
Summer Days & Summer Nights edited by Stephanie Perkins (May 17, 2016)
Maybe it's the long, lazy days, or maybe it's the heat making everyone a little bit crazy. Whatever the reason, summer is the perfect time for love to bloom. Summer Days & Summer Nights: Twelve Love Stories, written by twelve bestselling young adult writers and edited by the international bestselling author Stephanie Perkins, will have you dreaming of sunset strolls by the lake. So set out your beach chair and grab your sunglasses. You have twelve reasons this summer to soak up the sun and fall in love.
Summer in the Invisible City by Juliana Romano (June 21, 2016)
Sadie has always idealized her absentee dad and the popular girls in her school, but as she grows her photography skills and develops a crush on a guarded boy, she starts to see things as they really are.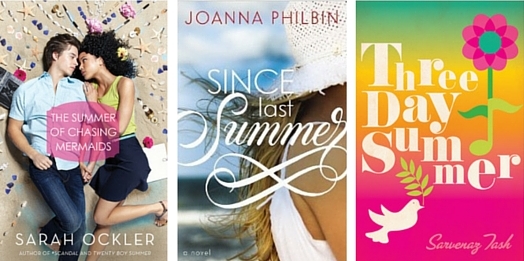 And the three paperback reprints also coming out this summer:
The Summer of Chasing Mermaids by Sarah Ockler (June 7, 2016)
After a boating accident takes her beautiful singing and speaking voice from her, Elyse d'Abreau, the youngest of six sisters, leaves her home in Tobago to stay in an Oregon seaside town where Christian Kane, a notorious playboy, challenges her to express herself and to overcome her fear of the sea.
Since Last Summer by Joanna Philbin (June 7, 2016)
Eighteen-year-olds Rory McShane and Isabel Rule are back for another summer in East Hampton, but their friendship is put to the test as each girl deals with boyfriends, summer jobs, and family issues.
Three Day Summer by Sarvenaz Tash (June 14, 2016)
During the three days of the music festival known as Woodstock, Michael Michaelson of Somerville, Massachusetts, and Cora Fletcher, a volunteer in the medical tent who lives nearby, share incredible experiences, the greatest of which is meeting each other.