Did you catch the latest round of Morris Nominees? These are the top debut YA novels as selected by librarians, and when the ALA awards happen in mid-January, one of the five books from this list will be named the winner. Out of the five books on the short list, I've read three of the titles: The Weight of Feathers, Simon vs The Homo Sapiens Agenda, and The Sacred Lies of Minnow Bly — the last one perhaps being one of my favorite reads of 2015 and the one I'd love to see walk away with the ultimate win.
What I love about the Morris every year is how it's such a nice mix of titles. These are books that have teen appeal, and these are also books that are imperfect. Unlike the Printz, which rewards the greatest of literary achievement in a book in a given year, the Morris is about potential. What authors are we eager to see more from in the future, based on the potential they show in their first book?
This year's slate of five short list authors is all female. What's fascinating is that they're not all girls' stories though. In fact, of the five books, only one is told entirely through a female point of view; that would be Minnow Bly. Every other story is entirely from a male point of view or, as is the case with The Weight of Feathers, split points of view.
It's not a criticism of the committee nor their work — this list is really thoughtful, diverse, and features so many interesting stories — but it's another example of what I mean by how some stories are privileged over others, even if it's not in any way intentional. The bias is so deep that we are unable to see it until we step back and see it happening again and again and again.
I'm excited to see what title walks away with the gold sticker next month.
**
Because November and December tend to be lighter when it comes to new book releases, they also tend to be slower months for debut YA novels. I'm including both last month and this month's titles in this round up.
Like always, this round-up includes debut novels, where "debut" is in its purest definition. These are first-time books by first-time authors. I'm not including books by authors who are using or have used a pseudonym in the past or those who have written in other categories (adult, middle grade, etc.) in the past.
All descriptions are from WorldCat, unless otherwise noted. If I'm missing any debuts out in these last two months of 2015 from traditional publishers — and indie presses are okay — let me know in the comments. As always, not all noted titles included here are necessarily endorsements for those titles.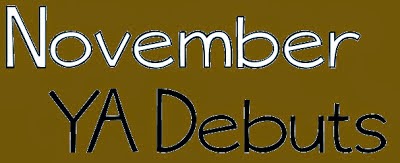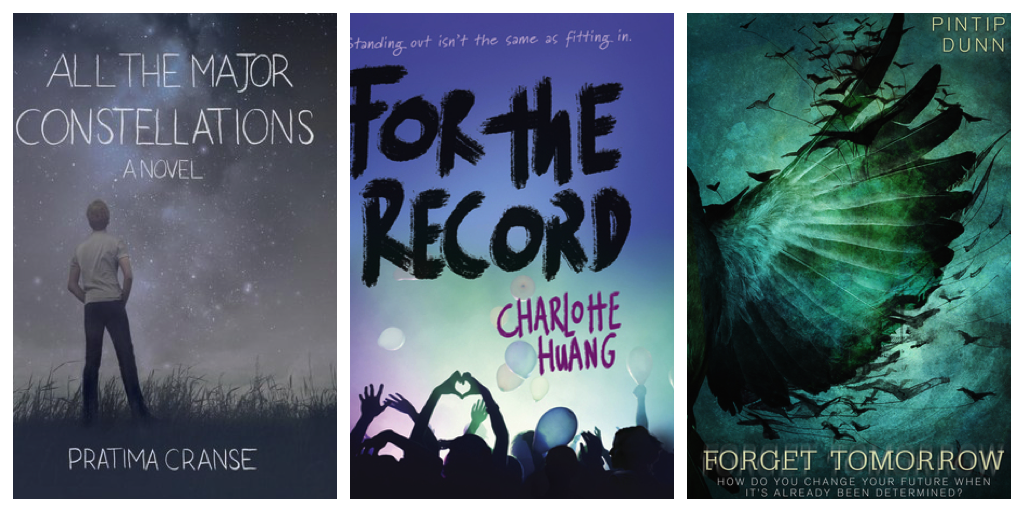 All the Major Constellations by Pratima Cranse: After Andrew's best friend is hit by a drunk driver and ends up in a coma, his enigmatic crush invites him to find comfort with her fundamentalist Christian group.
For the Record by Charlotte Huang: Gaining instant celebrity after being discovered on a TV talent show, rock singer Chelsea endures the disdain of her bandmates and ambivalently pursues a relationship with a teen heartthrob during a summer tour that could make or break her career.
Forget Tomorrow by Pintip Dunn: On Callie's seventeenth birthday, she receives her vision of the future–a memory sent back in time to sculpt each citizen into the person they're meant to be. But Callie's vision shows her murdering her younger sister, and she is arrested and sent to a prison for those destined to break the law. Callie escapes and, on the run from the government and from her future, hoping to change her fate and protect her sister.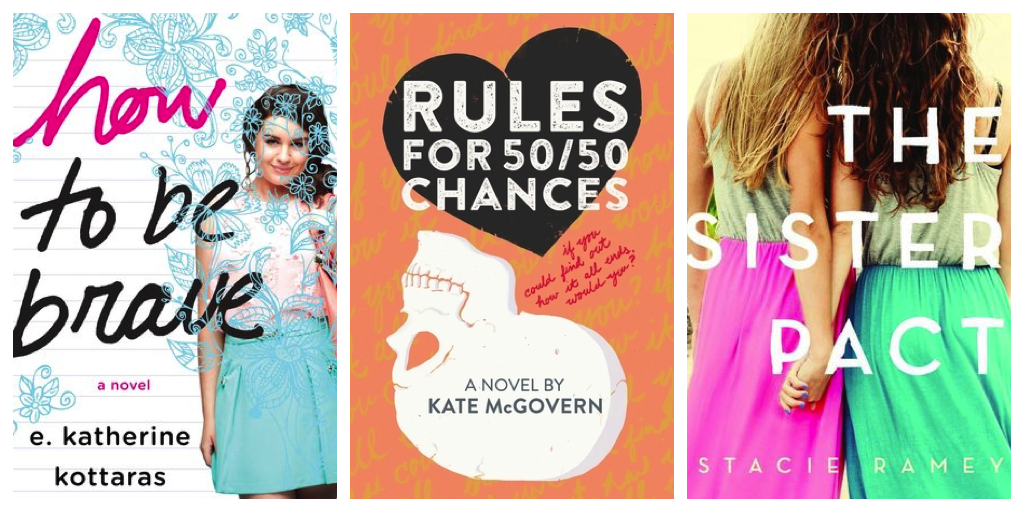 How to Be Brave by E. Katherine Kottaras: Georgia has always lived life on the sidelines: uncomfortable with her weight, awkward, never been kissed, terrified of failing. Then her mom dies and her world is turned upside down. But instead of getting lost in her pain, she decides to enjoy life while she still can by truly living for the first time. She makes a list of ways to be brave–all the things she's always wanted to do but has been too afraid to try: learn to draw, try out for cheerleading, cut class, ask him out, kiss him, see what happens from there. 
Rules for 50/50 Chances by Kate McGovern: Seventeen-year-old Rose Levenson must decide whether or not she wants to take the test to find out if she has Huntington's disease, the degenerative disease that is slowly killing her mother.
The Sister Pact by Stacie Ramey: Allie is devastated when her sister Leah commits suicide–and not just because she misses her. The two teens made a suicide pact so that they'd always be together, and Allie can't understand why she was left behind.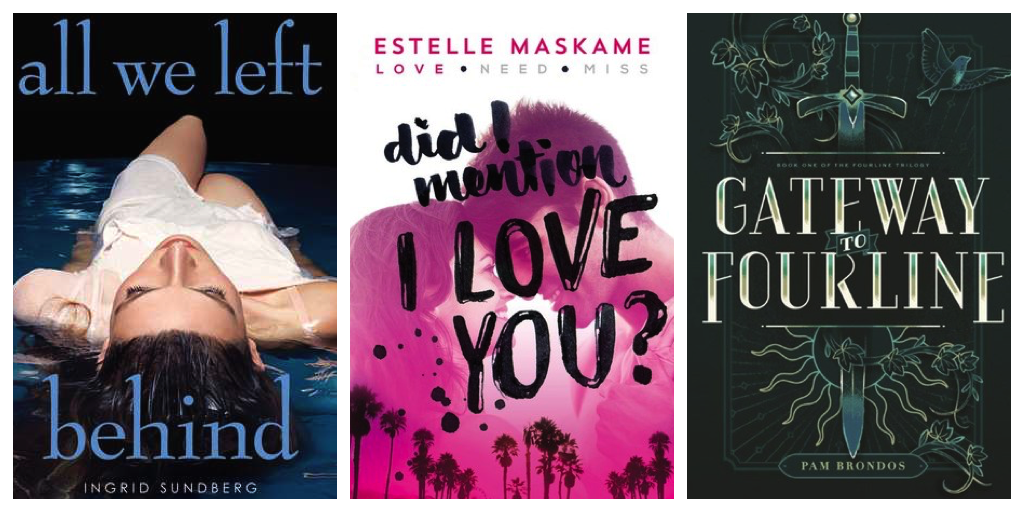 All We Left Behind by Ingrid Sundberg: Marion is hiding a secret from her past and Kurt is trying to figure out how to recover from his mother's death as they both find solace in each other.
Did I Mention I Love You? by Estelle Maskame: Eden Munro spends the summer with her father and his new family in Santa Monica and quickly finds herself thrust into a world full of new experiences and the more time she spends breaking the rules with them, the more she finds herself falling for the one person she should not–her stepbrother, Tyler.
Gateway to Fourline by Pam Brondos: Strapped for cash, college student Natalie Barns agrees to take a job at a costume shop. Sure, Estos—her classmate who works in the shop—is a little odd, but Nat needs the money for her tuition.
Then she stumbles through the mysterious door behind the shop—and her entire universe transforms.
Discovering there's far more to Estos than she ever imagined, Nat gets swept up in an adventure to save his homeland, an incredible world filled with decaying magic, deadly creatures, and a noble resistance of exiled warriors battling dark forces. As she struggles with her role in an epic conflict and wrestles with her growing affection for a young rebel, Soris, Nat quickly learns that nothing may go as planned…and her biggest challenge may be surviving long enough to make it home. (Description via Goodreads).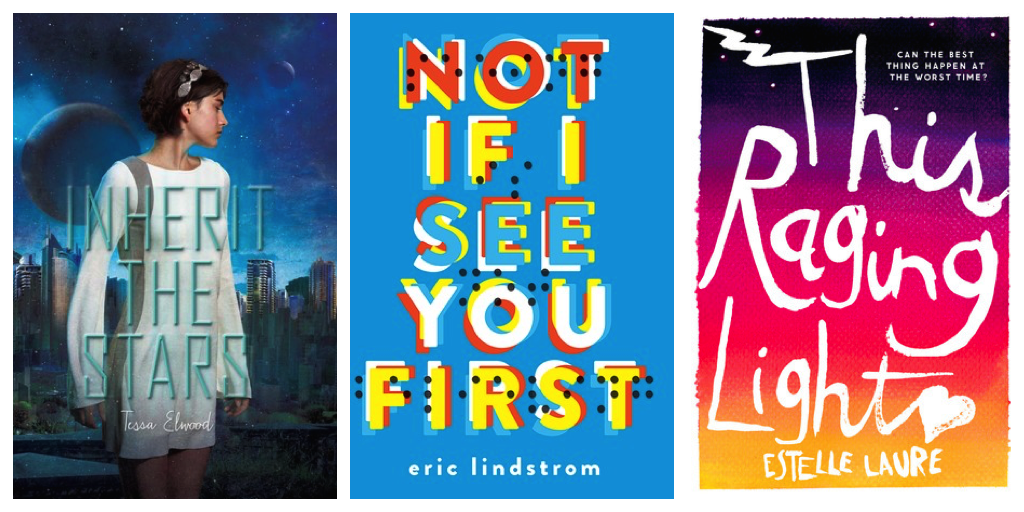 Inherit the Stars by Tessa Elwood: Three royal houses ruling three interplanetary systems are on the brink of collapse, and they must either ally together or tear each other apart in order for their people to survive.
Asa is the youngest daughter of the house of Fane, which has been fighting a devastating food and energy crisis for far too long. She thinks she can save her family's livelihood by posing as her oldest sister in an arranged marriage with Eagle, the heir to the throne of the house of Westlet. The appearance of her mother, a traitor who defected to the house of Galton, adds fuel to the fire, while Asa also tries to save her sister Wren's life . . . possibly from the hands of their own father.
But as Asa and Eagle forge a genuine bond, will secrets from the past and the urgent needs of their people in the present keep them divided? (Descriptions via Goodreads).
Not If I See You First by Eric Lindstrom: Blind sixteen-year-old Parker Grant navigates friendships and romantic relationships, including a run-in with a boy who previously broke her heart, while coping with her father's recent death.
This Raging Light by Estelle Laure: Seventeen-year-old Lucille is struggling to get through each day, paying bills and looking after her little sister, Wren, while her father is institutionalized after a breakdown and her mother is "on vacation," but nothing else seems to matter when she is with Digby Jones, her best friend's twin brother.