It's time for another round-up of debut YA novels of the month. It's a new year, so there's a whole new batch of titles hitting shelves. January always excites me since it also means a whole new year of brand new writers to explore.
Like always, this round-up includes debut novels, where "debut" is in its purest definition. These are first-time books by first-time authors. I'm not including books by authors who are using or have used a pseudonym in the past or those who have written in other categories (adult, middle grade, etc.) in the past.
All descriptions are from Goodreads, unless otherwise noted. If I'm missing any debuts out in January from traditional publishers — and I should clarify that indie presses are okay — let me know in the comments. As always, not all noted titles included here are necessarily endorsements for those titles.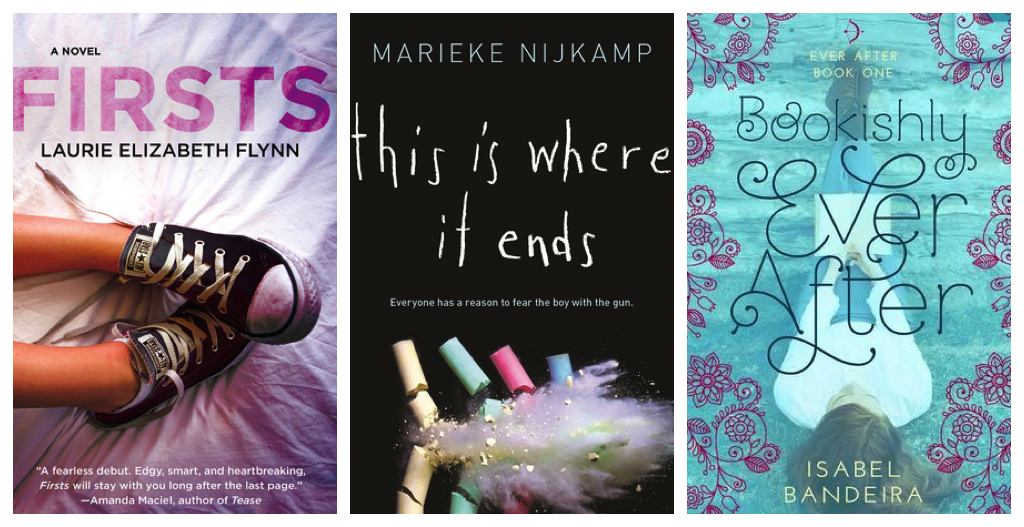 Firsts by Laurie Elizabeth Flynn
Seventeen-year-old Mercedes Ayres has an open-door policy when it comes to her bedroom, but only if the guy fulfills a specific criteria: he has to be a virgin. Mercedes lets the boys get their awkward, fumbling first times over with, and all she asks in return is that they give their girlfriends the perfect first time- the kind Mercedes never had herself.
Keeping what goes on in her bedroom a secret has been easy- so far. Her absentee mother isn't home nearly enough to know about Mercedes' extracurricular activities, and her uber-religious best friend, Angela, won't even say the word "sex" until she gets married. But Mercedes doesn't bank on Angela's boyfriend finding out about her services and wanting a turn- or on Zach, who likes her for who she is instead of what she can do in bed.
When Mercedes' perfect system falls apart, she has to find a way to salvage her reputation and figure out where her heart really belongs in the process.
This is Where it Ends by Marieke Nijkamp
10:00 a.m. The principal of Opportunity, Alabama's high school finishes her speech, welcoming the entire student body to a new semester and encouraging them to excel and achieve.
10:02 a.m. The students get up to leave the auditorium for their next class.
10:03 The auditorium doors won't open.
10:05 Someone starts shooting.
Told over the span of 54 harrowing minutes from four different perspectives, terror reigns as one student's calculated revenge turns into the ultimate game of survival.
Bookishly Ever After by Isabel Bandiera
In a perfect world, sixteen-year-old Phoebe Martins' life would be a book. Preferably a YA novel with magic and a hot paranormal love interest. Unfortunately, her life probably wouldn't even qualify for a quiet contemporary. But when Phoebe finds out that Dev, the hottest guy in the clarinet section, might actually have a crush on her, she turns to her favorite books for advice. Phoebe overhauls her personality to become as awesome as her favorite heroines and win Dev's heart. But if her plan fails, can she go back to her happy world of fictional boys after falling for the real thing?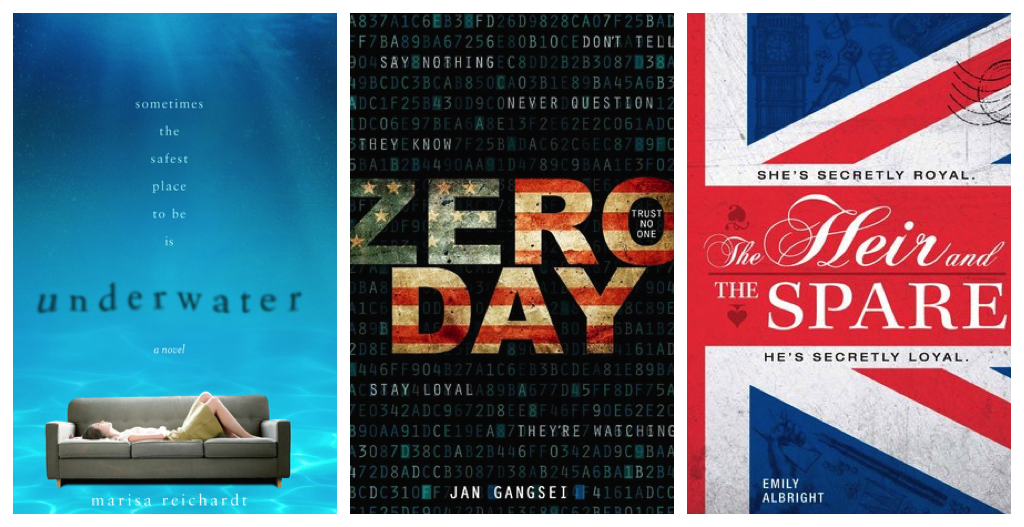 Underwater by Marisa Reichardt
Morgan didn't mean to do anything wrong that day. Actually, she meant to do something right. But her kind act inadvertently played a role in a deadly tragedy. In order to move on, Morgan must learn to forgive—first someone who did something that might be unforgivable, and then, herself.
But Morgan can't move on. She can't even move beyond the front door of the apartment she shares with her mother and little brother. Morgan feels like she's underwater, unable to surface. Unable to see her friends. Unable to go to school.
When it seems Morgan can't hold her breath any longer, a new boy moves in next door. Evan reminds her of the salty ocean air and the rush she used to get from swimming. He might be just what she needs to help her reconnect with the world outside.
Zero Day by Jan Gangsei
Eight years ago, Addie Webster was the victim of the most notorious kidnapping case of the decade. Addie vanished—and her high-profile parents were forced to move on.
Mark Webster is now president of the United States, fighting to keep the oval office after a tumultuous first term. Then, the unthinkable happens: the president's daughter resurfaces. Addie is brought back into her family's fold, but who is this sixteen-year-old girl with a quiet, burning intelligence now living in the White House? There are those in the president's political circle who find her timely return suspicious.
When the NSA approaches Darrow Fergusson, Addie's childhood best friend and the son of the president's chief of staff, he doesn't know what to think. How could this slip of a girl be a threat to national security? But at the risk of having his own secrets exposed by the powerful government agency, Darrow agrees to spy on Addie.
It soon becomes apparent that Addie is much more than the traumatized victim of a sick political fringe group. Addie has come with a mission. Will she choose to complete it? And what will happen if she does?
The Heir and the Spare by Emily Albright
In this modern day fairytale, Evie is on a path to figure out who her mom really was, while discovering for herself what the future will hold. Charged with her late mother's letters, Evie embarks on a quest into her past. The first item on the list is to attend Oxford, her mom's alma mater. There, Evie stumbles upon a real life prince charming, Edmund Stuart the second Prince of England, who is all too happy to be the counterpart to her damsel in distress.
Evie can't resist her growing attraction to Edmund as they spend more time together trying to unravel the clues her mother left behind. But, when doubts arise as to whether or not Edmund could ever be with an untitled American, what really ends up unraveling is Evie's heart. When Evie uncovers all the facts about her mom's former life, she realizes her mom's past can open doors she never dreamed possible, doors that can help her be with Edmund. But, with everything now unveiled, Evie starts to crack under the pressure of new family responsibilities and the realization that her perfect prince may want her for all the wrong reasons.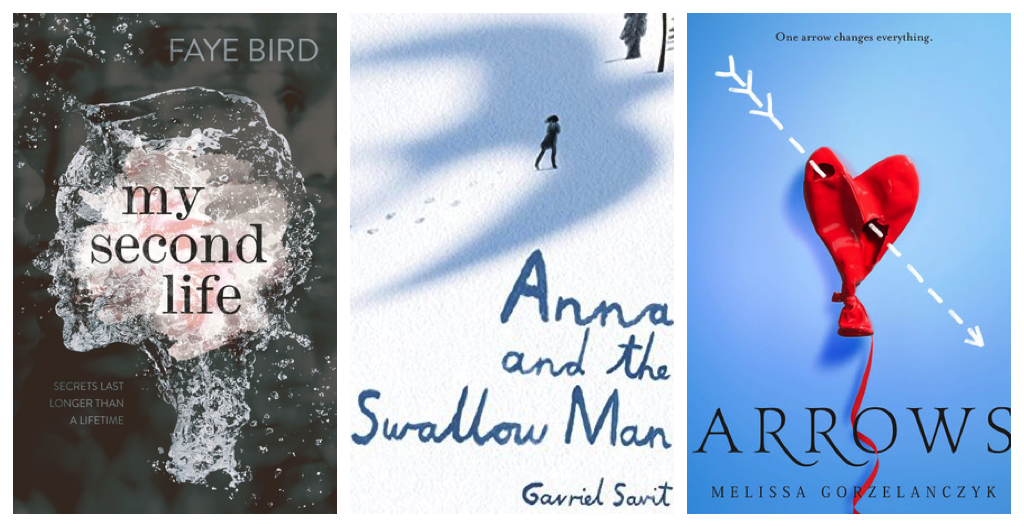 My Second Life by Faye Bird
Fifteen-year-old Ana has a good life–she has friends and a boy she likes and a kind mother–but still, she's haunted by her past; she knows that she lived once before as a girl named Emma, and she still misses her old family. When, by chance in her life now, Ana meets a woman she knew in her previous life, a terrifying memory flashes through her mind of a young girl drowning. Was Emma responsible? And should Ana pay the price? Consumed by guilt, Ana sets out to find out as much as possible about the person she was before and what she had done, only to discover that the family she misses so deeply had dark secrets of its own. To come to terms with her life now, Ana must figure out how to let go of the past.
Anna and the Swallow Man by Gavriel Savit
Kraków, 1939. A million marching soldiers and a thousand barking dogs. This is no place to grow up. Anna Łania is just seven years old when the Germans take her father, a linguistics professor, during their purge of intellectuals in Poland. She's alone.
And then Anna meets the Swallow Man. He is a mystery, strange and tall, a skilled deceiver with more than a little magic up his sleeve. And when the soldiers in the streets look at him, they see what he wants them to see.
The Swallow Man is not Anna's father—she knows that very well—but she also knows that, like her father, he's in danger of being taken, and like her father, he has a gift for languages: Polish, Russian, German, Yiddish, even Bird. When he summons a bright, beautiful swallow down to his hand to stop her from crying, Anna is entranced. She follows him into the wilderness.
Over the course of their travels together, Anna and the Swallow Man will dodge bombs, tame soldiers, and even, despite their better judgment, make a friend. But in a world gone mad, everything can prove dangerous. Even the Swallow Man.
Arrows by Melissa Gorzelanczyk
People don't understand love. If they did, they'd get why dance prodigy Karma Clark just can't say goodbye to her boyfriend, Danny. No matter what he says or does or how he hurts her, she can't stay angry with him . . . and can't stop loving him. But there's a reason why Karma is helpless to break things off: she's been shot with a love arrow.
Aaryn, son of Cupid, was supposed to shoot both Karma andDanny but found out too late that the other arrow in his pack was useless. And with that, Karma's life changed forever. One pregnancy confirmed. One ballet scholarship lost. And dream after dream tossed to the wind.
A clueless Karma doesn't know that her toxic relationship is Aaryn's fault . . . but he's going to get a chance to make things right. He's here to convince Danny to man up and be there for Karma. But what if this god from Mount Olympus finds himself falling in love with a beautiful dancer from Wisconsin who can never love him in return?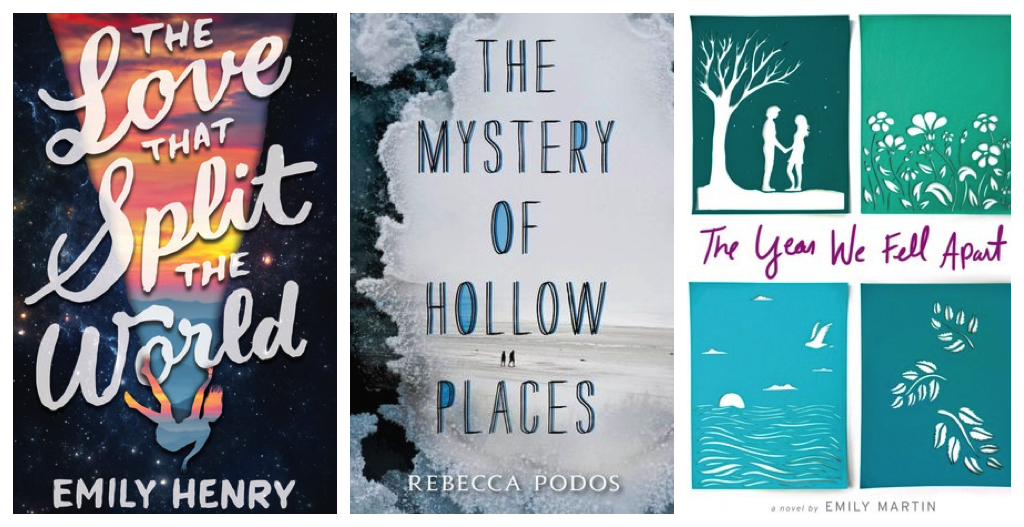 The Love That Split The World by Emily Henry
Natalie Cleary must risk her future and leap blindly into a vast unknown for the chance to build a new world with the boy she loves.
Natalie's last summer in her small Kentucky hometown is off to a magical start… until she starts seeing the "wrong things." They're just momentary glimpses at first—her front door is red instead of its usual green, there's a pre-school where the garden store should be. But then her whole town disappears for hours, fading away into rolling hills and grazing buffalo, and Nat knows something isn't right.
That's when she gets a visit from the kind but mysterious apparition she calls "Grandmother," who tells her: "You have three months to save him." The next night, under the stadium lights of the high school football field, she meets a beautiful boy named Beau, and it's as if time just stops and nothing exists. Nothing, except Natalie and Beau.
The Mystery of Hollow Places by Rebecca Podos
All Imogene Scott knows of her mother is the bedtime story her father told her as a child. It's the story of how her parents met: he, a forensic pathologist, she, a mysterious woman who came to identify a body. A woman who left Imogene and her father when she was a baby, a woman who was always possessed by a powerful loneliness, a woman who many referred to as troubled waters.
When Imogene is seventeen, her father, now a famous author of medical mysteries, strikes out in the middle of the night and doesn't come back. Neither Imogene's stepmother nor the police know where he could've gone, but Imogene is convinced he's looking for her mother. She decides to put to use the skills she's gleaned from a lifetime of her father's books to track down a woman she's never known, in order to find him and, perhaps, the answer to the question she's carried with her for her entire life.
The Year We Fell Apart by Emily Martin
Few things come as naturally to Harper as epic mistakes. In the past year she was kicked off the swim team, earned a reputation as Carson High's easiest hook-up, and officially became the black sheep of her family. But her worst mistake was destroying her relationship with her best friend, Declan.
Now, after two semesters of silence, Declan is home from boarding school for the summer. Everything about him is different—he's taller, stronger…more handsome. Harper has changed, too, especially in the wake of her mom's cancer diagnosis.
While Declan wants nothing to do with Harper, he's still Declan, her Declan, and the only person she wants to talk to about what's really going on. But he's also the one person she's lost the right to seek comfort from.
As their mutual friends and shared histories draw them together again, Harper and Declan must decide which parts of their past are still salvageable, and which parts they'll have to let go of once and for all.