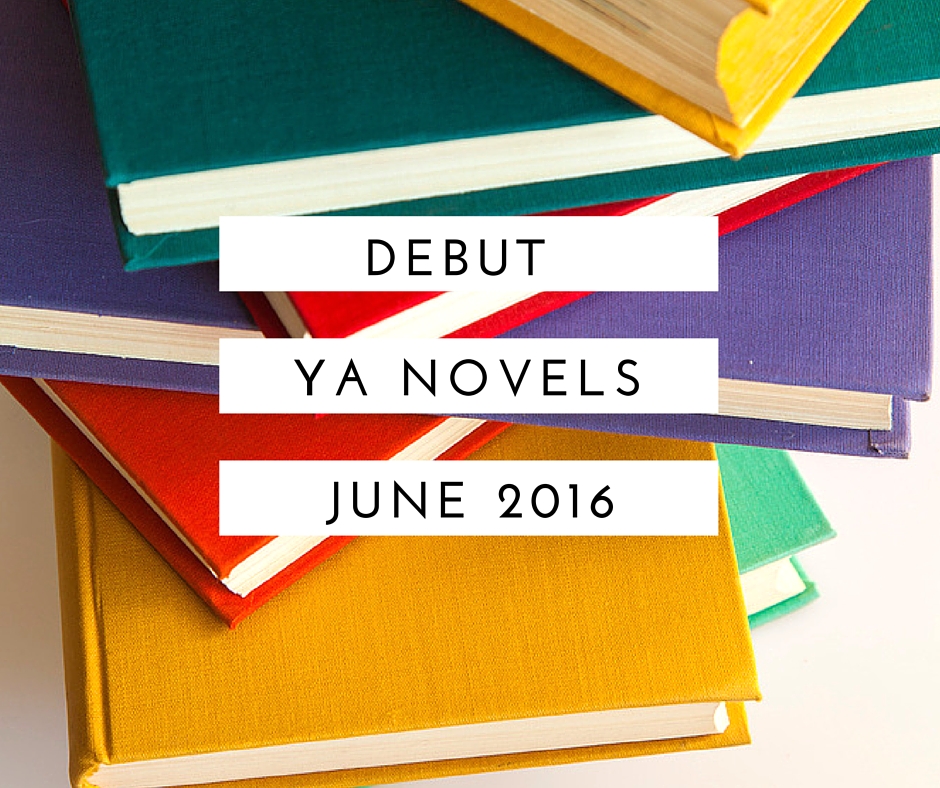 It's time for another round-up of debut YA novels of the month. Like always, this round-up includes debut novels, where "debut" is in its purest definition. These are first-time books by first-time authors. I'm not including books by authors who are using or have used a pseudonym in the past or those who have written in other categories (adult, middle grade, etc.) in the past. Authors who have self-published are not included here either.
All descriptions are from WorldCat or Goodreads, unless otherwise noted. If I'm missing any debuts out in June from traditional publishers — and I should clarify that indie/small presses are okay — let me know in the comments.
As always, not all noted titles included here are necessarily endorsements for those titles. Get ready to get reading.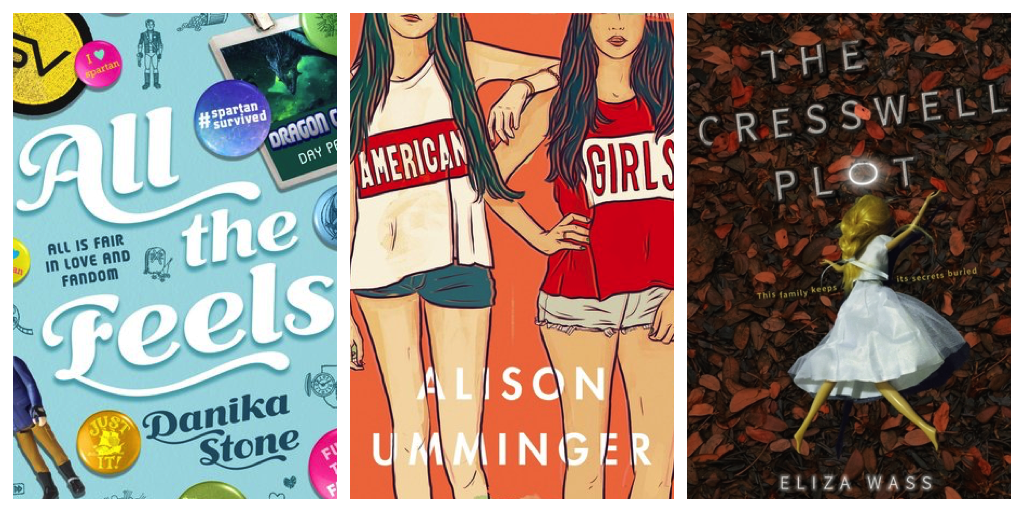 All The Feels by Danika Stone
College freshman Liv is more than just a fangirl: The Starveil movies are her life… So, when her favorite character, Captain Matt Spartan, is killed off at the end of the last movie, Liv Just. Can't. Deal.
Tired of sitting in her room sobbing, Liv decides to launch an online campaign to bring her beloved hero back to life. With the help of her best friend, Xander, actor and steampunk cosplayer extraordinaire, she creates #SpartanSurvived, a campaign to ignite the fandom. But as her online life succeeds beyond her wildest dreams, Liv is forced to balance that with the pressures of school, her mother's disapproval, and her (mostly nonexistent and entirely traumatic) romantic life. A trip to DragonCon with Xander might be exactly what she needs to figure out what she really wants.
American Girls by Alison Umminger
She was looking for a place to land.
Anna is a fifteen-year-old girl slouching toward adulthood, and she's had it with her life at home. So Anna "borrows" her stepmom's credit card an runs away to Los Angeles, where her half-sister takes her in. But LA isn't quite the glamorous escape Anna had imagined.
As Anna spends her days on TV and movie sets, she engrosses herself in a project researching the murderous Manson girls—and although the violence in her own life isn't the kind that leaves physical scars, she begins to notice the parallels between herself and the lost girls of LA, and of America, past and present.
The Cresswell Plot by Eliza Wass
Castella Cresswell and her five siblings—Hannan, Caspar, Mortimer, Delvive, and Jerusalem—know what it's like to be different. For years, their world has been confined to their ramshackle family home deep in the woods of upstate New York. They abide by the strict rule of God, whose messages come directly from their father.
Slowly, Castley and her siblings start to test the boundaries of the laws that bind them. But, at school, they're still the freaks they've always been to the outside world. Marked by their plain clothing. Unexplained bruising. Utter isolation from their classmates. That is, until Castley is forced to partner with the totally irritating, totally normal George Gray, who offers her a glimpse of a life filled with freedom and choice.
Castley's world rapidly expands beyond the woods she knows so well and the beliefs she once thought were the only truths. There is a future waiting for her if she can escape her father's grasp, but Castley refuses to leave her siblings behind. Just as she begins to form a plan, her father makes a chilling announcement: the Cresswells will soon return to their home in heaven. With time running out on all of their lives, Castley must expose the depth of her father's lies. The forest has buried the truth in darkness for far too long. Castley might be their last hope for salvation.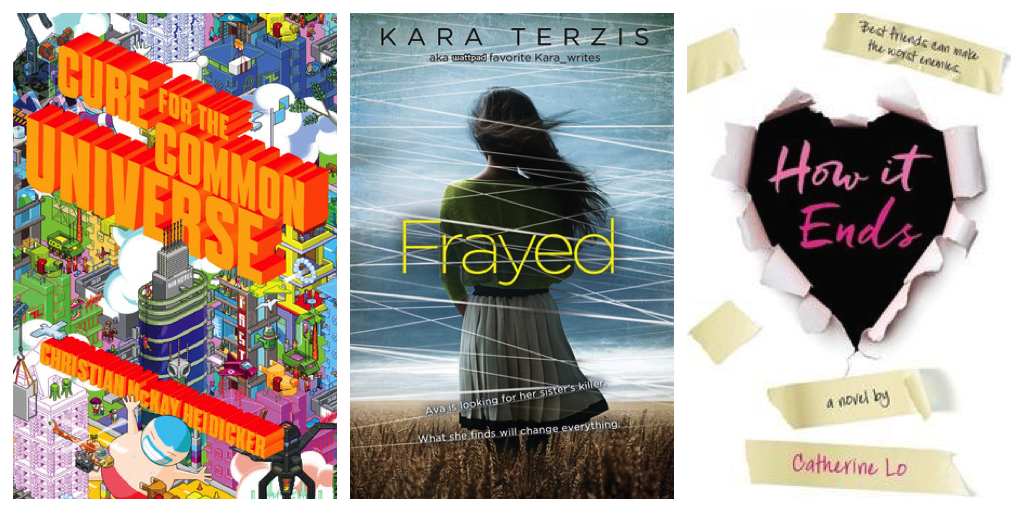 Cure for the Common Universe by Christian McKay Heidicker
Sixteen-year-old Jaxon is being committed to video game rehab . . .
ten minutes after he met a girl. A living, breathing girl named Serena, who not only laughed at his jokes but actually kinda sorta seemed excited when she agreed to go out with him.
Jaxon's first date. Ever.
In rehab, he can't blast his way through galaxies to reach her. He can't slash through armies to kiss her sweet lips. Instead, he has just four days to earn one million points by learning real-life skills. And he'll do whatever it takes—lie, cheat, steal, even learn how to cross-stitch—in order to make it to his date.
If all else fails, Jaxon will have to bare his soul to the other teens in treatment, confront his mother's absence, and maybe admit that it's more than video games that stand in the way of a real connection.
Prepare to be cured.
Frayed by Kara Terzis
Dear Kesley,
My therapist tells me I should write you a letter. Like flushing all my thoughts and feelings out of my system and onto paper. I tell her it's a stupid idea.
But here I am, writing a letter to a dead girl. Where do I start? Where did our story begin? From the moment you were born…or died?
I'll start with the moment I found out the truth about you. Your lies and my pain. Because it always begins and ends with you.
And that end began when Rafe Lawrence came back to town…
Ava Hale will do anything to find her sister's killer…although she'll wish she hadn't. Because the harder Ava looks, the more secrets she uncovers about Kesley, and the more she begins to think that the girl she called sister was a liar. A sneak. A stranger.
And Kesley's murderer could be much closer than she thought…
How It Ends by Catherine Lo
There are two sides to every story.
It's friends-at-first-sight for Jessie and Annie, proving the old adage that opposites attract. Shy, anxious Jessie would give anything to have Annie's beauty and confidence. And Annie thinks Jessie has the perfect life, with her close-knit family and killer grades. They're BFFs…until suddenly they're not.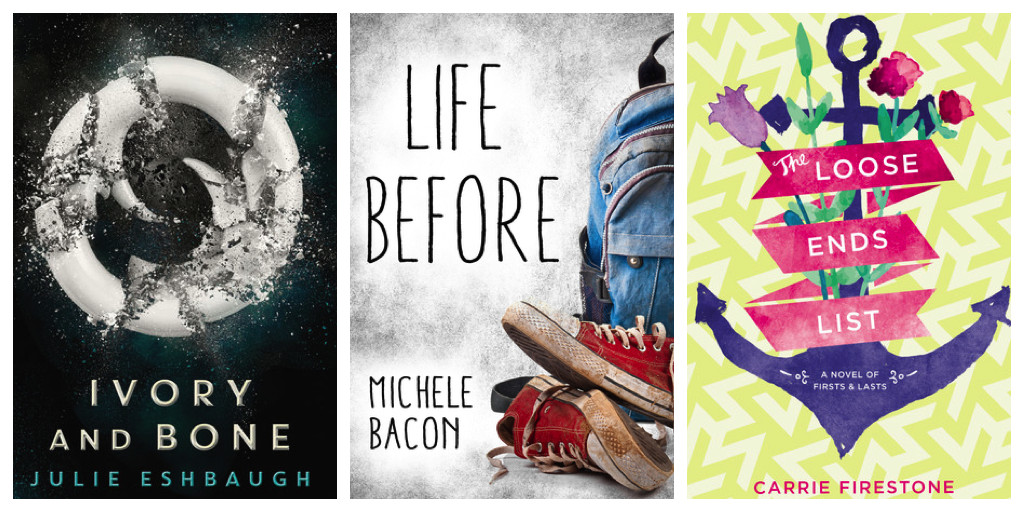 Ivory and Bone by Julie Eshbaugh
Hunting, gathering, and keeping his family safe—that's the life seventeen-year-old Kol knows. Then bold, enigmatic Mya arrives from the south with her family, and Kol is captivated. He wants her to like and trust him, but any hopes of impressing her are ruined when he makes a careless—and nearly grave—mistake. However, there's something more to Mya's cool disdain…a history wrought with loss that comes to light when another clan arrives. With them is Lo, an enemy from Mya's past who Mya swears has ulterior motives.
As Kol gets to know Lo, tensions between Mya and Lo escalate until violence erupts. Faced with shattering losses, Kol is forced to question every person he's trusted. One thing is for sure: this was a war that Mya or Lo—Kol doesn't know which—had been planning all along.
Life Before by Michele Bacon
Seventeen years is a long time to keep secrets, so Xander Fife is very good at it: everyone believes he has a normal family. If he can just get through this summer, he'll start his real life in college with a clean slate–no risk, no drama, no fear.
Xander's summer plans include pick-up soccer, regular hijinks with friends, an epic road trip, and—quite possibly— the company of his ideal girlfriend, the amazing Gretchen Taylor.
Instead of kicking off what had promised to be an amazing summer, however, graduation day brings terror. His family's secrets are thrust out into the open, forcing Xander to confront his greatest fear. Or run from it.
Armed with a fake ID, cash, and a knife, Xander skips town and assumes a new identity. In danger hundreds of miles from home, one thing is clear: Xander's real life is already in progress and just getting through it isn't enough.
The Loose Ends List by Carrie Firestone
Seventeen-year-old Maddie O'Neill Levine lives a charmed life, and is primed to spend the perfect pre-college summer with her best friends and young-at-heart socialite grandmother (also Maddie's closest confidante), tying up high school loose ends. Maddie's plans change the instant Gram announces that she is terminally ill and has booked the family on a secret "death with dignity" cruise ship so that she can leave the world in her own unconventional way – and give the O'Neill clan an unforgettable summer of dreams-come-true in the process.
Soon, Maddie is on the trip of a lifetime with her over-the-top family. As they travel the globe, Maddie bonds with other passengers and falls for Enzo, who is processing his own grief. But despite the laughter, headiness of first love, and excitement of glamorous destinations, Maddie knows she is on the brink of losing Gram. She struggles to find the strength to say good-bye in a whirlwind summer shaped by love, loss, and the power of forgiveness.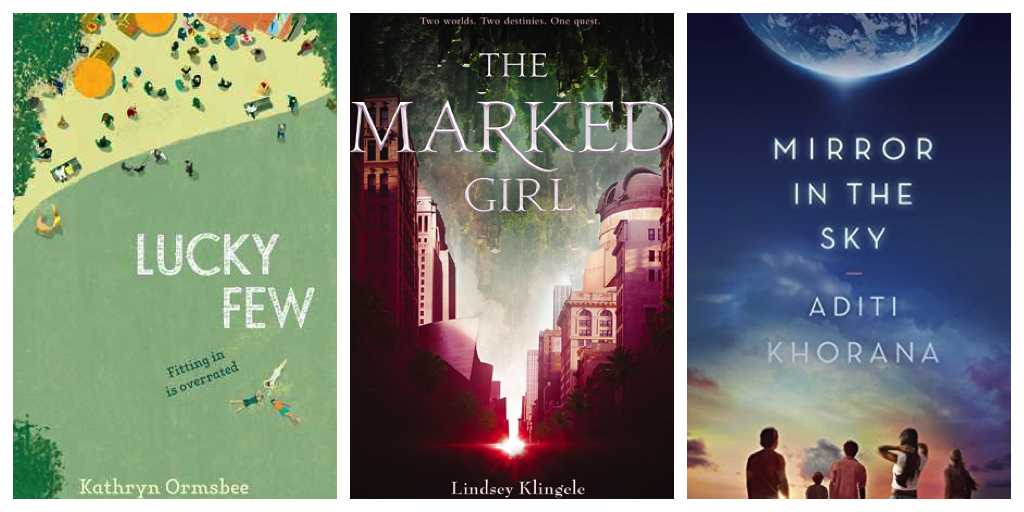 Lucky Few by Kathryn Ormsbee (note: not a debut, since she wrote a middle grade under her initials — but that took a little figuring out!)
Stevie, Max, and Sanger: keeping Austin weird.
Stevie Hart is homeschooled, but don't hold that against her. Sure, she and her best (okay, only) friend, Sanger, will never be prom queens, but that's just because the Central Austin Homeschool Cooperative doesn't believe in proms. Or dancing. Still, Stevie and Sanger know how to create their own brand of fun.
Enter Max Garza, the new boy next door. After a near-fatal accident, Max is determined to defy mortality with a checklist: 23 Ways to Fake My Death Without Dying. Dead set on carrying out fabricated demises ranging from impalement to spontaneous combustion, Max charms Stevie and Sanger into helping him with this two-month macabre mission. But as Stevie finds herself falling for Max, it becomes increasingly difficult to draw a line between his make-believe deaths and her real life.
The Marked Girl by Lindsey Klingele
Once upon a time, in a land far, far away (Los Angeles)…
When Cedric, crowned prince of Caelum, and his fellow royal friends (including his betrothed, Kat) find themselves stranded in modern-day L.A. via a magical portal and an evil traitor named Malquin, all they want to do is get home to Caelum—soon. Then they meet Liv, a filmmaker foster girl who just wants to get out of the system and on with her life. As she and Cedric bond, they'll discover that she's more connected to his world than they ever could've imagined…and that finding home is no easy task.
Mirror in the Sky by Aditi Khorana
For Tara Krishnan, navigating Brierly, the academically rigorous prep school she attends on scholarship, feels overwhelming and impossible. Her junior year begins in the wake of a startling discovery: A message from an alternate Earth, light years away, is intercepted by NASA. This means that on another planet, there is another version of Tara, a Tara who could be living better, burning brighter, because of tiny differences in her choices.
As the world lights up with the knowledge of Terra Nova, the mirror planet, Tara's life on Earth begins to change. At first, small shifts happen, like attention from Nick Osterman, the most popular guy at Brierly, and her mother playing hooky from work to watch the news all day. But eventually those small shifts swell, the discovery of Terra Nova like a black hole, bending all the light around it.
As a new era of scientific history dawns and Tara's life at Brierly continues its orbit, only one thing is clear: Nothing on Earth–and for Tara–will ever be the same again.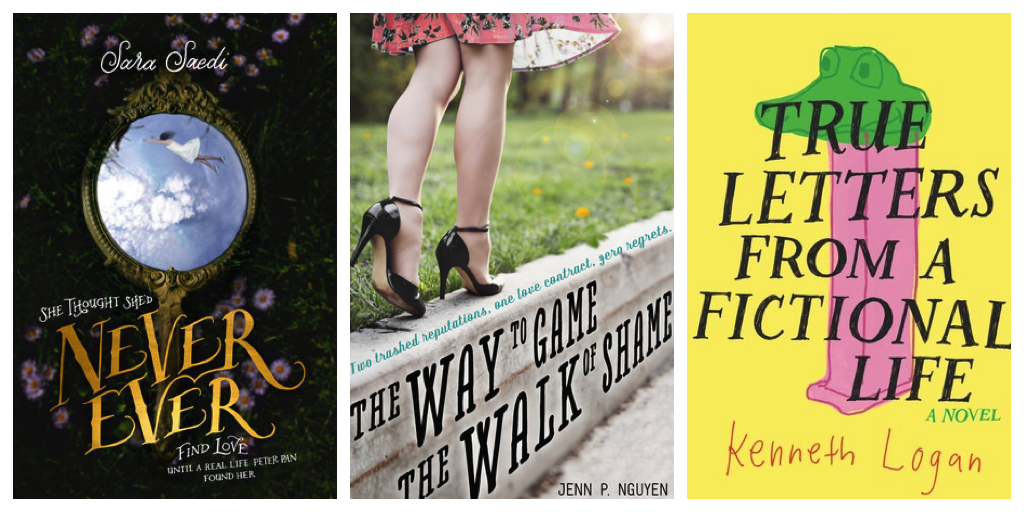 Never Ever by Sara Saedi
When Wylie encounters Phinn—confident, mature, and devastatingly handsome—at a party the night before her brother goes to juvie, she can't believe how fast she falls for him. And that's before he shows her how to fly.
Soon Wylie and her brothers find themselves whisked away to a mysterious tropical island off the coast of New York City where nobody ages beyond seventeen and life is a constant party. Wylie's in heaven: now her brother won't go to jail and she can escape her over-scheduled life with all its woes and responsibilities—permanently.
But the deeper Wylie falls for Phinn, the more she begins to discover has been kept from her and her brothers. Somebody on the island has been lying to her, but the truth can't stay hidden forever.
The Way to Game the Walk of Shame by Jenn P. Nguyen
Taylor Simmons is screwed.
Things were hard enough when her single-minded dedication to her studies earned her the reputation of being an Ice Queen, but after getting drunk at a party and waking up next to bad boy surfer Evan McKinley, the entire school seems intent on tearing Taylor down with mockery and gossip.
Desperate to salvage her reputation, Taylor persuades Evan to pretend they're in a serious romantic relationship. After all, it's better to be the girl who tames the wild surfer than just another notch on his surfboard.
True Letters from a Fictional Life by Kenneth Logan
If you asked anyone in his small Vermont town, they'd tell you the facts: James Liddell, star athlete, decent student and sort-of boyfriend to cute, peppy Theresa, is a happy, funny, carefree guy.
But whenever James sits down at his desk to write, he tells a different story. As he fills his drawers with letters to the people in his world–letters he never intends to send–he spills the truth: he's trying hard, but he just isn't into Theresa. It's a boy who lingers in his thoughts.
He feels trapped by his parents, his teammates, and the lies they've helped him tell, and he has no idea how to escape. Is he destined to live a life of fiction?