As promised, here's the second Debut YA post in August. This time, it's for YA debuts that hit shelves this month.
Like always, this round-up includes debut novels, where "debut" is in its purest definition. These are first-time books by first-time authors. I'm not including books by authors who are using or have used a pseudonym in the past or those who have written in other categories (adult, middle grade, etc.) in the past. Authors who have self-published are not included here either.
All descriptions are from WorldCat or Goodreads, unless otherwise noted. If I'm missing any debuts out in August from traditional publishers — and I should note that indie/small presses are okay — let me know in the comments.
As always, not all titles included here are necessarily endorsements for those titles. Get ready to get reading.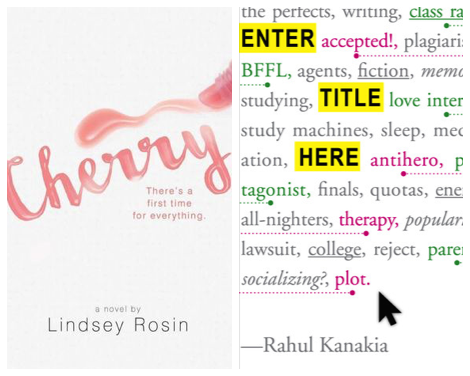 Cherry by Lindsey Rosin
Four best friends make a pact to lose their virginity before they graduate high school.
Enter Title Here by Rahul Kanakia
High school senior Reshma Kapoor will stop at nothing to gain admission to Stanford, including writing a novel.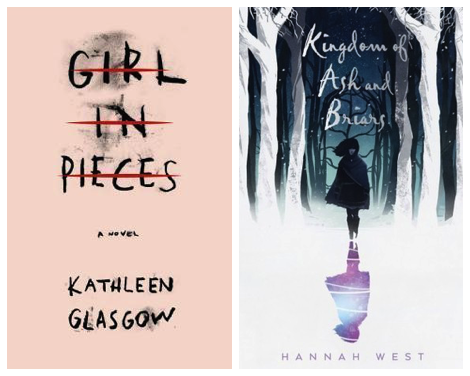 Girl in Pieces by Kathleen Glasgow
As she struggles to recover and survive, seventeen-year-old homeless Charlotte "Charlie" Davis cuts herself to dull the pain of abandonment and abuse.
Kingdom of Ash and Briars by Hannah West
Sixteen-year-old Bristal discovers she is a shapeshifter, one of three remaining elicromancers tasked with guarding the realm of Nissera against dark magic while manipulating three royal families to promote peace.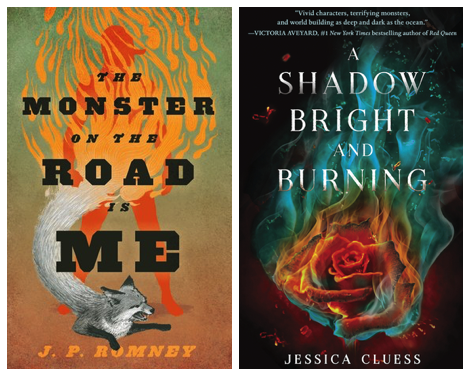 The Monster on the Road Is Me by JP Romney
In Japan, a teenage boy with narcolepsy is able to steal the thoughts of supernatural beings in his sleep, and uses this ability to defeat a mountain demon that's causing a string of suicides at his school.
A Shadow Bright and Burning by Jessica Cluess
When her unusual powers mark her as the one destined to lead the war against the seven Ancients, Henrietta trains to become the first female sorcerer in centuries–though the true nature of her ability threatens to be revealed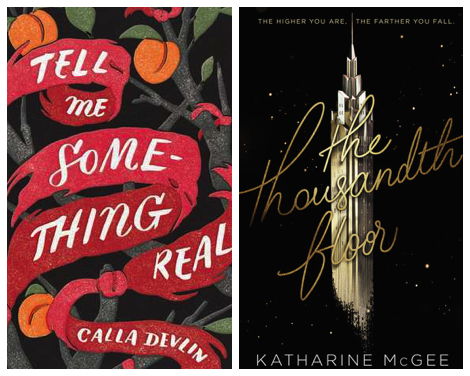 Tell Me Something Real by Calla Devlin
The three Babcock sisters must travel to a Mexican clinic across the border so their mother, ill with leukemia, can receive alternative treatments. The sisters' world is about to shatter under the weight of an incomprehensible betrayal. . . an illness far more insidious than cancer that poisons their home
The Thousandth Floor by Katharine McGee
A hundred years in the future, New York is a city of innovation and dreams. But people never change: everyone here wants something…and everyone has something to lose.
Leda Cole's flawless exterior belies a secret addiction—to a drug she never should have tried and a boy she never should have touched.
Eris Dodd-Radson's beautiful, carefree life falls to pieces when a heartbreaking betrayal tears her family apart.
Rylin Myers's job on one of the highest floors sweeps her into a world—and a romance—she never imagined…but will her new life cost Rylin her old one?
Watt Bakradi is a tech genius with a secret: he knows everything about everyone. But when he's hired to spy by an upper-floor girl, he finds himself caught up in a complicated web of lies.
And living above everyone else on the thousandth floor is Avery Fuller, the girl genetically designed to be perfect. The girl who seems to have it all—yet is tormented by the one thing she can never have.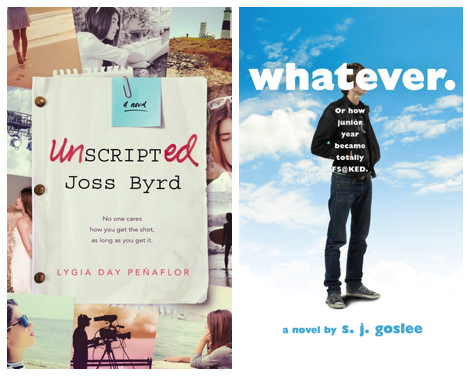 Unscripted Joss Byrd by Lygia Day Peñaflor
Joss Byrd, Americas most sought-after young actress, navigates the personal pressures of working on a new film and staying true to herself.
Whatever by S.J. Goslee
Junior year is going to be the best ever for slacker Mike until he loses his girlfriend, gets roped into school activities, and becomes totally confused about his sexual orientation after sharing a drunken kiss with a guy.