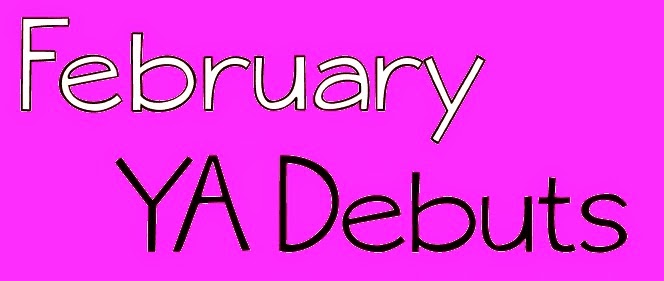 It's time for another round-up of debut YA novels of the month. Like always, this round-up includes debut novels, where "debut" is in its purest definition. These are first-time books by first-time authors. I'm not including books by authors who are using or have used a pseudonym in the past or those who have written in other categories (adult, middle grade, etc.) in the past.
All descriptions are from Goodreads, unless otherwise noted. If I'm missing any debuts out in February from traditional publishers — and I should clarify that indie presses are okay — let me know in the comments.
As always, not all noted titles included here are necessarily endorsements for those titles.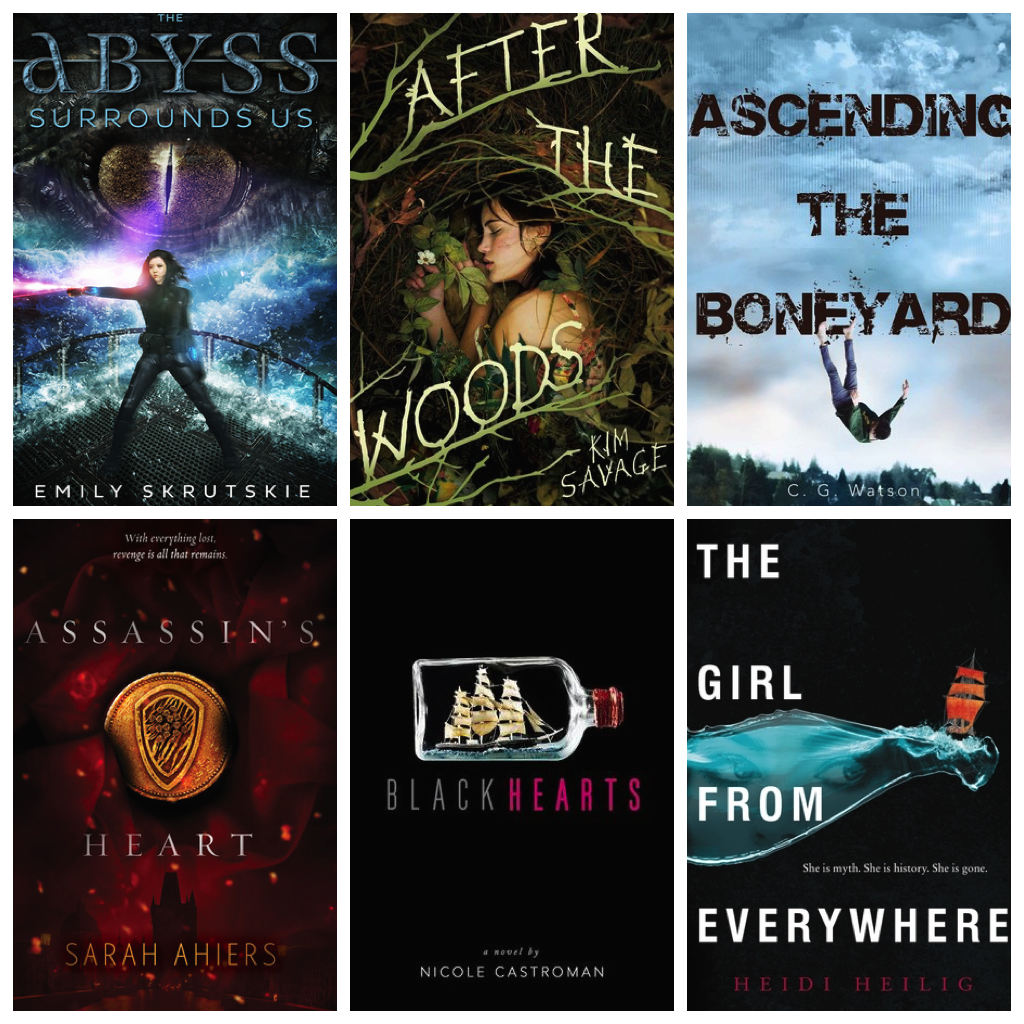 The Abyss Surrounds Us by Emily Skrutskie: Cassandra Leung–a seventeen-year-old trainer of Reckoners, sea beasts bred to defend ships–is kidnapped by the pirate queen Santa Elena and ordered to train a Reckoner pup to defend Santa Elena's ship.
After The Woods by Kim Savage: On the eve of the year anniversary of the Shiverton Abduction, two former best friends grapple with the consequences of that event.
Ascending The Boneyard by CG Watson: Overwhelmed by a series of losses, including an accident that left his brother in a wheelchair, his father's abuse, and his mother's departure, sixteen-year-old Tosh escapes into a video game but soon, the game becomes much more real than his life.
Assassin's Heart by Sarah Ahiers: Seventeen-year-old Lea Saldana, a trained assassin, falls in love with Val Da Via, a boy from a rival clan, until tragedy intervenes and sets her on a course of revenge against the Da Vias family.
Blackhearts by Nicole Castroman: A reimagining of the origin story of Blackbeard the pirate and his forbidden love affair with a maid in his father's house.
The Girl From Everywhere by Heidi Heilig: Heidi Heilig's debut teen fantasy sweeps from modern-day New York City, to nineteenth-century Hawaii, to places of myth and legend. Sixteen-year-old Nix has sailed across the globe and through centuries aboard her time-traveling father's ship. But when he gambles with her very existence, it all may be about to end. The Girl from Everywhere, the first of two books, blends fantasy, history, and a modern sensibility. Its witty, fast-paced dialogue, breathless adventure, multicultural cast, and enchanting romance will dazzle readers of Sabaa Tahir, Rae Carson, and Rachel Hartman. Nix's life began in Honolulu in 1868. Since then she has traveled to mythic Scandinavia, a land from the tales of One Thousand and One Nights, modern-day New York City, and many more places both real and imagined. As long as he has a map, Nix's father can sail his ship, The Temptation, to any place, any time. But now he's uncovered the one map he's always sought–1868 Honolulu, before Nix's mother died in childbirth. Nix's life–her entire existence–is at stake. No one knows what will happen if her father changes the past. It could erase Nix's future, her dreams, her adventures. her connection with the charming Persian thief, Kash, who's been part of their crew for two years. If Nix helps her father reunite with the love of his life, it will cost her her own.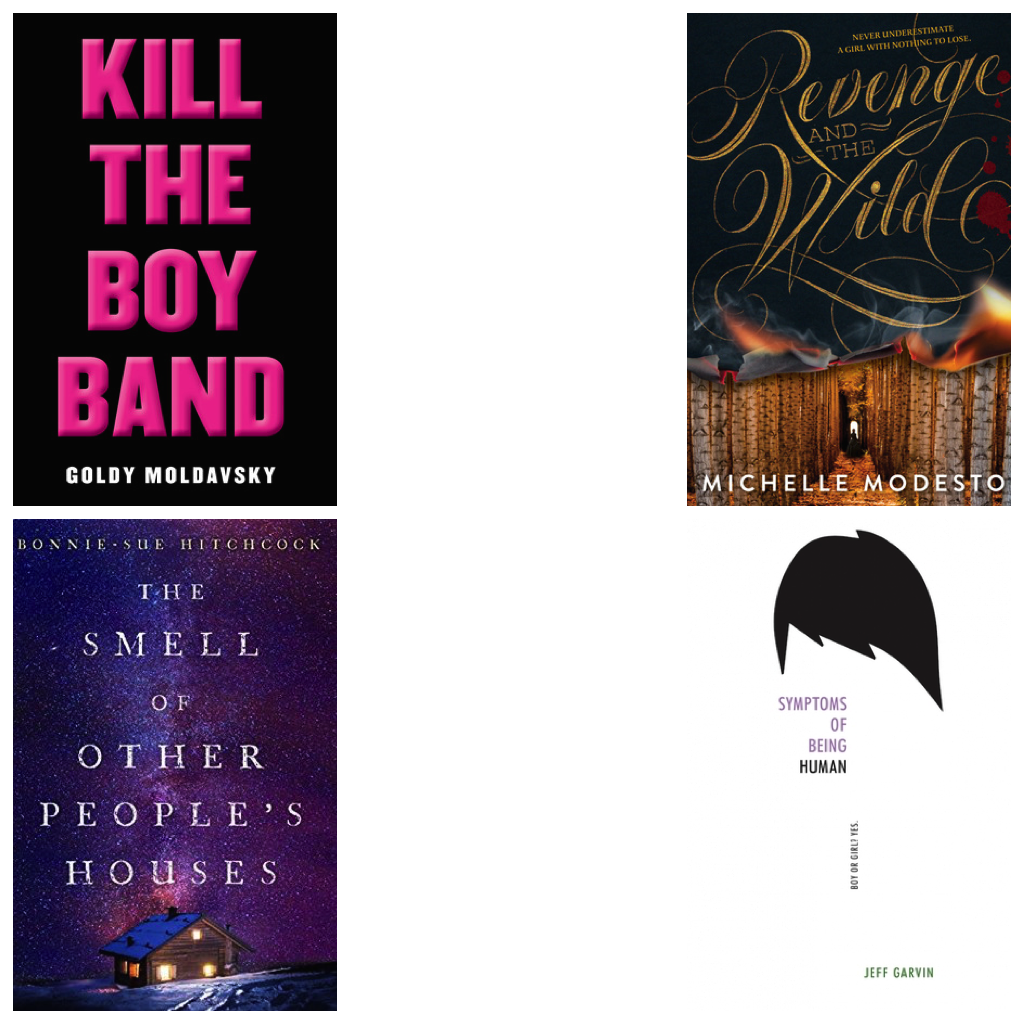 Kill The Boy Band by Goldy Moldavsky: Four fan-girls of The Ruperts, sneak away to a hotel in Manhattan to see their favorite boy band, but when one of them literally drags Rupert Pierpont to their room and they tie him up, things get complicated–and when Rupert is killed things go from bad to worse.
Revenge and The Wild by Michelle Modesto: Seventeen-year-old foul-mouthed Westie, the notorious adopted daughter of local inventor Nigel Butler, lives in the lawless western town of Rogue City where she sets out to prove the wealthy investors in a magical technology that will save her city are the cannibals that killed her family and took her arm when she was a child.
The Smell of Other People's Houses by Bonnie-Sue Hitchcock: Growing up in Alaska in the 1970s isn't like growing up anywhere else: Don't think life is going to be easy. Know your place. And never talk about yourself. Four vivid voices tell intertwining stories of hardship, tragedy, wild luck, and salvation.
Symptoms of Being Human by Jeff Garvin: A gender-fluid teenager who struggles with identity creates a blog on the topic that goes viral, and faces ridicule at the hands of fellow students.