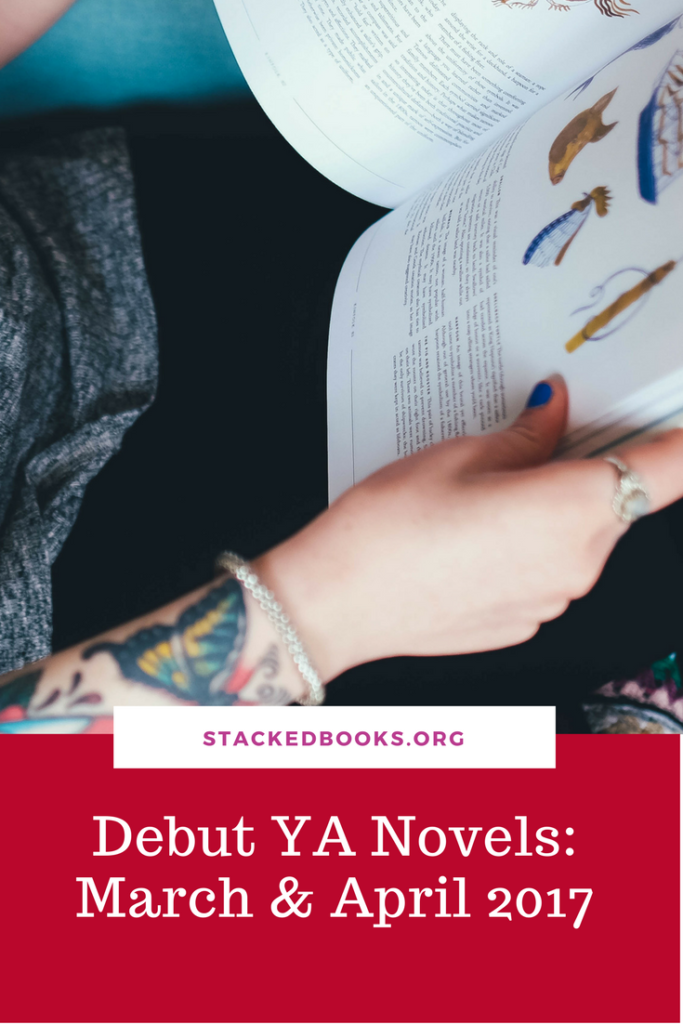 March, March, March. Apparently, March was so beyond my average month that I miscounted the number of weeks I was posting, drafted the regular round-up of debut YA novels, then…didn't post it. But that's okay. This month's round-up features the debuts from both March and April. This is a big, meaty list of reads by first-time authors, just in time for the planning you're making for all your spring and summer TBR lists.
This round-up includes debut novels, where "debut" is in its purest definition. These are first-time books by first-time authors. I'm not including books by authors who are using or have used a pseudonym in the past or those who have written in other categories (adult, middle grade, etc.) in the past. Authors who have self-published are not included here either.
All descriptions are from Goodreads, unless otherwise noted; I've found Goodreads descriptions to offer better insight to what a book is about over WorldCat. If I'm missing any debuts out in February from traditional publishers — and I should clarify that indie/small presses are okay — let me know in the comments.
As always, not all noted titles included here are necessarily endorsements for those titles. List is arranged alphabetically by title, with pub dates beside them.
March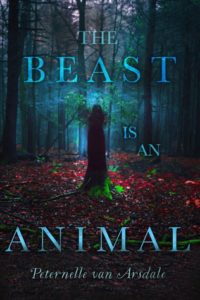 The Beast Is An Animal by Peternelle van Arsdale
Alys was seven when the soul eaters came to her village.
These soul eaters, twin sisters who were abandoned by their father and slowly morphed into something not quite human, devour human souls. Alys, and all the other children, were spared—and they were sent to live in a neighboring village. There the devout people created a strict world where good and evil are as fundamental as the nursery rhymes children sing. Fear of the soul eaters—and of the Beast they believe guides them—rule village life. But the Beast is not what they think it is. And neither is Alys.
Inside, Alys feels connected to the soul eaters, and maybe even to the Beast itself. As she grows from a child to a teenager, she longs for the freedom of the forest. And she has a gift she can tell no one, for fear they will call her a witch. When disaster strikes, Alys finds herself on a journey to heal herself and her world. A journey that will take her through the darkest parts of the forest, where danger threatens her from the outside—and from within her own heart and soul.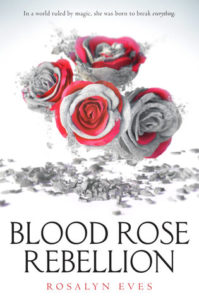 Blood Rose Rebellion by Rosalyn Eves
Sixteen-year-old Anna Arden is barred from society by a defect of blood. Though her family is part of the Luminate, powerful users of magic, she is Barren, unable to perform the simplest spells. Anna would do anything to belong. But her fate takes another course when, after inadvertently breaking her sister's debutante spell—an important chance for a highborn young woman to show her prowess with magic—Anna finds herself exiled to her family's once powerful but now crumbling native Hungary.
Her life might well be over.
In Hungary, Anna discovers that nothing is quite as it seems. Not the people around her, from her aloof cousin Noémi to the fierce and handsome Romani Gábor. Not the society she's known all her life, for discontent with the Luminate is sweeping the land. And not her lack of magic. Isolated from the only world she cares about, Anna still can't seem to stop herself from breaking spells.
As rebellion spreads across the region, Anna's unique ability becomes the catalyst everyone is seeking. In the company of nobles, revolutionaries, and Romanies, Anna must choose: deny her unique power and cling to the life she's always wanted, or embrace her ability and change that world forever.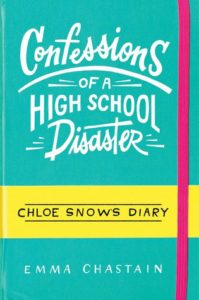 Confessions of a High School Disaster by Emma Chastain
In the tradition of Bridget Jones's Diary, a lovably flawed high school student chronicles her life as she navigates the highs and lows of family, friendship, school, and love in a diary that sparkles with humor and warmth.
I'm Chloe Snow, and my life is kiiiiind of a disaster.
1. I'm a kissing virgin (so so so embarrassing).
2. My best friend, Hannah, is driving me insane.
3. I think I'm in love with Mac Brody, senior football star, whose girlfriend is so beautiful she doesn't even need eyeliner.
4. My dad won't stop asking me if I'm okay.
5. Oh, and my mom moved to Mexico to work on her novel. But it's fine—she'll be back soon. She said so.
Mom says the only thing sadder than remembering is forgetting, so I'm going to write down everything that happens to me in this diary. That way, even when I'm ninety, I'll remember how awkward and horrible and exciting it is to be in high school.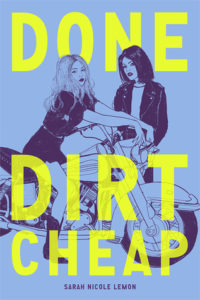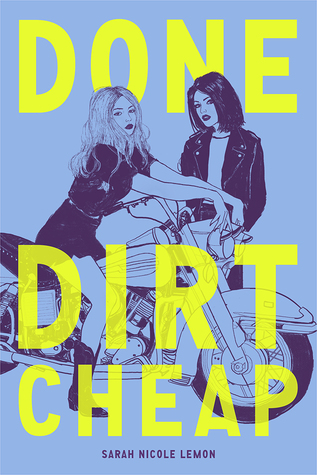 Done Dirt Cheap by Sarah Nicole Lemon
Tourmaline Harris's life hit pause at fifteen, when her mom went to prison because of Tourmaline's unintentionally damning testimony. But at eighteen, her home life is stable, and she has a strong relationship with her father, the president of a local biker club known as the Wardens.
Virginia Campbell's life hit fast-forward at fifteen, when her mom "sold" her into the services of a local lawyer: a man for whom the law is merely a suggestion. When Hazard sets his sights on dismantling the Wardens, he sends in Virginia, who has every intention of selling out the club—and Tourmaline. But the two girls are stronger than the circumstances that brought them together, and their resilience defines the friendship at the heart of this powerful debut novel.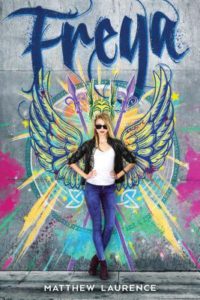 Freya by Matthew Laurence
Sara Vanadi is more than she appears to be.
In her prime, she was Freya, the Norse goddess of love, beauty, war, and death. Now all that's left of her legacy is herself. Her power comes from belief, and for an ancient goddess in the 21st century, true believers are hard to come by.
She's been lying low for a few decades, when all of a sudden a shadowy corporation extends an offer: join them and receive unlimited strength and believers—or refuse and be destroyed. Sara chooses neither; she flees with the help of a new friend named Nathan.
With a modern power rising that wishes to bend the divine to its will, Sara decides to fight back—but first she needs some new clothes.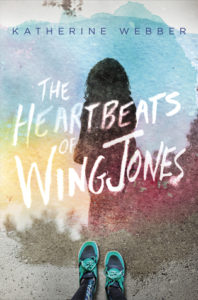 The Heartbeats of Wing Jones by Katherine Webber
Wing Jones, like everyone else in her town, has worshipped her older brother, Marcus, for as long as she can remember. Good-looking, popular, and the star of the football team, Marcus is everything his sister is not, and Wing is all too aware of this.
Until the night when everything changes. Marcus, drunk at the wheel after a party, kills two people and barely survives himself. With Marcus now in a coma, Wing is crushed, confused, and angry—could Marcus, the golden boy, really have done something so irresponsible, so reckless? She is tormented at school for Marcus's mistake, haunted at home by her mother's and grandmothers' grief. To make matters worse, the bank is threatening to repossess her family's house because all their money is going to pay her brother's mounting medical bills.
Every night, unable to sleep, Wing finds herself sneaking out to go to the school's empty track. With the breeze in her hair and her feet pounding the dirt for hours and hours, she can imagine she is keeping Marcus's heart beating. If she runs hard enough, maybe he'll wake up. Maybe she'll free her family.
When Aaron, Marcus's best friend, sees her running one night, he recognizes that her speed, skill, and agility could get her spot on the track team—and better still, a shot at a coveted sponsorship from a major athletic gear company. Wing can't pass up the opportunity to train with her longtime crush and to help her struggling family, but can she handle being thrust out of Marcus's shadow and into the spotlight?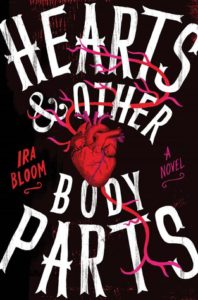 Hearts & Other Body Parts by Ira Bloom
Sisters Esme, Katy, and Ronnie are smart, talented, and gorgeous, and better yet . . . all three are witches. They have high school wired until the arrival of two new students. The first is Norman, who is almost eight feet tall and appears to be constructed of bolts and mismatched body parts. Despite his intimidating looks, Esme finds herself strangely — almost romantically — drawn to both his oversized brain and oversized heart.
The second new arrival is Zack, an impossibly handsome late transfer from the UK who has the girls at school instantly mesmerized. Soon even sensible Esme has forgotten Norman, and all three sisters are in a flat-out hex war to win Zack. But while the magic is flying, only Norman seems to notice that students who wander off alone with Zack end up with crushed bones and memory loss. Or worse, missing entirely.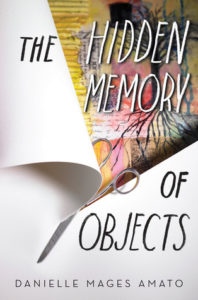 The Hidden Memory of Objects by Danielle Mages Amato
Megan Brown's brother, Tyler, is dead, but the cops are killing him all over again. They say he died of a drug overdose, potentially suicide—something Megan cannot accept. Determined to figure out what happened in the months before Tyler's death, Megan turns to the things he left behind. After all, she understands the stories objects can tell—at fifteen, she is a gifted collage artist with a flair for creating found-object pieces. However, she now realizes that her artistic talent has developed into something more: she can see memories attached to some of Tyler's belongings—and those memories reveal a brother she never knew.
Enlisting the help of an artifact detective who shares her ability and specializes in murderabilia—objects tainted by violence or the deaths of their owners—Megan finds herself drawn into a world of painful personal and national memories. Along with a trusted classmate and her brother's charming friend, she chases down the troubling truth about Tyler across Washington, DC, while reclaiming her own stifled identity with a vengeance.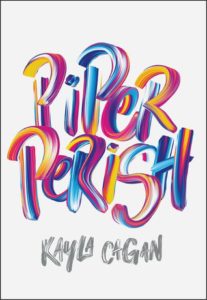 Piper Perish by Kayla Cagan
Now is the time for fearlessness.
Who are you now?
Piper Perish inhales air and exhales art. The sooner she and her best friends Enzo and Kit can get out of Houston and get into art school in New York City, the better. It's been Piper's dream her whole life, and now that senior year is halfway over, she's never felt more ready.
Who will you become?
But in the final months before graduation, life's got Piper a little more breathless. Things are weird with Kit and awful with Enzo; art school is looking increasingly impossible; three different guys have each claimed a different piece of Piper's heart; and Piper's sister's tyrannical mental state seems to thwart every attempt at happiness for the Perish family. Piper's art just might be enough to get her out. But is she strong enough—and brave enough—to seize that power, even if it means giving up what she's always known?
Be now. Then be bow. Be now, now, now.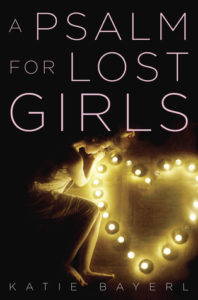 A Psalm for Lost Girls by Katie Bayerl
Tess da Costa is a saint — a hand-to-god, miracle-producing saint. At least that's what the people in her hometown of New Avon, Massachusetts, seem to believe. And when Tess suddenly and tragically passes away, her small city begins feverishly petitioning the Pope to make Tess's sainthood official. Tess's mother is ecstatic over the fervor, while her sister Callie, the one who knew Tess best, is disgusted – overcome with the feeling that her sister is being stolen from her all over again.
The fervor for Tess's sainthood only grows when Ana Langone, a local girl who's been missing for six months, is found alive at the foot of one of Tess's shrines. It's the final straw for Callie.
With the help of Tess's secret boyfriend Danny, Callie's determined to prove that Tess was something far more important than a saint; she was her sister, her best friend and a girl in love with a boy. But Callie's investigation uncovers much more than she bargained for: a hidden diary, old family secrets, and even the disturbing truth behind Ana's kidnapping.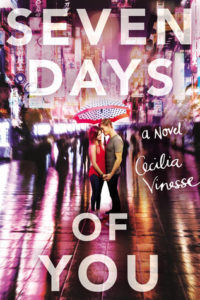 Seven Days of You by Cecilia Vinesse
Sophia has seven days left in Tokyo before she moves back to the States. Seven days to say good-bye to the electric city, her wild best friend, and the boy she's harbored a semi-secret crush on for years. Seven perfect days…until Jamie Foster-Collins moves back to Japan and ruins everything.
Jamie and Sophia have a history of heartbreak, and the last thing Sophia wants is for him to steal her leaving thunder with his stupid arriving thunder. Yet as the week counts down, the relationships she thought were stable begin to explode around her. And Jamie is the one who helps her pick up the pieces. Sophia is forced to admit she may have misjudged Jamie, but can their seven short days of Tokyo adventures end in anything but good-bye?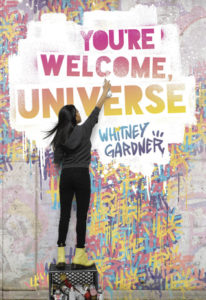 You're Welcome, Universe by Whitney Gardner
When Julia finds a slur about her best friend scrawled across the back of the Kingston School for the Deaf, she covers it up with a beautiful (albeit illegal) graffiti mural.
Her supposed best friend snitches, the principal expels her, and her two mothers set Julia up with a one-way ticket to a "mainstream" school in the suburbs, where she's treated like an outcast as the only deaf student. The last thing she has left is her art, and not even Banksy himself could convince her to give that up.
Out in the 'burbs, Julia paints anywhere she can, eager to claim some turf of her own. But Julia soon learns that she might not be the only vandal in town. Someone is adding to her tags, making them better, showing off—and showing Julia up in the process. She expected her art might get painted over by cops. But she never imagined getting dragged into a full-blown graffiti war.
April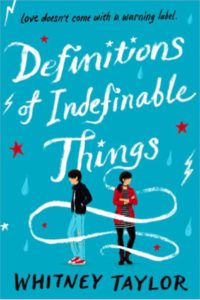 Definitions of Indefinable Things by Whitney Taylor
Reggie Mason is all too familiar with "the Three Stages of Depression." She believes she's unlocked the secret to keeping herself safe: Nobody can hurt you if you never let them in.
Reggie encounters an unexpected challenge to her misanthropy: a Twizzler-chomping, indie film-making narcissist named Snake. Snake's presence, while reassuring, is not exactly stable—especially since his ex-girlfriend is seven months pregnant. As Reggie falls for Snake, she must decide whether it's time to rewrite the rules that have defined her.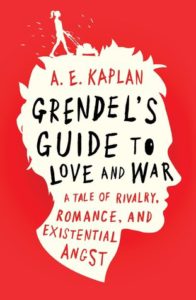 Grendel's Guide to Love and War by A. E. Kaplan
Tom Grendel lives a quiet life—writing in his notebooks, mowing lawns for his elderly neighbors, and pining for Willow, a girl next door who rejects the "manic-pixie-dream" label. But when Willow's brother, Rex (the bro-iest bro ever to don a jockstrap), starts throwing wild parties, the idyllic senior citizens' community where they live is transformed into a war zone. Tom is rightfully pissed—his dad is an Iraq vet, and the noise from the parties triggers his PTSD—so he comes up with a plan to end the parties for good. But of course, it's not that simple.
One retaliation leads to another, and things quickly escalate out of control, driving Tom and Willow apart, even as the parties continue unabated. Add to that an angsty existential crisis born of selectively reading his sister's Philosophy 101 coursework, a botched break-in at an artisanal pig farm, and ten years of unresolved baggage stemming from his mother's death…and the question isn't so much whether Tom Grendel will win the day and get the girl, but whether he'll survive intact.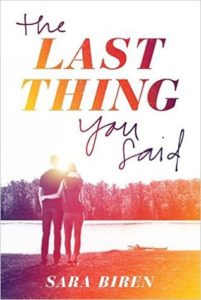 The Last Thing You Said by Sara Biren
Last summer, Lucy's and Ben's lives changed in an instant. One moment, they were shyly flirting on a lake raft, finally about to admit their feelings to each other after years of yearning. In the next, Trixie—Lucy's best friend and Ben's sister—was gone, her heart giving out during a routine swim. And just like that, the idyllic world they knew turned upside down, and the would-be couple drifted apart, swallowed up by their grief. Now it's a year later in their small lake town, and as the anniversary of Trixie's death looms, Lucy and Ben's undeniable connection pulls them back together. They can't change what happened the day they lost Trixie, but the summer might finally bring them closer to healing—and to each other.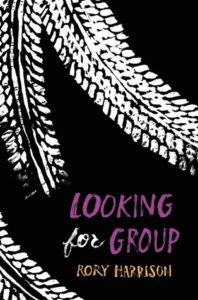 Looking For Group by Rory Harrison
Dylan doesn't have a lot of experience with comfort. His room in the falling-down Village Estates can generously be categorized as "squalid," and he sure as hell isn't getting any love from his mother, who seemed to—no, definitely did—enjoy the perks that went along with being the parent of a "cancer kid."
His only escape has been in the form of his favorite video game—World of Warcraft—and the one true friend who makes him feel understood, even if it is just online: Nuba. And now that Dylan is suddenly in remission, he wants to take Nuba on a real mission, one he never thought he'd live to set out on: a journey to a mysterious ship in the middle of the Salton Sea.
But Nuba—real-life name Arden—is fighting her own battles, ones that Dylan can't always help her win. As they navigate their way west, they grapple with Nuba's father (who refuses to recognize his daughter's true gender), Dylan's addiction, and the messy, complicated romance fighting so hard to blossom through the cracks of their battle-hardened hearts.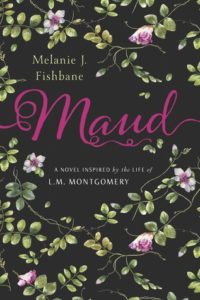 Maud by Melanie Fishbane
Fourteen-year-old Lucy Maud Montgomery — Maud to her friends — has a dream: to go to college and become a writer, just like her idol, Louisa May Alcott. But living with her grandparents on Prince Edward Island, she worries that this dream will never come true. Her grandfather has strong opinions about a woman's place in the world, and they do not include spending good money on college. Luckily, she has a teacher to believe in her, and good friends to support her, including Nate, the Baptist minister's stepson and the smartest boy in the class. If only he weren't a Baptist; her Presbyterian grandparents would never approve. Then again, Maud isn't sure she wants to settle down with a boy — her dreams of being a writer are much more important.
But life changes for Maud when she goes out West to live with her father and his new wife and daughter. Her new home offers her another chance at love, as well as attending school, but tensions increase as Maud discovers her stepmother's plans for her, which threaten Maud's future — and her happiness forever.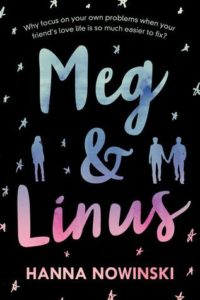 Meg & Linus by Hanna Nowinski
Meg and Linus are best friends bound by a shared love of school, a coffee obsession, and being queer. It's not always easy to be the nerdy lesbian or gay kid in a suburban town. But they have each other. And a few Star Trek boxed sets. They're pretty happy.
But then Sophia, Meg's longtime girlfriend, breaks up with Meg. Linus starts tutoring the totally dreamy new kid, Danny—and Meg thinks setting them up is the perfect project to distract herself from her own heartbreak. But Linus isn't so sure Danny even likes guys, and maybe Sophia isn't quite as out of the picture as Meg thought she was. . . .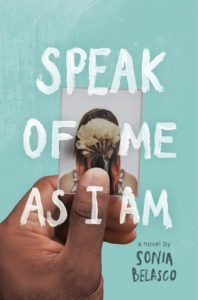 Speak Of Me As I Am by Sonia Belasco
Melanie and Damon are both living in the shadow of loss. For Melanie, it's the loss of her larger-than-life artist mother, taken by cancer well before her time. For Damon, it's the loss of his best friend, Carlos, who took his own life.
As they struggle to fill the empty spaces their loved ones left behind, fate conspires to bring them together. Damon takes pictures with Carlos's camera to try to understand his choices, and Melanie begins painting as a way of feeling closer to her mother. But when the two join their school's production of Othello, the play they both hoped would be a distraction becomes a test of who they truly are, both together and on their own. And more than anything else, they discover that it just might be possible to live their lives without completely letting go of their sadness.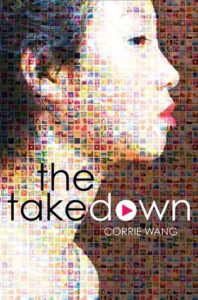 The Takedown by Corrie Wang
Kyla Cheng doesn't expect you to like her. For the record, she doesn't need you to. On track to be valedictorian, she's president of her community club, a debate team champ, plus the yummy Mackenzie Rodriguez has firmly attached himself to her hip. She and her three high-powered best friends don't just own their senior year at their exclusive Park Slope, Brooklyn high school, they practically define the hated species Popular. Kyla's even managed to make it through high school completely unscathed.
Until someone takes issue with this arrangement.
A week before college applications are due, a video of Kyla "doing it" with her crush-worthy English teacher is uploaded to her school's website. It instantly goes viral, but here's the thing: it's not Kyla in the video. With time running out, Kyla delves into a world of hackers, haters and creepy stalkers in an attempt to do the impossible-take something off the internet-all while dealing with the fallout from her own karmic footprint.