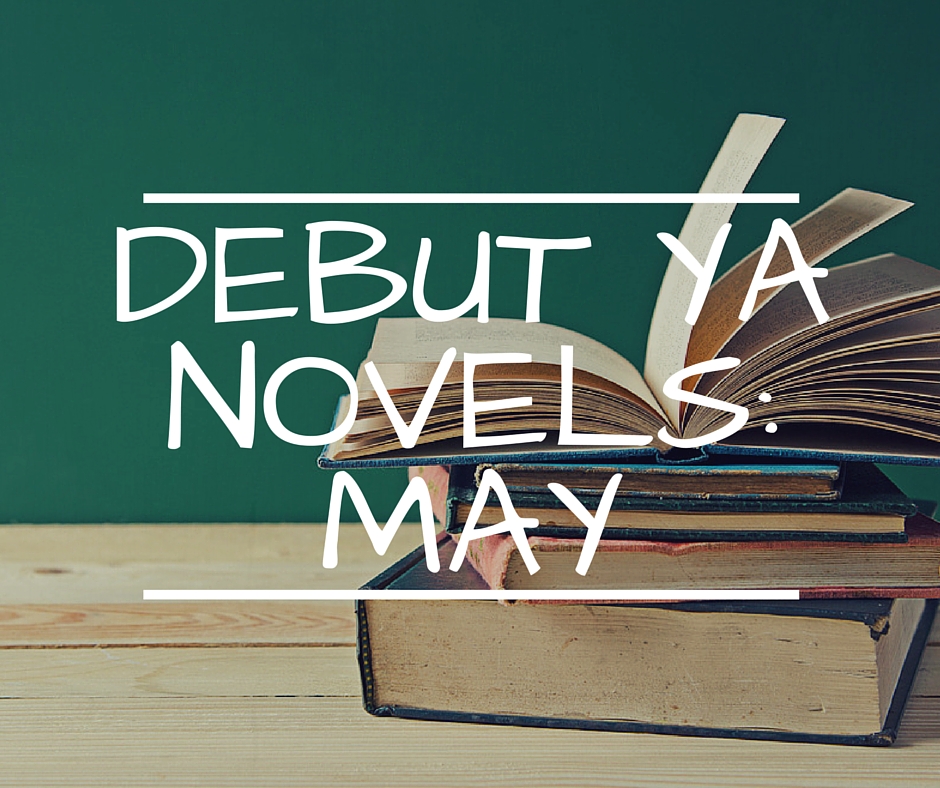 It's time for another round-up of debut YA novels of the month. Like always, this round-up includes debut novels, where "debut" is in its purest definition. These are first-time books by first-time authors. I'm not including books by authors who are using or have used a pseudonym in the past or those who have written in other categories (adult, middle grade, etc.) in the past. Authors who have self-published are not included here either.
All descriptions are from WorldCat or Goodreads, unless otherwise noted. If I'm missing any debuts out in May from traditional publishers — and I should clarify that indie presses are okay — let me know in the comments.
As always, not all noted titles included here are necessarily endorsements for those titles. Get ready to get reading. It's a busy month (and June will be, too)!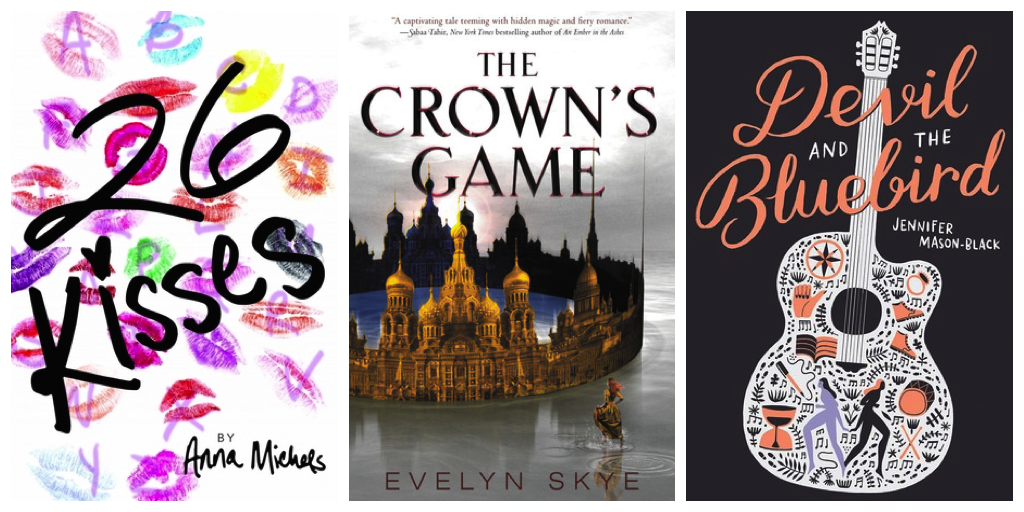 26 Kisses by Anna Michels
When Veda's boyfriend unceremoniously dumps her right after graduation, she embarks on a summer love quest to move on and move up: kiss 26 boys, one for each letter of the alphabet
The Crown's Game by Evelyn Skye
Vika Andreyeva can summon the snow and turn ash into gold. Nikolai Karimov can see through walls and conjure bridges out of thin air. They are the only enchanters in Russia, and when the Ottoman Empire and the Kazakhs threaten to attack, the tsar wants a powerful enchanter by his side, and as an advisor for the prince, Pasha. He initiates the Crown's Game, a duel of magical skill, and the winner will become his Imperial Enchanter; the loser will die. For Vika and Nikolai, the game is a chance of a lifetime, but they come to realize that their growing regard for each other makes the game impossible to win. And as long-buried secrets emerge, threatening the future of the empire, it becomes increasingly clear to them that the Crown's Game is not one to lose.
Devil and the Bluebird by Jennifer Mason-Black
Blue Riley has wrestled with demons ever since the loss of her mother to cancer. But when she encounters a beautiful devil at her town crossroads, it's her runaway sister's soul she fights to save. The devil steals Blue's voice—inherited from her musically gifted mother—in exchange for a single shot at finding Cass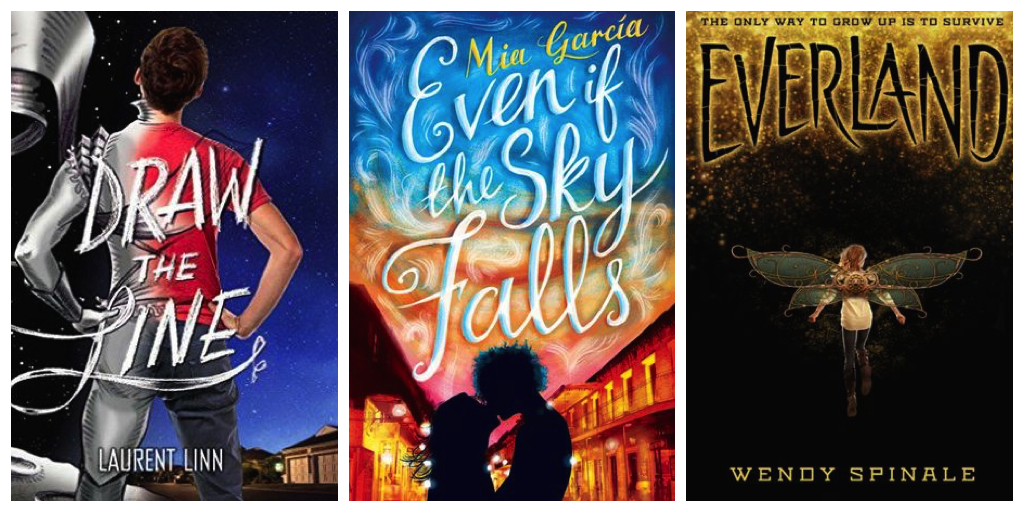 Draw the Line by Laurent Linn (technically, this might not be a debut novel, depending upon how a licensed board book credit in 2000 might be attributed, but I'm including it)
A teen boy survives a hate crime against another gay student through his art.
Even if the Sky Falls by Mia Garcia 
When Julie takes a break from helping her youth group rebuild houses in New Orleans, she meets and falls in love with Miles and together they must survive a hurricane.
Everland by Wendy Spinale
London is a ruin, destroyed by German bombs, ravaged by the Horologia virus, and ruled by the ruthless Captain Hanz Otto Oswald Kretschmer, whose Marauders search for and seize the children who are immune to the virus in the hope that their blood will produce a cure–their latest victim is sixteen-year-old Gwen Darling's younger sister and Gwen will do anything to get her back, even join up with Pete and his gang of Lost Boys living in a city hidden underground.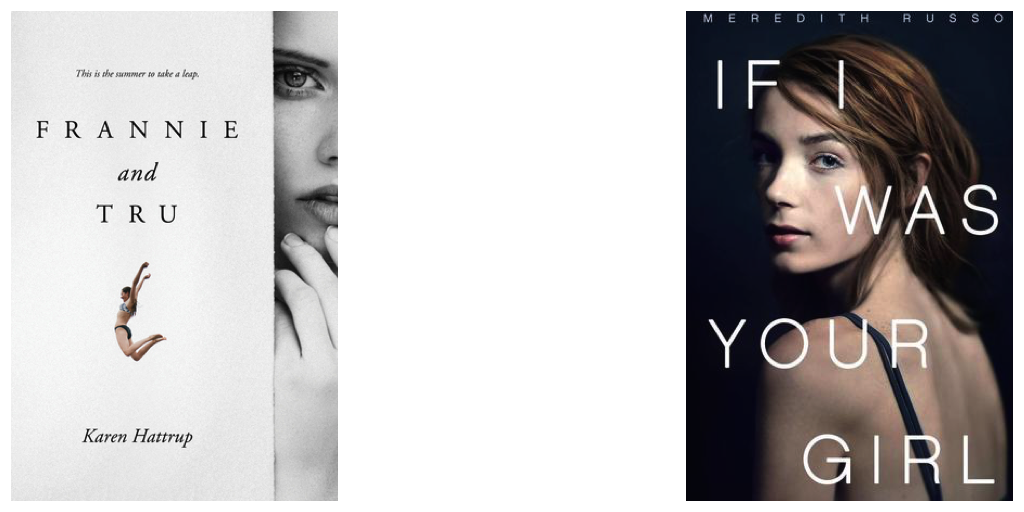 Frannie and Tru by Karen Hattrup
When Frannie Little eavesdrops on her parents fighting she discovers that her cousin Truman is gay, and his parents are so upset they are sending him to live with her family for the summer. At least, that's what she thinks the story is. . . When he arrives, shy Frannie befriends this older boy, who is everything that she's not–rich, confident, cynical, sophisticated. Together, they embark on a magical summer marked by slowly unraveling secrets.
If I Was Your Girl by Meredith Russo
Amanda Hardy only wants to fit in at her new school, but she is keeping a big secret, so when she falls for Grant, guarded Amanda finds herself yearning to share with him everything about herself, including her previous life as Andrew.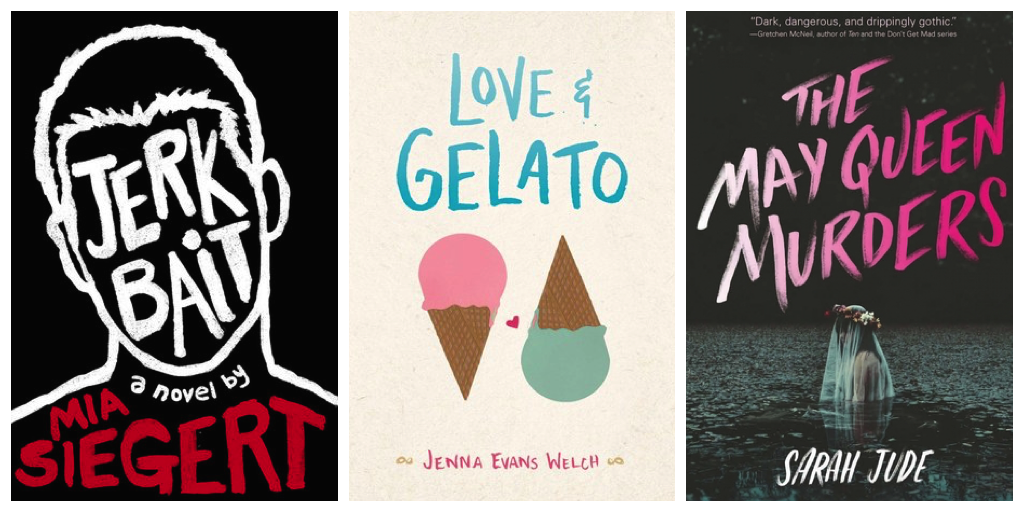 Jerkbait by Mia Siegert
Even though they're identical, Tristan isn't close to his twin Robbie at all—until Robbie tries to kill himself.
Forced to share a room to prevent Robbie from hurting himself, the brothers begin to feel the weight of each other's lives on the ice, and off. Tristan starts seeing his twin not as a hockey star whose shadow Tristan can't escape, but a struggling gay teen terrified about coming out in the professional sports world. Robbie's future in the NHL is plagued by anxiety and the mounting pressure from their dad, coach, and scouts, while Tristan desperately fights to create his own future, not as a hockey player but a musical theatre performer.
As their season progresses and friends turn out to be enemies, Robbie finds solace in an online stranger known only as "Jimmy2416." Between keeping Robbie's secret and saving him from taking his life, Tristan is given the final call: sacrifice his dream for a brother he barely knows, or pursue his own path. How far is Robbie willing to go—and more importantly, how far is Tristan willing to go to help him?
Love & Gelato by Jenna Evans Welch
After her mother dies, Lina travels to Italy where she discovers her mother's journal and sets off on an adventure to unearth her mother's secrets.
The May Queen Murders by Sarah Jude
When her beloved cousin goes missing after a May Day celebration, sixteen-year-old Ivy discovers that both her cousin and her hometown in the Missouri Ozarks are as full of secrets as the woods that surround them.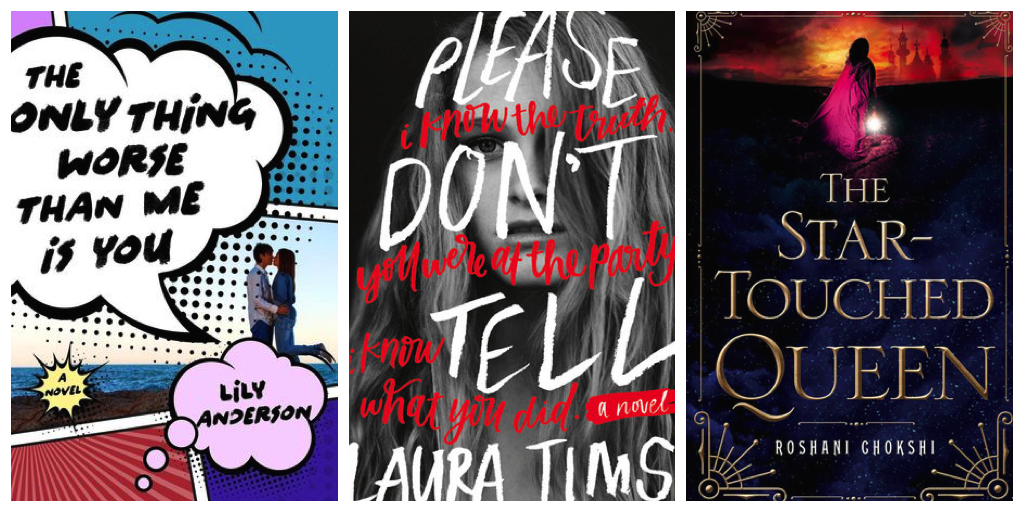 The Only Thing Worse Than Me Is You by Lily Anderson
After years of competing against each other, Trixie and Ben form a fandom-based tentative friendship when their best friends start dating each other, but after Trixie's friend gets expelled for cheating they have to choose which side they are on.
Please Don't Tell by Laura Tims
Joy must deal with a blackmailer after the harm inflicted on her sister at a party by a perpetrator who ends up dead.
The Star Touched Queen by Roshani Chokshi
Sixteen-year-old Maya's arranged marriage turns out much better than she expected, but her husband's magic–and her curiosity–may threaten more than her life.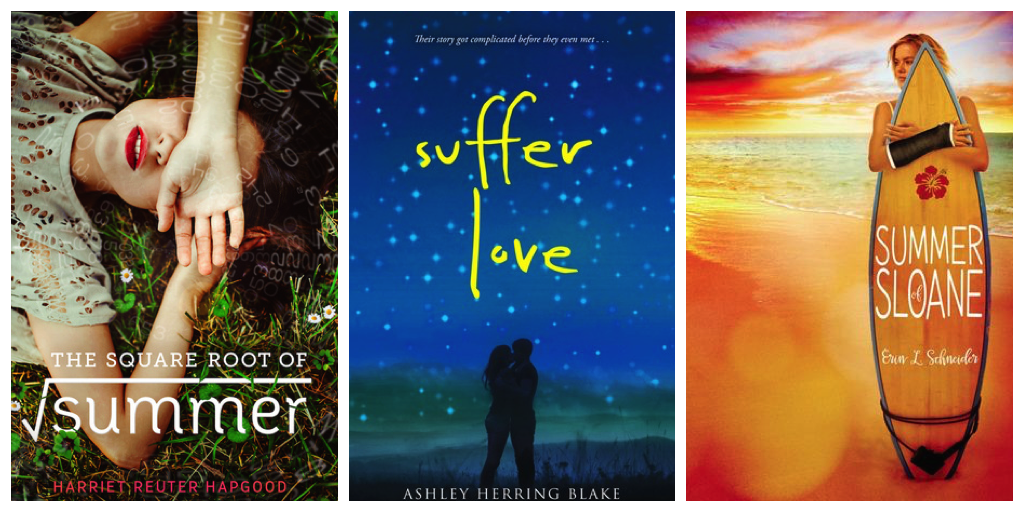 The Square Root of Summer by Harriet Reuter Hapgood
Gottie Oppenheimer, a seventeen-year-old physics prodigy, navigates grief, love, and disruptions in the space-time continuum in one very eventful summer.
Suffer Love by Ashley Herring Blake
Hadley St. Clair's life changed the day she came home to a front door covered in slips of paper, each of them revealing the ugly truth about her father. Now as her family falls apart in the wake of his year-long affair, Hadley wants everyone–her dad most of all–to leave her alone. Then she meets Sam Bennett, a cute new boy who inexplicably "feels like home" to Hadley. Hadley and Sam's connection is undeniable, but Sam has a secret about his family that could ruin everything.
Summer of Sloane by Erin L. Schneider
Seventeen-year-old Sloane McIntyre spends a summer in Hawaii as she deals with being betrayed by both her boyfriend and her best friend, and she and her twin brother, Penn, begin new, complicated, romances.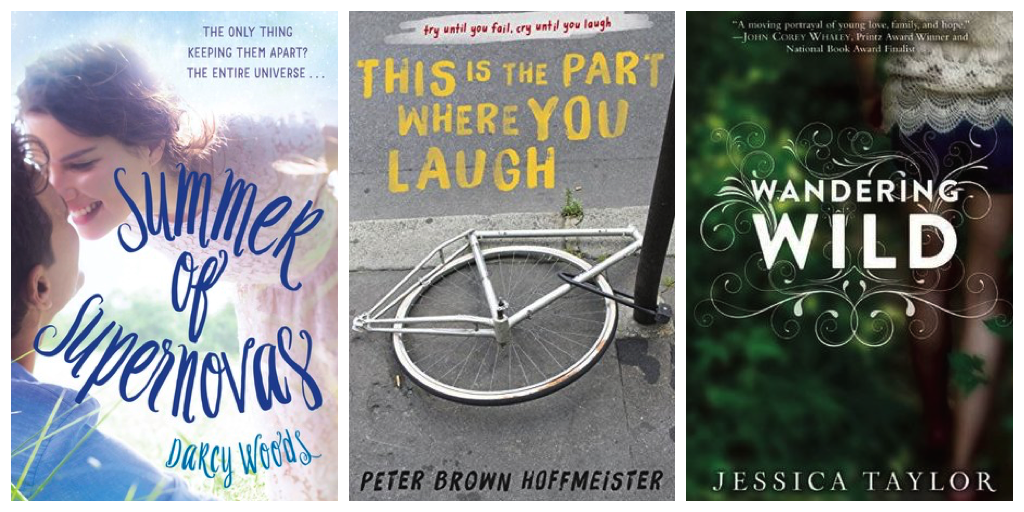 Summer of Supernovas by Darcy Woods
As the daughter of an astrologer, Wilamena Carlisle knows the truth lies within the stars, so when she discovers a rare planetary alignment she is forced to tackle her worst astrological fear– The Fifth House of Relationships and Love– but Wil must decide whether a cosmically doomed love is worth rejecting her mother's legacy when she falls for a sensitive guitar player.
This Is the Part Where You Laugh by Peter Brown Hoffmeister
Rising sophomore Travis and his best friend, Creature, spend a summer in a Eugene, Oregon, trailer park dealing with cancer, basketball, first love, addiction, gang violence, and a reptilian infestation.
Wandering Wild by Jessica Taylor
A teenage girl from a family of Wanderers must choose between the hustling, rambling way of life she has always known and the townie boy for whom she falls.