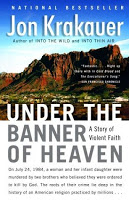 I mentioned that Under the Banner of Heaven was next on my list after reading a couple of memoirs by Carolyn Jessop, who escaped the FLDS. Krakauer's book focuses on the murders of Brenda Lafferty and her infant daughter Erica in 1984 by her brothers-in-law Ron and Dan Lafferty. The Lafferty brothers were not members of the FLDS, but they subscribed to many similar fundamentalist Mormon views, most notably polygamy (aka "celestial marriage"). For a period of time, they were involved with a group called the Crossfield School of Prophets, but mostly they acted separately from any recognized religion or cult. Ron soon came to believe that God told him to kill Brenda, whom he believed was responsible for his own wife leaving him.
While Krakauer's investigation of the double murder is the central part of the book, the whole scope is actually quite broad. His intention was to explore "violent faith" as it occurs in fundamentalist Mormons. He chose Mormonism for this exploration because he grew up around a large Mormon population, though he was not Mormon himself. He writes about this in the last chapter of the book, and it's strongly implied that the conclusions he draws about the origins of Mormon extremism are applicable to other faiths.
To get to those origins, Krakauer takes us on a long journey through Mormonism's history. The modern, mainstream Mormon church vociferously distances itself from people like the Laffertys and the FLDS, but the seeds of the fundamentalist sects were planted in their shared history. Krakauer writes about Joseph Smith, the Mountain Meadows massacre, Brigham Young, the many violent clashes between Mormons and non-Mormons before the trek to Utah, the introduction of polygamy to the religion and its eventual abandonment of the practice due to pressure from the federal government (and its subsequent acceptance into the mainstream American culture). He brings up the point that because Mormonism is so new and came of age in the modern era, it's subjected to a great deal of scrutiny, and its skeletons are harder to hide. Consequently, I knew about much of this before I read the book, but I still found Krakauer's exploration of the personalities behind Mormonism's founding immensely interesting. What draws me to nonfiction about cults (and religions in general) is my desire to understand what makes people believe what they do, especially when such beliefs are not widely accepted. Krakauer write at length about Smith and Young and their magnetic appeal, as well as the appeal of the messages they spread.
Krakauer also touches on a variety of Mormon fundamentalist offshoots, including the FLDS and the School of Prophets. He writes briefly about the Elizabeth Smart kidnapping as well, and his interest seems to be not just the organized Mormon fundamentalist cults like the FLDS, but also how mainstream Mormons' beliefs give way to individual fundamentalist beliefs, such as was the case with the Laffertys.
Krakauer talked at length with Ron Lafferty, who is in prison serving a life sentence (his brother Dan was executed). He's quoted in the book frequently, and his account of the murders and the "revelation" he received from God are disturbing. I normally stay away from true crime because of this, and I can't say I enjoyed the details of Ron's acts, but what he revealed to Krakauer about his thought process and the development of his religious beliefs (which have changed in radical ways since he went to prison) was fascinating. I also found myself picturing what it would be like to be in Krakauer's shoes, sitting across from Ron as he talked about his crimes.
This was published in 2003, four years before Carolyn Jessop wrote her memoir Escape. It was interesting to read the snippets of FLDS history with the knowledge of what Jessop would write about a few years later and the raid on the YFZ ranch that would soon follow. I wonder how Krakauer's own book would have changed if it were written after these events (though the FLDS is not the focus).
Krakauer narrates the book himself, and he's well-suited to it. He infuses a lot of personality into it, and he's got a few unique mannerisms that I found interesting. Often when he's quoting someone (Ron in particular, but also others not involved in violent acts, but merely witnesses to it), he'll emphasize consonants. He'll draw out the first "n" in anything and the "t" in pretty (as in "pretty much"). Sometimes it makes the dialogue come across as slightly mocking (very effective for Dan), sometimes just musical – it's got a rhythm to it that is often missing from audiobooks narrated by their authors.
If you're interested in the subject matter, I highly recommend this one.
Audiobook borrowed from my local library.