The last few years, I've done a huge look at cover trends that will be hitting shelves in the new year. I'm going to mix it up a little this go around, though. Rather than a couple of huge posts with all of the trends, I'm going to highlight them in individual posts throughout the next few months. Consider it more pow, as well as an opportunity for me to see more of the fall covers as they're released and fit the various trends. All book descriptions provided will be from Goodreads.
Up first is a really curious one to me — it's the trend of people falling on covers. I've talked before about the covers where a shadowy figure is running away from the reader on the cover, and we've all seen the deluge of covers featuring girls who are drowning or lying dead in a body of water.
But falling from the sky? This is a new one for me. And it's not hitting shelves lightly come 2016. First, here's a 2015 cover that might have inspired this trend: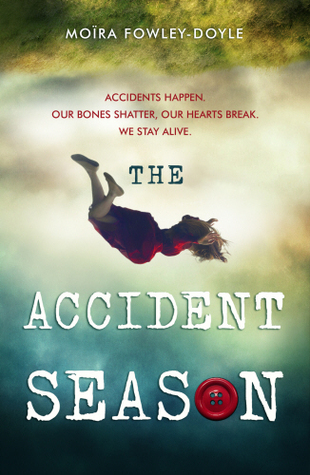 The Accident Season by Moira Fowley-Doyle
It's the accident season, the same time every year. Bones break, skin tears, bruises bloom.
The accident season has been part of seventeen-year-old Cara's life for as long as she can remember. Towards the end of October, foreshadowed by the deaths of many relatives before them, Cara's family becomes inexplicably accident-prone. They banish knives to locked drawers, cover sharp table edges with padding, switch off electrical items – but injuries follow wherever they go, and the accident season becomes an ever-growing obsession and fear.
But why are they so cursed? And how can they break free?
It's an eye-catching cover, for sure. I think the color scheme behind the falling girl is what does it, though, not her. And both that color infused backdrop and a falling teen pepper the trend as it grows in 2016.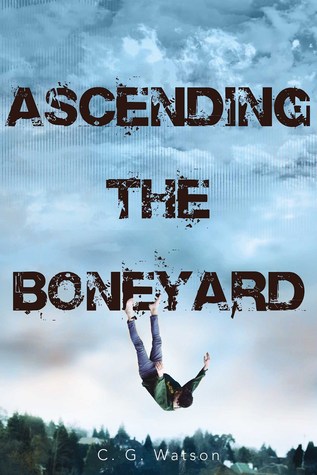 Ascending the Boneyard by C. G. Watson (Simon Pulse, February 16)
Everything's a battle.
Sometimes life gets too real, and Caleb Tosh has taken one hit too many. First, there was the accident that changed everything for Tosh's younger brother. Now his mom has left. All the pain, the grief and loss, have finally pushed Tosh over the edge.
If only he could have a do-over. Wipe his reality. Start fresh. Maybe he could fix all of his mistakes and everything would be different. Tosh immerses himself in the complex missions from the game he obsessively plays, The Boneyard. The game bleeds into the dark nature of his everyday life, folding reality into surreality until it's impossible to separate one from the other. Tosh is desperate to Ascend, to reach the next level, to become Worthy.
Readers are brought on a one-of-a-kind, absorbing journey where no one can say what is real and what isn't—right up until the shocking, yet deeply powerful conclusion.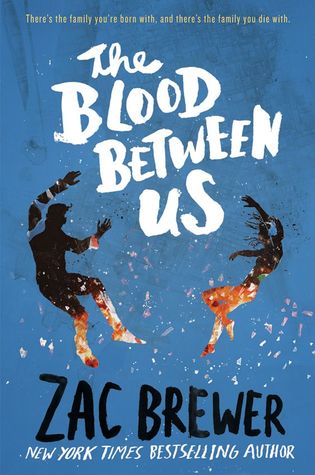 The Blood Between Us by Zac Brewer (HarperTeen, May 3)
Growing up, Adrien and his sister, Grace, competed viciously for everything. It wasn't easy being the adopted sibling, but Adrien tried to get along; it was Grace who didn't want anything to do with him. When their scientist parents died in a terrible lab fire, there was nothing left to hold them together.
Now, after years apart, Adrien and Grace are forced to reunite at the elite boarding school where their parents were teachers. Being back around everyone he used to know makes Adrien question the person he's become, while being back around Grace makes him feel like someone he doesn't want to be.
For as much as Adrien wants to move on, someone seems determined to reopen old wounds. And when Adrien starts to suspect that Grace knows more about their parents' deaths than she let on, he realizes there are some wounds no amount of time can heal. If Adrien isn't careful, they may even kill him.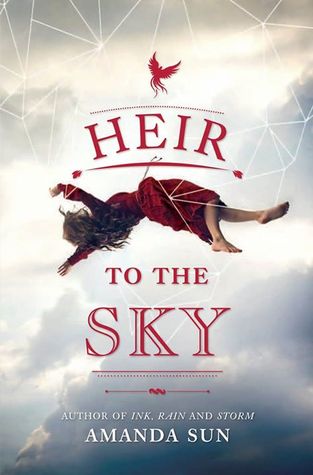 Heir to the Sky by Amanda Sun (Harlequin Teen, April 26)
As heir to a kingdom of floating continents, Kali has spent her life bound by limits—by her duties as a member of the royal family; by a forced betrothal to the son of a nobleman; and by the edge of the only world she's ever known—a small island hovering above a monster-ridden earth, long since uninhabited by humans. She is the Eternal Flame of Hope for what's left of mankind, the wick and the wax burning in service for her people, and for their revered Phoenix, whose magic keeps them aloft.
When Kali falls off the edge of her kingdom and miraculously survives, she is shocked to discover there are still humans on the earth. Determined to get home, Kali entrusts a rugged monster-hunter named Griffin to guide her across a world overrun by chimera, storm dragons, basilisks, and other terrifying beasts. But the more time she spends on earth, the more dark truths she begins to uncover about her home in the sky, and the more resolute she is to start burning for herself.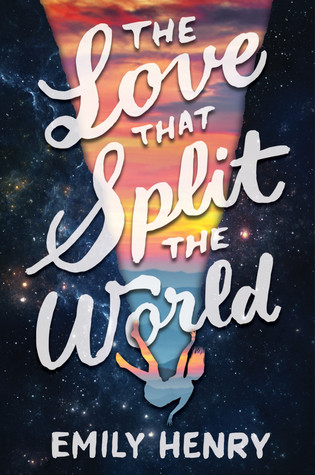 The Love That Split the World by Emily Henry (Razorbill, January 26)
Natalie Cleary must risk her future and leap blindly into a vast unknown for the chance to build a new world with the boy she loves.
Natalie's last summer in her small Kentucky hometown is off to a magical start… until she starts seeing the "wrong things." They're just momentary glimpses at first—her front door is red instead of its usual green, there's a pre-school where the garden store should be. But then her whole town disappears for hours, fading away into rolling hills and grazing buffalo, and Nat knows something isn't right.
That's when she gets a visit from the kind but mysterious apparition she calls "Grandmother," who tells her: "You have three months to save him." The next night, under the stadium lights of the high school football field, she meets a beautiful boy named Beau, and it's as if time just stops and nothing exists. Nothing, except Natalie and Beau.
Emily Henry's stunning debut novel is Friday Night Lights meets The Time Traveler's Wife, and perfectly captures those bittersweet months after high school, when we dream not only of the future, but of all the roads and paths we've left untaken.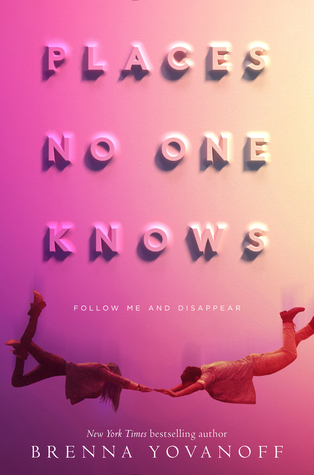 Places No One Knows by Brenna Yovanoff (Delacorte, May 17)
Waverly Camdenmar doesn't have friends, she has social assets. She doesn't get sucked into drama, she makes tactical decisions. Her life is dominated by achievement, competition, and functioning as the power behind the throne in her school's little kingdom of popularity. But even the most resilient mercenary has weaknesses. Perfection is exhausting, and her longstanding alliance with queen-bee Maribeth rests on a foundation of resentment, anxiety, and a nagging feeling that there must be something beyond student council. Waverly's name might be at the top of every leader board, but she hasn't slept in days.
In a last-ditch attempt at relaxation, she finds herself at the center of an inexplicable phenomenon when a harmless counting exercise ends with Waverly materializing in front of one of the school's most dedicated burn-outs. Marshall is not someone Waverly would ever consider … well, she would just never consider him. His nights are spent indulging in the kind of self-destructive pastimes she can only roll her eyes at. But despite herself, her curiosity is piqued. He sees her—really sees her —and his earnestness and his empathy are strangely affecting.
In these ghostly dreams, Waverly can do what she wants and say what she thinks, without risk or repercussion. Without it meaning anything. As nights pass, however, she begins to understand the nature of relationships, and to question her own daytime machinations. Her encounters with Marshall are growing steadily more intimate. Every new interaction forces her to ask herself how close is too close, and her days are becoming restless, complicated by her silent anger at Maribeth, and her budding friendship with a raucous, enigmatic girl who was never supposed to be anything but Waverly's latest pygmalion project.
The truth is, it's hard to be cavalier about hurting people when you know them. When you love them. As her edges begin to fray, Waverly must confront the very real danger of losing Marshall to the rigid image she's spent so long cultivating, and accept that the only way to keep the people who matter to her is to embrace what it means to be vulnerable.
Have you seen other YA novels hitting shelves in 2016 featuring falling bodies? I'd love to know about 'em and more, I'd love to know what you make of this particular trend. I guess the only thing I have to really say about it is that I appreciate it's not all girls who are falling (and thus falling apart or breaking), as clearly there are also boys who are in the same positions.