We have never done a cover reveal before on Stacked, but we're doing one today for a book that sounds spectacular. I've been enjoying Daniel Kraus's books, and I'm really looking forward to what he's got in store in 2015 for us. First up is Trollhunters, a horror novel out June 30 and co-written by Guillermo del Toro.
Then in the fall, October to be exact, the first book in Kraus's Zebulon Finch series will hit shelves from Simon & Schuster BFYR. There has been very little said about this duology so far, aside from its announcement. But we're going to change that.
Here's what you should know about The Death and Life of Zebulon Finch, Volume 1: At The Edge of Empire.
May 7, 1896. Dusk. A swaggering seventeen-year-old gangster named Zebulon Finch is gunned down on the shores of Lake Michigan. But after mere minutes in the void, he is mysteriously resurrected.
His second life will be nothing like his first.
Zebulon's new existence begins as a sideshow attraction in a traveling medicine show. From there, he will be poked and prodded by a scientist obsessed with mastering the secrets of death. He will fight in the trenches of World War I. He will run from his nightmares—and from poverty—in Depression-era New York City. And he will become the companion of the most beautiful woman in Hollywood.
Love, hate, hope, and horror—Zebulon finds them. But will he ever find redemption?
Ambitious and heartbreaking, The Death & Life of Zebulon Finch, Volume 1: At the Edge of Empire is the epic saga of what it means to be human in a world so often lacking in humanity.
Now, the cover, designed by Ken Taylor: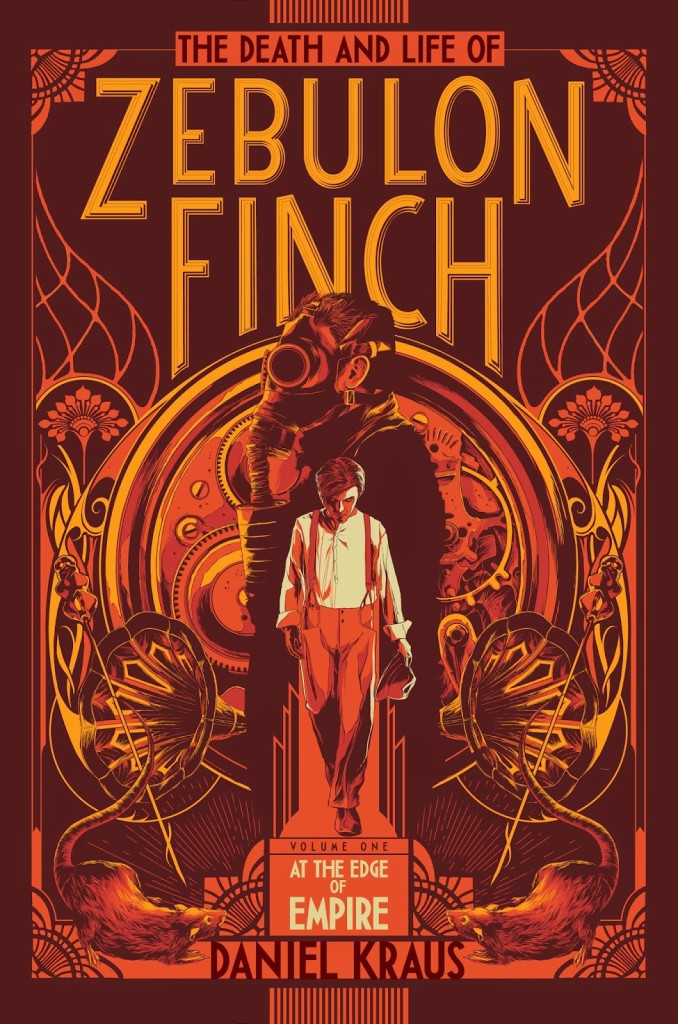 If nothing else, this cover is sure as hell going to stand out on a shelf. It's got a real steampunk-time travel feel to it, and it just
looks
like a cover of a book that is going to be huge and expansive. We've got a gas mask, a trilby hat, rats, and an overall feeling of something out of
Metropolis
. The bottom of the cover, behind where the boy is walking, really gives it that feel for me. There's also definitely an
Octavian Nothing
vibe from the cover, though for an older teen audience.
I'm looking forward to this duology because it sounds like not only something I've never seen before, but I know it'll be good because Kraus's work has yet to disappoint me. And don't worry about waiting too long after finishing the first book for the sequel — it'll be out in October 2016.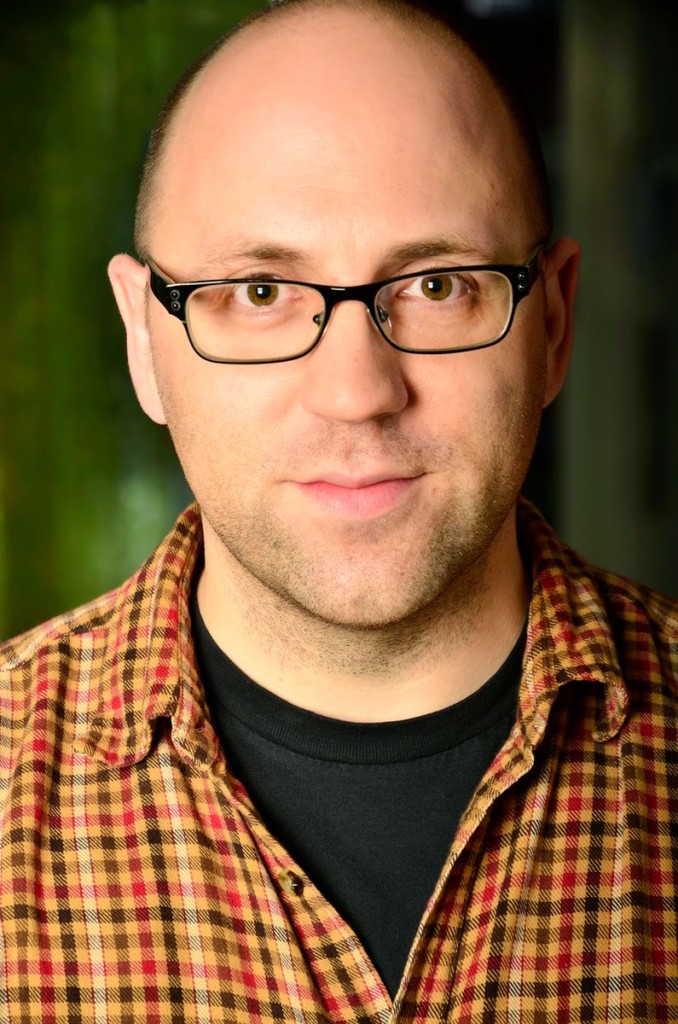 DANIEL KRAUS:
DANIEL KRAUS is a Chicago-based writer, editor, and filmmaker. His debut novel, The Monster Variations, was selected to New York Public Library's "100 Best Stuff for Teens." Fangoria called his Bram Stoker-finalist, Odyssey Award-winning second novel, Rotters, "a new horror classic." Scowler was a Junior Library Guild selection, a YALSA Best Fiction for Young Adults, and the winner of the Odyssey Award.
Upcoming novels include Trollhunters (2015), co-written with filmmaker Guillermo del Toro; and The Death & Life of Zebulon Finch, Volume 2 (2016).
Kraus has written regularly for such magazines as Cosmopolitan, Playboy, Maxim, and Salon.com. He is the director of six feature films, including Sheriff (2006 season premiere of PBS's Emmy-winning "Independent Lens") and Musician (2007 New York Times Critics' Pick). Visit him at
www.danielkraus.com
.
KEN TAYLOR:
Melbourne-based illustrator and designer Ken Taylor is known throughout the world for his striking rock and movie posters. Ken began by designing posters and album artwork for many Australian bands, including You Am I, The Beasts of Bourbon, and Crowded House. As word of his talent spread, he took on international clients, creating artwork for bands such as Pearl Jam, Nine Inch Nails, Kings of Leon, Bob Dylan, and The Rolling Stones. Over the past few years, he has become well-known for his limited edition silkscreened movie posters, working with some of the world's biggest movie licenses. Ken won the Desktop Create Award for Best illustration in both 2007 and 2009. He has had exhibitions in Los Angeles (2012) and Austin (2013) and was also part of SXSW Flatsock. Ken continues to work with bands both locally and internationally and is represented by Drawing Book.The Death and Life of Zebulon Finch, Volume 1: At the Edge of Empire is his first book cover.