We're going to wrap up our third annual contemporary week series talking about boys. As you may have noticed or noted, so far all of the guest posts were written by women, the bulk of whom have written primarily female voices in their novels. Although anyone who has checked out the "paging back" posts would know, we've had many awesome male writers and male voices featured here, too.
But I wanted to offer a challenge to today's guest poster. My prompt to him was huge — and vague. I asked him to write about the male voice in contemporary YA fiction. And let me just say: Steve Brezenoff delivered. What is the male voice in contemporary YA? Where can you find it? How is this in conversation with everything else that's popped up during the series?
In other words: what about the "boy books?"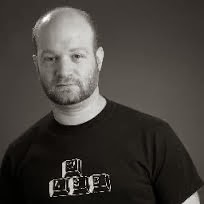 Steve Brezenoff is the author of the young adult novels The Absolute Value of -1, starring two boy characters and one girl character, and Brooklyn, Burning, starring two ungendered characters, as well as dozens of chapter books for younger readers, with loads and loads of boy and girl characters. His third novel, Guy in Real Life, will be out out in May of 2014 and has one boy protagonist and one girl protagonist who will vie for your empathy. You can visit him at www.stevebrezenoff.com.






The Male Voice in Contemporary Young Adult Fiction: What Does That Even Mean?




Okay, yeah. I kind of know what it means. It means central male characters portrayed accurately in novels for teens. It means doing one's best in fiction to move away from boy tropes. It means creating young adult novels that have appeal for boy/guy/dude/bro readers. I guess.
But none of those truisms have any real meaning themselves, because while we often hear that stories for or about boys need certain things that are presumably missing from stories that aren't for or about boys—things like humor and action and sports—that's of course hogwash, for a number of reasons.
There's no such as a book "for" boys.
Not all boys look for the same things in a book. Maybe most boys want blow-by-blow sports stories, or novelized video games, or nonstop violence, or unyielding lowbrow humor. But maybe they don't.
These things aren't missing from books written "for" girls.
Believe me, it pains me already to have implied there are books written for girls or for boys, but for the moment just bear with me. That said, many of the books that people might see as written for girls contain loads of humor, action, or sports—sometimes all three.
A book needn't be about a boy or about a girl.
It's been said many times, but it ought to be said many more until conversations like this one can go unconversated: If we as writers and readers of fiction continue to imply that boys/guys/dudes/bros shouldn't or can't or won't or mustn't read books with a girl protagonist, then this false dichotomy will continue.
At this point it probably seems like I've really gone off track, but I haven't. I'm circling the theme here, like a shark: male characters in young adult realistic fiction. What makes a good one? Do we need to see more of them? Are the current crop of male characters inadequate of worthy of scorn?
What makes a good one?
He doesn't need to crack immature jokes, though he might. He doesn't need to comment on every set of breasts he sees, though he might. He doesn't need to love sports or comics or hard rock, though he might. A good male character in contemporary fiction needs the same qualities that every character in contemporary fiction needs: an authentic voice, clear and compelling motivation, something to lose and something to gain. Without those, any character will feel at times flat, unbelievable, Mary Sue-ish, or some other typical criticism we hear about characters that don't ring quite true.
Do we need to see more of them?
We need to see more characters that we find compelling, be they boys or girls, not because there's a shortage, but because that's what realistic fiction is, and we love realistic fiction. So yes, we want more. Implicit here (and throughout this column) is the idea that our boys/guys/dudes/bros should (yes, should; I don't much like to use that word, but I am in this case) read realistic fiction that features girl protagonists. Would it be easier probably for many boys to pick up a novel if the main character were a boy? I suppose. And I suppose that I wish that weren't the case.
Is the current crop of male characters inadequate or worthy of scorn?
No.
What I mean here specifically are the boys in some works of realistic fiction that don't feel quite realistic: boys with beautiful abs and arms and eyes and hair. Boys who, despite being firmly in their adolescence, can charm and disarm a girl with the greatest of ease. Do these boys exist? I suppose they do in some small number. I've never met them. If I have, then I've blocked that memory because it made me feel super inadequate probably. But I digress.
The point is, we are often dismissive of such characters, as if there's only one way to write a secondary character, especially within realistic fiction, but I don't agree. The spiel I've put forth above is merely what I'd like to see, forever and always, in contemporary fiction. This doesn't mean that writers of novels for teens need to stop creating characters that do little more than handsomely and charmingly fill a space in their story—act as a vehicle for a protagonist's development. Sometimes that's just what the reader wants, and there's not a thing wrong with that.
I'm a thirty-nine-year-old man. I'm different from your average teen boy reader in a lot of ways. I have a child. I have loads of life experience. I have twenty-plus years on the boy/guy/dude/bro readers and characters we're talking about here. Still. I've written and read and found compelling and had empathy for boy characters and girl characters and neither characters. I've just finished reading several Anne of Green Gables books. I love reading Sara Zarr and Nova Ren Suma as much as I love reading Jon Skovron and Geoff Herbach. I've read compelling male voices from people like Carrie Mesrobian and Mindi Scott, and I've read compelling female voices from people like Pete Hautman and Blake Nelson and John Green.
So while I don't think we're at end of this conversation, let's try to move through it with a little hope for the young men of today—that they're capable and willing to read and feel empathy for girl characters, as we know girls are to read and feel empathy for boy characters. Let's not pretend that there's something inherently anti-girl about being a boy, and that there's something inherently emasculating about empathizing with girl characters, or with empathy itself. Our boys are complex creatures, just like our girls, and they can (and should!) read stories about all people and all things, and we must stop pretending that they mustn't.