As you may or may not remember, last fall I was part of a panel at the YALSA YA Lit Symposium all about contemporary YA fiction. At the very end of the panel, the audience had the chance to ask us questions or share comments, and one of the comments that stood out at me was that there aren't quite as many representations of family in its varied and diverse forms as she wishes there were. Sure, we see divorced families and we see families where a parent is deceased, but there aren't quite as many books out there about parents choosing to date again, remarriages, adoption, or other "non-traditional" family structures.
On the spot, I couldn't point out books that did feature any of those things. Of course, on the drive home from the event, I immediately thought of Amy Spalding's The Reece Malcolm List, which features a mom who is dating (but not yet remarried), along with many other interesting family-centric elements. Amy's second book, Ink is Thicker Than Water, also tackles many dynamic aspects of family life, and it only seemed natural to ask her to talk about writing family in contemporary YA.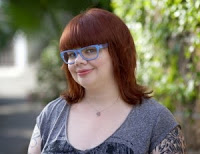 Amy Spalding grew up outside of St. Louis. She now lives in Los Angeles with two cats and a dog. She works in marketing and does a lot of improv. She has more tattoos than she can count.
Family & YA
I didn't mean to write family-centric YA.
Actually, I didn't mean to write YA at all, but let's back up.
Growing up, I loved reading books about family. I had parents who were still happily married and a sibling who lived a very separate life from me. So what I didn't live in life? I wanted out of my books. I craved the (fictional) intricacies of divorce and separation and long distance. I voyeuristically experienced brothers who helped with your schemes and sisters who told you smart things about lip gloss.
As I got older, my reading taste became more sophisticated…or perhaps trashier. I couldn't get enough of long-lost family members. I wanted to know deep, dark family secrets.
As I wrote about teens and their families, at a certain point I did luckily realize I was writing young adult literature. But something I definitely didn't know until someone pointed it out to me is I spent a lot of time writing about family.
To me it went without saying that family would show up a lot in a YA novel, even if one wasn't perhaps so, er, obsessive about fictional families. Like me. Teens generally still live at home or at least in some manner under the charge of their parents. When you're a teenager, your parents control a lot of your life—even and especially if you don't want them to.
It's this especially I saw the most of in YA. Parents were the roadblocks—to romance, to love, to sex, to hobbies, to extracurriculars, to cool afterschool jobs.
But I'll be honest: that wasn't what it was like for me, and it wasn't what it was like for a lot of my friends. Our parents were around and fairly supportive—I mean, my parents were going to let me be a theatre major without too much squawking—and I didn't have a curfew and I didn't really get into any real trouble.
The stuff that came up was less surface and harder to describe than that. Suddenly I had a lot of thoughts about where I fit into the world and, therefore, into my family. Where did I want to live my life—definitely not St. Louis, and so did it mean I was somehow inherently different from Mom and Dad who seemed happy to be there their whole lives? Who was I, deep down—and was that Amy a different person than my parents thought I was? And if she was, did that change everything, somehow?
The main character in my new book, Ink Is Thicker than Water, Kellie, is going through a lot of this. With friendships changing, a new relationship, and some shifts within her family, Kellie has to figure out how she fits into all of that. She's always been the comic relief who isn't scared of anything and who never shows too much emotion. She finds out there's not only more to her than that but that she'd like to change her life to explore new sides of herself. If she's taking new paths and becoming a new Kellie, does that mean she has to relearn how her family works?
I think all of us have been nervous, and not just as kids, to take steps forward in live and unambiguously state I want this. Wanting more out of life is scary enough—telling people who've known you basically forever is another level entirely. Kellie might be nervous how people react to the girl who never cares too much about anything suddenly joining the school newspaper, but a lot of us deal with some variation of this over and over in life. Our family has one idea of us and how we function, and it can take some bravery to change that.
In my first book, The Reece Malcolm List, Devan already knows what she wants in life. She's the kind of teenager who's so driven in her quest—specifically to perform in musical theatre—she puts tons of adults to shame. But at sixteen, she's shipped off to live with the mother she's never known—and suddenly everything else has to be reevaluated. If she's not the girl who's never known her own mom anymore, who is she now? (Obviously I wrote this book because of my long-lost family obsession!) Sure, Devan uses her list and Google, but it's not unusual in your teen years to suddenly wonder just who the heck these people are who raised you! I think it's incredibly common to go through a period of figuring out who your parents are as people, not just Mom and Dad.
This all sounds really serious, but also I just love writing family! Let's be real: I am an old lady, and that makes me much closer to the age of my main characters' parents than them. (Ugh, I'm actually older than Reece Malcolm and Brad Harper, which is a bit mind-boggling, huh.) There's no reason not to make these characters actual people with their own awkwardnesses and quirks and wants and needs. Lots of adults read YA, so why not give them characters their own age who seem like fully-realized people? And when I was a teenager, I loved reading what adults were getting up to. It all felt very grown-up and glamorous—so maybe it's good to adjust those expectations a bit!
I guess the truth is that the older I get the less distance I feel. We're all just people. Family might be this weird unit with its own set of expectations and rules, but these are also just other people. And that's what I try to reflect when I write.