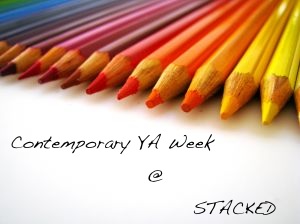 Memorable settings in contemporary YA take a number of shapes — sometimes it's the actual where of the story taking place and sometimes, it's more about the atmosphere surrounding the where of the story's place. I've rounded up some of the memorable settings I've read in the last couple of years, but I'd love to hear any other titles you think make good use of setting.
I've purposely left out all books featuring road trips because I've already posted an extensive booklist of road trip books this year.
All of these books were published between 2010 and today, and all descriptions come from WorldCat. I've tried to note what the setting is, too, to give an idea of why it stands out.
The Princesses of Iowa by M Molly Backes (Iowa): After being involved in a drunk driving accident in the spring, Paige Sheridan spends the summer in Paris as an au-pair and then returns to her suburban Iowa existence for her senior year of high school, where she begins to wonder if she wants more out life than being popular, having a handsome boyfriend and all the latest clothes, and being a member of the social elite.
Narc by Crissa-Jean Chappell (Miami): When his little sister is caught with a bag of weed, seventeen-year-old Aaron Foster takes the fall. To keep the cops from tearing his family apart, Aaron agrees to go undercover and help bust the dealer who's funneling drugs into his Miami high school. But making friends with the school's biggest players isn't easy for a waste-case loner from the wrong part of town.
Stupid Fast by Geoff Herbach: Just before his sixteenth birthday, Felton Reinstein has a sudden growth spurt that turns him from a small, jumpy, picked-on boy with the nickname of "Squirrel Nut" to a powerful athlete, leading to new friends, his first love, and the courage to confront his family's past and current problems.
Anna and the French Kiss by Stephanie Perkins (Paris): When Anna's romance-novelist father sends her to an elite American boarding school in Paris for her senior year of high school, she reluctantly goes, and meets an amazing boy who becomes her best friend, in spite of the fact that they both want something more.
Brooklyn, Burning by Steve Brezenoff (Brooklyn/Greenpoint): Sixteen-year-old Kid, who lives on the streets of Brooklyn, loves Felix, a guitarist and junkie who disappears, leaving Kid the prime suspect in an arson investigation, but a year later Scout arrives, giving Kid a second chance to be in a band and find true love.
Don't Breathe A Word by Holly Cupala (Capitol Hill, Seattle): Joy Delamere is suffocating from severe asthma, overprotective parents, and an emotionally-abusive boyfriend when she escapes to the streets of nearby Seattle and falls in with a "street family" that teaches her to use a strength she did not know she had.
Like Mandarin by Kirsten Hubbard (rural Wyoming): When shy, awkward fourteen-year-old Grace Carpenter is paired with the beautiful and wild Mandarin on a school project, an unlikely, explosive friendship begins, but all too soon, Grace discovers that Mandarin is a very troubled, even dangerous, girl.
Second Chance Summer by Morgan Matson (Poconos, Pennsylvania): Taylor Edwards' family might not be the closest-knit–everyone is a little too busy and overscheduled–but for the most part, they get along just fine. Then Taylor's dad gets devastating news, and her parents decide that the family will spend one last summer all together at their old lake house in the Pocono Mountains. Crammed into a place much smaller and more rustic than they are used to, they begin to get toknow each other again. And Taylor discovers that the people she thought she had left behind haven't actually gone anywhere. Her former best friend is still around, as is her first boyfriend…and he's much cuter at seventeen than he was at twelve. As the summer progresses and the Edwards become more of a family, they're more aware than ever that they're battling a ticking clock. Sometimes, though, there is just enough time to get a second chance–with family, with friends, and with love.
Frost by Marianna Baer (Frost House at a remote boarding school): When Leena Thomas gets her wish to live in an old Victorian house with her two closest friends during their senior year at boarding school, the unexpected arrival of another roommate–a confrontational and eccentric classmate–seems to bring up old anxieties and fears for Leena that may or may not be in her own mind.
The Statistical Probability of Love at First Sight by Jennifer E Smith (airplane): Hadley and Oliver fall in love on the flight from New York to London, but after a cinematic kiss they lose track of each other at the airport until fate brings them back together on a very momentous day.
Unbreak My Heart by Melissa Walker (boat): Taking the family sailboat on a summer-long trip excites everyone except sixteen-year-old Clementine, who feels stranded with her parents and younger sister and guilty over a falling-out with her best friend.
Where Things Come Back by John Corey Whaley (rural Arkansas): Seventeen-year-old Cullen's summer in Lily, Arkansas, is marked by his cousin's death by overdose, an alleged spotting of a woodpecker thought to be extinct, failed romances, and his younger brother's sudden disappearance.
Amelia Anne is Dead and Gone by Kat Rosenfield (small town Appalachia): Unveils the details of a horrific murder, its effects on permanent and summer residents of the small Appalachian town where the body is discovered, and especially how the related violence shakes eighteen-year-old Becca's determination to leave home as soon as possible.
Shine by Lauren Myracle (small town southern US): When her best friend falls victim to a vicious hate crime, sixteen-year-old Cat sets out to discover the culprits in her small North Carolina town.
Dreamland Social Club by Tara Altebrando (Coney Island): Jane, her twin brother Marcus, and their father have been on the road since her mother's departure years ago, but when they inherit a house on Coney Island, Jane not only begins to find a home, she learns much about her mother, too.
Stolen by Lucy Christopher (rural Australia): Sixteen-year-old Gemma, a British city-dweller, is abducted while on vacation with her parents and taken to the Australian outback, where she soon realizes that escape attempts are futile, and in time she learns that her captor is not as despicable as she first believed.
The Girls of No Return by Erin Saldin (rural Idaho school): A troubled sixteen-year-old girl attending a wilderness school in the Idaho mountains must finally face the consequences of her complicated friendships with two of the other girls at the school.
Wanted by Heidi Ayarbe (Carson City, Nevada): Seventeen-year-old Michal Garcia, a bookie at Carson City High School, raises the stakes in her illegal activities after she meets wealthy, risk-taking Josh Ellison.
Please feel free to add your favorite contemporary titles published in the last two years to the comments that feature great settings — the more interesting, the better!