Every year, I like to dive into the "best of" lists and look at the similarities and differences between and among the lists. More, I think it's worthwhile to dig into what the books that comprise these lists do or don't have within them — how diverse are they, how are they representing sexuality, what sort of gender make up are the characters and authors, and so forth. Because the "best of" lists offer a glimpse into the year of reading for YA, this is an interesting and worthwhile way to see what is and isn't happening.
This is the fourth year I've done this, and previous data sets can be found here, here, and here. I do plan on looking through them all and comparing across years, since I am curious whether things are looking any differently now in 2014 than they were in 2011. Look for that in the next week or so.
To look at the numbers, I broke apart the "best of" YA lists from the following professional publications: Kirkus, Horn Book, School Library Journal, and Publishers Weekly. In previous years, I also used Library Journal's lists — first a "Best YA" list, then a "Best YA for Adult Readers" list — but they didn't have one this year. From those lists, I pulled out only the YA fiction, meaning that they were titles designated for those readers 12-18. I did not include graphic memoirs, though I did include graphic novels when they were fiction. In the past I've eliminated graphic novels, but this year there were only two, so I kept them. This led to a total of 55 titles being tallied in the data. There were 59 authors considered here, as well. I included translators and illustrators in the author category because their work is as important and worth considering. When I get into the charts and designations, there will be further notes about this, as I could not track down information I'd hoped to and had to leave it out in some places.
Using my own knowledge from reading the books or reviews, I determined whether books featured a main character or main arc that included LGBTQ themes. I double-checked that data with Malinda Lo, who will be posting her 2014 round-up of the year in LGBTQ YA this week. I also looked at whether main characters were people of color or an author was a person of color, as determined through my own reading, reviews, and/or easily researched information. I did have to ask about a couple books and authors, and that information was verified for me. In addition to these analytical pieces, I've made notes in my data where other elements of diversity were part of a story; this includes mental illness, disabilities, minor roles for characters of color, and so forth. I did not tabulate this data, but it is all available to look at in my giant spreadsheet. Because writing out titles would make this post very, very long, I encourage having that open while looking at the data, as it'll make referencing which books were counted where easier.
All information about starred reviews came through Jen J's exceptionally well-done spreadsheet. There is one note to make about this, which is that I also went through Horn Book's January/February starred reviews to be completist about it, which led to one title on this list having an additional star yet to be noted on her spreadsheet.
As always, caveats: none of this data means anything. I've not tried to draw conclusions or suggest certain things about the books that popped up on these lists. Errors here in terms of counting, in how I've marked books LGBTQ or POC are my own, and so forth, are all my own. Since I haven't read all of these books, some of these are educated guesses.
Now…what do those "best of 2014" YA fiction lists look like this year?
Gender Representation In "Best Of" Lists


When it comes to male and female authors, who has more slots on the "best of" lists?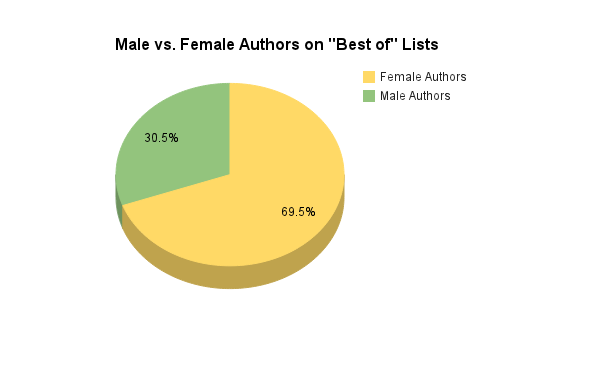 Out of the 59 authors represented, 18 were men and 41 were female. This isn't a surprising ratio at all, though it certainly looks a lot different than the ratio we see on the
New York Times Bestsellers List
. While I'm not going to draw comparisons in this post, I can say that this ratio is smaller than in previous years of looking at this data — there are more men represented in 2014 than in previous years.
It's really challenging to look at how main character gender breaks down, but I gave it a go. To make it a little easier, I've broken the data into three pieces: male main characters, female main characters, and a third segment, cast of characters. For books with two main characters alternating voices, they've been counted in their respective categories. For books with more than two main characters — How It Went Down and The Unfinished Life of Addison Stone, for example — I've put them into the cast of characters category. Those books all featured multiple narrators, multiple "main" voices, and both male and female perspectives. I counted a total of 63 main characters ("cast" was counted as a single number here) and the breakdown looks like this:
There were a total of 37 main characters who were female, 22 who were male, and 4 books featured a cast of each. For what many like to believe of YA being a "female dominated" category, these numbers really do not suggest that. These "best of" lists represent a slice of YA, of course, but they represent a vetted and respected slice of YA — one professionals deem to be the most solid or remarkable of the year (or as the case might be in some places, the books that had really nice marketing budgets and got into the right hands). There were more female-driven narrators for sure, but they were not entirely out of line with male narratives here.
Last year, I wondered if the perspective was that male-led narratives were "better" or more respected than female-driven ones. This is something I'm still curious about, given how much talk there is that there aren't books out there with male voices or that there aren't male YA authors. Both of those claims are false, as anyone who knows anything about YA can tell you, but looking at the hard numbers from these lists only confirms those claims aren't truths. There ARE more female led books, but it doesn't mean male led books don't exist. They make up 35% of the "best of" lists this year!
Debut Authors
How good are the chances of making a "best of" list when you're a debut author? Note that all four of these lists appeared before YALSA's announcement of the five Morris finalists. That, I think, is a good thing, since there could be no influence.
As always, my definition of "debut" is purist. This is a first book. My one exception to this is the same one made for the Morris — if it's an author's first book in English for a US audience, I consider it a debut. This was the case in one title included. I included authors as "debut" if they had published in or edited an anthology in the past, as that was the case in a couple of authors.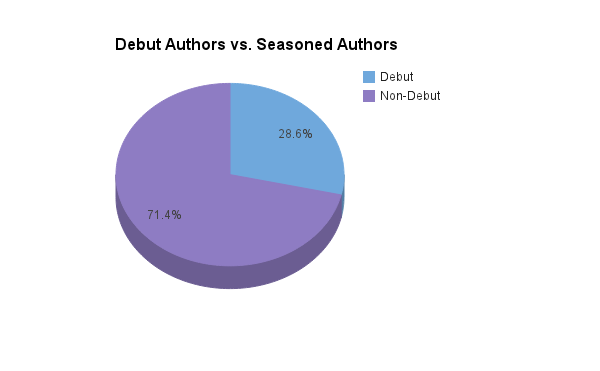 More than 1/4 of the books on this year's lists were written by debut authors, for a total of 16 books written by debuts. This is a really nice showing of new voices within "best of" lists. It's been my suspicion this year has been a great one for debut authors, and I think that has been playing out in these lists, as well as other year-end round-ups.
What about gender of debut authors?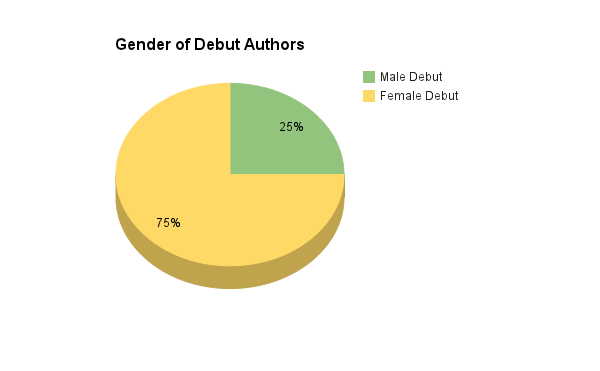 One-quarter of the debuts this year were male, while the rest were female. That breaks down into 4 men and 12 women.
Back to the note on Morris titles: of the books that landed on the Morris list, four out of five of them also appeared on the "best of" lists: The Story of Owen, The Strange and Beautiful Sorrows of Ava Lavender, Gabi, A Girl in Pieces, and The Carnival at Bray.
"Best Of" By Genre
Every year, this is the hardest breakdown for me, since genre is so fluid. How do you decide exactly what category a book belongs in if you haven't read it? Or even if you HAVE read it, the breakdowns can be really challenging. One thing is for sure, though: there are zero paranormal titles hanging with the "best of" crowd this year.
I took a stab at making these genres make sense, and from looking at the titles, my own reading knowledge, as well as other reviews, I pulled out eight main genres: realistic (which includes those books inexplicably set in the 90s, a trend that I have been over for a couple years now), science fiction, fantasy, horror/fantasy, mystery, historical, magical realism, and historical fantasy.
A caveat here: there are 56 titles being considered here, rather than just 55. Because Scott Westerfeld's Afterworlds could fall into either the realistic or the fantasy category, depending on the reader, I didn't want to make a call. I decided to include it in both.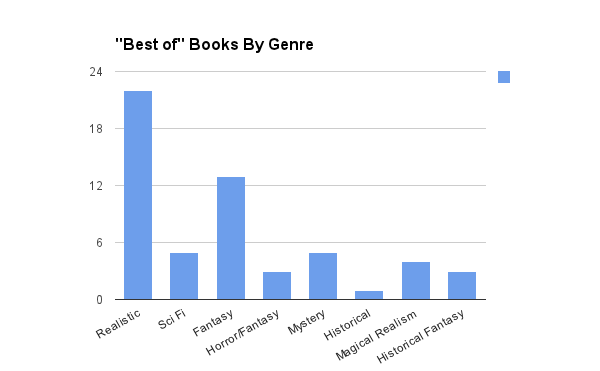 Realistic fiction had a strong showing this year, but it's also a little bit deceiving. Because there were a number of subgenres of fantasy represented, it could easily be said that fantasy held its own, too. In fact, let's look at this genre breakdown as we collapse the subgenres into the larger one. All of the books within the "horror/fantasy" subgenre are more fantasy than they are realistic, so I'm putting them in that grouping.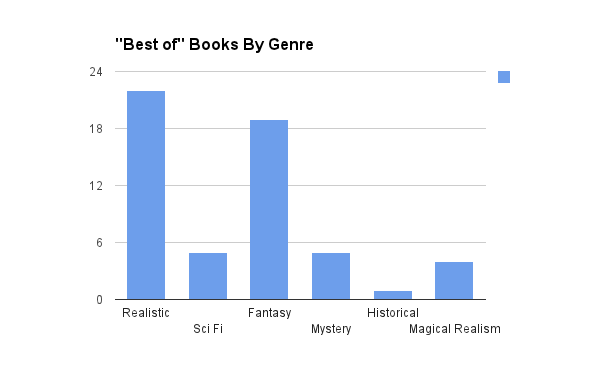 And if I went ahead and made magical realism a subgenre of fantasy, then it looks like this: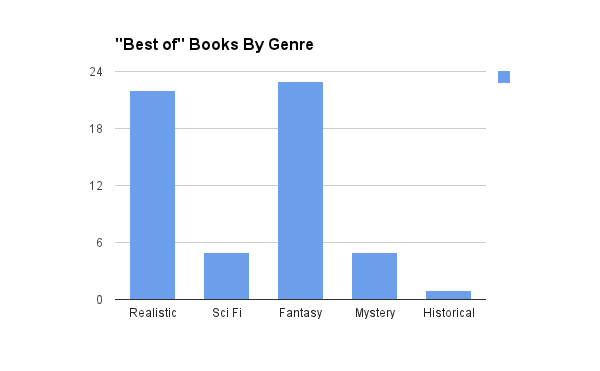 Fantasy outpaced realistic fiction by one book. The two genres eclipsed science fiction, mystery, and the single, lone book in the historical fiction genre.
Frequency of "Best of" List Appearances
Was there a big spread of titles across this year's "best of" lists or did many titles end up on many lists? This is a little bit of a false category in that some of the publications — Horn Book, for example — had a very tiny number of titles that fit the criteria I set. Other publications, like Kirkus, had a big number of titles on their list that fit the criteria.
Some publications that put their lists out very early, like Publishers Weekly, always fascinate me because I wonder how much it may (or may not) influence the appearance of titles on other lists. In other words, is there a "first!" pride in naming a title the best? These numbers won't shed light on that, but they do show whether some titles were really popular among all of the "best" lists.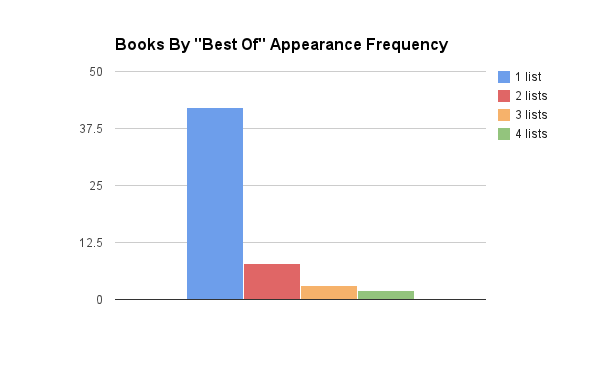 Only two books appeared on all four of the "best" lists — We Were Liars by E Lockhart and This One Summer by Jillian and Mariko Tamaki. The vast majority of books landed on one list, and that list would be Kirkus's.
Out of curiosity, I wanted to know how the books on the "best of" list shook out when it came to starred reviews earned. I used Jen J's spreadsheet, as noted above, which includes starred reviews from Kirkus, Booklist, The Bulletin of the Center for Children's Books, School Library Journal, Publisher's Weekly, and Horn Book. That means titles have the chance to have up to six stars.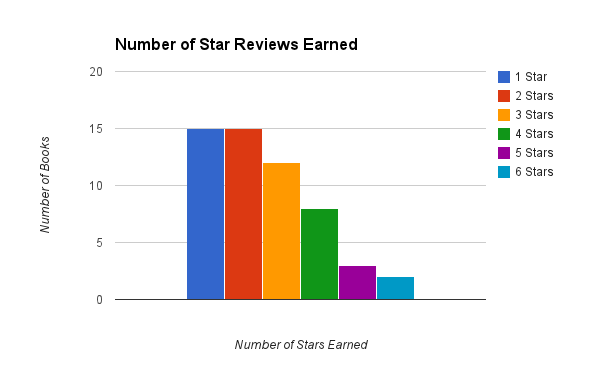 Most of the books on the "best of" list earned 1 or 2 starred reviews. Out of the 55 books, only two earned six stars: This One Summer and Glory O'Brien's History of the Future.
This One Summer by the Tamakis landed on all four lists and earned six starred reviews. It is, by this measure, the most decorated and distinguished YA novel in 2014.
As for the entire breakdown of starred reviews and list honors, here's the spreadsheet:

Sometimes the more stars earned means the more likely the book will appear on multiple "best of" lists and sometimes, it doesn't. In general, this year looked to be more spread out in terms of the titles being given a "best of" designation.
"Best of" By Publication Date
One really interesting thing I read in the reports by YALSA committee chairs for an upcoming board meeting was that books published in the latter half of the year had a distinct disadvantage when it came to being considered for the Morris award, which announces its finalists in early December. This is something I have always thought about, especially when it comes to these "best of" lists. While it's great to announce them in early November or even the first week of December, what about the books that are published later? Reviews are obviously reading all year long, but how easily would a smaller title from a smaller publisher with a not-so-huge marketing budget fall under the radar? Most people know that "big books" are published in the March – May range, as well as the September – October range. That's not a hard-and-fast rule nor universal, but spend a little time looking at publication frequency, budgets, when book publication dates change, and so forth, and you see the patterns.
Here's when the books published each month: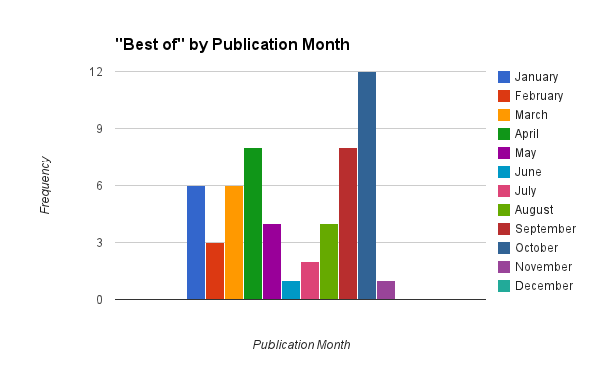 If you look at the first half of the year against the last half of the year, the divide is almost exactly even: 28 of the "best of" titles published between January and the end of June, while 27 published between July and December. October was the most frequent month — how much is that due to fresh memory of titles when list-making time happens? There were zero books published in December on these lists, and there was only one title from the months of November and June.
Again, nothing can be said about this, but it is interesting to speculate.
"Best of" By Publisher
How diverse were the publishers represented on the lists? Did we see Candlewick doing really well, as seems to be the case every single year?
I've collapsed imprints into their bigger house, so First Second, Tor, and St Martins fall under Macmillan.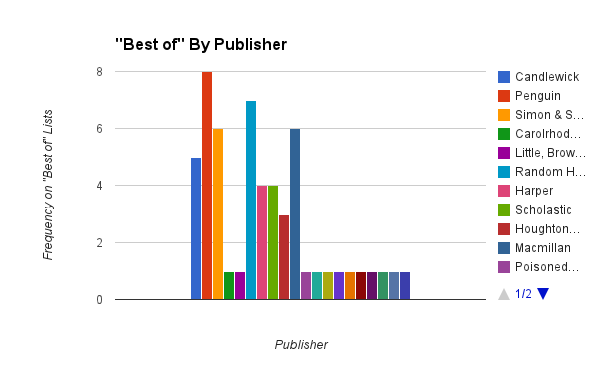 This chart is difficult to read, but breaking it into two charts throws off scaling, which is even more problematic. Everything to the right of Macmillan, which reaches 6 and is in dark blue, lands at one title each. These are primarily smaller publishers, like Pyr, Soho Teen, Holiday House, Algonquin, and so forth.
Penguin had the most representation on this year's lists, with 8 books, followed by Random House at 7, Macmillan at 6, and — as always, this makes me so happy — Candlewick had 5.
While Penguin and Random House are now one publishing house, I chose to keep them separate. Putting them together is really fascinating though: they certainly dominate then, with a total of 15 titles on the "best of" lists.
Collapsing the publishers down by whether they're a "Big 5/6" or smaller, the "Big 5/6" have a total of 32 titles on the list, while the mid-size and small publishers have 23. Not a bad split at all.
LGBTQ and POC Representation on "Best of" Lists
This was a watershed year for discussion of diversity in the publishing world. While it's always been there, this year, in comparison to prior years, it was a much bigger, more vocal discussion. But did it make any impact on the books on these lists?
It would be a tease to compare to years past in this post, but the long and the short of it is that the answer is no.
As noted above, I used my own knowledge, research, and consultation with Malinda Lo to pull out the books which featured main characters who identified as LGBTQ or which had significant story lines that involved LGBTQ themes or situations. Where Malinda doesn't count Sarah McCarry's About A Girl since it's not necessarily overt, I have included it, since I thought it was a big enough thread to merit inclusion. I do not look at author's sexuality when looking at LGBTQ because this is too difficult to gauge without knowing the authors — it's not obvious, sexuality is fluid, and not all authors choose to self-identify in their bios or information available about them.
Out of the 55 books, a total of 6 books fit the LGBTQ criteria. That would be 10% of the list.
What about representation of racial diversity? Because finding information about authors and their racial backgrounds is easier, I fold them into the same category as I do main characters of color. For books where the author is a person of color and their main character is a person of color, I counted it only once. Some authors, whose background may be difficult to distinguish, I reached out to them or to those who know them for confirmation.
Out of the 55 books and 59 authors, there was a count of 14 writers/main characters of color. That's roughly 24%.
What about books that feature or are written by people of color that feature LGBTQ main characters or plot elements?
2.
It's still very straight and very white on the "best of" lists.
It's worth noting again, though, that some of the books DO feature secondary characters who aren't straight or aren't white; those have been noted in the spreadsheet.
Miscellaneous Data
Let's wrap this up with a couple more pieces of data that are interesting, even if they're not necessarily important ones.
First, there were a total of 49 books published as hardcovers, 3 published as paperback originals, and 3 published as split runs (meaning both hardcover and paperbacks published at the same time).
Three of the books were novels in verse, and I include Jenny Hubbard's And We Stay in this count, even though it's only partially in verse. I did not include Gabi, A Girl in Pieces, though it does include poetry in it. This list also had 3 graphic novels and 1 book in an "alternative" format — The Unfinished Life of Addison Stone's interview-format made it worth putting into a category all of its own.
I've always looked at country of origin on these lists, too, as they often seem like they feature a lot of books by authors who aren't from the US. This year, there were a total of 40 authors who were from the US, and there were 18 from outside the US. I did not include information on one of the illustrators, as I could find nothing about her in my research and didn't want to make assumptions either way in terms of her country of origin (I did find enough to know other data about her, as reflected above).
Finally, I broke out books by whether or not they were stand alones or part of a series. There were 39 stand alone titles and 16 books that were part of a series. This included "loose" series, like Dirty Wings. Of the books in a series, I found where they fell within their series to be one of the most interesting pieces of data — where you'd suspect almost entirely first or final books in a series to hit these "best of" lists, it turns out that this year was a good year for books in the middle of a series-in-progress. There was one book that was a final in a series, 10 that were first in a series, and 5 that fell somewhere in the middle.
So…What Now?


Nothing can be made from this data. It doesn't mean anything, especially pulled from its context. But nevertheless, it's interesting to look at and speculate upon because it does give a glimpse into the year of YA as deemed by professionals and experts on YA.
Were there any surprises in this data? Any titles that did or didn't make the lists that were curious?
One thing I keep wondering about and have zero explanation for — and would love to read some theories about — is why Andrew Smith's Grasshopper Jungle earned more acclaim from review journals and "best of" lists than his second release this year, 100 Sideways Miles, which was a title on the National Book Awards long list. I thought it was a more accomplished, literary, and full novel (not to mention it portrayed females as actual dynamic characters, rather than as props for use by the male heroes). It was surprising Smith didn't have both books pop up on these "best of" lists.