After I wrote about the way I read seasonally, my interest to read picked up significantly. It's almost as if acknowledging it meant that I gave myself permission to follow my own reading desires and that sort of permission opened up the reading floodgates. Which isn't a complaint. I've been reading a lot of really great stuff.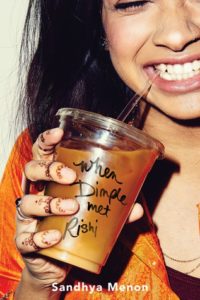 When Dimple Met Rishi by Sandya Menon
Looking for a teen romantic comedy featuring two brown lead characters? This is the ticket. With mega appeal to fans of Jenny Han and Amy Spalding, this book will be flying off the shelves.
Dimple has her heart set on spending the summer at a coding conference in San Francisco. She wants to create an app that helps launch her to success and to meeting one of her coding heroines, a woman she believes will open many doors for her future. Dimple doesn't believe her parents will let her go, especially since it's her last summer at home before college. So when they do say she can attend, she's excited and thinks her parents have finally loosened up the need to have control over her future.
But then she meets Rishi.
Rishi knows that he's being set up to marry Dimple. His parents have him attending the same summer coding program as Dimple so they can meet before the inevitable marriage to come. But the moment Rishi encounters Dimple, he frightens her and she's unable to accept the weird, creepy things he's saying to her about being her future husband.
Perhaps….Dimple's parents forgot to tell her something about why they're letting her attend this coding program over the summer.
While this book isn't perfect — there are some serious pacing issues, particularly in the last third of the book — it doesn't matter. Readers are in this one for the two characters who are well-drawn, engaging, funny, and who manage to have a happily ever after. What matters is the ride to get there, and it's really enjoyable to see both of them going fully after what their hearts desire with romance and in their dreams outside of a relationship. This one is written in a third person point of view which alternates between Dimple and Rishi's voices, making the pages really fly by.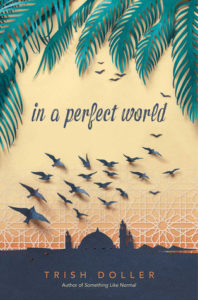 In A Perfect World by Trish Doller
When Caroline's mother takes her dream position in a clinic in Egypt, Caroline's less than pleased about leaving her friends, her boyfriend (now ex-boyfriend), and comfortable Ohio life behind. Egypt is nothing like home, and more, now she feels like an entitled and privileged American with her own driver and tour guide for Cairo.
That changes when Caroline meets Adam. He's Muslim, and she knows that their relationship — even being seen together outside and around town — wouldn't be a good thing to pursue. But he is the son of the person who is helping their family out and she can't help but notice he's cute, he's driven, and he's eager to take her out and about, even if it's without much emotion attached to it.
Of course, you can guess what happens.
Doller's book is a dazzling look at life in another culture through the eyes of a relatively privileged white girl who not only knows it, but acknowledges it, particularly when it comes to what her mother's dealing with at her job and what she sees while being driven around by Adam. In a lot of ways, this was reminiscent of Anna And The French Kiss, but with an Egyptian setting and a little more frankness about how Caroline's experiences are rare and at times, privileged-as-hell. There is great respect and interest paid here to getting Egyptian culture, as well as Muslim beliefs, correct, and Adam himself is a really well-rounded, complex, and interesting character who, as Caroline discovers, showcases how people who believe and live lives different than those in America can have just as many interests, desires, and complicated feelings as they do.
Readers who've liked Doller's previous works will enjoy this one, as will those who've loved Stephanie Perkins's romances and the relationship complexity that authors like Siobhan Vivian explore.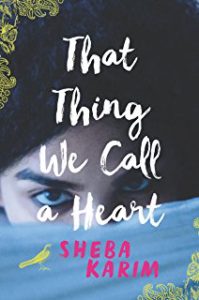 That Thing We Call A Heart by Sheba Karim
This book begin rocky for me, with what felt like a lot of information and, perhaps, an incorrect starting place. But as I kept on and moved into the second part of the book, I was suddenly unable to put it down because of how much had been built up.
Shabnam's spending her last summer at home before heading to University of Pennsylvania and when her great uncle is in town from Pakistan, she's voluntold she'll be taking him out. Shabnam isn't excited, especially since she's not as invested in her cultural heritage as much of her family, including her great uncle. It's also possible she told a bit of a lie about her uncle in the classroom and now she's spinning it over in her head.
But it's on that first excursion with her uncle that Shabnam meets Jamie. He's cute and he's white and he has a job opportunity for her at the pie shop his aunt owns. The job would be pretty easy and only for the summer, and Shabnam, blinded by her interest in Jamie and by what sounds like a nice way out of her house every day, says yes.
Of course, there's the set up for the summer romance of her dreams. He's so cute! He's so interested in learning about her Pakistani heritage! He's curious about how much she's invested into her Muslim beliefs!
This isn't the real focus of the story, though. The driving force here is the fractured friendship between Shabnam and her former best friend Farah. Farah, the only other Muslim at their posh private high school, is there on scholarship. She's a loud, proud feminist. And she's made the decision in the last few months to begin wearing the hijab. This sort of declaration of faith is what caused the rift in their friendship, as Shabnam felt that was a step back from everything Farah believed and everything she herself believed about her best friend.
With Shabnam in love and needing to tell someone, she flies back to Farah, ignoring all of the ways she's ignored her and treated her poorly. Farah allows Shabnam back in, but it's with reservation; Shabnam doesn't see it, but we as readers do, especially as we begin to see how terrible a character Jamie is. Jamie loves Shabnam's culture, and there's a particularly stomach-churning moment when Jamie takes Shabnam to his aunt's home, wherein she begins to see all of the cultural artifacts from around the world, which Jamie brushes off as "she's just so interested in other people's cultures," like he is. But the more he presses her for her story and the more he presses Farah, the more we begin to see how he treats Shabnam not as a romantic interest but as a cultural curiosity.
He fetishizes her culture.
This book doesn't have the happily ever after that would make it a romance, but I'd also say this isn't really about romance or love at all. It's about a crush, but more than that, it's about friendship. Farah doesn't go easy on Shabnam when they rekindle their friendship. In fact, she's pretty frank and real with her about how terribly Shabnam has treated her and how little support and love she's shown. In many ways, it's Farah who is the most compelling character in this story, but it's also clear why this isn't her story. It's about Shabnam coming to understand the ways people can misunderstand choices and how those meaningful choices people make don't necessarily change who they are.
While reading this book, I kept thinking back to the comic that Wendy Xu wrote and drew for Here We Are: Feminism For The Real World and I can't help as seeing them as a really worthwhile pairing to one another for understanding what happened between Shabnam and Jamie. They'd make an excellent pairing, and readers who love a good friendship story will want to pick this up.