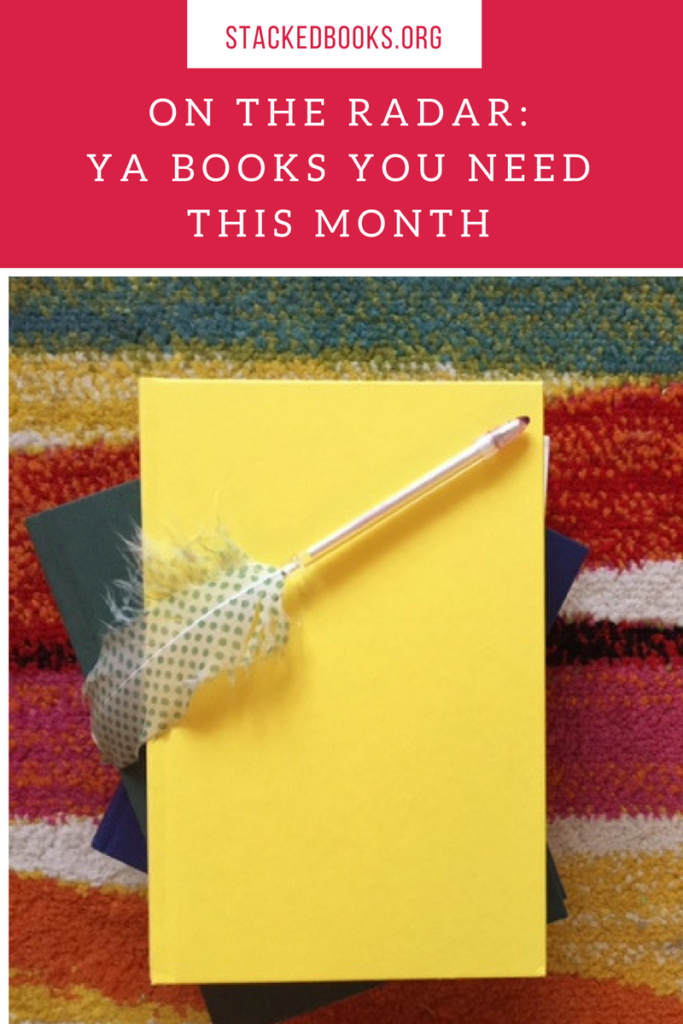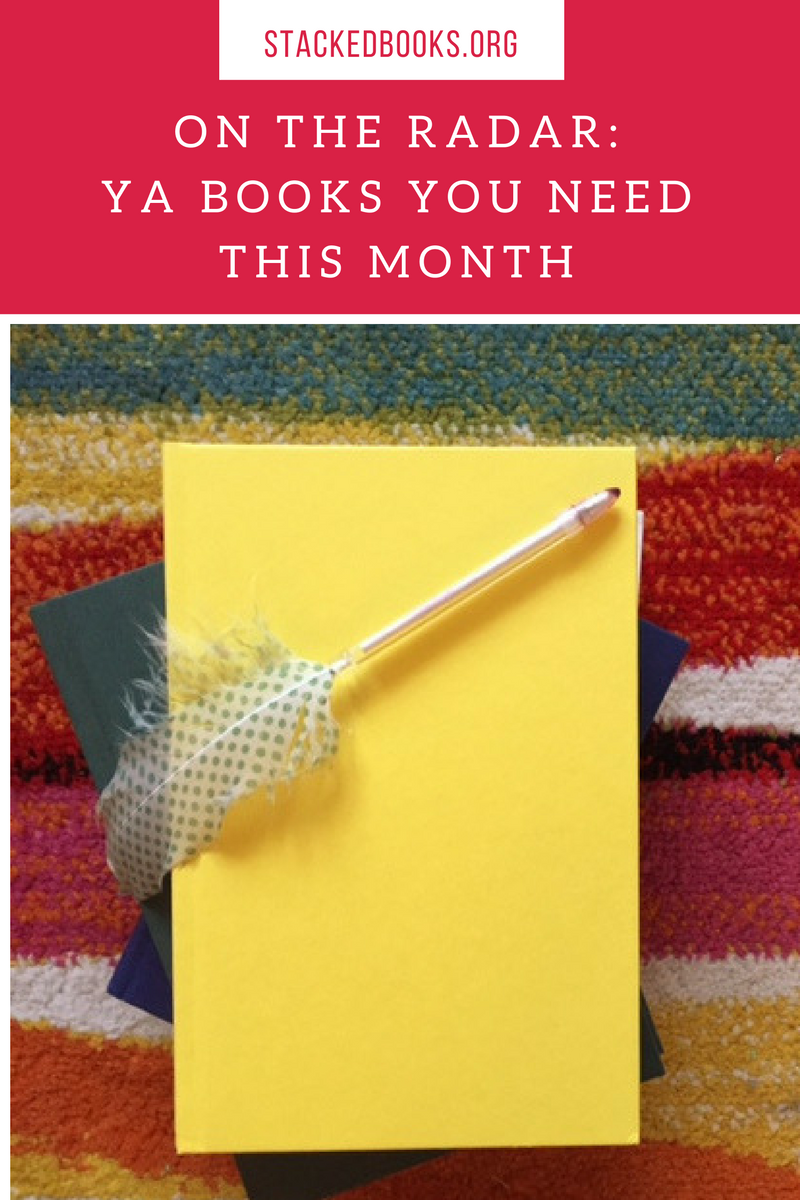 "On The Radar" is a monthly series meant to highlight between 9 and 12 books per month to fit a budget of roughly $300 or less. These lists are curated from a larger spreadsheet I keep with a running list of titles hitting shelves and are meant to reflect not only the big books coming out from authors readers know and love, but it's also meant to showcase some of the titles that have hit my radar through review copies, publicity blasts, or because they're titles that might otherwise not be readily seen or picked up through those traditional avenues. It's part science and part art.
This month, I'm cheating a tiny bit. I've picked 15 titles. A number of these are from well-known authors and entries into popular series, and a number are from authors whose reputations are either long-lasting or ever-growing (how are those for vague and specific definitions?). I also wanted to include a few titles that might be easier to overlook because of smaller budgets or publicity plans but that would certainly be important additions to a library or classroom collection.
Book descriptions come from Goodreads and reasons for putting on your radar are mine and mine alone! Titles are alphabetical, with pub dates beside them.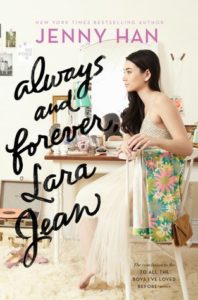 Always And Forever Lara Jean by Jenny Han (May 2)
Lara Jean is having the best senior year a girl could ever hope for. She is head over heels in love with her boyfriend, Peter; her dad's finally getting remarried to their next door neighbor, Ms. Rothschild; and Margot's coming home for the summer just in time for the wedding.
But change is looming on the horizon. And while Lara Jean is having fun and keeping busy helping plan her father's wedding, she can't ignore the big life decisions she has to make. Most pressingly, where she wants to go to college and what that means for her relationship with Peter. She watched her sister Margot go through these growing pains. Now Lara Jean's the one who'll be graduating high school and leaving for college and leaving her family—and possibly the boy she loves—behind.
When your heart and your head are saying two different things, which one should you listen to?
Why it should be on your radar: A new Jenny Han book is always going to be worth having on your radar, since her books are wildly popular. This is the final entry into her latest trilogy readers will be itching for, if they're not already.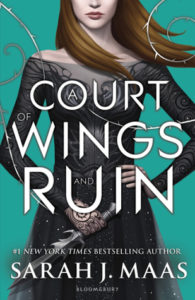 A Court of Wings and Ruin by Sarah J. Maas (May 2)
Feyre has returned to the Spring Court, determined to gather information on Tamlin's maneuverings and the invading king threatening to bring Prythian to its knees. But to do so she must play a deadly game of deceit-and one slip may spell doom not only for Feyre, but for her world as well.
As war bears down upon them all, Feyre must decide who to trust amongst the dazzling and lethal High Lords-and hunt for allies in unexpected places.
Why it should be on your radar: Another entry into the popular romantic fantasy series by Sarah J Maas is reason enough. This is a nearly 700-page book, too, which will really make readers eager for more of this story happy.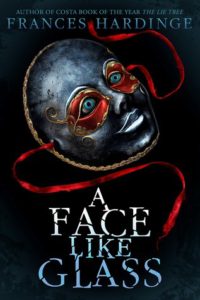 A Face Like Glass by Frances Hardinge (May 9)
In the underground city of Caverna, the world's most skilled craftsmen toil in the darkness to create delicacies beyond compare—wines that remove memories, cheeses that make you hallucinate, and perfumes that convince you to trust the wearer, even as they slit your throat. On the surface, the people of Caverna seem ordinary, except for one thing: their faces are as blank as untouched snow. Expressions must be learned, and only the famous Facesmiths can teach a person to express (or fake) joy, despair, or fear—at a steep price. Into this dark and distrustful world comes Neverfell, a girl with no memory of her past and a face so terrifying to those around her that she must wear a mask at all times. Neverfell's expressions are as varied and dynamic as those of the most skilled Facesmiths, except hers are entirely genuine. And that makes her very dangerous indeed
Why it should be on your radar: Slowly but surely, more of Hardinge's books are making their way into the American market. Her standalone fantasy is rare in being stand alone in YA, and her work continues to build a great reputation on this side of the pond. Likewise, Hardinge was just honored with the LA Times Book Prize for her last book, and she'll likely see more and more success come her way.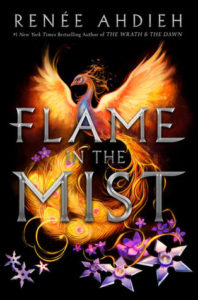 Flame In The Mist by Renée Ahdieh (May 16)
The daughter of a prominent samurai, Mariko has long known her place—she may be an accomplished alchemist, whose cunning rivals that of her brother Kenshin, but because she is not a boy, her future has always been out of her hands. At just seventeen years old, Mariko is promised to Minamoto Raiden, the son of the emperor's favorite consort—a political marriage that will elevate her family's standing. But en route to the imperial city of Inako, Mariko narrowly escapes a bloody ambush by a dangerous gang of bandits known as the Black Clan, who she learns has been hired to kill her before she reaches the palace.
Dressed as a peasant boy, Mariko sets out to infiltrate the ranks of the Black Clan, determined to track down the person responsible for the target on her back. But she's quickly captured and taken to the Black Clan's secret hideout, where she meets their leader, the rebel ronin Takeda Ranmaru, and his second-in-command, his best friend Okami. Still believing her to be a boy, Ranmaru and Okami eventually warm to Mariko, impressed by her intellect and ingenuity. As Mariko gets closer to the Black Clan, she uncovers a dark history of secrets, of betrayal and murder, which will force her to question everything she's ever known.
Why it should be on your radar: This is the first in a new duology from Renée Ahdieh, and she's been one to keep an eye on since her debut The Wrath & The Dawn.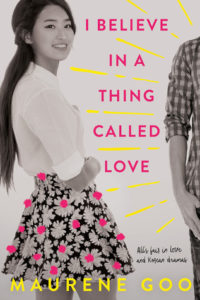 I Believe In A Thing Called Love by Maurene Goo (May 30)
Desi Lee knows how carburetors work. She learned CPR at the age of five. As a high school senior, she has never missed a day of school and has never had a B in her entire life. She's for sure going to Stanford. But—she's never had a boyfriend. In fact, she's a disaster in romance, a clumsy, stammering humiliation-magnet whose botched attempts at flirting have become legendary with her friends. So when the hottest human specimen to have ever lived walks into her life one day, Desi decides to tackle her flirting failures with the same zest she's applied to everything else in her life. She finds her answer in the Korean dramas her father has been obsessively watching for years—where the hapless heroine always seems to end up in the arms of her true love by episode ten. It's a simple formula, and Desi is a quick study. Armed with her "K Drama Rules for True Love," Desi goes after the moody, elusive artist Luca Drakos—and boat rescues, love triangles, and fake car crashes ensue. But when the fun and games turn to true feels, Desi finds out that real love is about way more than just drama.
Why it should be on your radar: Goo's first novel, Since You Asked, was wildly underrated, despite being one of those lighter-hearted funny reads so many people seek. This one, which is much more romantic in nature, is surely going to hit the buttons of readers seeking good stories with romance featuring characters of color. And I suspect, from description alone, there's going to be a nice dash of humor here. Also, that cover is excellent.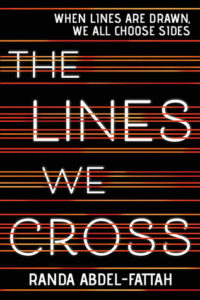 The Lines We Cross by Randa Abdel-Fattah (May 9)
Michael likes to hang out with his friends and play with the latest graphic design software. His parents drag him to rallies held by their anti-immigrant group, which rails against the tide of refugees flooding the country. And it all makes sense to Michael.
Until Mina, a beautiful girl from the other side of the protest lines, shows up at his school, and turns out to be funny, smart — and a Muslim refugee from Afghanistan. Suddenly, his parents' politics seem much more complicated.
Mina has had a long and dangerous journey fleeing her besieged home in Afghanistan, and now faces a frigid reception at her new prep school, where she is on scholarship. As tensions rise, lines are drawn. Michael has to decide where he stands. Mina has to protect herself and her family. Both have to choose what they want their world to look like.
Why it should be on your radar: Another book from Randa, whose Does My Head Look Big In This?, remains a perennial favorite and staple on so many shelves.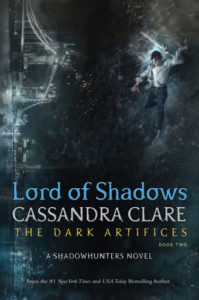 Lord of Shadows by Cassandra Clare (May 23)
Emma Carstairs has finally avenged her parents. She thought she'd be at peace. But she is anything but calm. Torn between her desire for her parabatai Julian and her desire to protect him from the brutal consequences of parabatai relationships, she has begun dating his brother, Mark. But Mark has spent the past five years trapped in Faerie; can he ever truly be a Shadowhunter again?
And the faerie courts are not silent. The Unseelie King is tired of the Cold Peace, and will no longer concede to the Shadowhunters' demands. Caught between the demands of faerie and the laws of the Clave, Emma, Julian, and Mark must find a way to come together to defend everything they hold dear—before it's too late.
Why it should be on your radar: It's Cassie Clare, and it's a new entry into her "Dark Artifices" series. This is another fantasy series tome weighing in at 700 pages, too.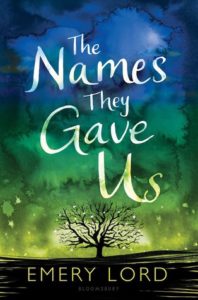 The Names They Gave Us by Emery Lord (May 16)
Lucy Hansson was ready for a perfect summer with her boyfriend, working at her childhood Bible camp on the lake. But when her mom's cancer reappears, Lucy falters—in faith, in love, and in her ability to cope. When her boyfriend "pauses" their relationship and her summer job switches to a different camp—one for troubled kids—Lucy isn't sure how much more she can handle. Attempting to accept a new normal, Lucy slowly regains footing among her vibrant, diverse coworkers, Sundays with her mom, and a crush on a fellow counselor. But when long-hidden family secrets emerge, can Lucy set aside her problems and discover what grace really means?
Why it should be on your radar: Emery Lord's popularity continues to grow, and she's adding another title to the solid, feelings-heavy contemporary genre that readers who love books by Sarah Dessen will snap up.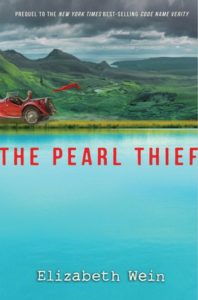 The Pearl Thief by Elizabeth Wein (May 2)
Before Verity . . . there was Julie.
When fifteen-year-old Julia Beaufort-Stuart wakes up in the hospital, she knows the lazy summer break she'd imagined won't be exactly like she anticipated. And once she returns to her grandfather's estate, a bit banged up but alive, she begins to realize that her injury might not have been an accident. One of her family's employees is missing, and he disappeared on the very same day she landed in the hospital.
Desperate to figure out what happened, she befriends Euan McEwen, the Scots Traveller boy who found her when she was injured, and his standoffish sister Ellen. As Julie grows closer to this family, she experiences some of the prejudices they've grown used to firsthand, a stark contrast to her own upbringing, and finds herself exploring thrilling new experiences that have nothing to do with a missing-person investigation.
Her memory of that day returns to her in pieces, and when a body is discovered, her new friends are caught in the crosshairs of long-held biases about Travellers. Julie must get to the bottom of the mystery in order to keep them from being framed for the crime.
Why it should be on your radar: This is a prequel to the Printz honor book Code Name Verity and another solid historical fiction from Elizabeth Wein.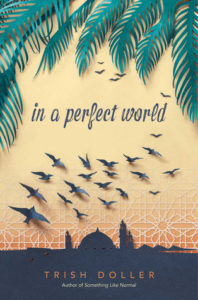 In A Perfect World by Trish Doller (May 23)
Caroline Kelly is excited to be spending her summer vacation working at the local amusement park with her best friend, exploring weird Ohio with her boyfriend, and attending soccer camp with the hope she'll be her team's captain in the fall.
But when Caroline's mother is hired to open an eye clinic in Cairo, Egypt, Caroline's plans are upended. Caroline is now expected to spend her summer and her senior year in a foreign country, away from her friends, her home, and everything she's ever known.
With this move, Caroline predicts she'll spend her time navigating crowded streets, eating unfamiliar food, and having terrible bouts of homesickness. But when she finds instead is a culture that surprises her, a city that astounds her, and a charming, unpredictable boy who challenges everything she thought she knew about life, love, and privilege.
Why it should be on your radar: Readers who want something like Stephanie Perkins's Anna and the French Kiss will be pleased to read this book, since it follows a girl forced to spend time in a foreign country and yet, manages to fall in love with one of the locals. There's a great exploration of privilege here, as well as a lot of Being Humbled on the part of the main character.
Ramona Blue by Julie Murphy (May 9)
Ramona was only five years old when Hurricane Katrina changed her life forever.
Since then, it's been Ramona and her family against the world. Standing over six feet tall with unmistakable blue hair, Ramona is sure of three things: she likes girls, she's fiercely devoted to her family, and she knows she's destined for something bigger than the trailer she calls home in Eulogy, Mississippi. But juggling multiple jobs, her flaky mom, and her well-meaning but ineffectual dad forces her to be the adult of the family. Now, with her sister, Hattie, pregnant, responsibility weighs more heavily than ever.
The return of her childhood friend Freddie brings a welcome distraction. Ramona's friendship with the former competitive swimmer picks up exactly where it left off, and soon he's talked her into joining him for laps at the pool. But as Ramona falls in love with swimming, her feelings for Freddie begin to shift too, which is the last thing she expected. With her growing affection for Freddie making her question her sexual identity, Ramona begins to wonder if perhaps she likes girls and guys or if this new attraction is just a fluke. Either way, Ramona will discover that, for her, life and love are more fluid than they seem.
Why it should be on your radar: Ignore the artificially low reviews on Goodreads, as this is a book that explores things like sexuality and the complex nature of something which is fluid and shifting. Julie's Dumplin' made her reputation as an author explode and this book will keep it going.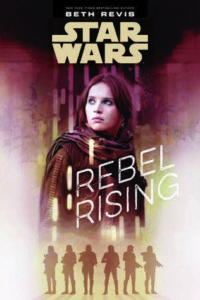 Star Wars: Rebel Rising by Beth Revis (May 2)
When Jyn Erso was five years old, her mother was murdered and her father taken from her to serve the Empire. But despite the loss of her parents she is not completely alone—Saw Gerrera, a man willing to go to any extremes necessary in order to resist Imperial tyranny, takes her in as his own, and gives her not only a home but all the abilities and resources she needs to become a rebel herself.
Jyn dedicates herself to the cause—and the man. But fighting alongside Saw and his people brings with it danger and the question of just how far Jyn is willing to go as one of Saw's soldiers. When she faces an unthinkable betrayal that shatters her world, Jyn will have to pull the pieces of herself back together and figure out what she truly believes in…and who she can really trust.
Why it should be on your radar: A canonical Star Wars novel by a well-known author in YA is a no-brainer.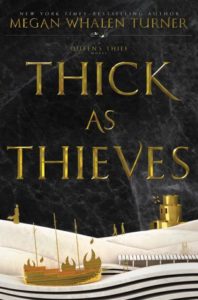 Thick As Thieves by Megan Whalen Turner (May 16)
Kamet, a secretary and slave to his Mede master, has the ambition and the means to become one of the most powerful people in the Empire. But with a whispered warning the future he envisioned is wrenched away, and he is forced onto a very different path. Set in the world of the Queen's Thief, an ordinary hero takes on an extraordinary mission. Includes two maps, a map of the world of the Queen's Thief, and a map of Kamet's journey.
Why it should be on your radar: This is the long-awaited fifth and final installment in the "Queen's Thief" series. The series has a massive fanbase, and it's likely it'll grow with having this final title for readers to mainline in one long go.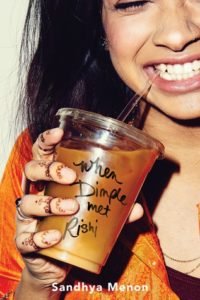 When Dimple Met Rishi by Sandhya Menon (May 30)
Dimple Shah has it all figured out. With graduation behind her, she's more than ready for a break from her family, from Mamma's inexplicable obsession with her finding the "Ideal Indian Husband." Ugh. Dimple knows they must respect her principles on some level, though. If they truly believed she needed a husband right now, they wouldn't have paid for her to attend a summer program for aspiring web developers…right?
Rishi Patel is a hopeless romantic. So when his parents tell him that his future wife will be attending the same summer program as him—wherein he'll have to woo her—he's totally on board. Because as silly as it sounds to most people in his life, Rishi wants to be arranged, believes in the power of tradition, stability, and being a part of something much bigger than himself.
The Shahs and Patels didn't mean to start turning the wheels on this "suggested arrangement" so early in their children's lives, but when they noticed them both gravitate toward the same summer program, they figured, Why not?
Dimple and Rishi may think they have each other figured out. But when opposites clash, love works hard to prove itself in the most unexpected ways.
Why it should be on your radar: A romantic comedy with Indian main characters. It's a book that has certainly been missing from shelves, and now, there's one here…I suspect this will be the kind of book readers will devour alongside Maurene Goo's.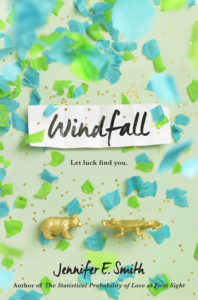 Windfall by Jennifer E. Smith (May 2)
Alice doesn't believe in luck—at least, not the good kind. But she does believe in love, and for some time now, she's been pining for her best friend, Teddy. On his eighteenth birthday—just when it seems they might be on the brink of something—she buys him a lottery ticket on a lark. To their astonishment, he wins $140 million, and in an instant, everything changes.
At first, it seems like a dream come true, especially since the two of them are no strangers to misfortune. As a kid, Alice won the worst kind of lottery possible when her parents died just over a year apart from each other. And Teddy's father abandoned his family not long after that, leaving them to grapple with his gambling debts. Through it all, Teddy and Alice have leaned on each other. But now, as they negotiate the ripple effects of Teddy's newfound wealth, a gulf opens between them. And soon, the money starts to feel like more of a curse than a windfall.
As they try to find their way back to each other, Alice learns more about herself than she ever could have imagined . . . and about the unexpected ways in which luck and love sometimes intersect.
Why it should be on your radar: It's a new Jennifer E. Smith book, which will appeal to fans of Stephanie Perkins, Sarah Dessen, Trish Doller, and others who write about love and romance in complicated, realistic ways.