Remember last week how I blogged about book packagers and literary development companies? And I had a lot of questions with no real answers?
After the post ran, Sona Charaipotra and Dhonielle Clayton, the founders of CAKE Literary, got in touch with me and gave me the opportunity to ask some of those questions. Knowing how much the topic fascinated me, I couldn't say no — and I thought readers who wanted to know some of the same things I did would find this of interest as well.
This post won't talk about how you get involved with the company. Rather, this is a look at their mission, why they decided to create a company, what their intentions are, how they plan on breaking into the market with diversity-focused titles, and it'll talk a bit about their first book — published under the company — called Dark Pointe. It is long, but I think it's really fascinating and quite thorough about their process.
What
are your backgrounds with publishing and the book/literary world more
broadly?
Sona Charaipotra:
I've worked as a journalist for more than a decade, first on-staff
at People
and
TeenPeople
magazines,
then freelance for places like the New
York Times,
MSN, Cosmopolitan,
ABC News and others. While doing that, for a long time, I was writing
screenplays — I have a Masters in Dramatic Writing from NYU — and
even had a few projects developed. My screenwriting background means
I'm definitely a plotter — I'm a huge believer in three-act
structure. But I've also been writing fiction for a while, and
decided to get my MFA at the New School so I could really work on
honing craft and character. That's where I met Dhonielle. These
days, in addition to working on books, I'm writing a lot about
them. In doing a column for Parade.com on teen and YA culture, I've
interviewed writers like Holly Black, Maggie Stiefvater and Rainbow
Rowell.
Dhonielle Clayton:
After I stopped teaching, I decided to get into publishing because
the one thing that drew me to secondary education was being able to
read and discuss books that I loved. So I worked at National
Geographic
in Washington, DC, in their children's department, reviewing
non-fiction manuscripts aimed at children, as well as fiction series
with strong environmental themes aimed at school and library markets.
I did this while I was earning my first masters in Children's
Literature. I joined SCBWI and started going to conferences and
learning all that I could about the market. After I finished that
degree, I knew I had to go to NYC if I wanted to really dig into the
publishing world, so I applied to The New School MFA program, where I
met Sona. I knew immediately that I wanted to intern for a NYC
publishing house or a literary agency. I moved to the city the summer
before the program started, crashed on one of my good friend's
couches, and landed an internship working for Stephen Barbara at
Foundry Media. Working at Foundry Media is where I learned a lot
about the business. I also started attending all the readings in the
city that I could, and lurking around the NYC book scene in general.
What
made you decide to create a literary development company and what's
your vision for it?
SC:
I was a huge reader as kid — books were my greatest
indulgence, and my mother always said that it was the one thing she'd
always let me buy, because it was money well-spent. The thing is, as
much as I loved to read, I never saw myself in the books I devoured
as a kid. There were no brown children to be found. These days,
reading to my daughter, who's three, things aren't all that
different. So I think it's really important to bring diversity to
kid lit and teen fiction — and to women's fiction, too, because I
still don't see that grown-up version of myself anywhere, really.
We've all got stories to tell. But the thing that really moved me
towards CAKE and literary development is the idea that while a book
can have a character of color at its center, it can still be an
entirely universal story. I see that in a lot of my own work, and in
Dhonielle's, too.
Dhonielle
and I are definitely ideas people. We could work ceaselessly and
never be able to put out even a tenth of what we're coming up with.
These are exciting, compelling stories — worth telling — and we
thought working with other writers would be a great way to get them
out there. To be clear, not every book we publish will have a black
or brown girl at its center. We're focusing on meaningful diversity
— layered in and relevant, but not the central thrust of the story.
These aren't, "Oh, I'm Indian and so discriminated against"
types of tales. These are fresh, high concept stories where the
characters happen to be diverse. But we don't shy away from what
race, class or ethnicity brings to the character, either. If it's
relevant, it will be explored.
DC:
I have always been an avid reader. My father took me to the bookstore
every weekend. It was our Saturday routine. So I was a spoiled child
and received a brand new set of books every Saturday with the caveat
that I finished the ones I got the week prior. My childhood home was
full of books, and I gravitated towards the ones on my father's
shelf — Tolkien, Isaac Asimov, C.S. Lewis, and Frank Herbert. I
wanted to go through the wardrobe into Narnia or trample through
Middle Earth. However, no one who looked like me starred as the lead
in those stories (unless you wanted to be an orc, and nobody wants to
be one of those). After my masters at Hollins University, I knew I
had to do something about it. I started writing stories, and keeping
a journal of other ideas that I felt might enhance the genre. I knew
I would not be able to physically write all of these books, and I had
become loosely familiar with some packaged projects while completing
grad school papers.
When
I met Sona, our conversations kept circling back to seeing or not
seeing ourselves in books as kids. As an Indian-American, her plight
was worse than mine. I had never even met a fictional Indian kid in a
story myself. There are African-American children's books. Due to
responsible parents, I had every one of them, but sometimes I felt
like I was reading the same story over and over again. The
conversations Sona and I had were the foundation for CAKE Literary,
and helped carve out the start of our mission.
We
want to present a different model of how diversity can be included in
children's and teen books, and move away from the cultural tales
(e.g. grappling with one's culture, race, ethnicity, historical
tales of slavery or other events that have "marked" a group,
etc). Don't get me wrong, these narratives are important
cornerstones to the world of children's and teen fiction. I
wouldn't be who I am without them. They need to be published, read
and studied by children and teens. But after seeing Chiamanda
Adichie's TED talk titled
"The
Danger of a Single Story"
,
it crystallized the emotion I had had as a child: feeling trapped
inside one story related to my people. This sparked my fervor for
wanting to help transform the landscape of books for kids and teens.
I wanted to open up the single story that is often attached to
children of color, whether that be the legacy of slavery, the
Holocaust, life on the reservation, poverty, immigration, etc. I
wanted to give these children other stories, too: adventures to other
planets, girl drama at school, quests through foreign lands full of
magical beings, awkward first crushes. Sona and I felt like a
packaging company was the right vehicle to start developing projects
that have a new take on diversity, and model how all writers can
incorporate color into their novels.
What
does it mean to have a highly commercial novel that's also decidedly
literary (in other words, what sorts of books on the market now are
what you envision to be what your company aims to produce)?
SC:
There's been so much talk about voice — and that's what we mean
here. It's about creating work that's very high concept — you
get what the story is just in a line or two, then think, "Why
didn't I think of that?" But we're playing careful attention to
craft and voice. We're a packager, but we want there to be nothing
slapdash about CAKE's projects. We want them to be compellingly
readable, but we also want those specific lines to linger in your
mind long after you've finished the book. Fun fiction that stays
with you.
DC:
A book that is delicious and compulsively readable, but on a sentence
level is still beautiful. Many times commercial books are given flack
for being not well-written, but contain an amazing plot,
story-telling structure, or interesting characters. So books like Jay
Asher's Thirteen
Reasons Why,
Lauren Oliver's Delirium,
Lauren DeStefano's The
Chemical Garden Trilogy,
and Jenny Han and Siobhan Vivian's Burn
for Burn trilogy,
just to name a few. Sona and I want to create books that are smart,
contain beautiful storytelling in a very high concept idea — with a
strong element of diversity.
What
is it about the MG, YA, and women's fiction markets that makes now a
time that companies like your own are emerging?
SC:
Everyone keeps talking about the YA boom. Of course it's something
people want to capitalize on. And these days, so much of what we see
in teen fiction is what's translating to television and film. It
makes sense, business-wise, to be in this market. But also, as I've
mentioned, there's a stark lack of representation of certain types
of people in this market. There's still the idea that books about
people of color don't sell. And it's because a lot of the books
we've seen before were very pedantic, very heavy-handed, with a
certain point to make and maybe an axe to grind. I think there's
definitely a way to do diversity — and I'm not talking about
shying away from the issues people of different races or orientations
or classes deal with — but do it in a way that still makes it a
compelling, universal read. I think that's what readers are looking
for — that delicious story, but with people they recognize at the
center. Perhaps with a reflection of themselves at the center. That's
something I never got as a kid, and I would have killed for it.
(Okay, maybe not killed…but you get my point!)
DC:
The MG, YA, and women's fiction markets are HOT! Work created for
individuals who belong to these groups is dynamic, fresh, and
interesting. I can't even tear myself away from those titles to
explore any other genres. There's just too much to read. We want to
be part of that. Sona and I watch a lot of TV (alas, it is a my vice,
yet part of her career as a journalist), and we see the world of TV
slowly changing in terms of diversity, and we feel like books could
reflect this change as well. Who wouldn't want to read a YA book
series like ABC Family's Twisted,
The
Fosters, or
Switched
at Birth?
High-concept projects with meaningful diversity that create a
compulsive story. We want to add new elements to the market.
Your
focus is on diversity — speak to that a bit and why you chose that
angle for CAKE? What does the market look like now and what do you
envision CAKE adding to it?
SC:
The scale is tipping. There's still a long way to go, but these
days, there are more people of different creeds, colors, orientations
than ever in media — in film, on TV, and hopefully now the push has
come in books. Yet there's still consistently this talk of how
books with black girls on the cover won't sell, how diversity isn't
marketable. I think the idea is that color may alienate a white
reader. But it doesn't have to. The key is to make the story
relatable, universal — and un-put-down-able. That's what we were
aiming for with DARK POINTE. The book centers on three very different
girls, one white, one Korean, and one black. And their races do play
into the character development and even plot, however, the story
doesn't dwell on that. It's own, fast-paced, compelling thing —
and there are elements about each of these girls that make them
relatable, no matter what your skin color. That's what we're
hoping to bring to CAKE projects — stories you can't not
read,
but with those layers of diversity hewn in. Make race, sexual
orientation, class relevant, but not the center of the story.
DC:
Sona and I are nothing if not meticulous, so before even stepping out
on this journey, we researched. Tons. We looked at all of the current
packagers in the YA and MG market, and read their books, interviews,
online information, etc. We spent a lot of time thinking about what
could/would make us different in this crowded market besides that
fact that we are underdogs without any of our own published books on
the shelf. There were so many reasons not to jump in, and there were
many people who told us not to: You
guys have no real experience in publishing.
Neither
of you have your own books out there yet.
Diversity
doesn't sell well internationally.
But
then the heart of the company bubbled up naturally. We didn't start
with diversity at the core from which we wrote DARK POINTE. It just
continued to come up over and over again. When we looked at the
novel, we realized the key was there. We envision that CAKE will add
solid titles to the market that open up new stories and provide a new
lens for thinking about diversity. It's not a term to invoke guilt
or shame, but rather to inspire flavor. Everybody loves cake, and it
would be mighty boring if it only came in one flavor.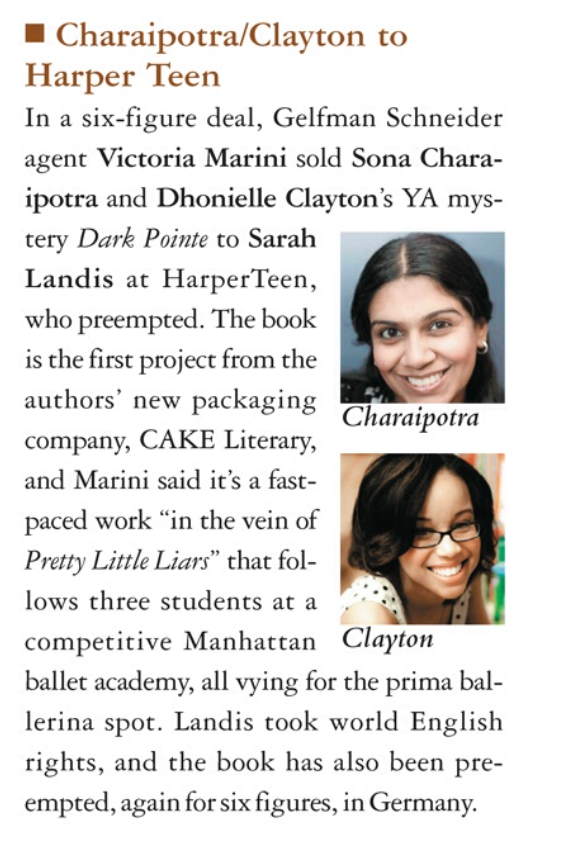 Going
off that, what is it that CAKE will be able to make happen that other
authors who have been writing diverse stories are less able to do?
SC:
CAKE — like the other literary development companies out there — is
all about the high-concept. That's the big book with the big hook
— the one with the concept that carries, the delicious read.
That's what publishers want. The other element we're adding here
is the component of diversity. We're hoping — and I think this
will be true — that diversity will also be what publishers want in
the future. We think the time has come. The population is shifting.
Librarians and teachers are asking for them. Dhonielle can attest
from her background in a middle school library that children
themselves are asking for them. So combining these two elements —
high-concept and diversity — is what makes our projects different.
It's
about a big story with a fresh cast of characters from varied
backgrounds, with layers of storytelling. Essentially, what we're
hoping is that what a publisher will see in a CAKE story, first and
foremost, is a delicious, irresistible page-turner they have to have.
And then they see all those other layers that add a lot of depth to
the work.
DC:
We don't think other authors and aspiring writers who are writing
diverse stories can't do what we're doing. Authors like Sherman
Alexie, David Levithan, Jacqueline Woodson, and countless others,
have been adding wonderfully diverse titles to the canon for years.
They have done remarkable things for bringing diversity to the
children's and teen book world. We believe that using the vehicle
of a literary packaging company may add an influx in the number of
titles published with diverse elements, and help shrink the gap a bit
faster. We're just starting out, so we don't think we'll
balloon into a powerhouse like Alloy Entertainment, but if we did,
there would be more stories out there that featured all types of
children at a higher frequency than possible for a single author
writing one or two books per year. At least we hope so!
Talk
a bit about the first book to come from CAKE: Dark Pointe.
SC:
A fast-paced YA mystery in the vein of Pretty
Little Liars,
DARK
POINTE
digs beneath the practiced poise of a cutthroat Manhattan ballet
academy, where three young protagonists all fight for prima position
while navigating secrets, lies, and the pressure that comes with
being prodigies. Free-spirited new girl Giselle just wants to dance –
but the very act might kill her. Upper East Side-bred Bette lives in
the all-encompassing shadow of her ballet star sister, but the weight
of family expectations brings out a dangerous edge in her.
Perfectionist June forever stands in the wings as an understudy, but
now she's willing to do whatever it takes – even push someone out
the way – to take the stage. In a world where every other dancer is
both friend and foe, the girls have formed the tenuous bond that
comes with being the best of the best. But when New York City Ballet
Conservatory newbie Giselle is cast as the lead in The
Nutcracker
– opposite Bette's longtime love Alec – the competition turns
deadly.
DC:
This book came out of my experience as a secondary teacher at the
Kirov Academy of Ballet in Washington, DC, and Sona's love of
ballet (we both danced till we were about 11) and TV coverage of
Pretty
Little Liars.
I taught the middle school and high school dancers English, after I
graduated from college.
What
makes this project stand out from the masses of other projects
compared to the juggernaut of Pretty
Little Liars
is the diversity, and the nuances of the ballet world. In initial
brainstorm meetings for the project, we didn't sit down and say,
"Let's add some meaningful diversity to this book." I spent
hours remembering my time teaching at the Kirov Academy of Ballet of
Washington, DC, and making lists of details. I wanted our characters
to reflect the world there. The reality is that there are legions of
Asian dancers that haven't showed up on the new ballet reality TV
shows like the CW's Breaking
Pointe or
in documentaries about ballet, and the Misty Copelands of the world
have had a challenging path to success in the ballet world. We wanted
those honest layers in there alongside the universal story of girls
who want something so bad they're willing to do whatever it takes
to get it.
Why
did you decide to pursue publication under the umbrella of CAKE
rather than as coauthors and an agent (in other words, why not the
"traditional" path)?
SC:
Dhonielle and I both met while pursuing our MFAs in Writing for
Children at the New School. There, we were both working on individual
projects — and we still are. But we were always coming up with these
crazy, cool and really fun ideas for collaborations. DARK POINTE was
the first we thought had serious potential, and we decided to work on
it together, while still working on our own stuff, which is very
different. It likely won't be the last collaboration for us, and we
had plenty of other solid ideas that we didn't want to write
together. What we quickly discovered was that there was something
awesome that happened when you put us in a room together to
brainstorm — a creative chemistry, an alchemy of sorts. We both have
different strengths — I am partial to the three-act structure and
plotting, while D is the world-builder — and we work well together.
We
didn't want to let all those ideas just fester. So we decided —
based on what we'd seen in the industry of boutique packagers —
that maybe this would be something for us to look into. After careful
planning, we decided we'd pursue this type of publication and
launch this company, alongside working on our individual projects. In
writing DARK POINTE together, we realized it was the perfect first
project for such a venture, and would embody everything we're
about.
Thanks for sharing your own insights on book packagers and literary development, Sona and Dhonielle.