For this week, how about a booklist honoring American Indian voices and Indigenous voices from other places? I've focused on upper middle grade and YA titles from the past five years, and all titles have been vetted by trustworthy critics. In particular, if you haven't already, please visit Debbie Reese's excellent blog, American Indians in Children's Literature, for even more worthy titles, thought-provoking discussion, and links to other resources.
Fiction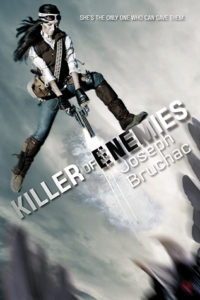 Killer of Enemies by Joseph Bruchac
Years ago, seventeen-year-old Apache hunter Lozen and her family lived in a world of haves and have-nots. There were the Ones — people so augmented with technology and genetic enhancements that they were barely human — and there was everyone else who served them. Then the Cloud came, and everything changed. Tech stopped working. The world plunged back into a new steam age. The Ones' pets — genetically engineered monsters — turned on them and are now loose on the world.
Lozen was not one of the lucky ones pre-C, but fate has given her a unique set of survival skills and magical abilities. She hunts monsters for the Ones who survived the apocalyptic events of the Cloud, which ensures the safety of her kidnapped family. But with every monster she takes down, Lozen's powers grow, and she connects those powers to an ancient legend of her people. It soon becomes clear to Lozen that she is not just a hired gun. As the legendary Killer of Enemies was in the ancient days of the Apache people, Lozen is meant to be a more than a hunter. Lozen is meant to be a hero.
Sequels: Trail of the Dead, Arrow of Lightning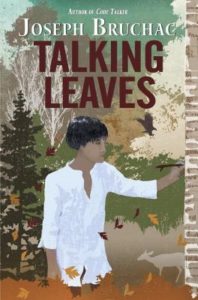 Talking Leaves by Joseph Bruchac
Thirteen-year-old Uwohali has not seen his father, Sequoyah, for many years. So when Sequoyah returns to the village, Uwohali is eager to reconnect. But Sequoyah's new obsession with making strange markings causes friends and neighbors in their tribe to wonder whether he is crazy, or worse—practicing witchcraft. What they don't know, and what Uwohali discovers, is that Sequoyah is a genius and his strange markings are actually an alphabet representing the sounds of the Cherokee language.
The story of one of the most important figures in Native American history is brought to life for middle grade readers.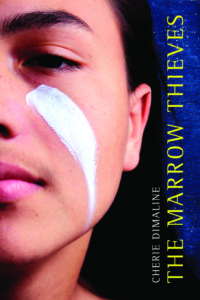 The Marrow Thieves by Cherie Dimaline
In a futuristic world ravaged by global warming, people have lost the ability to dream, and the dreamlessness has led to widespread madness. The only people still able to dream are North America's Indigenous people, and it is their marrow that holds the cure for the rest of the world. But getting the marrow, and dreams, means death for the unwilling donors. Driven to flight, a fifteen-year-old and his companions struggle for survival, attempt to reunite with loved ones and take refuge from the "recruiters" who seek them out to bring them to the marrow-stealing "factories."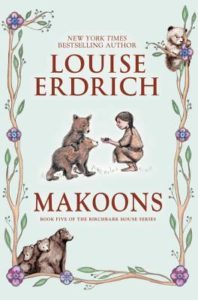 Makoons by Louise Erdrich
In the sequel to Chickadee, acclaimed author Louise Erdrich continues her award-winning Birchbark House series with the story of an Ojibwe family in nineteenth-century America.
Named for the Ojibwe word for little bear, Makoons and his twin, Chickadee, have traveled with their family to the Great Plains of Dakota Territory. There they must learn to become buffalo hunters and once again help their people make a home in a new land. But Makoons has had a vision that foretells great challenges—challenges that his family may not be able to overcome.
Based on Louise Erdrich's own family history, this fifth book in the series features black-and-white interior illustrations, a note from the author about her research, as well as a map and glossary of Ojibwe terms.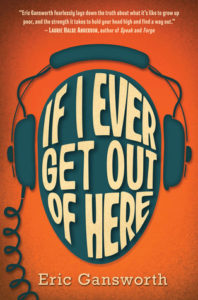 If I Ever Get Out of Here by Eric Gansworth
Lewis "Shoe" Blake is used to the joys and difficulties of life on the Tuscarora Indian reservation in 1975: the joking, the Fireball games, the snow blowing through his roof. What he's not used to is white people being nice to him — people like George Haddonfield, whose family recently moved to town with the Air Force. As the boys connect through their mutual passion for music, especially the Beatles, Lewis has to lie more and more to hide the reality of his family's poverty from George. He also has to deal with the vicious Evan Reininger, who makes Lewis the special target of his wrath. But when everyone else is on Evan's side, how can he be defeated? And if George finds out the truth about Lewis's home — will he still be his friend?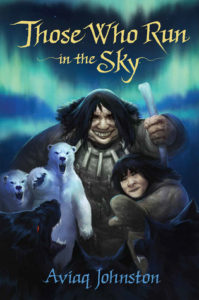 Those Who Run in the Sky by Aviaq Johnston
A coming-of-age story that follows a young shaman named Pitu as he learns to use his powers and ultimately finds himself lost in the world of the spirits. After a strange and violent blizzard leaves Pitu stranded on the sea ice, without his dog team or any weapons to defend himself, he soon realizes that he is no longer in the word that he once knew.
The storm has carried him into the world of the spirits, a world populated with terrifying creatures—black wolves with red eyes, ravenous and constantly stalking him and water-dwelling creatures that want nothing more than to snatch him and pull him into the frigid ocean through an ice crack—as well as beings less frightening, but equally as incredible, such as a lone giant who can carry Pitu in the palm of her hand and keeps caribou and polar bears as pets. After stumbling upon a fellow shaman who has been trapped in the spirit world for many years, Pitu must master all of his shamanic powers to make his way back to the world of the living, to his family, and to the girl that he loves.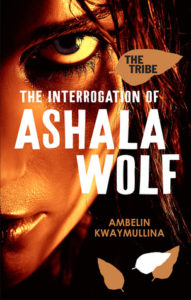 The Interrogation of Ashala Wolf by Ambelin Kwaymullina
Ashala Wolf has been captured by Chief Administrator Neville Rose. A man who is intent on destroying Ashala's Tribe — the runaway Illegals hiding in the Firstwood. Injured and vulnerable and with her Sleepwalker ability blocked, Ashala is forced to succumb to the machine that will pull secrets from her mind.
And right beside her is Justin Connor, her betrayer, watching her every move.
Will the Tribe survive the interrogation of Ashala Wolf?
Sequels: The Disappearance of Ember Crow, The Foretelling of Georgie Spider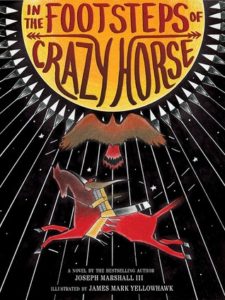 In the Footsteps of Crazy Horse by Joseph Marshall III
Jimmy McClean is a Lakota boy—though you would not guess it by his name: his father is a white man and his mother is Lakota. When he embarks on a journey with his grandfather, Nyles High Eagle, he learns more and more about his Lakota heritage—in particular, the story of Crazy Horse, one of the most important figures in Lakota history. Drawing inspiration from the oral stories of the Lakota tradition and the Lakota cultural mechanism of the "hero story," Joseph Marshall provides readers with an insider's perspective on the life of Tasunke Witko, better known as Crazy Horse. Through his grandfather's tales about the famous warrior, Jimmy learns more about his Lakota heritage and, ultimately, himself.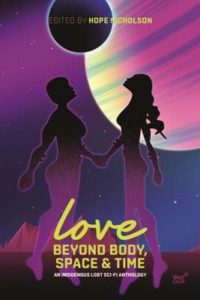 Love Beyond Body, Space, and Time edited by Hope Nicholson
"Love Beyond, Body, Space, and Time" is a collection of indigenous science fiction and urban fantasy focusing on LGBT and two-spirit characters. These stories range from a transgender woman trying an experimental transition medication to young lovers separated through decades and meeting far in their own future. These are stories of machines and magic, love, and self-love. This collection features prose stories by Cherie Dimaline, Gwen Benaway, David Robertson, Richard Van Camp, and others.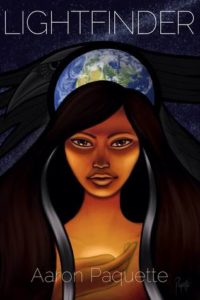 Lightfinder by Aaron Paquette
Aisling is a young Cree woman who sets out into the wilderness with her Kokum (grandmother), Aunty and two young men she barely knows. They have to find and rescue her runaway younger brother, Eric. Along the way she learns that the legends of her people might be real and that she has a growing power of her own.
The story follows the paths of Aisling and Eric, siblings unwittingly thrust into a millennia old struggle for the future of life on earth. It deals with growing up, love and loss, and the choices life puts in our path. Love and confusion are in store, as are loss and pain. Things are not always what they seem and danger surrounds them at every turn.
Will Raven's mysterious purposes prevail? With darkness closing in how will they find the light to guide them? Will Aisling find Eric in time?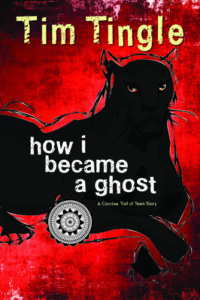 How I Became a Ghost by Tim Tingle
Told in the words of Isaac, a Choctaw boy who does not survive the Trail of Tears, HOW I BECAME A GHOST is a tale of innocence and resilience in the face of tragedy. From the book's opening line, "Maybe you have never read a book written by a ghost before," the reader is put on notice that this is no normal book. Isaac leads a remarkable foursome of Choctaw comrades: a tough-minded teenage girl, a shape-shifting panther boy, a lovable five-year-old ghost who only wants her mom and dad to be happy, and Isaac s talking dog, Jumper. The first in a trilogy, HOW I BECAME A GHOST thinly disguises an important and oft-overlooked piece of history.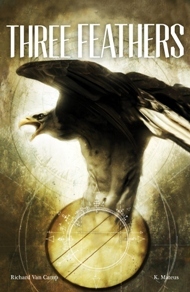 Three Feathers by Richard Van Camp
Three young men—Flinch, Bryce, and Rupert—have vandalized their community and are sent by its Elders to live nine months on the land as part of the circle sentencing process. There, the young men learn to take responsibility for their actions and acquire the humility required to return home. But, when they do return, will they be forgiven for what they've done?
Three Feathers explores the power and grace of restorative justice in one Northern community and the cultural legacy that can empower future generations.
Three Feathers is the third title in The Debwe Series. Created in the spirit of the Anishinaabe concept debwe (to speak the truth), The Debwe Series is a collection of exceptional Aboriginal writings from across Canada.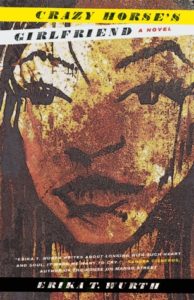 Crazy Horse's Girlfriend by Erika T. Wurth
Margaritte is a sharp-tongued, drug-dealing, sixteen-year-old Native American floundering in a Colorado town crippled by poverty, unemployment, and drug abuse. She hates the burnout, futureless kids surrounding her and dreams that she and her unreliable new boyfriend can move far beyond the bright lights of Denver that float on the horizon before the daily suffocation of teen pregnancy eats her alive.
Nonfiction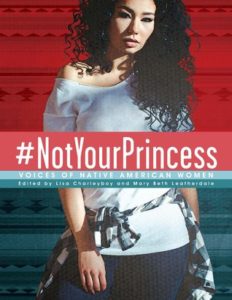 #NotYourPrincess: Voices of Native American Women edited by Lisa Charleyboy and Mary Beth Leatherdale
Whether looking back to a troubled past or welcoming a hopeful future, the powerful voices of Indigenous women across North America resound in this book. In the same style as the best-selling Dreaming in Indian, #NotYourPrincess presents an eclectic collection of poems, essays, interviews, and art that combine to express the experience of being a Native woman. Stories of abuse, humiliation, and stereotyping are countered by the voices of passionate women making themselves heard and demanding change. Sometimes angry, often reflective, but always strong, the women in this book will give teen readers insight into the lives of women who, for so long, have been virtually invisible.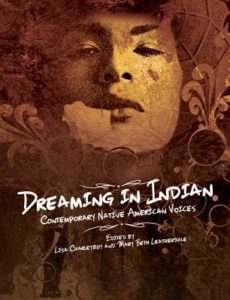 Dreaming in Indian: Contemporary Native American Voices edited by Lisa Charleyboy and Mary Beth Leatherdale
A powerful and visually stunning anthology from some of the most groundbreaking Native artists working in North America today. Truly universal in its themes, Dreaming In Indian will shatter commonly held stereotypes and challenge readers to rethink their own place in the world. Divided into four sections, 'Roots,' 'Battles,' 'Medicines,' and 'Dreamcatchers,' this book offers readers a unique insight into a community often misunderstood and misrepresented by the mainstream media.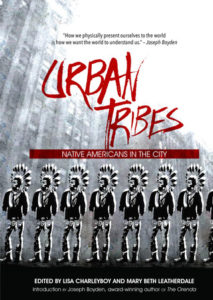 Urban Tribes: Native Americans in the City edited by Lisa Charleyboy and Mary Beth Leatherdale
Young, urban Natives powerfully show how their culture and values can survive—and enrich—city life.
Much of the popular discourse on Native Americans and Aboriginals focuses on reservation life. But the majority of Natives in North America live off the rez. How do they stay rooted to their culture? How do they connect with their community?
Urban Tribes offers unique insight into this growing and often misperceived group. Emotionally potent and visually arresting, the anthology profiles young urban Natives from across North America, exploring how they connect with Native culture and values in their contemporary lives. Their stories are as diverse as they are. From a young Dene woman pursuing a MBA at Stanford to a Pima photographer in Phoenix to a Mohawk actress in New York, these urban Natives share their unique perspectives to bridge the divide between their past and their future, their cultural home, and their adopted cities.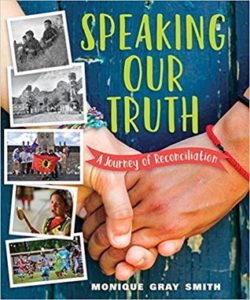 Speaking Our Truth: A Journey of Reconciliation by Monique Gray Smith
Canada's relationship with its Indigenous people has suffered as a result of both the residential school system and the lack of understanding of the historical and current impact of those schools. Healing and repairing that relationship requires education, awareness and increased understanding of the legacy and the impacts still being felt by survivors and their families. Guided by acclaimed Indigenous author Monique Gray Smith, readers will learn about the lives of Survivors and listen to allies who are putting the findings of the Truth and Reconciliation Commission into action.