The Texas Book Festival is one of my most favorite events in Texas. The Texas Capitol (my favorite building in the state) is thrown open to the public and authors from near and far make their way there to talk books. Not only is the festival a time for me to spend time with my family and "my people" (book lovers), it also supports Texas public libraries. I'm even more grateful for that since the library I work at was a recipient of a Texas Book Festival grant a couple of years ago.
This year was great, leaps and bounds better than last year, which was a little disappointing in some ways.
Saturday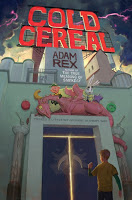 I started the festival off with a visit to "Class Acts," a panel featuring Tim Green, Adam Rex, and Jon Scieszka. While they each were there to promote their latest books, they did speak some about previous books and their writing in general. This type of a panel is great because all three authors were very funny guys and had great camaraderie. The topic of bullying came up, and each writer talked about how they felt they were both bully and bullied at some point during grade school. Rex talked about how his experience as both informed his main character in Fat Vampire, a bullied kid who gains power as a vampire and turns into a bully as a result. It gave me a different perspective on the book, which I didn't really care for. (I am, however, an evangelist for The True Meaning of Smekday, and if you haven't read it, get on that.)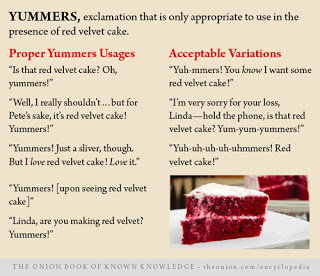 The next stop was a visit to hear two of the Onion's editors talk about their latest book, The Onion Book of Known Knowledge. Rather than having a moderator who asked them specific questions, they gave a PowerPoint presentation. Unlike most PowerPoint presentations, this one was funny. They had the audience in stitches with gems like "Antelope: Another f***ing kind of deer" and "Egg: The most popular form of child to eat" plus the graphic above. They also talked about how the book was created, including an $8,000 trip to see Mount Rushmore and an additional $8,000 trip to verify their findings. I have Our Dumb World and enjoy referring to it from time to time, but the Onion's encyclopedia speaks even more to my librarian heart.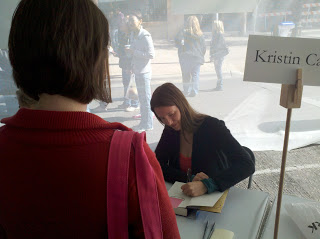 Kristin Cashore and the back of my head.
Next up was "Fantasy Gets Real" with Kristin Cashore, Cinda Williams Chima, and Jasper Fforde. They talked about the usual things: writing process, how YA and SFF are often looked down upon by the "literary establishment," worldbuilding, magic, naming characters. It was mostly interesting, but unfortunately Cashore spoke so softly and her mic was so far away from her that I caught only about half of what she said. (Is it appropriate in these instances to shout out "Could you speak up a little?" if the moderator clearly doesn't see a problem? Regardless, I didn't.) I did go stand in line to buy Bitterblue and get it signed, though. And it's very, very good.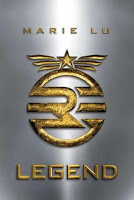 My last session of the day was "With Great Power Comes Great Responsibility," which was not about Spider-Man at all. It featured Marie Lu, Katherine Applegate, Andrea Cremer, Bree Despain, and Michael Grant. I'm not wild about any of those authors, but I thought the discussion would be interesting (and it was). The thing that sticks most firmly in my mind is that Michael Grant is a high school dropout. It's also remarkable how many adults are still wild about Animorphs. Before the session started, two women in their 20s showed the authors their Animorphs tattoos on their ankles. (Since I find stories about animals quite dull, this series never appealed.)
Sunday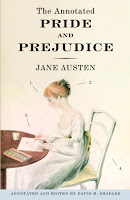 The first session I attended on Sunday was my requisite nerd session: "Jane Austen: Reading Between the Lines." David Shapard talked about the process of annotating Austen's novels, including his initial love for her writing and how his appreciation for her grew as a result of the project. Jennifer Ziegler should get the Best Moderator award for her work here, since her questions were by far the most interesting and thoughtful of any session I attended. Shapard talked some about how he used the OED as a reference to learn about how the meanings of certain words were different in Austen's time, which I found fascinating ("condescending," for example, did not have quite the negative connotation we apply to it now).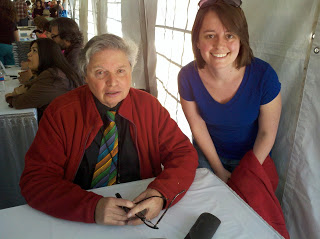 There are photos of me more awkward than this, but not many…
Next was "Right Place, Right Time," which featured Shana Burg, Avi, and was supposed to include Karen Cushman. Unfortunately, Cushman had to have surgery and couldn't attend the festival, which was super disappointing, since I was really looking forward to seeing her alongside Avi, two of my favorite authors as a kid. But Avi was really great. Favorite line from the session: "I don't teach lessons, I tell stories." He also talked about how the author's notes in his books are really for the parents and other gatekeepers, not the children – in a historical novel, the adults want to make sure the author got it right before approving it for the kids. I purchased his newest book, Sophia's War, which sounds like something I would have loved as a kid. Normally I just hand the book over and get it signed silently, since I a.) don't want to hold up the line; and b.) am afraid of strangers, but in this case I told Avi how much I liked his books when I was a kid, that I was now a librarian, and he told me he used to be a librarian as well. And then he suffered Matthew taking a photo of us. Nice.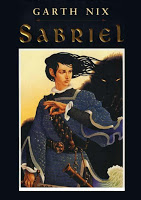 I closed out the Festival by hopping over to see Garth Nix and Sean Williams discuss their collaborative effort, Troubletwisters. I'm not terribly interested in that series, but Nix spoke about some of his other books as well, including Sabriel and Shade's Children, both favorites of mine as a child. (It was really great to see so many of the authors I loved as a child still writing and winning awards in my adult years.) Bonus: both authors are Australian, so everything sounded much more interesting thanks to the accents.
All in all, it was a really satisfying event. On to 2013…