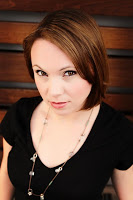 We're back with another round of Twitter-view. This time, the lovely Suzanne Young, author of The Naughty List series and the forthcoming A Need So Beautiful (Balzer & Bray, 2011) stopped by to talk a little summer heat, cute boys, and more.
You used to teach middle school. What got you into writing? I've been writing short stories since 7th grade & never stopped. After moving to Oregon I wrote my first novel.
How did THE NAUGHTY LIST come about?
IMing with a friend, I made a joke about ninja cheerleaders throwing sparkly death stars. Then I figured out they were tracking cheating boyfriends.
What inspires your writing? Random ideas pop in my head, scenes, & conversations. Mostly it's about super hot guys if I'm being honest
In THE NAUGHTY LIST, you purposefully avoid a lot of foul language. Are you
that way in real life?
Um.. no. Not at all. I cuss a lot, but I thought it would be cute if Tessa didn't even though others do. She creates her own reality.
Your first books were the Naughty List series (which I really liked). Can
you talk about your forthcoming A NEED SO BEAUTIFUL, due in Summer 2011?
A NEED SO BEAUTIFUL comes out 6/1-it's about a girl who's compelled to do good deeds,but every time she does, her existence begins to fade
When you sit down to write, what are your essentials?
Reese's Pieces, Diet Pepsi and something salty. OH! And a computer.
Who are some of your favorite writers / who do you look to for inspiration?
Super into Cassandra Clare right now. I also adore Carrie Ryan & Lili St. Crow. Stephanie Perkins new book blew me away .She's right up there.
Do you GoogleStalk yourself? I have google alerts, but I never get anything good!! I'm waiting for something scandalous or awesome to pop up.
What advice do you have for aspiring writers?
Wasn't my 1st or 2nd book that got published. Hell, it wasn't even my 3rd. It was my 5th & Need so Beautiful is my 9th. So keep writing books!
It's hot in the midwest in August. It's nice in the northwest. But if you were in the midwest, how would you stay cool?
I'm not really a great swimmer, so I wouldn't really jump in a lake, but a backyard BBQ with frosty beverages sounds about right.
How has being involved in Twitter/Goodreads/Blogging helped you as a writer?
I feel more connected with my audience. I love when people send me questions or the occasional "NO. HE. DIDN'T!"
What's your favorite ice cream flavor?
I don't really like ice cream…. Sorry! If I'm eating frozen it's probably Italian Ice.
What's the worst thing you ever did as a teenager?
I maybe…. Sort of… possibly… egged a girl's car. I might have.
What's one totally embarrassing thing about you or that you've done that you would never tell anyone else?
Can't say the REALLY embarrassing 1, but I broke my finger while acting as the white rabbit in a play in college. Me & Backflips don't mix.
Thanks for stopping by, Suzanne!
We'll be back again next month with another Twitter-view — keep your eyes peeled!