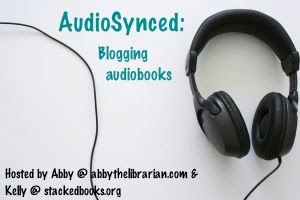 Welcome to another edition of Audiosynced, co-hosted by STACKED and Abby over at Abby the Librarian. This is a monthly round-up of audiobook news, reviews, and interesting posts throughout the blogosphere and more. If you've written anything about audiobooks in the (short) month of November and we left you out of the roundup, leave a link in the comments. If you didn't get to write anything in February but plan to in March, the round-up will be hosted by Abby next month, so send her your goods to be included!
Reviews
Lee over at Reading with my ears offers reviews of Cornelia Funke's Ghost Knight, Jacqueline Woodson's Beneath a Meth Moon and M. T. Anderson's Feed (which is one of my all-time favorite audiobooks).
Beth over at A Foodie Bibliophile in Wanderlust has a review of Walter Dean Myers's Riot.
Audiobook enthusiasts: you are reading The Gilded Earlobe, right? This is a fantastic audiobook blog, which includes not just reviews, but other audiobook-related posts, including interviews with narrators and more.
News & Features
Sarah Thompson has a great post asking how people listen to audiobooks. Where do you find the time to sneak in audiobooks? Read her post and the comments. Great suggestions for those trying to find the time and place to dive in.
Don't forget about RUSA's Listen Lists, either. Not only do you get to know about the "best of" titles from the last year, but the read alikes here are excellent. Talk about a great reader's advisory tool!
Pinterest
Back when Abby and I started writing Audiosynced posts, we included round-ups of interesting blogs and Twitter accounts for audiobook enthusiasts. We've talked about updating some of these lists since we've been doing this series for a long time now, and since this last month was light on content throughout the blogosphere, I thought I'd get us started with some interesting Pinterest accounts worth checking out. If you know of other worthwhile Pinterest boards or accounts related to audiobooks, including your own, lay 'em on us! This is only a small sample of what's probably out there.