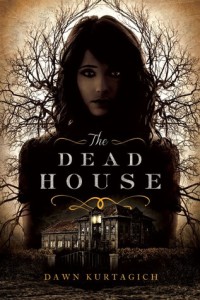 After reading Amy Lukavics' excellent Daughters Unto Devils (Kelly has a brief review here), I was craving more good horror reads. I liked the concept of Dawn Kurtagich's The Dead House, which is told in a found footage style via journal entries, video transcripts, therapy recordings, and other notes. The dead house of the title is a teenage girl's mind, so this is not a haunted house story – rather, it's a mishmash of psychological horror with a nice sprinkling of demonology and a dash of gore (just a couple scenes). I can't watch horror movies because I'm sensitive to blood on the screen as well as the "make you jump" trick so many filmmakers pull, but I can handle most YA horror novels. I wouldn't recommend this one to the more squeamish readers, but it's not the most disturbing horror novel I've ever read either.
It centers around two identical twin sisters living in a single body – at least that's how they describe it. Carly is awake during the day and Kaitlyn lives during the night. Their therapist, Dr. Lansing, has diagnosed them with dissociative identity disorder, frequently called multiple personality disorder, and says that Carly is the true personality and Kaitlyn is the alter. Dr. Lansing believes the split happened when Carly's parents died in a horrible car accident as a way for Carly to cope with the trauma. But Kaitlyn has always been there, even before the accident, and there's much more going on with the two girls than Dr. Lansing could imagine.
The story begins in a psychiatric facility and then moves to a boarding school that doubles as a transitional home for mentally ill teens who are re-acclimating to normal life. One of the first things we learn is that a terrible fire destroyed this school over ten years ago, and the students all claimed a girl named Kaitlyn Johnson was responsible – though no Kaitlyn Johnson was ever enrolled, of course. The rest of the book is a flashback leading up to those events. Most of the story is told via Kaitlyn's diary, and through it we get a very intense look at this troubled teenager. It's never clear to the reader whether Kaitlyn is "real" or not, as she insists, and as the story progresses, Kaitlyn herself even begins to doubt. When Carly's personality disappears and Kaitlyn is conscious 24 hours of the day, Kaitlyn's mental health deteriorates even further and she searches in desperation for any way to bring back her sister. It's at this point that The Dead House really begins to blur the lines between psychological horror and supernatural horror.
Because we get such a close look at Kaitlyn's mind, both through her diary entries as well as analysis from her doctor and others who come into contact with her, her hallucinations (or are they real?) and paranoia (is it paranoia if it's true?) come across as exceptionally creepy. Carly's best friend, Naida, eventually learns about Kaitlyn and tries to help bring Carly back – she's fully on board with the idea of Carly and Kaitlyn inhabiting the same body. Naida's methods involve black magic and she believes Kaitlyn is inhabited by a demon…which may or may not be true. Everything is moving along nicely, with a delicious creepiness, as bit by bit Kurtagich enhances the horror. The first truly gruesome scene involves someone cutting off their own tongue with a knife after a misguided exorcism-type attempt, and it's at that point that readers will realize they've left the intro to horror far behind. From then on, it's a bloodbath, with Kaitlyn driven to violence by the demons (or her own mind?) and eventually realizing an awful truth about someone she loves. Everything comes to a head the day of the fire, culminating in a violent, out of control conclusion that brings the story full circle.
By the end of the book, the reader is unsure whether Kaitlyn/Carly's illness was responsible for what happened, or whether something supernatural actually had a hand in it. The answer is probably a little bit of both; it's meant to be ambiguous and isn't unsatisfying left so.
Kurtagich's debut novel is ambitious and succeeds on many levels: as a character study of a fascinating and troubled teenage girl; as a horror novel that may keep you up at night; as an interesting way to tell a complicated story. I thought the supernatural aspects were a little weak; the mythology behind it was somewhat muddled and I found Kaitlyn's mind much more interesting. But for the most part, the elements all work together in harmony. The creativity on display is impressive. I listened to this on audio, and Charlotte Parry, who reads Kaitlyn's parts, does such a good job of bringing Kaitlyn to life. She draws sympathy even as she terrifies. Highly recommended for horror fans.