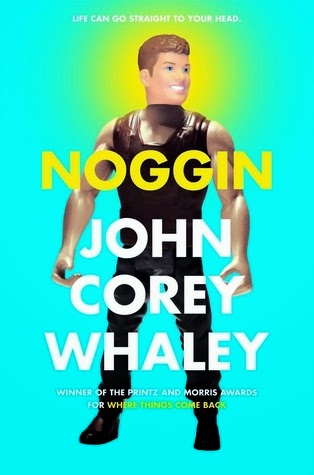 Noggin by John Corey Whaley
Whaley's follow-up to his Printz-winning Where Things Come Back is a character-driven novel with an SF twist. Travis' cancer was going to kill him, so he opted to have his head chopped off and put in cold storage, hoping one day science would advance far enough and he'd be revived using a donor body. He figures he'll wake up in hundred years or so. Except that's not what happens. It only takes five years. For newly-awakened Travis, it seems like no time has passed at all. But for everyone else, the world has changed. His friends (including his girlfriend) are now adults. His death profoundly affected his parents, and the fact that he's alive again doesn't magically fix everything. Not to mention the fact that he's walking around in (on?) someone else's body.
Whaley's writing is very, very good, matched by Kirby Heyborne's equally good narration. I wouldn't have enjoyed this nearly as much if Heyborne weren't narrating. Travis' growth, the way he comes to terms (or not) with the way his life has changed, the way his family and friends come to terms with it – it's masterfully done and quite compelling. Travis' voice is clear; he's not always likeable, not even at the end, but he's believable. I can see why it was shortlisted for a National Book Award, and I can easily see this appealing to readers who normally don't enjoy science fiction. The focus is entirely on Travis' adjustment, and the medical/scientific procedure that allowed him to wake up five years after his "death" is not explained. That's not what Whaley considers important in this story. I've seen some reviewers describe the premise as absurd or weird, but as far as SF novels go, it's pretty tame.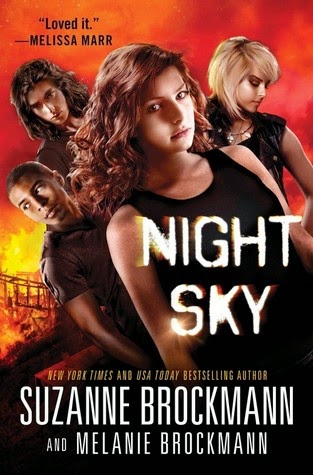 Night Sky by Suzanne & Melanie Brockmann
Sasha, the little girl that Skylar babysits, has gone missing, and her father – who has also disappeared – is the prime suspect. The police already think Sasha is dead, but Skylar refuses to believe it. Then a girl named Dana comes into town, and Dana exhibits some of the abilities that Skylar believes she may have – like telekinesis. She learns that she's a "greater-than," which basically means she has superpowers. A lot of them. She and Dana, along with wheelchair-bound best friend Calvin and Dana's sidekick Milo, decide to figure out what happened to Sasha on their own – and they discover it has everything to do with the greater-thans.
I've never read an adult Brockmann book and I can't say this would encourage me to pick one up. The premise certainly has appeal for a certain kind of reader – those who can't get enough books about teens with superpowers, for instance. It's fairly diverse, too, though only in its ancillary characters. It's action-heavy with a good vs. evil plot. But it goes on a little too long and the writing is weak. There's a certain sentence structure that's overused, so glaring that each time it happened I winced. ("He did this as I did that" or "I did this as she did that" with a long, drawn out second half. I could hear the narrator run out of air trying to get the whole sentence in without pausing for a breath. Just make it two sentences!) The narration isn't great. Melanie Brockmann does it herself and she doesn't voice any of the characters. Her voice is reedy and it sounds like she's not getting enough air, even when the sentences are short. There are better offerings. (Kirkus gave it a starred review. But what do they know?)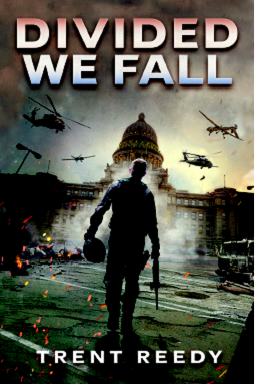 Divided We Fall by Trent Reedy
This is one of those books that may be good in print, but is absolutely fantastic on audio. It's about a high school kid, Danny, who joins the Idaho National Guard at age 17. He's sent to help police a protest in Boise. Things get out of control. Someone bumps into his gun and it goes off. Then more people start shooting. Twelve people are killed. Not even Danny knows exactly what happened, but he becomes the face of the state of Idaho's resistance to the federal government, which started as a refusal to implement a controversial federal ID law. The president wants Danny and the rest of the soldiers arrested, and the governor refuses. Events escalate. Each chapter ends with snippets from television news programs, tweets, radio callers, and the like, and these are all fully voiced by a diverse group of narrators. Some strongly recall Fox News or Rush Limbaugh (the latter of which is particularly painful to listen to), while others are more middle of the road, or simply reactionary. You've heard this stuff before, about similar things, things that are happening in real life right now. It's at times more interesting than the main narrative itself.
Reedy does a good job of balancing each "side" of the story – those who support the state government and those who support the federal government. It's a really tough tightrope to walk, but he succeeds in not making his book seem like it has an agenda. That's partly due to Reedy's protagonist, who is an everyguy – but of the kind we don't see a lot in YA fiction: he lives in a semi-rural area, participates in rodeos, plays football, doesn't intend to go to college, enjoys guns and country music. He joined the National Guard because he loved his state and he loved his country. These are all things we tend to associate with conservative kids, but his political views aren't what's on display. He never wanted to get caught up in everything that happens and would rather it all go away. This is a tricky, very discussable book that will probably piss some people off. The setting could have been Texas (my home state) and been just as believable. It's very close to home; that's what makes it worth the read.