The finalists for the 2017 Cybils were posted on Monday! I'm proud of the work our Round 1 YA speculative fiction panelists did this year, and we've selected a great group of fantasy, science fiction, and other fun weirdness for your reading enjoyment. Here's the link to the list with annotations.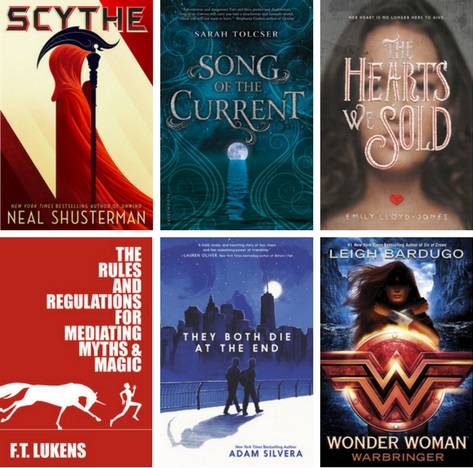 Scythe by Neal Shusterman
Song of the Current by Sarah Tolcser
The Hearts We Sold by Emily Lloyd-Jones
The Rules and Regulations for Mediating Myths and Magic by F. T. Lukens
They Both Die at the End by Adam Silvera
Wonder Woman: Warbringer by Leigh Bardugo
There were definitely a few books I loved that missed out on being on this final list: Midnight at the Electric by Jodi Lynn Anderson, Dare Mighty Things by Heather Kaczynski, and Avi Cantor Has Six Months to Live by Sacha Lamb.
It's all in the hands of Round 2 now – I can't wait to see which title they pick as the winner.