We've talked about the trend of "Girl" in the title of YA books. We've talked about the trend of "Edge" in the title of YA books.
We now present the trend of even less specificity: "Thing" or "Things" in the YA title.
Note that the titles on this list are only for YA books published in 2017 and in 2018. The list really is this long, and it excludes titles which have the word "everything" or "nothing" in them — which would have added another significant number of titles to this list.
What does "Thing" in the title imply when it comes to a trend? Perhaps nothing. But as a reader and as someone who talks about a lot of book titles, as well as someone who regularly thinks about serving readers great book recommendations, I can say easily all of these titles blend and blur together far too easily.
It's almost as if "Thing" in the title is as unmemorable as the word itself.
Can you think of others from the last year or so that would fit on the list? I'd love to see them, if for no reason other than to continue becoming confused among all of the titles which have a hard time standing apart from one another. I've purposefully left the authors of the books off the list, in part because authors often don't come up with the titles of their books and in part to showcase how indistinguishable the titles can be from one another without that context.
I have, of course, put together a nifty graphic of some of the covers because there is power in seeing an image, too.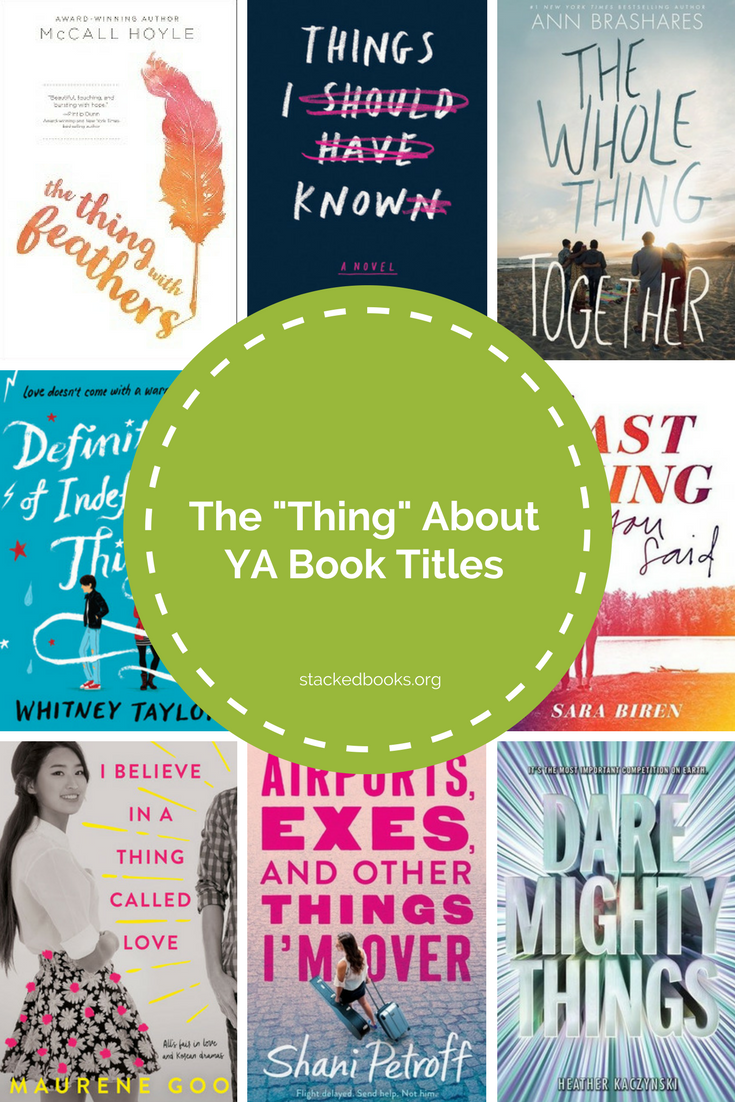 10 Things I Can See From Here
Airports, Exes, and Other Things I'm Over
All The Forever Things
All Things New
Broken Things
I Believe In A Thing Called Love
Dare Mighty Things
Definitions of Indefinable Things
The Geography of Lost Things
That Inevitable Victorian Thing
Kale, My Ex, and Other Things To Toss In A Blender
The Last Thing You Said
The Most Dangerous Thing
Never-Contented Things
One Small Thing
Sasquatch, Love, and Other Imaginary Things
These Things I've Done
That Thing We Call A Heart
The Thing With Feathers
Things I Should Have Known
Things I'm Seeing Without You
Things Jolie Needs To Do Before She Bites It
The Things We Promise
Unearthly Things
A Very, Very Bad Thing
The Whole Thing Together