Back in May 2014, I wrote a genre guide to historical fantasy as part of our Get Genrefied series. It's always been one of my favorite subgenres – if you love genre fiction, combining two genres is a double treat. This subgenre is still going strong in the publishing world, with over a dozen books or series that fall squarely into it since 2014, so I figured it was time for an updated booklist. The titles from the original guide are still worthy of recommending, but if you want something a bit more current (from the past three years or forthcoming in the next few months), here you go.
If the book is part of a series, only the first title is listed. Descriptions are all from Goodreads. Any more you're excited about? Let me know in the comments.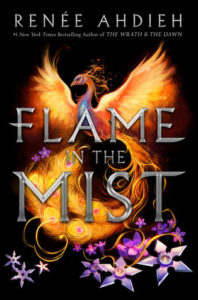 The Flame in the Mist by Renee Ahdieh
The only daughter of a prominent samurai, Mariko has always known she'd been raised for one purpose and one purpose only: to marry. Never mind her cunning, which rivals that of her twin brother, Kenshin, or her skills as an accomplished alchemist. Since Mariko was not born a boy, her fate was sealed the moment she drew her first breath.
So, at just seventeen years old, Mariko is sent to the imperial palace to meet her betrothed, a man she did not choose, for the very first time. But the journey is cut short when Mariko's convoy is viciously attacked by the Black Clan, a dangerous group of bandits who've been hired to kill Mariko before she reaches the palace.
The lone survivor, Mariko narrowly escapes to the woods, where she plots her revenge. Dressed as a peasant boy, she sets out to infiltrate the Black Clan and hunt down those responsible for the target on her back. Once she's within their ranks, though, Mariko finds for the first time she's appreciated for her intellect and abilities. She even finds herself falling in love—a love that will force her to question everything she's ever known about her family, her purpose, and her deepest desires.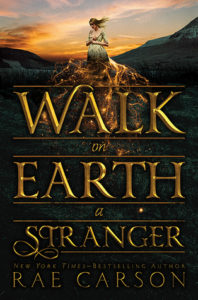 Walk on Earth a Stranger by Rae Carson
Lee Westfall has a strong, loving family. She has a home she loves and a loyal steed. She has a best friend—who might want to be something more.
She also has a secret.
Lee can sense gold in the world around her. Veins deep in the earth. Small nuggets in a stream. Even gold dust caught underneath a fingernail. She has kept her family safe and able to buy provisions, even through the harshest winters. But what would someone do to control a girl with that kind of power? A person might murder for it.
When everything Lee holds dear is ripped away, she flees west to California—where gold has just been discovered. Perhaps this will be the one place a magical girl can be herself. If she survives the journey.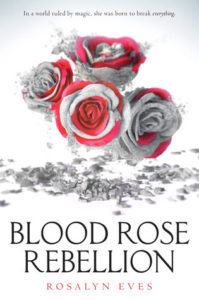 Blood Rose Rebellion by Rosalyn Eves
Sixteen-year-old Anna Arden is barred from society by a defect of blood. Though her family is part of the Luminate, powerful users of magic, she is Barren, unable to perform the simplest spells. Anna would do anything to belong. But her fate takes another course when, after inadvertently breaking her sister's debutante spell—an important chance for a highborn young woman to show her prowess with magic—Anna finds herself exiled to her family's once powerful but now crumbling native Hungary.
Her life might well be over.
In Hungary, Anna discovers that nothing is quite as it seems. Not the people around her, from her aloof cousin Noémi to the fierce and handsome Romani Gábor. Not the society she's known all her life, for discontent with the Luminate is sweeping the land. And not her lack of magic. Isolated from the only world she cares about, Anna still can't seem to stop herself from breaking spells.
As rebellion spreads across the region, Anna's unique ability becomes the catalyst everyone is seeking. In the company of nobles, revolutionaries, and Romanies, Anna must choose: deny her unique power and cling to the life she's always wanted, or embrace her ability and change that world forever.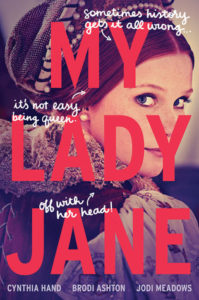 My Lady Jane by Cynthia Hand, Brodi Ashton, and Jodi Meadows
Edward (long live the king) is the King of England. He's also dying, which is inconvenient, as he's only sixteen and he'd much rather be planning for his first kiss than considering who will inherit his crown…
Jane (reads too many books) is Edward's cousin, and far more interested in books than romance. Unfortunately for Jane, Edward has arranged to marry her off to secure the line of succession. And there's something a little odd about her intended…
Gifford (call him G) is a horse. That is, he's an Eðian (eth-y-un, for the uninitiated). Every day at dawn he becomes a noble chestnut steed—but then he wakes at dusk with a mouthful of hay. It's all very undignified.
The plot thickens as Edward, Jane, and G are drawn into a dangerous conspiracy. With the fate of the kingdom at stake, our heroes will have to engage in some conspiring of their own. But can they pull off their plan before it's off with their heads?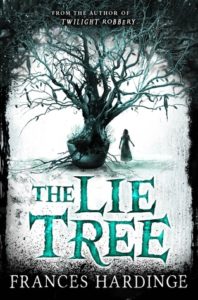 The Lie Tree by Frances Hardinge
Faith Sunderly leads a double life. To most people, she is reliable, dull, trustworthy – a proper young lady who knows her place as inferior to men. But inside, Faith is full of questions and curiosity, and she cannot resist mysteries: an unattended envelope, an unlocked door. She knows secrets no one suspects her of knowing. She knows that her family moved to the close-knit island of Vane because her famous scientist father was fleeing a reputation-destroying scandal. And she knows, when her father is discovered dead shortly thereafter, that he was murdered.
In pursuit of justice and revenge, Faith hunts through her father's possessions and discovers a strange tree. The tree bears fruit only when she whispers a lie to it. The fruit of the tree, when eaten, delivers a hidden truth. The tree might hold the key to her father's murder – or it may lure the murderer directly to Faith herself.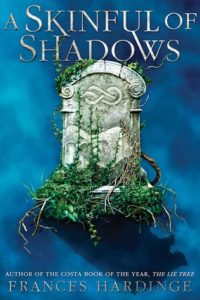 A Skinful of Shadows by Frances Hardinge
This is the story of a bear-hearted girl . . .
Sometimes, when a person dies, their spirit goes looking for somewhere to hide. Some people have space within them, perfect for hiding.
Twelve-year-old Makepeace has learned to defend herself from the ghosts which try to possess her in the night, desperate for refuge, but one day a dreadful event causes her to drop her guard.
And now there's a spirit inside her.
The spirit is wild, brutish and strong, and it may be her only defence when she is sent to live with her father's rich and powerful ancestors. There is talk of civil war, and they need people like her to protect their dark and terrible family secret.
But as she plans her escape and heads out into a country torn apart by war, Makepeace must decide which is worse: possession – or death.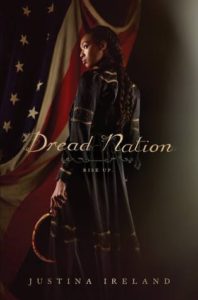 Dread Nation by Justina Ireland (April 3)
Jane McKeene was born two days before the dead began to walk the battlefields of Gettysburg and Chancellorsville—derailing the War Between the States and changing America forever. In this new nation, safety for all depends on the work of a few, and laws like the Native and Negro Reeducation Act require certain children attend combat schools to learn to put down the dead. But there are also opportunities—and Jane is studying to become an Attendant, trained in both weaponry and etiquette to protect the well-to-do. It's a chance for a better life for Negro girls like Jane. After all, not even being the daughter of a wealthy white Southern woman could save her from society's expectations.
But that's not a life Jane wants. Almost finished with her education at Miss Preston's School of Combat in Baltimore, Jane is set on returning to her Kentucky home and doesn't pay much mind to the politics of the eastern cities, with their talk of returning America to the glory of its days before the dead rose. But when families around Baltimore County begin to go missing, Jane is caught in the middle of a conspiracy, one that finds her in a desperate fight for her life against some powerful enemies. And the restless dead, it would seem, are the least of her problems.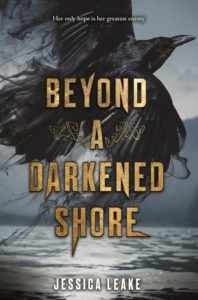 Beyond a Darkened Shore by Jessica Leake (April 10)
The ancient land of Éirinn is mired in war. Ciara, Princess of Mide, has never known a time when Éirinn's kingdoms were not battling for power, or Northmen were not plundering their shores.
The people of Mide have thankfully always been safe because of Ciara's unearthly ability to control her enemies' minds and actions. But lately, a mysterious crow has been appearing to Ciara, whispering warnings of an even darker threat. Although her clansmen dismiss her visions as pagan nonsense, Ciara fears this coming evil will destroy not just Éirinn, but the entire world.
Then the crow leads Ciara to Leif, a young Northman leader. Leif should be Ciara's enemy, but when Ciara discovers that he, too, shares her prophetic visions, she knows he's something more. Leif is mounting an impressive army, and with Ciara's strength in battle the two might have a chance to save their world.
With evil rising around them, they'll do what it takes to defend the land they love…even if it means making the greatest sacrifice of all.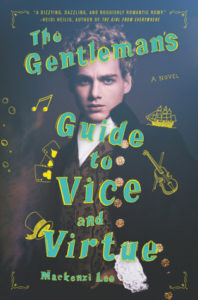 The Gentleman's Guide to Vice and Virtue by Mackenzi Lee
Henry "Monty" Montague was born and bred to be a gentleman, but he was never one to be tamed. The finest boarding schools in England and the constant disapproval of his father haven't been able to curb any of his roguish passions—not for gambling halls, late nights spent with a bottle of spirits, or waking up in the arms of women or men.
But as Monty embarks on his Grand Tour of Europe, his quest for a life filled with pleasure and vice is in danger of coming to an end. Not only does his father expect him to take over the family's estate upon his return, but Monty is also nursing an impossible crush on his best friend and traveling companion, Percy.
Still it isn't in Monty's nature to give up. Even with his younger sister, Felicity, in tow, he vows to make this yearlong escapade one last hedonistic hurrah and flirt with Percy from Paris to Rome. But when one of Monty's reckless decisions turns their trip abroad into a harrowing manhunt that spans across Europe, it calls into question everything he knows, including his relationship with the boy he adores.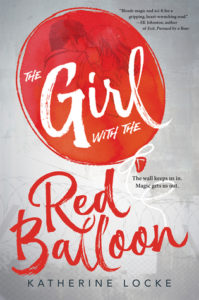 The Girl With the Red Balloon by Katherine Locke
When sixteen-year-old Ellie Baum accidentally time-travels via red balloon to 1988 East Berlin, she's caught up in a conspiracy of history and magic. She meets members of an underground guild in East Berlin who use balloons and magic to help people escape over the Wall—but even to the balloon makers, Ellie's time travel is a mystery. When it becomes clear that someone is using dark magic to change history, Ellie must risk everything—including her only way home—to stop the process.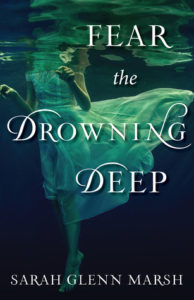 Fear the Drowning Deep by Sarah Glenn Marsh
Witch's apprentice Bridey Corkill has hated the ocean ever since she watched her granddad dive in and drown with a smile on his face. So when a dead girl rolls in with the tide in the summer of 1913, sixteen-year-old Bridey suspects that whatever compelled her granddad to leap into the sea has made its return to the Isle of Man.
Soon, villagers are vanishing in the night, but no one shares Bridey's suspicions about the sea. No one but the island's witch, who isn't as frightening as she first appears, and the handsome dark-haired lad Bridey rescues from a grim and watery fate. The cause of the deep gashes in Fynn's stomach and his lost memories are, like the recent disappearances, a mystery well-guarded by the sea. In exchange for saving his life, Fynn teaches Bridey to master her fear of the water — stealing her heart in the process.
Now, Bridey must work with the Isle's eccentric witch and the boy she isn't sure she can trust — because if she can't uncover the truth about the ancient evil in the water, everyone she loves will walk into the sea, never to return.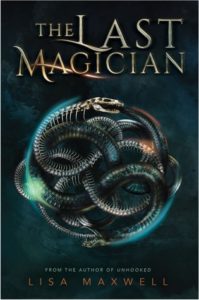 The Last Magician by Lisa Maxwell
In modern-day New York, magic is all but extinct. The remaining few who have an affinity for magic—the Mageus—live in the shadows, hiding who they are. Any Mageus who enters Manhattan becomes trapped by the Brink, a dark energy barrier that confines them to the island. Crossing it means losing their power—and often their lives.
Esta is a talented thief, and she's been raised to steal magical artifacts from the sinister Order that created the Brink. With her innate ability to manipulate time, Esta can pilfer from the past, collecting these artifacts before the Order even realizes she's there. And all of Esta's training has been for one final job: traveling back to 1902 to steal an ancient book containing the secrets of the Order—and the Brink—before the Magician can destroy it and doom the Mageus to a hopeless future.
But Old New York is a dangerous world ruled by ruthless gangs and secret societies, a world where the very air crackles with magic. Nothing is as it seems, including the Magician himself. And for Esta to save her future, she may have to betray everyone in the past.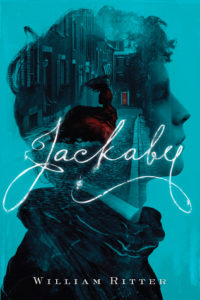 Jackaby by William Ritter
Newly arrived in New Fiddleham, New England, 1892, and in need of a job, Abigail Rook meets R. F. Jackaby, an investigator of the unexplained with a keen eye for the extraordinary–including the ability to see supernatural beings. Abigail has a gift for noticing ordinary but important details, which makes her perfect for the position of Jackaby's assistant. On her first day, Abigail finds herself in the midst of a thrilling case: A serial killer is on the loose. The police are convinced it's an ordinary villain, but Jackaby is certain it's a nonhuman creature, whose existence the police–with the exception of a handsome young detective named Charlie Cane–deny.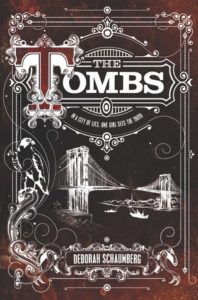 The Tombs by Deborah Schaumberg (February 2)
New York, 1882. A dark, forbidding city, and no place for a girl with unexplainable powers.
Sixteen-year-old Avery Kohl pines for the life she had before her mother was taken. She fears the mysterious men in crow masks who locked her mother in the Tombs asylum for being able to see what others couldn't. Avery denies the signs in herself, focusing instead on her shifts at the ironworks factory and keeping her inventor father out of trouble. Other than secondhand tales of adventure from her best friend, Khan, an ex-slave, and caring for her falcon, Seraphine, Avery spends her days struggling to survive.
Like her mother's, Avery's powers refuse to be contained. When she causes a bizarre explosion at the factory, she has no choice but to run from her lies, straight into the darkest corners of the city. Avery must embrace her abilities and learn to wield their power—or join her mother in the cavernous horrors of the Tombs. And the Tombs has secrets of its own: strange experiments are being performed on "patients"…and no one knows why.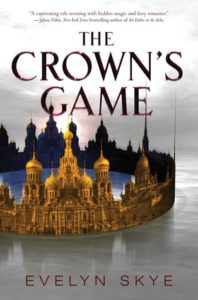 The Crown's Game by Evelyn Skye
Vika Andreyeva can summon the snow and turn ash into gold. Nikolai Karimov can see through walls and conjure bridges out of thin air. They are enchanters—the only two in Russia—and with the Ottoman Empire and the Kazakhs threatening, the tsar needs a powerful enchanter by his side.
And so he initiates the Crown's Game, an ancient duel of magical skill—the greatest test an enchanter will ever know. The victor becomes the Imperial Enchanter and the tsar's most respected adviser. The defeated is sentenced to death. Raised on tiny Ovchinin Island her whole life, Vika is eager for the chance to show off her talent in the grand capital of Saint Petersburg. But can she kill another enchanter—even when his magic calls to her like nothing else ever has?
For Nikolai, an orphan, the Crown's Game is the chance of a lifetime. But his deadly opponent is a force to be reckoned with—beautiful, whip-smart, imaginative—and he can't stop thinking about her. And when Pasha, Nikolai's best friend and heir to the throne, also starts to fall for the mysterious enchantress, Nikolai must defeat the girl they both love…or be killed himself. As long-buried secrets emerge, threatening the future of the empire, it becomes dangerously clear—the Crown's Game is not one to lose.