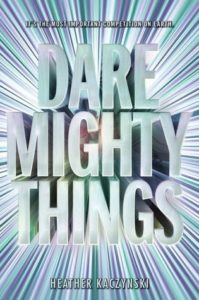 Dare Mighty Things by Heather Kaczynski
Seventeen year old Cassie has been chosen to compete for a spot in an elite NASA program, one shrouded in mystery. All she knows is that there is room for a special mission to space – possibly further than humanity has ever gone before – for a young crew member, someone under 25 who will bring something special to the program. She and the other competitors must go through a rigorous set of trials which will test them physically, intellectually, and psychologically. Two people will be selected: the winner and an alternate. Cassie is determined to win, but of course, not all is what it seems.
This book ticks so many of my boxes: non-astronauts being sent into space, imaginative futuristic tech, the possibility of alien contact, and a plot full of twists and secrets. The cast is tremendously diverse, as it should be. If the program is truly gathering the best and brightest young people from all over the world, most of them are not going to be white. Protagonist Cassandra Gupta is an American of Indian descent on her father's side of the family (her mother is white). She's asexual, and there's a really lovely conversation she has with a friend she makes during the competition, who is bisexual, about how both asexuality and bisexuality are totally normal and fine. Cassie is a great main character in general: she's incredibly driven, and while she does develop deep friendships during the program (something she's always struggled with), she never loses that drive that defines her; she just learns to balance it better. The competition, which takes up the majority of the book, is exciting and unique, and there's a mega twist at the end that will make teens want the sequel right this second. Highly recommended.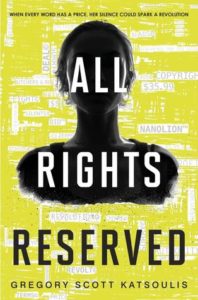 All Rights Reserved by Gregory Scott Katsoulis
Speth Jime lives in a future America where everything is copyrighted, even words. This means that whenever a person speaks (or writes), the speaker must pay the copyright holder for each word, automatically deducted using a futuristic type of bracelet each person wears. Names are copyrighted, as are most gestures. The values of each fluctuate according to the market, much like the value of goods and services do today. There are a few things still in the public domain, but not enough to be able to communicate in any meaningful way without spending a fortune. Kids can speak freely until age 15, when they give their first speech and begin paying for their words. When Speth turns 15, something horrifying happens, and she decides to never speak again. This sets in motion a chain of events far beyond Speth could have anticipated.
While Katsoulis never quite succeeded in getting me to fully suspend my disbelief regarding his concept, which is taken to the most extreme of extremes, he does raise thought-provoking questions about intellectual property, freedom of expression, and how to balance the two. In Speth's world, the Bill of Rights no longer exists, and the concept of freedom of speech is obsolete. The gulf between the poor, like Speth's family (who have their debt for unpaid copyright infringement handed down from generation to generation), and the rich (who own the words and gestures and collect vast sums of money) is enormous. Teens who are still into dystopias will find a fresh and mostly relevant concept here, though the pace in the last third drags.