Contrary to previous years, a lot of the books I read this year were adult titles. Perhaps I just need a break from YA, but it seemed like a lot of the YA titles I read this year didn't match the quality of previous years. I only gave five titles five stars on Goodreads, and only two of them were YA.
I read a lot this year. As of this writing on the 25th, I've read 112 books, and this number will likely go up a few by the end of the year. Like last year, I did most of my reading on audio: 65 on audio versus 47 in print. Most of those print titles were ebooks, which is a pretty significant change for me. I find I don't miss the physical book as much as I thought I would.
While I did think the field for YA was weaker this year than in past years, my top 17 overall were true standouts. Here's a brief rundown, in no particular order. Links lead to my own reviews; if I didn't write one, they lead to Goodreads.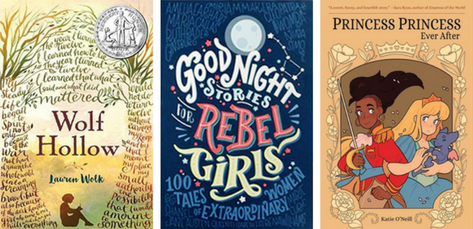 Middle Grade
Wolf Hollow by Lauren Wolk
This was just a really well-written, heartstring-tugging middle grade novel that reminded me a lot of the books I read when I was around ten years old. It's definitely deserving of its Newbery honor.
Good Night Stories for Rebel Girls by Elena Favilli and Francesca Cavallo
This is a beautiful book. I love the idea of a short bio modified to read like a fairy tale/bedtime story, and the art is GORGEOUS with many different styles represented. The 100 women chosen are from all over the world, from many different time periods, of many different races, and run the gamut of anything and everything a woman can be (which is anything!). We got four copies donated to the library and I would just like to thank that soul because I never would have known about this book otherwise.
Princess Princess Ever After by Katie O'Neill
This is a sort of retelling of Rapunzel, but this time it's a headstrong black princess, Amira, who rescues a white princess, Sadie, in the tower. They then go on a series of fun, small adventures, culminating in a bigger adventure where they confront the person who put Sadie in the tower in the first place. And yes, they fall in love, and there's a sweet lesbian wedding in the epilogue, where the two girls are now adults and have accomplished much in their lives – and have come back to each other to live happily ever after.

Young Adult
Midnight at the Electric by Jodi Lynn Anderson
I loved how this was a story within a story within a story – one set in the near future and the others set at two different points in the past. And it was so well-executed and all of the characters were interesting. I'm still thinking about this book, months after reading it. This was the first really great YA novel I read this year.
Here We Are: Feminism for the Real World edited by Kelly Jensen
I mean, obviously. Not just because Kelly is amazing, but because her work is amazing, and the pieces she chose for this anthology are amazing. I especially liked Kody Keplinger's pieces about not wanting kids.
Wonder Woman: Warbringer by Leigh Bardugo
Bardugo's novel is action-packed, funny (Diana learning about odd human customs never gets old), and quite deep. Alia is biracial, Greek on her dad's side and Black American on her mom's side, and this provides a real-life example of the metaphor that Diana represents: a fish out of water feeling in your own family and your own culture, of straddling two places and not really belonging in either. Romances are hesitantly formed, friendships are tested, and there's a shocker of a twist near the end – but one that sharp-eyed readers who trust themselves will have seen coming. Bardugo is a fine writer and she was a perfect choice to tell this story.
Dare Mighty Things by Heather Kaczynski
This book ticks so many of my boxes: non-astronauts being sent into space, imaginative futuristic tech, the possibility of alien contact, and a plot full of twists and secrets. It's so much fun and I wish I could read it all over again, not knowing what was going to happen.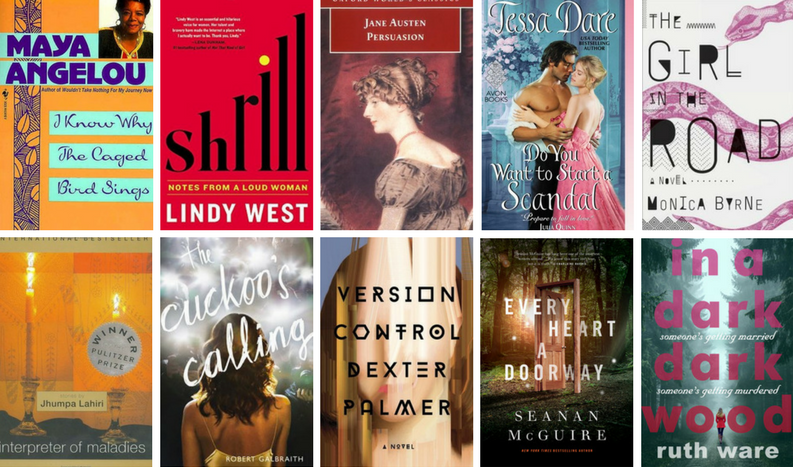 Adult
I Know Why the Caged Bird Sings by Maya Angelou
This was my first foray into my goal of reading a ton of classic books this year. I read a total of four (not as many as I intended, but not too shabby), and this was definitely the best. I listened to the audio version that Angelou narrated; she is the perfect reader for her own story.
Shrill: Notes From a Loud Woman by Lindy West
Lindy West narrates her own memoir, and she is pretty great at it. This is just a really solid book about growing up, fighting back, and asserting your place as a woman and as a fat person in a world that would generally prefer you be "as small, quiet, and compliant as possible."
Persuasion by Jane Austen
This is easily my favorite Jane Austen – the heroine is somewhat close to my own age, the letter at the end is some of the most romantic writing in any novel, and it's genuinely funny. It's not her most popular, but it's the one I can see myself re-reading at some point down the road.
Do You Want to Start a Scandal by Tessa Dare
Tessa Dare's books are hit and miss for me, but generally she gets better with each book. This one is her funniest yet; I was snorting with laughter while listening to it as I got ready for work in the morning.
The Girl in the Road by Monica Byrne
This was my pick for the book club I joined this year, and I'm happy to say I really enjoyed it. It's literary science fiction, featuring two young women at two different points in the future. One is making a forbidden journey across an energy-harvesting road in the middle of the Arabian Sea, a road not meant for human travel, and the other is journeying across Saharan Africa toward Ethiopia, running from an act of violence she witnessed. Their journeys eventually coalesce. It's fascinating and deep with lots to discuss.
Interpreter of Maladies by Jhumpa Lahiri
I also read this one for book club. Lahiri is a master of short fiction. My favorite story is the last one, but the best story is the first.
The Cuckoo's Calling by Robert Galbraith
J. K. Rowling is really great at writing mysteries, which should come as no surprise. She is a fantastic plotter, and the best mysteries require meticulous plotting. The next two are just as good. The fourth, Lethal White, should be published sometime in 2018.
Version Control by Dexter Palmer
I loved this literary SF novel about time travel, alternate futures, marriage, online dating, casually toxic relationships, and so much more. It's intelligent and sometimes funny and will satisfy the reader looking for just the right mix of literary writing and SF weirdness.
Every Heart a Doorway by Seanan McGuire
This gothic novella about a school of young people who have returned from other worlds and now have to readjust to living in our own world again is fascinating. None of the worlds the people visited would be appealing to those of us reading, but to the people in the story, they had become home. A murder mystery drives the plot, but it's the various worlds and the characters that visited them that make this story so engrossing. This also wins my award for Best Title.
In a Dark, Dark Wood by Ruth Ware
Ruth Ware is really, really good at writing thrilling mysteries. In her first novel, Ware has created a cast of interesting, dynamic characters, some of which you'll like and some of which you won't, and her plotting is top-notch, plus the atmosphere can't be beat. It's pure joy to see the way everything comes together – you won't be able to quit turning the pages. This is a true marriage of mystery and thriller, just the way I like it.