Light novels have been growing steadily in popularity at my library. Light novels are prose novels from Japan that are often spinoffs or adaptations of already popular manga series (though sometimes the light novel comes first). They're illustrated in manga style, but they're not comics. They're short and fast-paced and usually targeted at teenagers. They can sometimes be tricky to collect and catalog accurately because the vendor websites don't always distinguish between the light novel and the manga (and I've yet to come across a series that has one and not the other).
This is a brief list of the light novels that have been popular at my library. What titles do well at yours? Descriptions are for the first volume from Goodreads, and links lead to the entire series listing.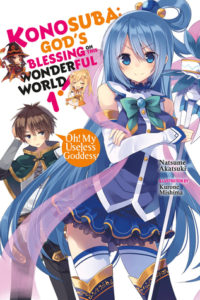 Konosuba: God's Blessing on This Wonderful World! by Natsume Akatsuki
The life of game-loving shut-in Kazuma Satou abruptly comes to an early end … or at least, it was supposed to. When he opens his eyes, he sees a beautiful goddess who offers him a once in an after-lifetime chance to start over in a parallel world. The catch is that the world is threatened by a growing evil. Fortunately, he can bring along a power-up of his choice. So he chooses the goddess Aqua. And thus his adventures with his gorgeous companion begin–if he can just get enough money and food to survive, keep his goddess out of trouble, and avoid grabbing the attention of the Demon King's army!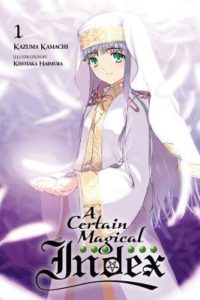 A Certain Magical Index by Kazuma Kamachi
In Academy City, magic and science coexist in an unwavering power struggle. Toma Kamijo, an academically-challenged student in Academy City, wields the power of the Imagine Breaker in his right hand, which allows him to completely negate all supernatural powers – as well as his own luck. When he happens upon a mysterious nun named Index, whose mind has been implanted with the Index Librorum Prohibitorum – 103,000 ancient texts banned by the Church – Toma's luck is about to be pushed to its limits when he finds himself in the middle of a war he never expected!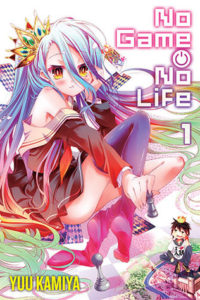 No Game No Life by Yuu Kamiya
Meet Sora and Shiro, a brother and sister who are loser shut-ins by normal standards. But these siblings don't play by the rules of the "crappy game" that is average society. In the world of gaming, this genius pair reigns supreme, their invincible avatar so famous that it's the stuff of urban legend. So when a young boy calling himself God summons the siblings to a fantastic alternate world where war is forbidden and all conflicts–even those involving national borders–are decided by the outcome of games, Sora and Shiro have pretty much hit the jackpot. But they soon learn that in this world, humanity, cornered and outnumbered by other species, survives within the confines of one city. Will Sora and Shiro, two failures at life, turn out to be the saviors of mankind? Let the games begin…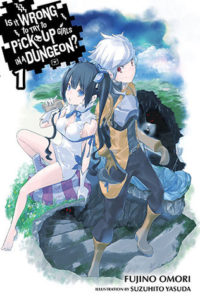 Is it Wrong to Try to Pick Up Girls in a Dungeon? by Fujino Omori
n Orario, fearless adventurers band together in search of fame and fortune within the monstrous underground labyrinth known as Dungeon. But while riches and renown are incentive enough for most, Bell Cranel, would-be hero extraordinaire, has bigger plans. He wants to pick up girls.
Is it wrong to face the perils of Dungeon alone, in a single-member guild blessed by a failed goddess? Maybe. Is it wrong to dream of playing hero to hapless maidens in Dungeon? Maybe not. After one misguided adventure, Bell quickly discovers that anything can happen in the labyrinth–even chance encounters with beautiful women. The only problem? He's the one who winds up the damsel in distress!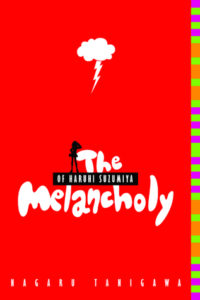 The Melancholy of Haruhi Suzumiya by Nagaru Tanigawa
Meet Haruhi – a cute, determined girl, starting high school in a city where nothing exciting happens and absolutely no one understands her.
Meet Kyon ­­- the sarcastic guy who sits behind Haruhi in homeroom and the only boy Haruhi has ever opened up to. His fate is now tied to hers.
Meet the S.O.S. Brigade – an after-school club organized by Haruhi with a mission to seek out the extraordinary. Oh, and their second mission? Keeping Haruhi happy . . . because even though she doesn't know it, Haruhi has the power to destroy the universe. Seriously.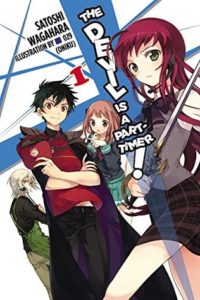 The Devil is a Part-Timer! by Satoshi Wagahara
After being soundly thrashed by the hero Emilia, the Devil King and his general beat a hasty retreat to a parallel universe…only to land plop in the middle of bustling, modern-day Tokyo! Lacking the magic necessary to return home, the two are forced to assume human identities and live average human lives until they can find a better solution. And to make ends meet, Satan finds gainful employment at a nearby fast food joint! With his devilish mind set on working his way up the management food chain, what will become of his thirst for conquest?!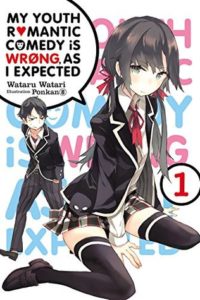 My Youth Romantic Comedy is Wrong, as I Expected by Wataru Watari
Hachiman Hikigaya is a cynic. "Youth" is a crock, he believes–a sucker's game, an illusion woven from failure and hypocrisy. But when he turns in an essay for a school assignment espousing this view, he's sentenced to work in the Service Club, an organization dedicated to helping students with problems in their lives! How will Hachiman the Cynic cope with a job that requires–gasp!–optimism?