It seemed like it would never happen. But it is. We're finally seeing more fat girls on YA book covers. After years of talking about fatness, about YA lit, and about the lack of working one into the other, it's so damn refreshing to see some change happening. It's tiny, of course, in the big scope of things, and for now, it's primarily white. But tiny ripples grow bigger.
Let us enjoy this moment.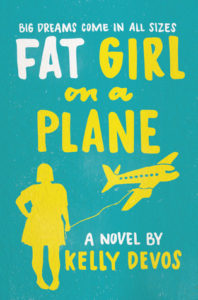 Fat Girl on a Plane by Kelly DeVos (June 5)
FAT.
High school senior Cookie Vonn's post-graduation dreams include getting out of Phoenix, attending Parsons and becoming the next great fashion designer. But in the world of fashion, being fat is a cardinal sin. It doesn't help that she's constantly compared to her supermodel mother—and named after a dessert.
Thanks to her job at a fashion blog, Cookie scores a trip to New York to pitch her portfolio and appeal for a scholarship, but her plans are put on standby when she's declared too fat too fly. Forced to turn to her BFF for cash, Cookie buys a second seat on the plane. She arrives in the city to find that she's been replaced by the boss's daughter, a girl who's everything she's not—ultrathin and superrich. Bowing to society's pressure, she vows to lose weight, get out of the friend zone with her crush, and put her life on track.
SKINNY.
Cookie expected sunshine and rainbows, but nothing about her new life is turning out like she planned. When the fashion designer of the moment offers her what she's always wanted—an opportunity to live and study in New York—she finds herself in a world full of people more interested in putting women down than dressing them up. Her designs make waves, but her real dream of creating great clothes for people of all sizes seems to grow more distant by the day.
Will she realize that she's always had the power to make her own dreams come true?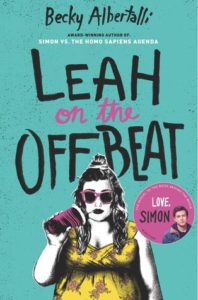 Leah on the Offbeat by Becky Albertalli (April 24)
When it comes to drumming, Leah Burke is usually on beat—but real life isn't always so rhythmic. An anomaly in her friend group, she's the only child of a young, single mom, and her life is decidedly less privileged. She loves to draw but is too self-conscious to show it. And even though her mom knows she's bisexual, she hasn't mustered the courage to tell her friends—not even her openly gay BFF, Simon.
So Leah really doesn't know what to do when her rock-solid friend group starts to fracture in unexpected ways. With prom and college on the horizon, tensions are running high. It's hard for Leah to strike the right note while the people she loves are fighting—especially when she realizes she might love one of them more than she ever intended.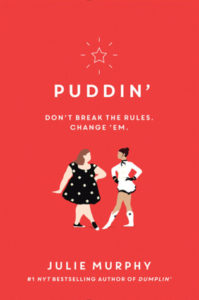 Puddin' by Julie Murphy (May 8)
It is a companion novel to Dumplin', which follows supporting characters from the first book in the months after Willowdean's star turn in the Clover City pageant.
Millie Michalchuk has gone to fat camp every year since she was a girl. Not this year. This year she has new plans to chase her secret dream—and to kiss her crush. Callie Reyes is the pretty girl who is next in line for dance team captain and has the popular boyfriend. But when it comes to other girls, she's more frenemy than friend. When circumstances bring the girls together over the course of a semester, they will surprise everyone (especially themselves) by realizing they might have more in common than they ever imagined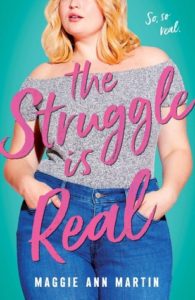 The Struggle Is Real by Maggie Ann Martin (August 21)
Savannah is dreading being home alone with her overbearing mother after her sister goes off to college. But if she can just get through senior year, she'll be able to escape to college, too. What she doesn't count on is that her mother's obsession with weight has only grown deeper since her appearance on an extreme weight-loss show, and now Savvy's mom is pressuring her even harder to be constantly mindful of what she eats.
Between her mom's diet-helicoptering, missing her sister, and worrying about her collegiate future, Savvy has enough to worry about. And then she meets George, the cute new kid at school who has insecurities of his own. As Savvy and George grow closer, they help each other discover how to live in the moment and enjoy the here and now before it disappears.